No new Fashion Paks were produced for 1965, but Mattel released some really lovely Ensemble Paks, including my all-time favourite Holiday. Some older outfits were slightly modified for 1965: Going Bowling and American Airlines Captain were given extras, Roller Skate Date had an item swapped, while Tuxedo and Goin' Huntin' had accessories removed.
---
THE ENSEMBLE PAKS
AMERICAN AIRLINES CAPTAIN #0779
American Airlines Captain now came with a travel bag, but still had no shirt or tie.
Ken's travel bag is navy blue to match his uniform. It is now exceptionally hard to find. Compare his bag with the regular blue version for Barbie below.
---
TUXEDO #0787
Tuxedo now came without the cummerbund and corsage.
---
GOING BOWLING #1403
Going Bowling now came with socks and shoes. (The original 1964 version of this outfit consists of shirt and slacks only – see section 1964 The Outfits).
The shirt which came with the 1965 version has been found in different fabrics (all red). The one shown here is made of a much softer fabric (see below right) than the 1964/Fashion Pak version.
---
ROLLER SKATE DATE #1405
Roller Skate Date was reissued with white trousers instead of a cap. In the 1965 Mattel catalogue it is shown with white wheels on the skates. I've yet to find a version like that NRFB, but this is quite a rare outfit, so I've only ever seen a few. Considering that the 1964 version came with either colour of wheels, it is highly likely that this did too.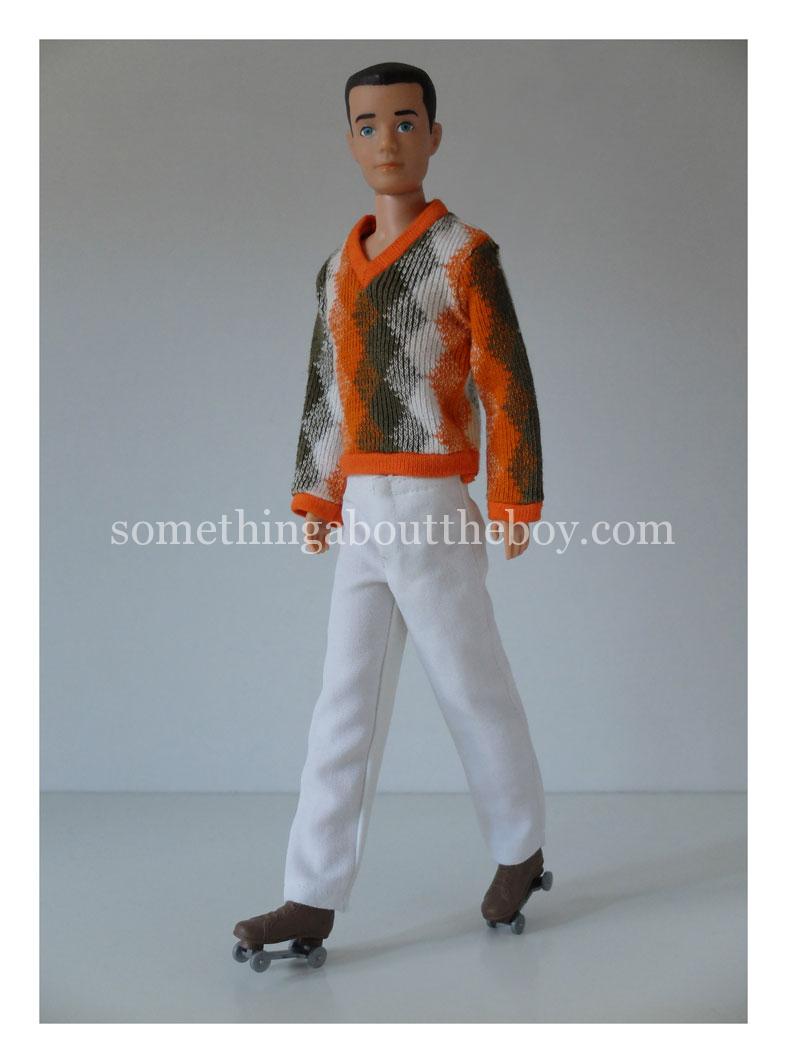 The Roller Skate Date slacks (above and below right) are unique to this outfit. They are unlabelled and are much looser-fitting than the slacks from Campus Hero and Victory Dance.
---
GOIN' HUNTIN' #1409
The 1965 version of Goin' Huntin' came without boots and socks.
---
HIKING HOLIDAY #1412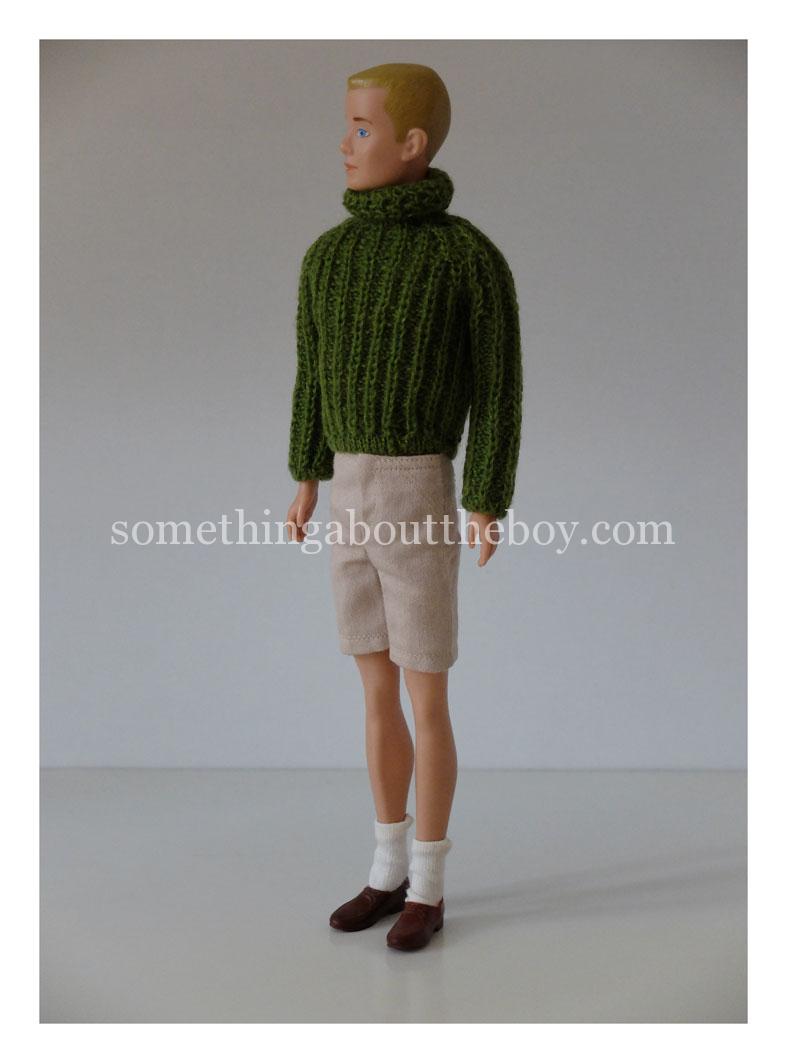 ---
OFF TO BED #1413
The Mattel Fall '65 dealer catalogue pictures this outfit with the book HOW TO GET A RAISE, but all the NRFB versions I've seen so far (and I've seen a lot) had A TALE OF TWO CITIES as shown here.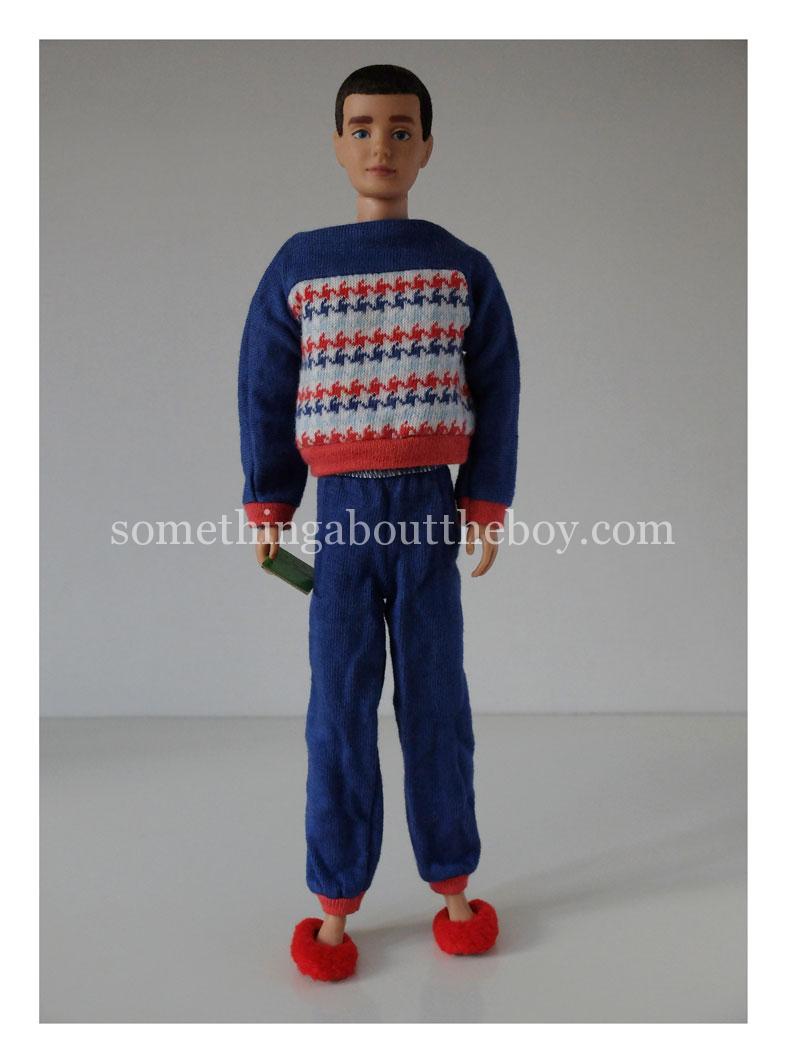 ---
HOLIDAY #1414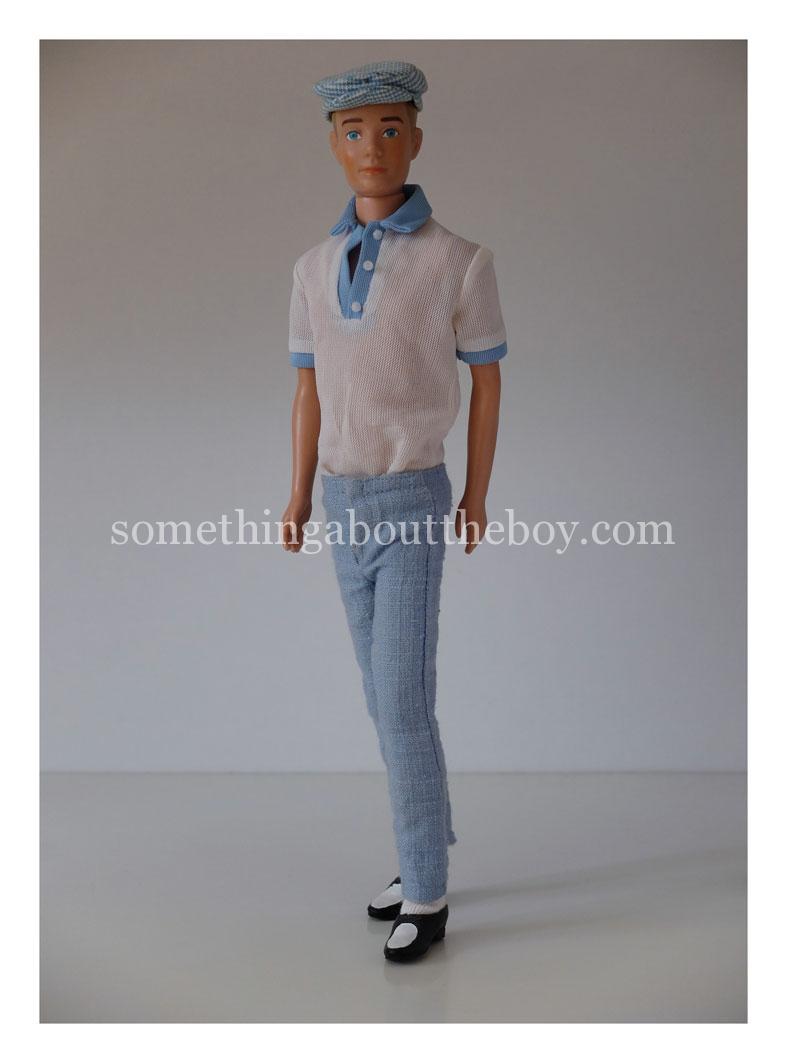 ---
MR. ASTRONAUT #1415
The space suit comes with a button and loop to fasten on the outside collar, but also has an inner collar which fastens tightly around the neck with an additional button and loop.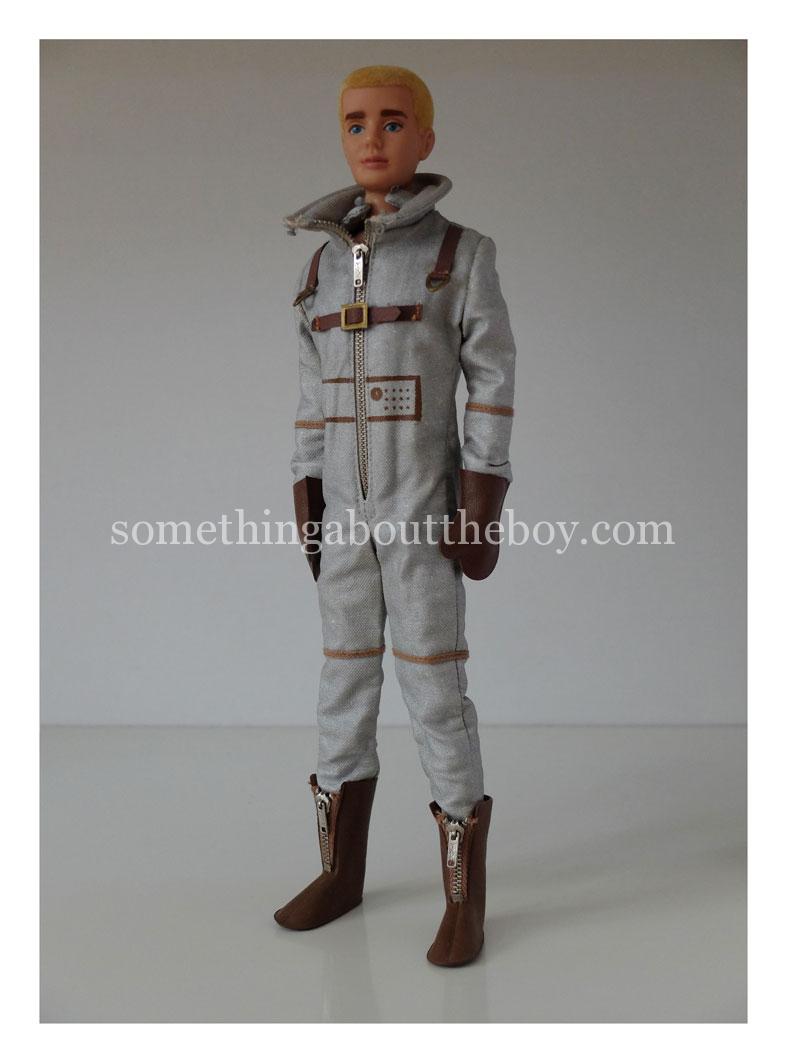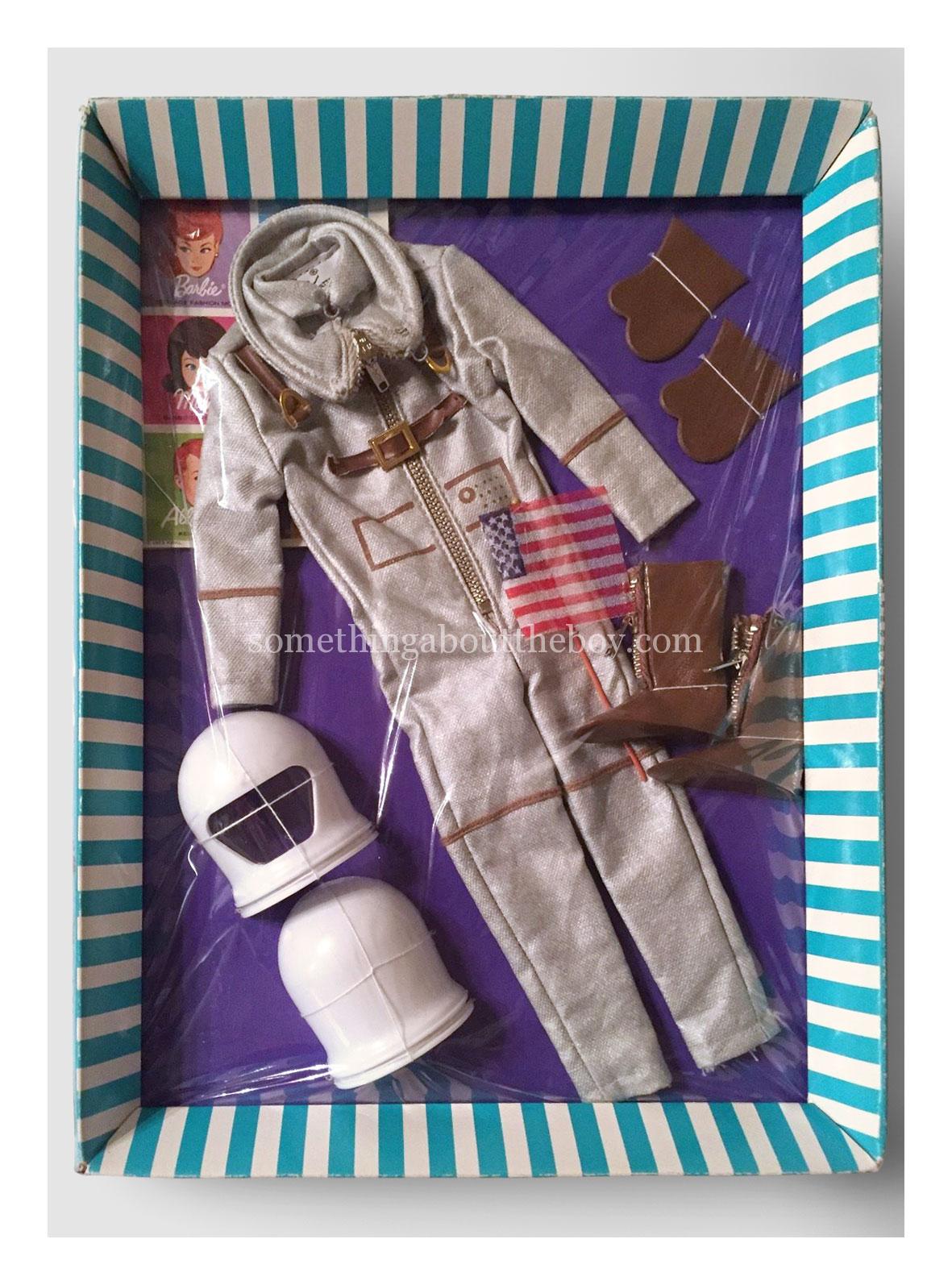 ---
COLLEGE STUDENT #1416
The booklets and catalogues only mention this outfit coming with brown shoes, and for sure most versions did. However, the bottle-green ones shown here came with a version of College Student I bought out-of-box. They are definitely genuine Mattel, as they are marked Japan and made identically to all other Ken shoes. Obviously I can't be 100% sure until I find further documentary evidence or a version NRFB, but this discovery has been corroborated by other collectors who have found similar green shoes with an out-of-box College Student.
---
ROVIN' REPORTER #1417
Online sellers often put red socks with Rovin' Reporter, but all the MIB versions of this outfit I've seen, as well as the Mattel catalogues and Barbie booklets for 1965, all have black socks.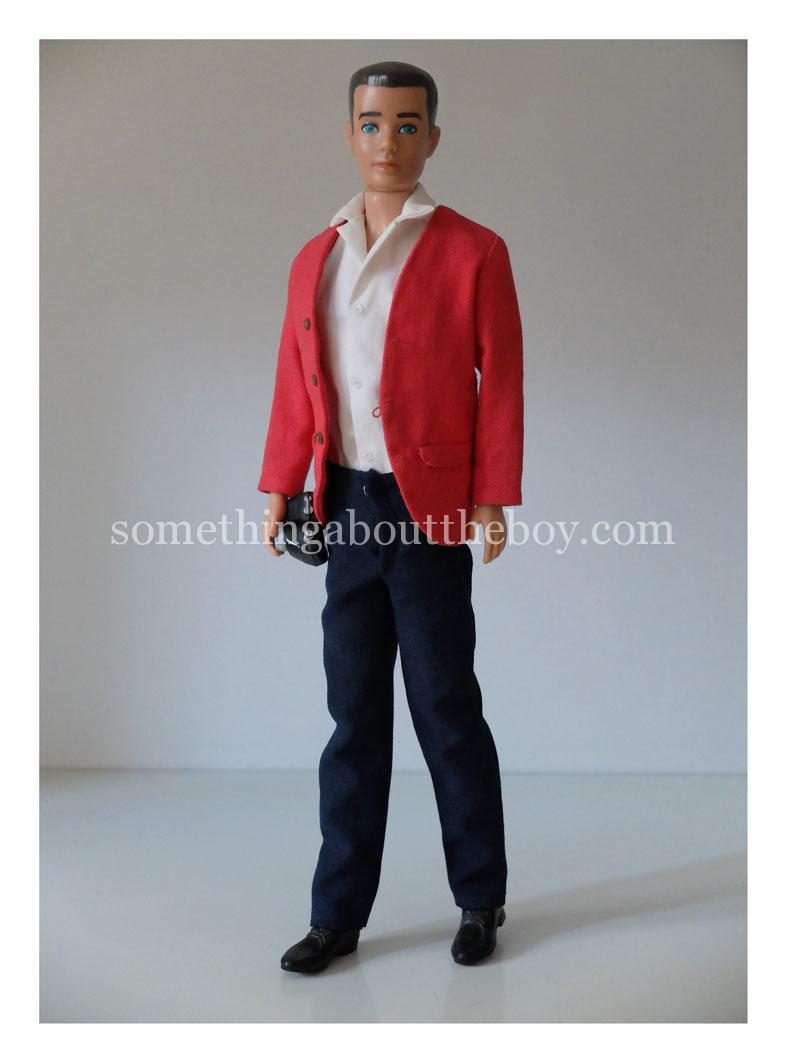 ---
BOOKLETS & CATALOGUES
There were four Exclusive Fashions booklets for 1965.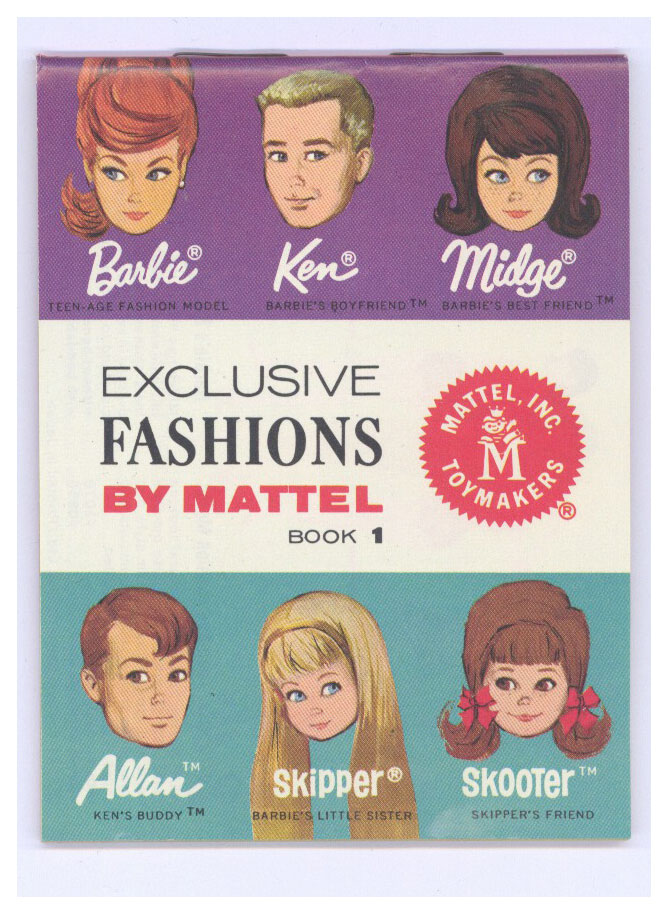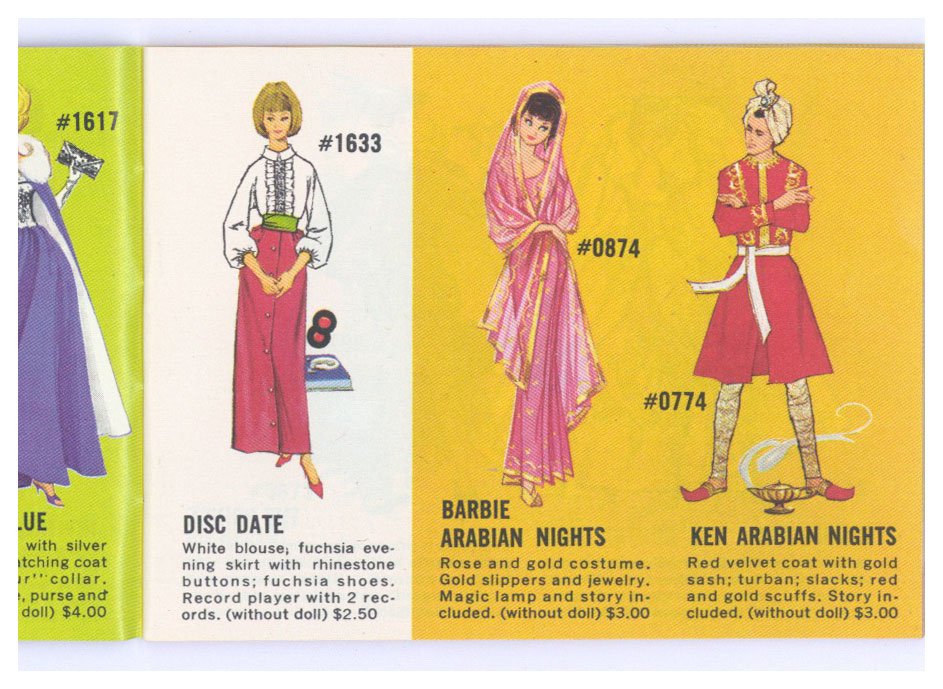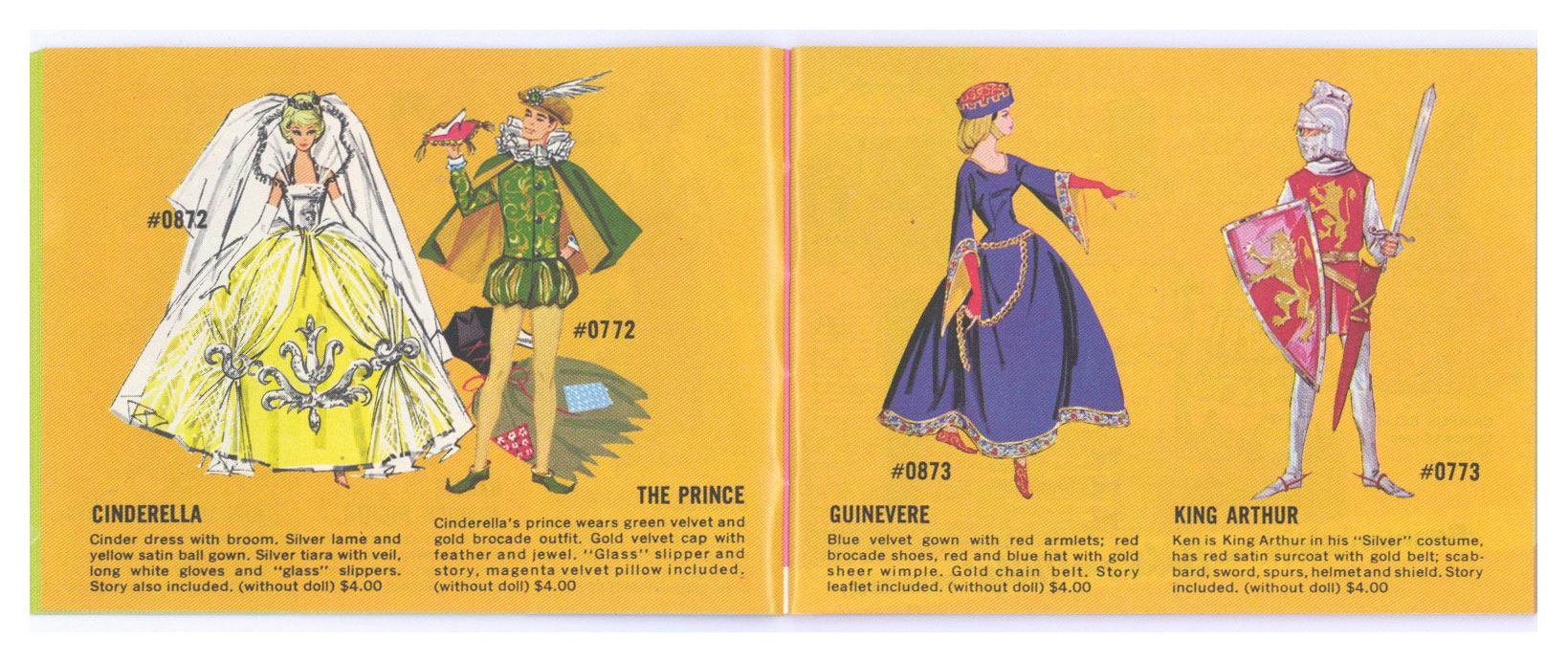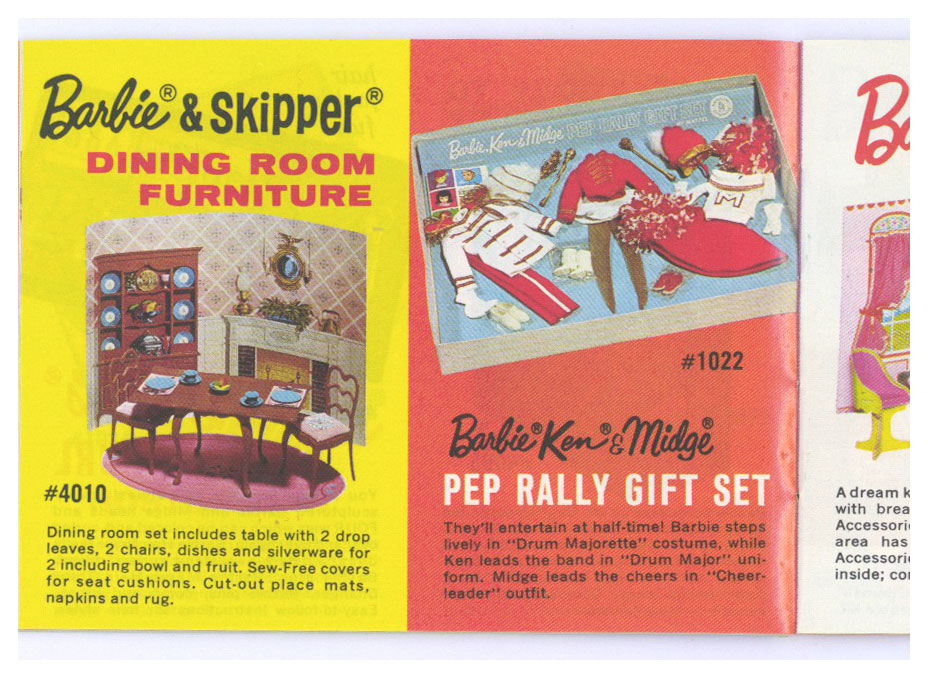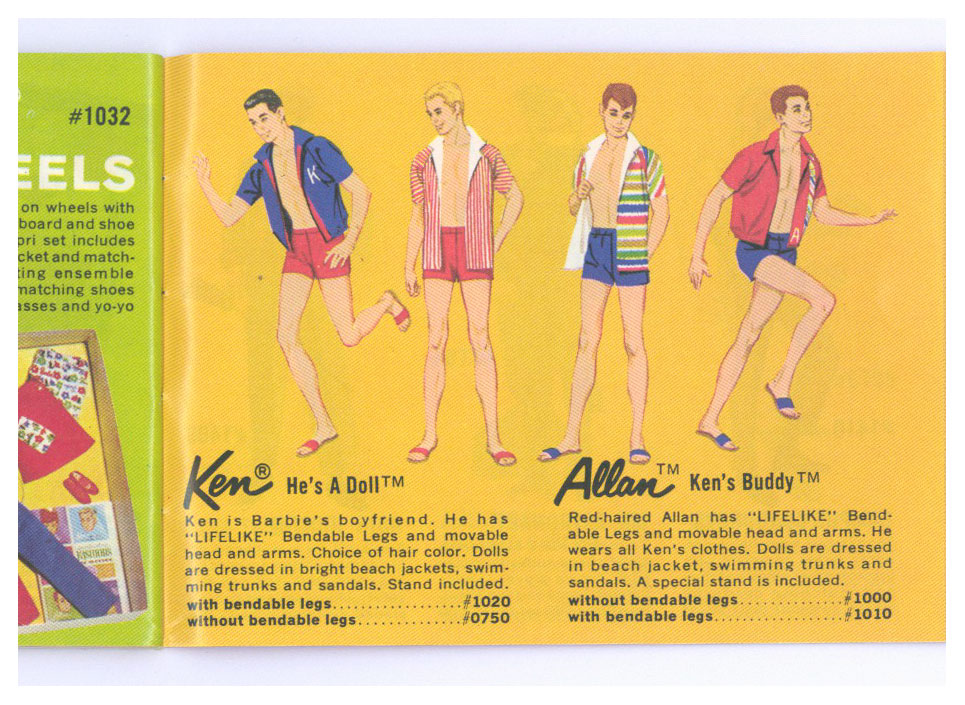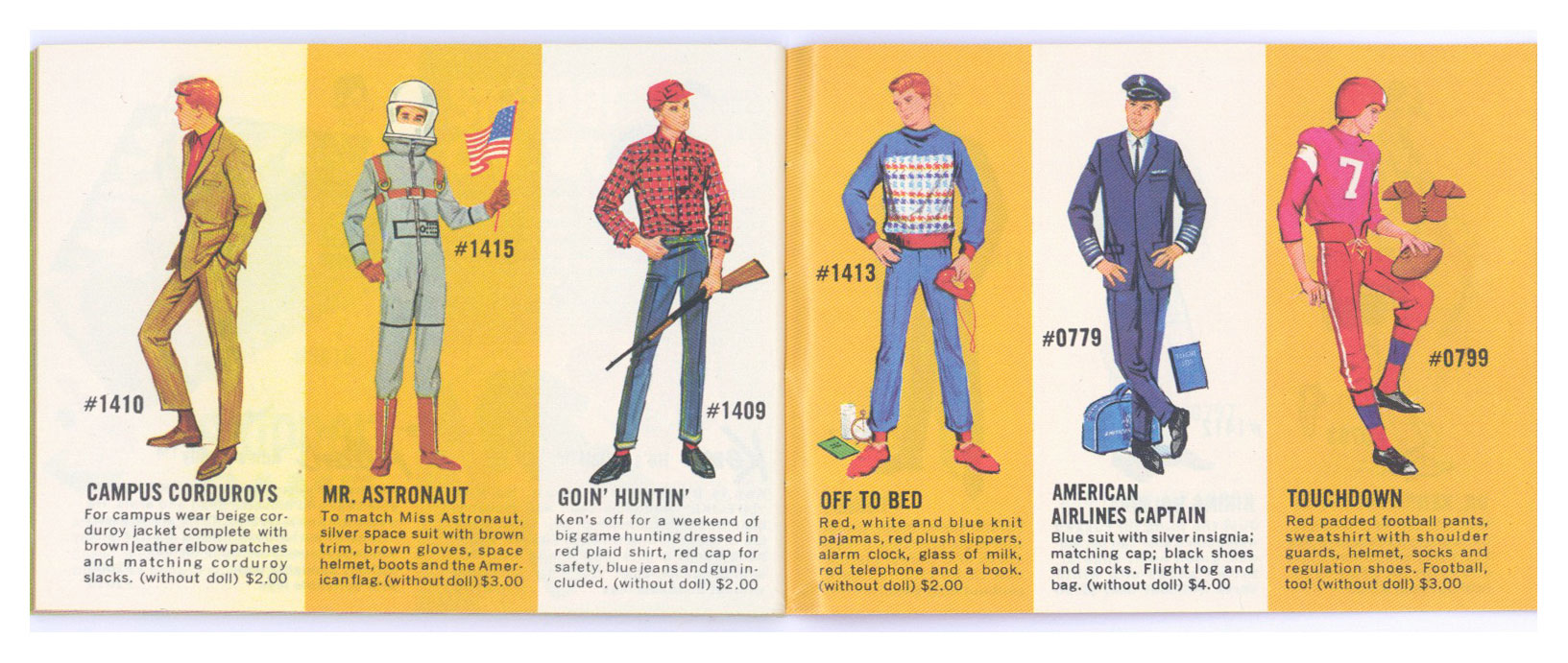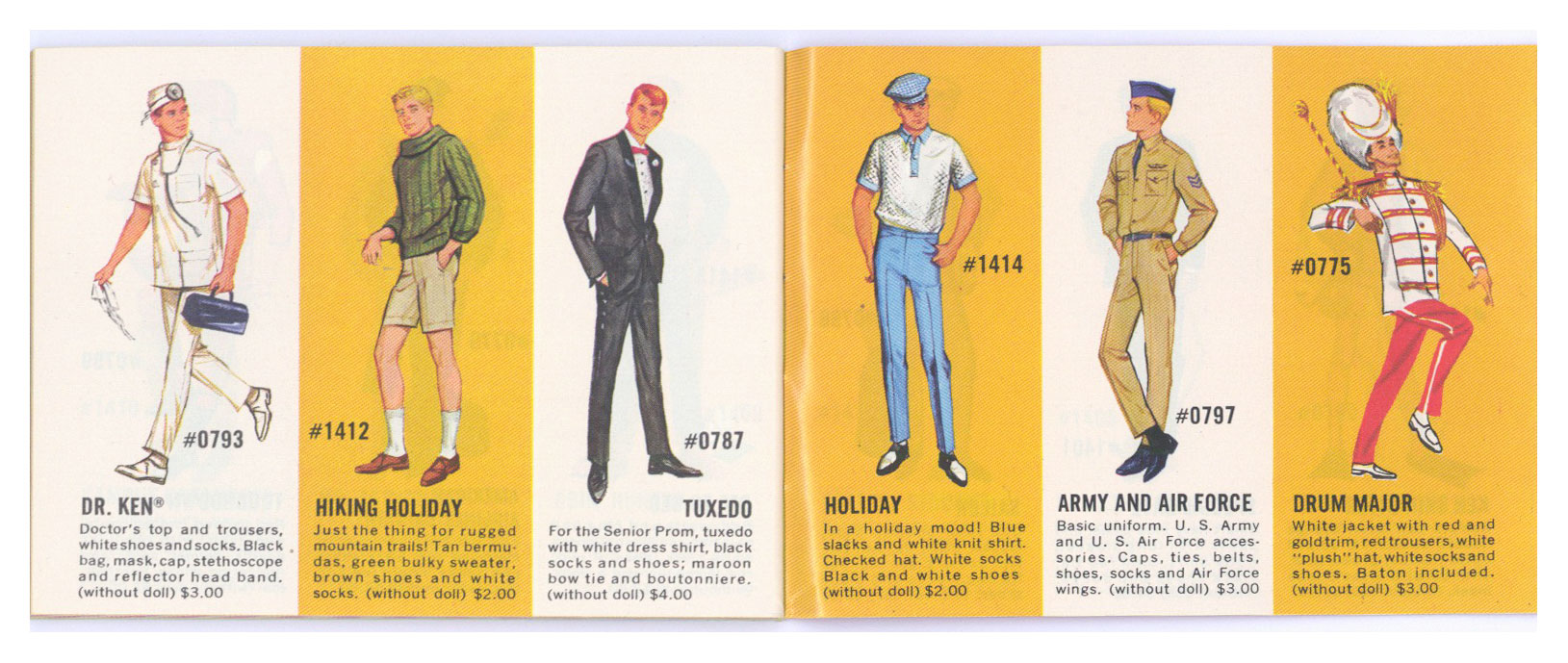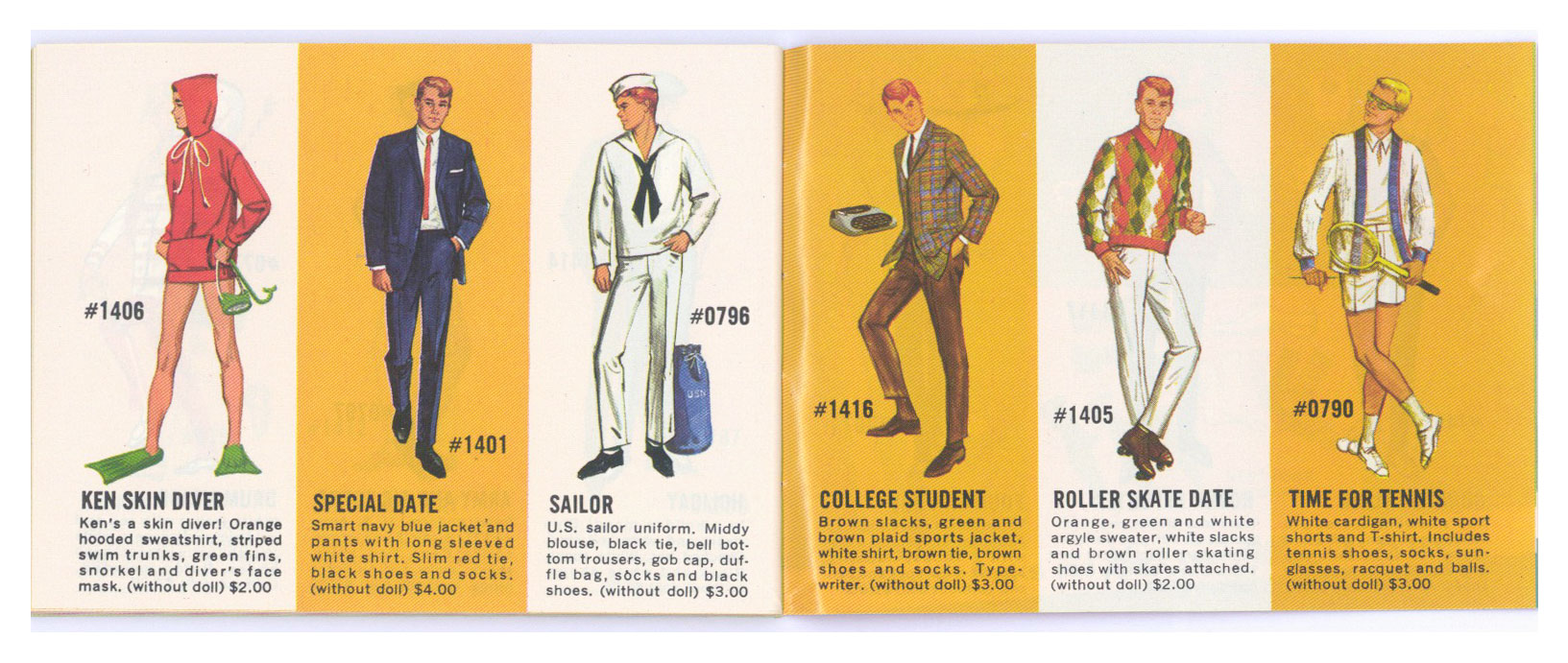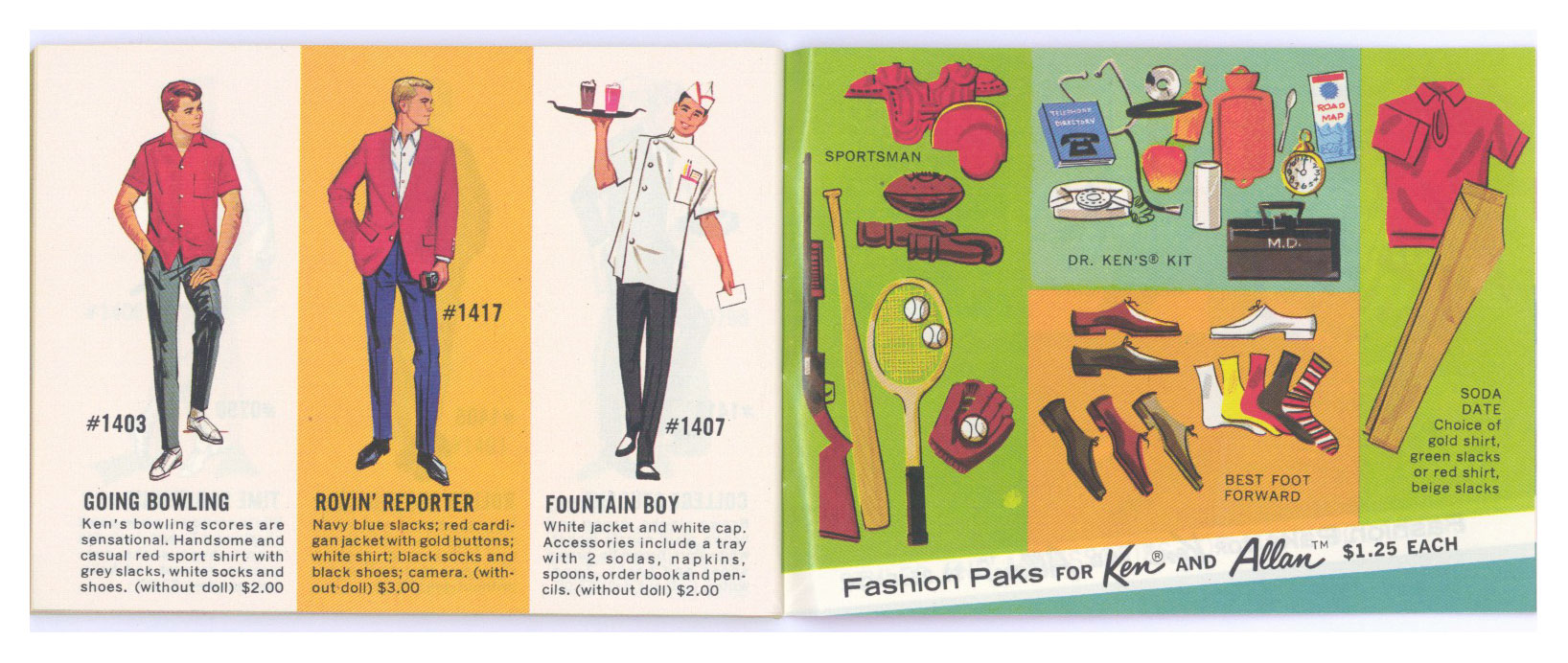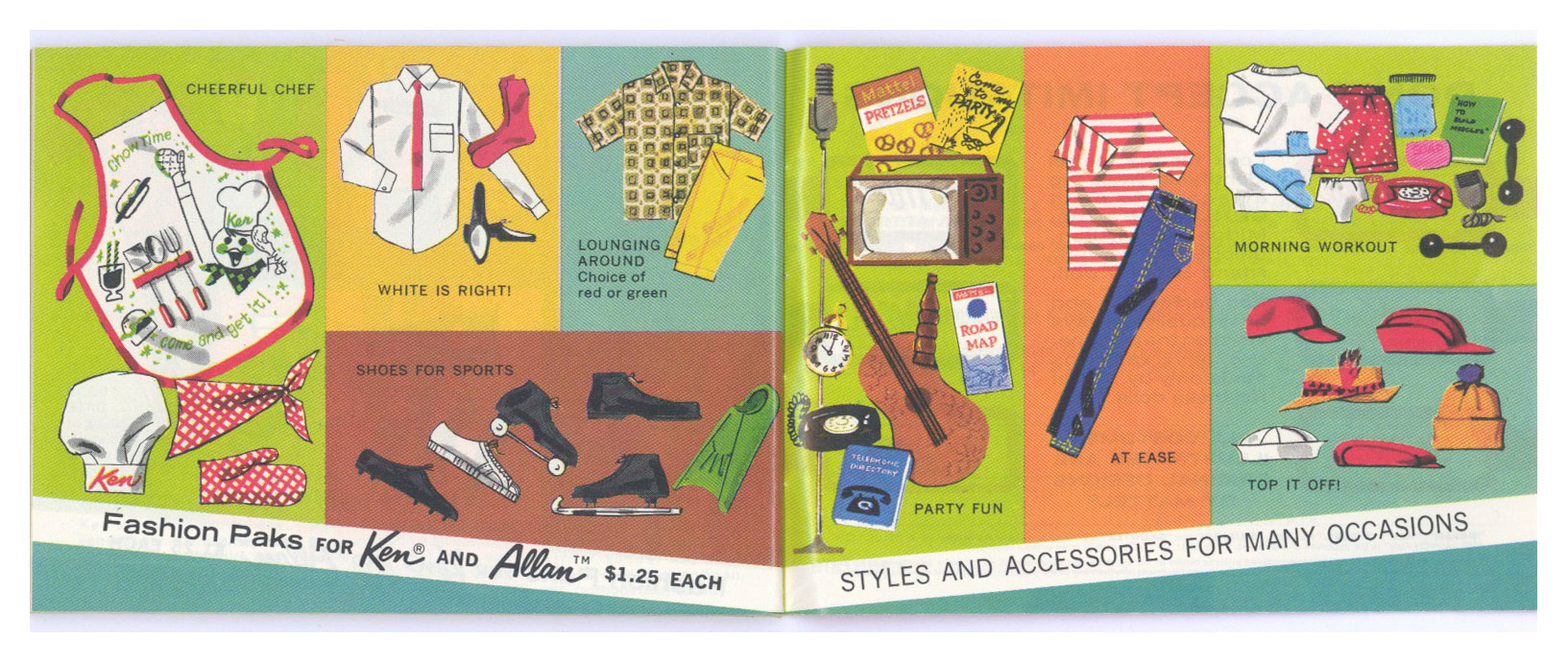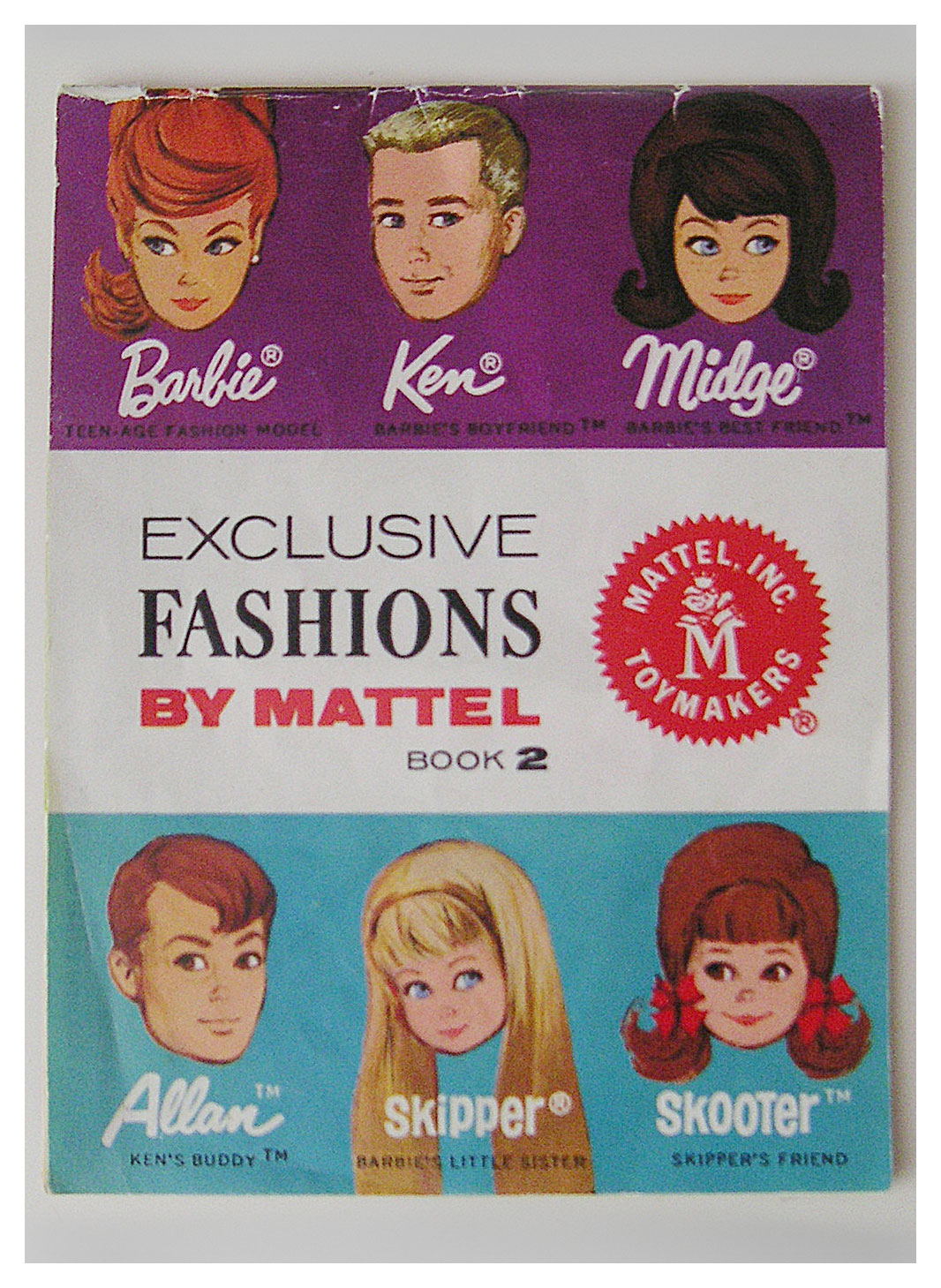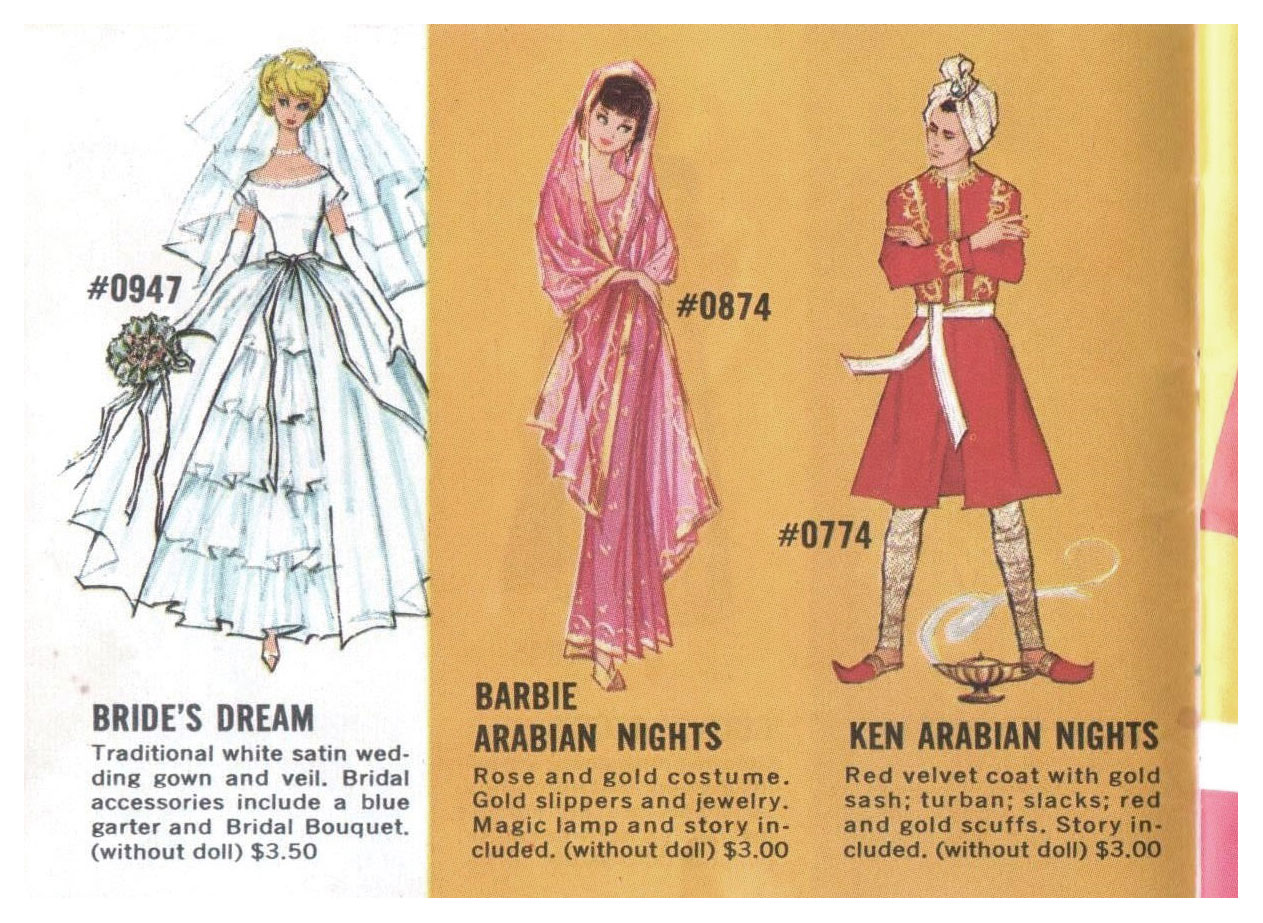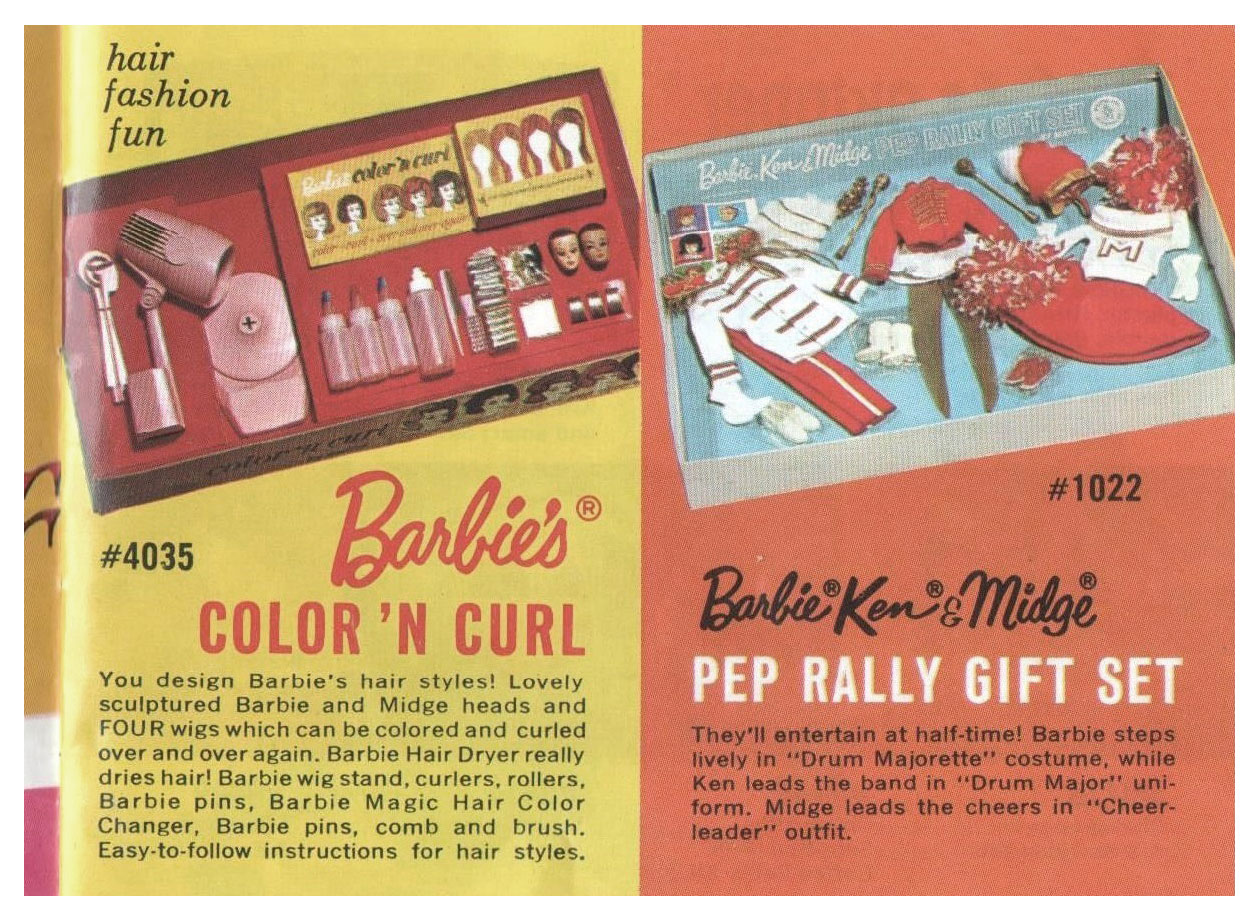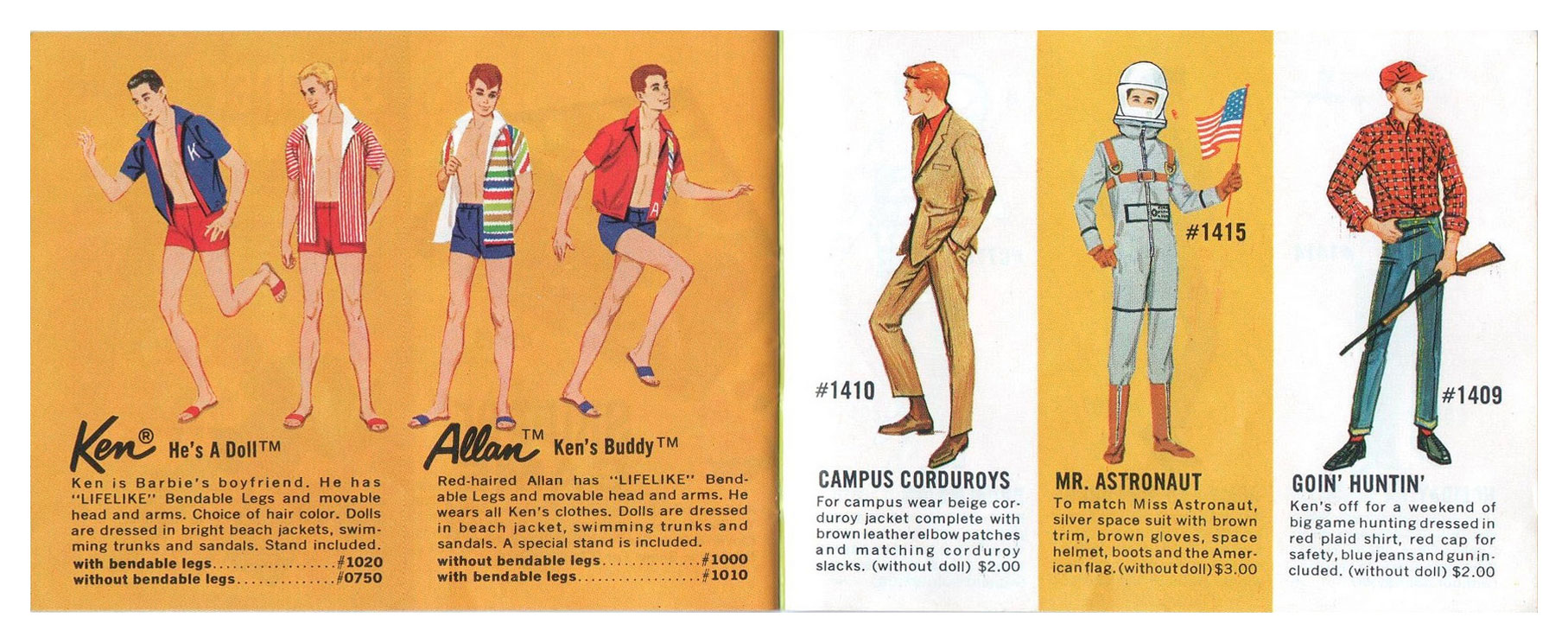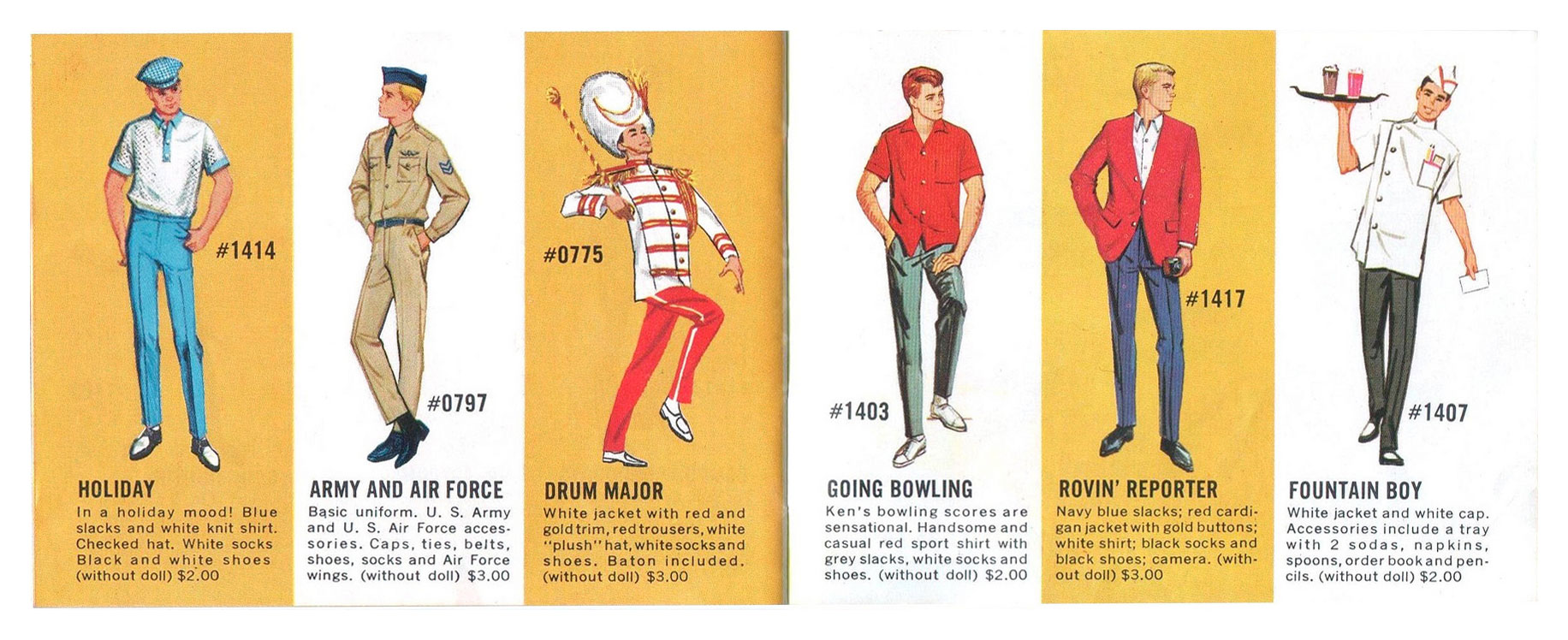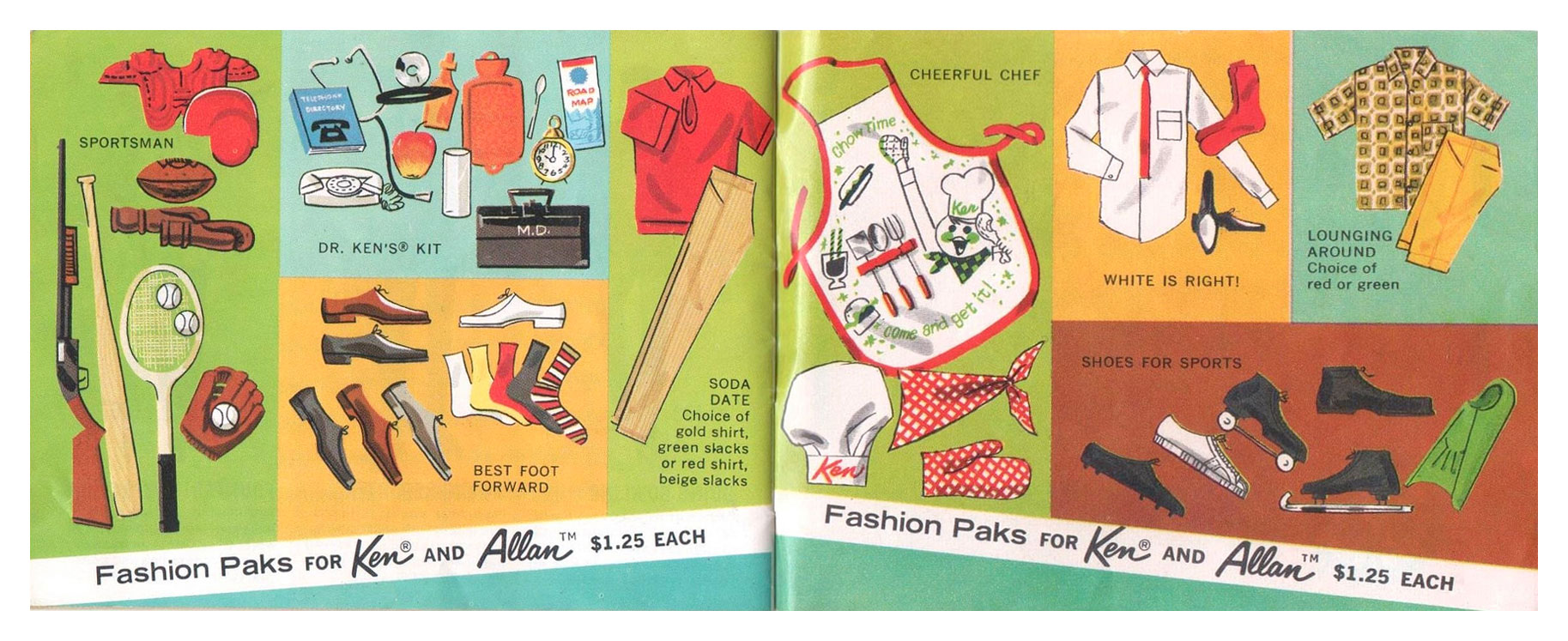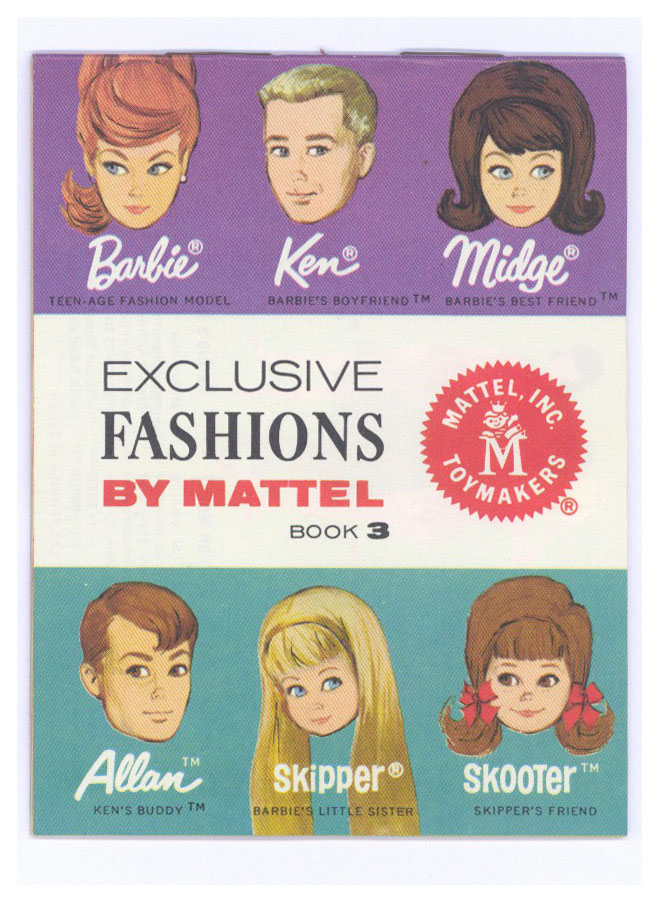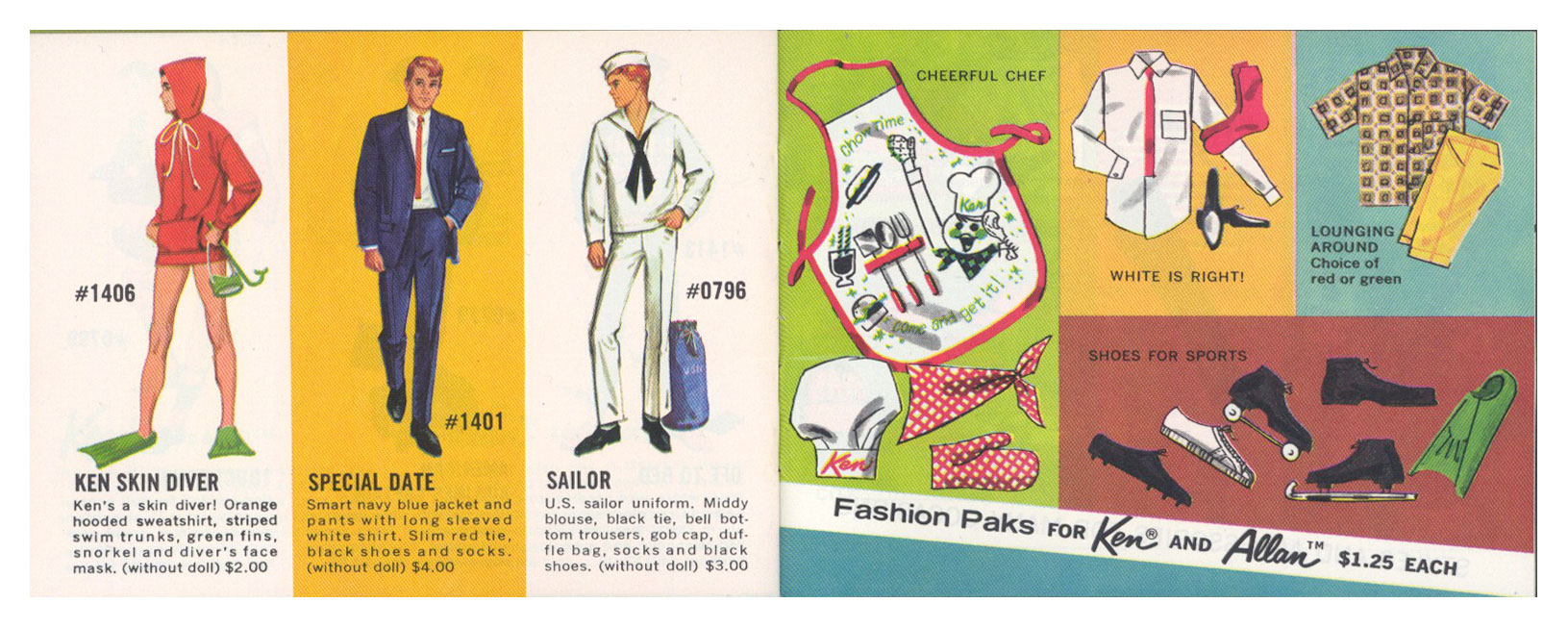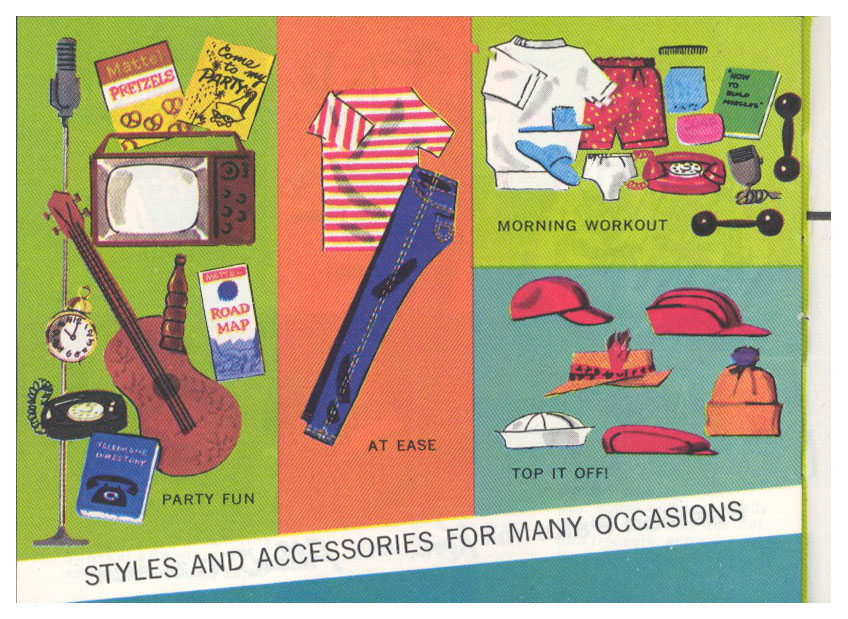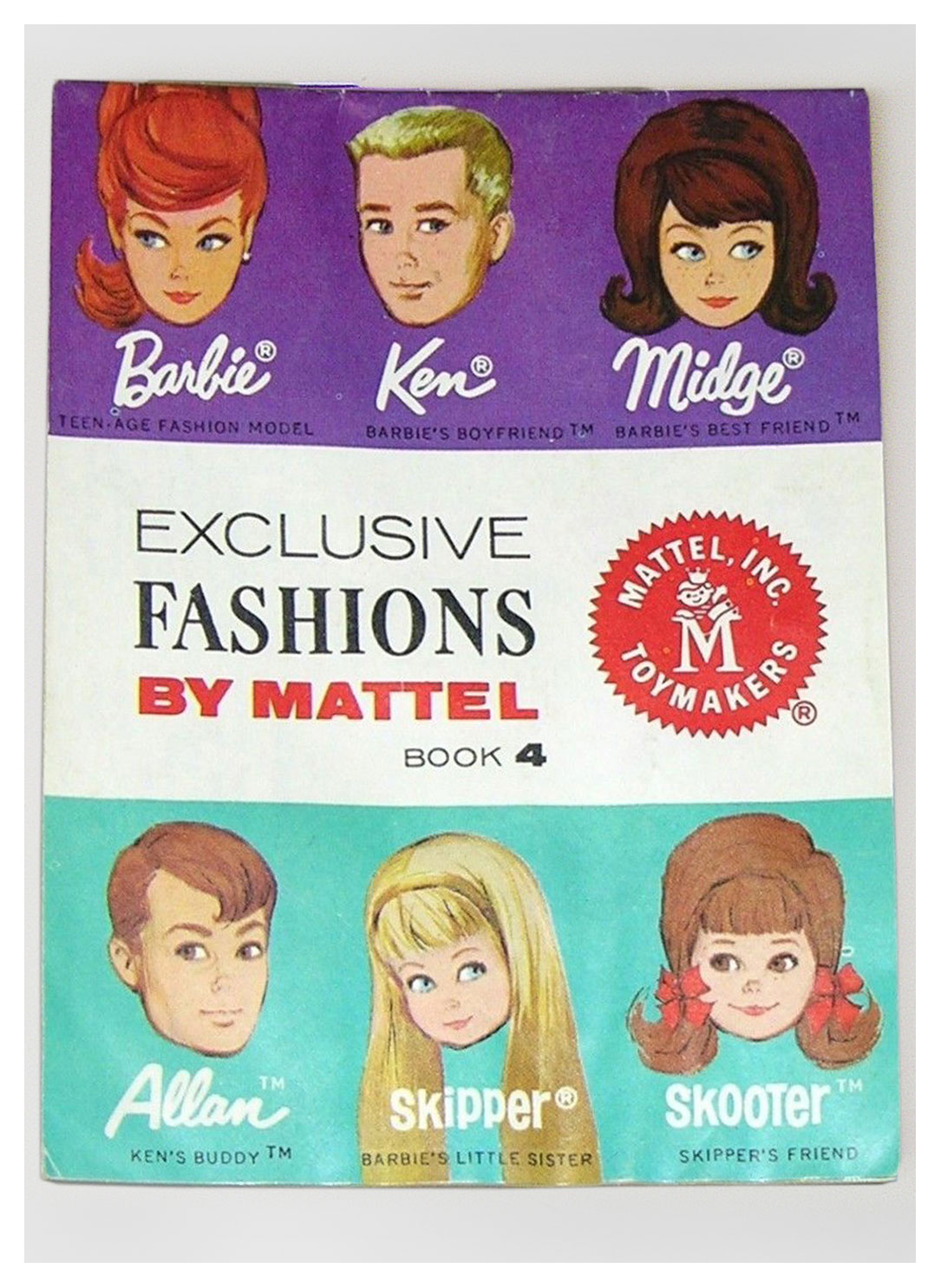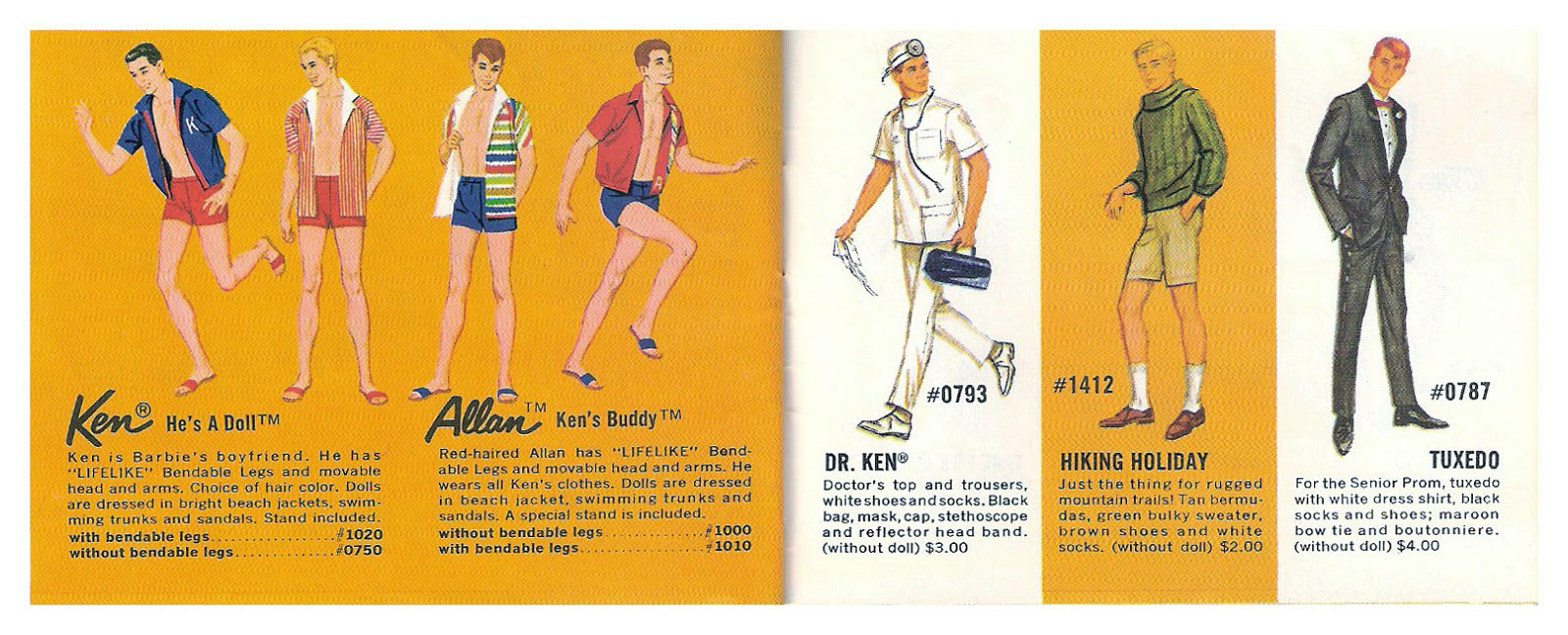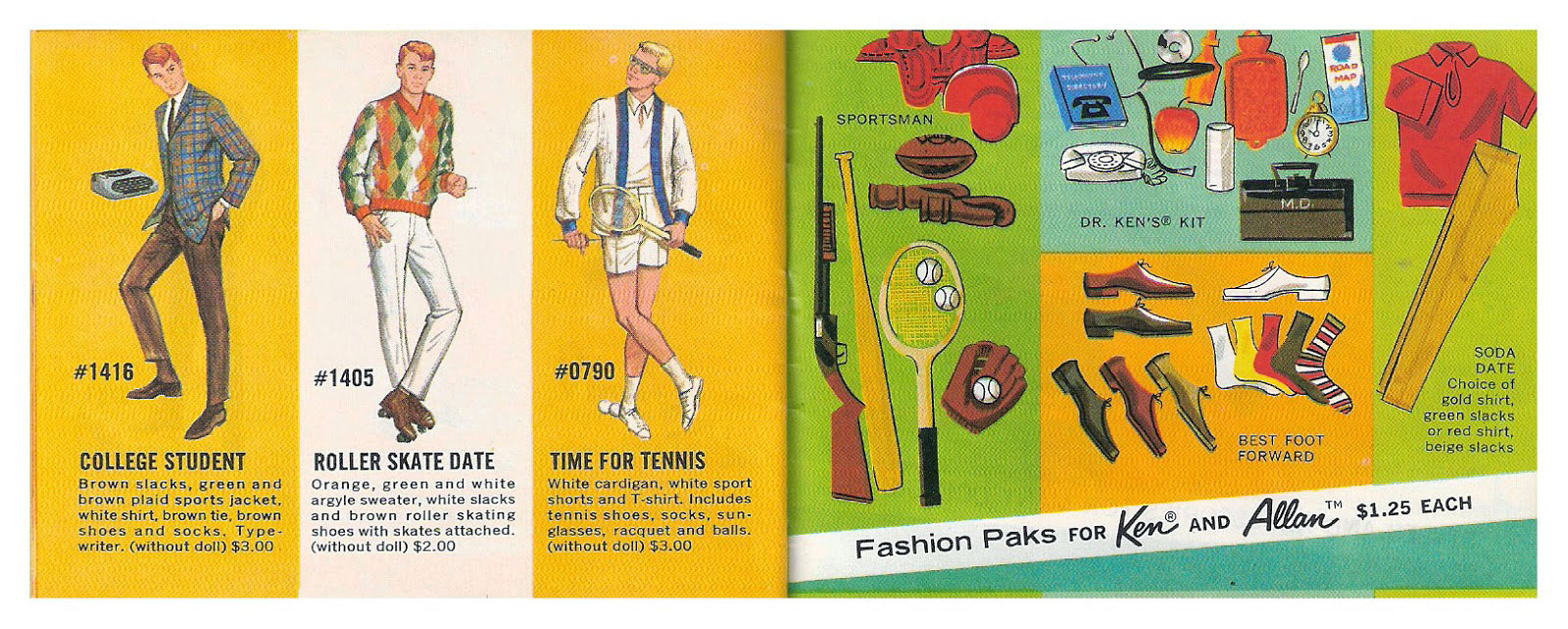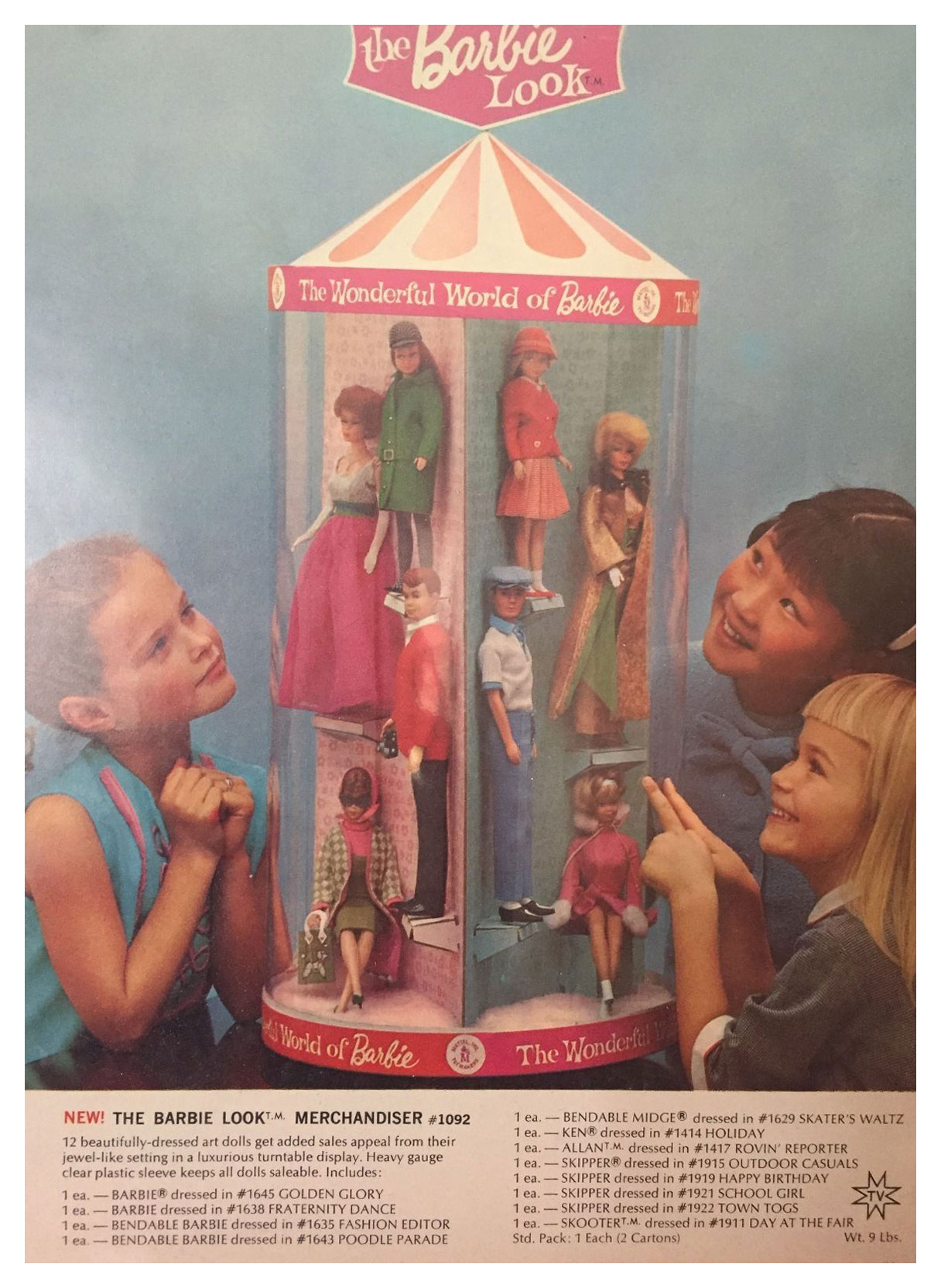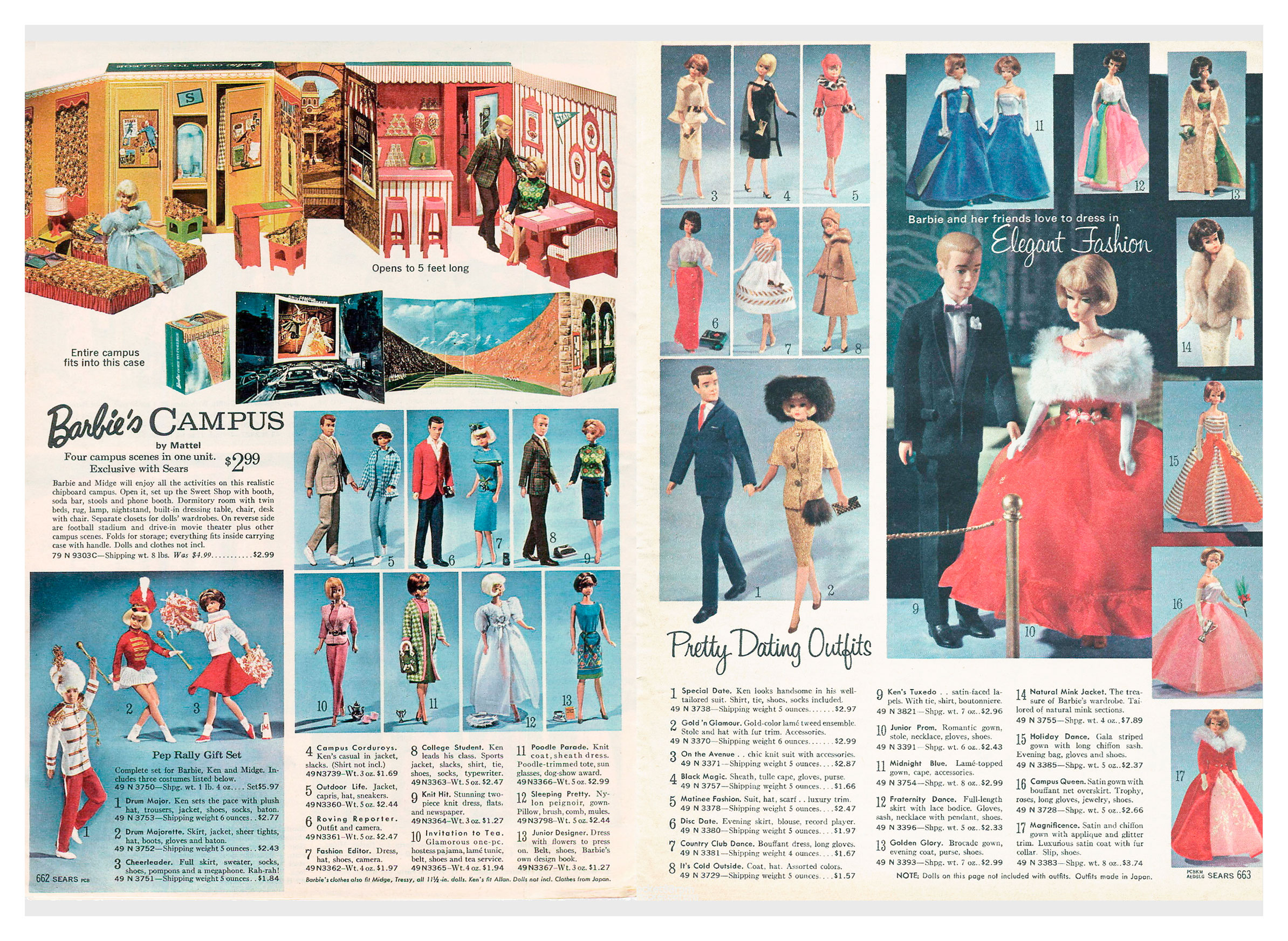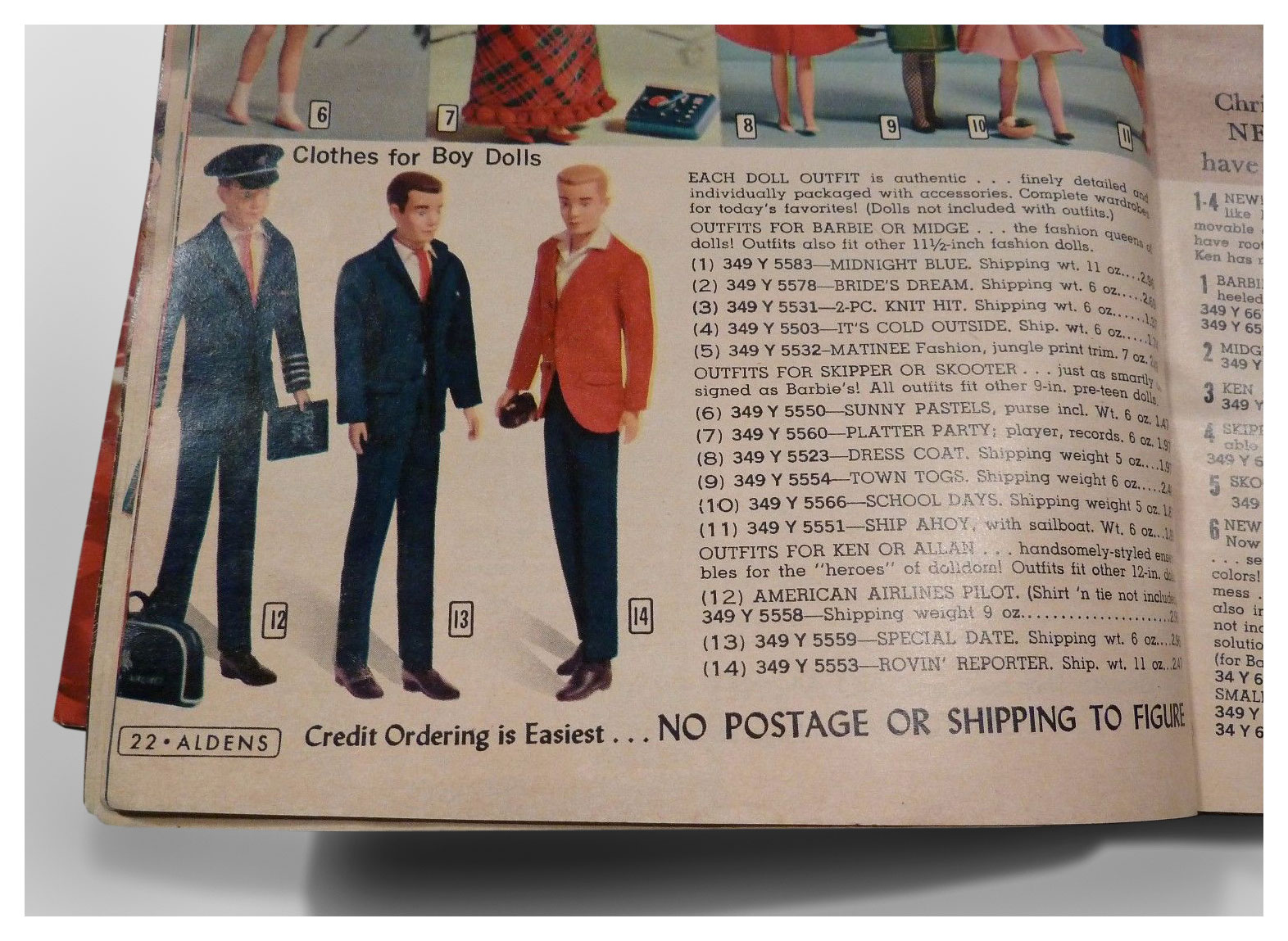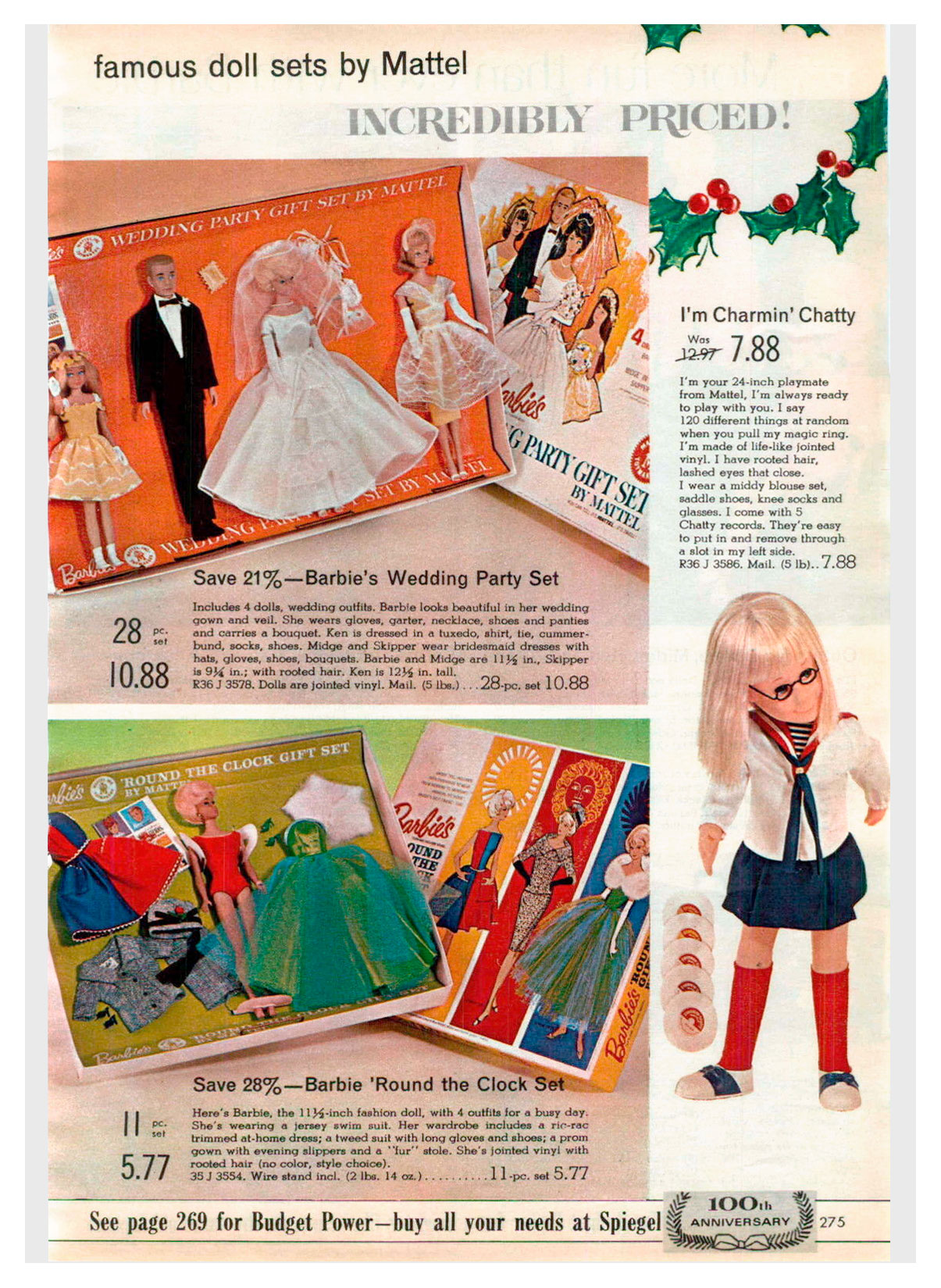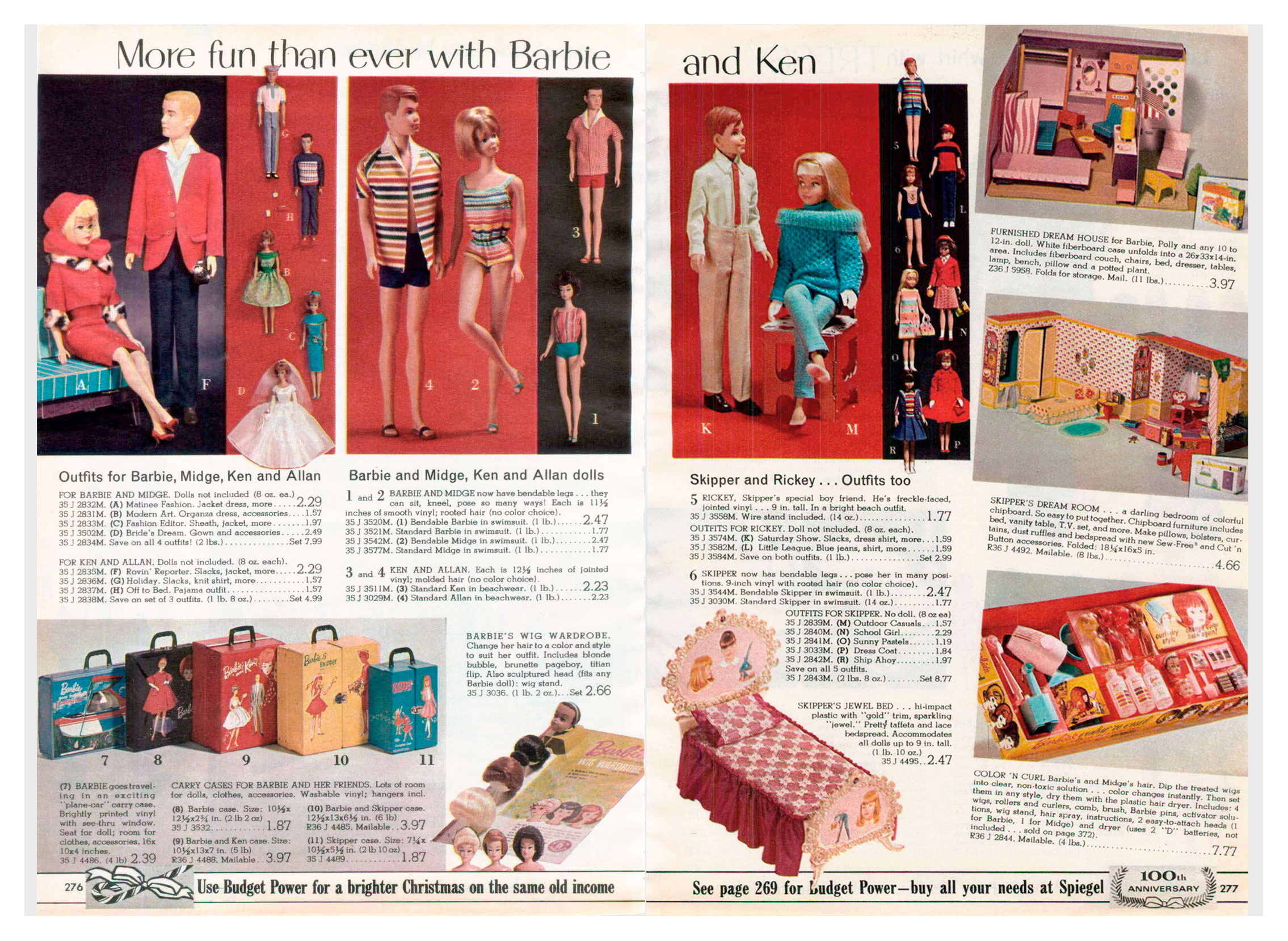 In the 1965 Simpsons Sears Christmas catalogue Holiday is called Vacation Time and Off To Bed is called Sleeper Set.
The Mostow Co. 1966 Yearly Wholesale catalog No. 153 (below left) features Campus Hero. Presumably they had old stock to sell off, as this is the only reference I've ever found to this outfit after 1964.
Mattel also produced sewing kits with McCall, which had outfits for Ken.
From the mid-1960s Ken was also sold in Europe, often imported and distributed through existing toy companies in the various countries. In 1965 there was a European booklet available in Belgian, Danish, Dutch, French, German, Italian, Swedish and Swiss versions. They all use the same format and stock photos, but I am showing them all because each country (with the exception of Denmark) gives the outfits different names.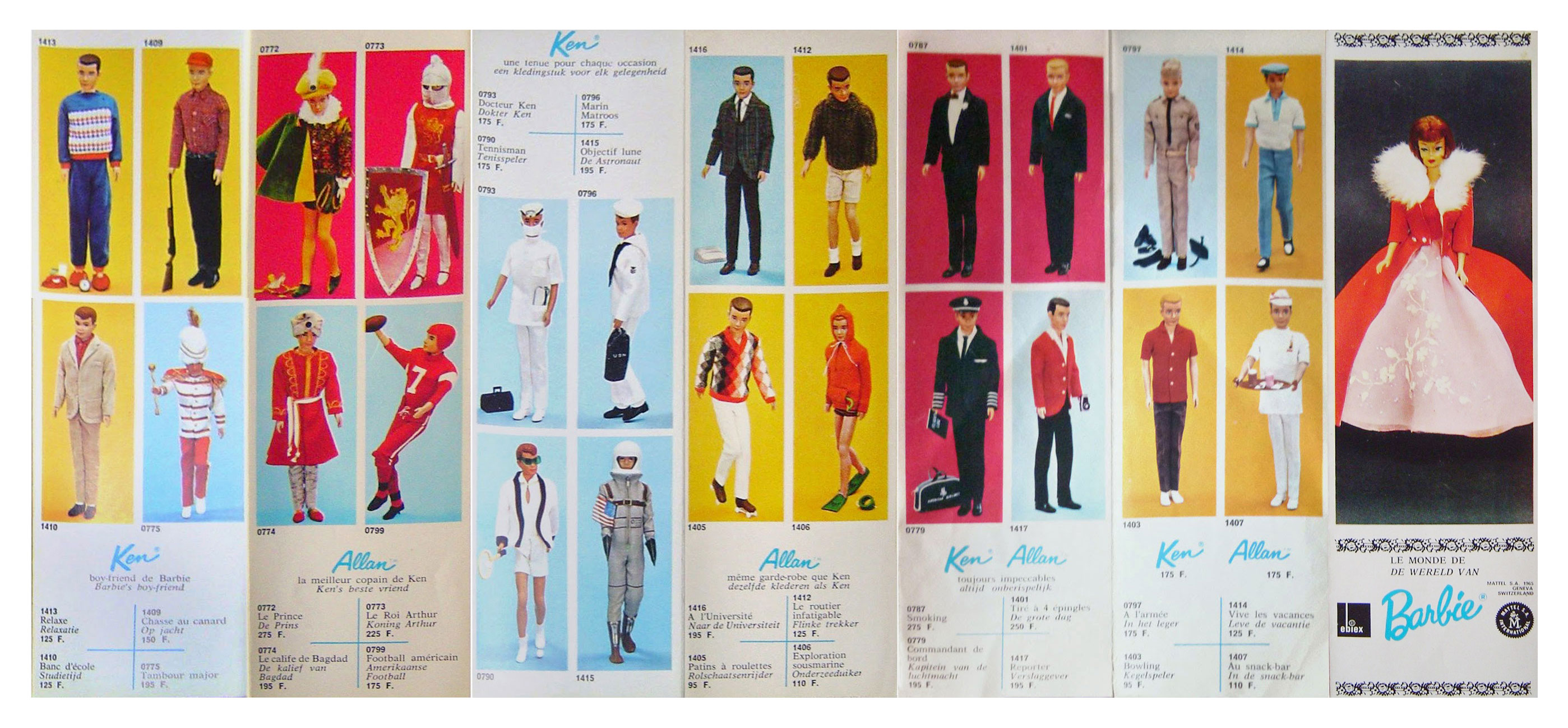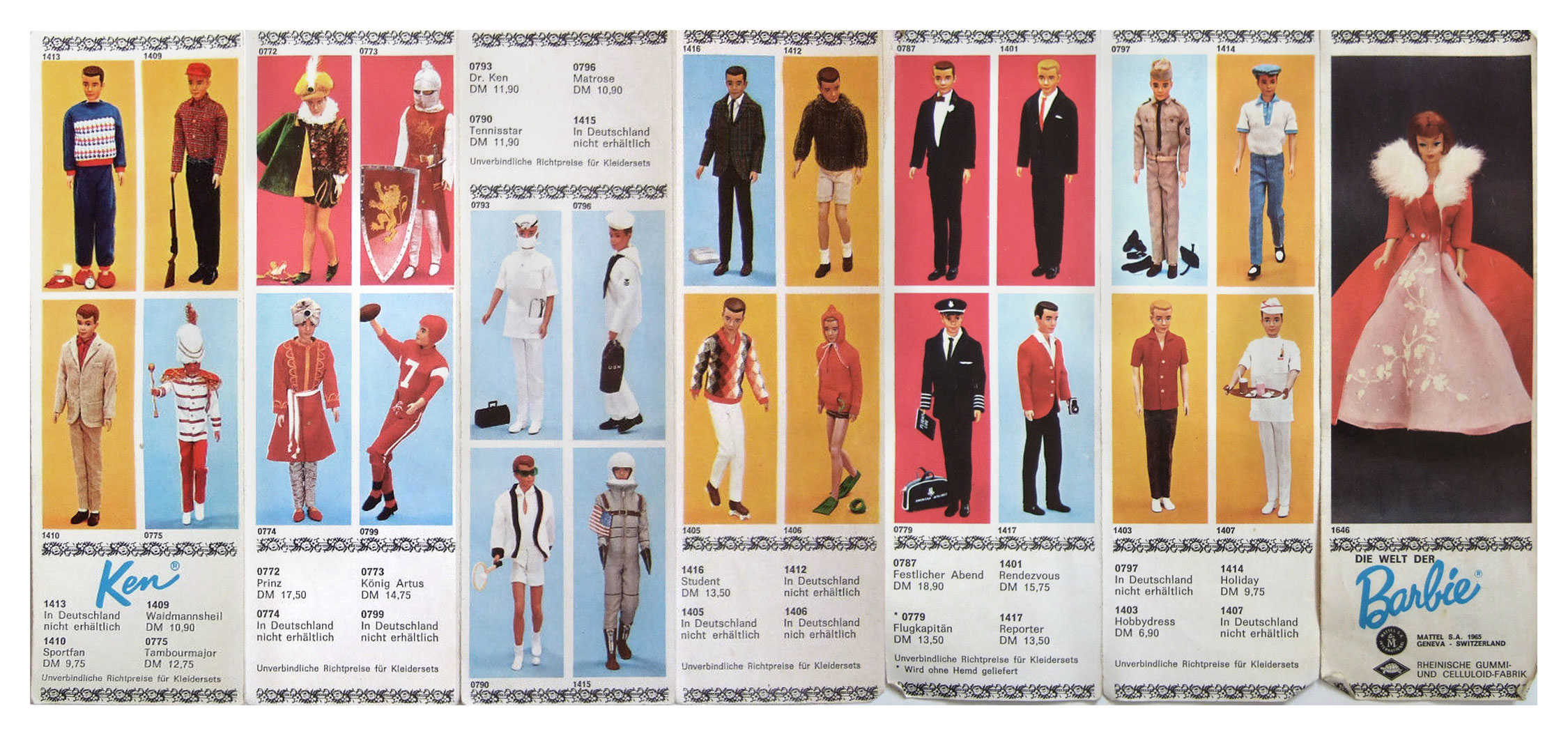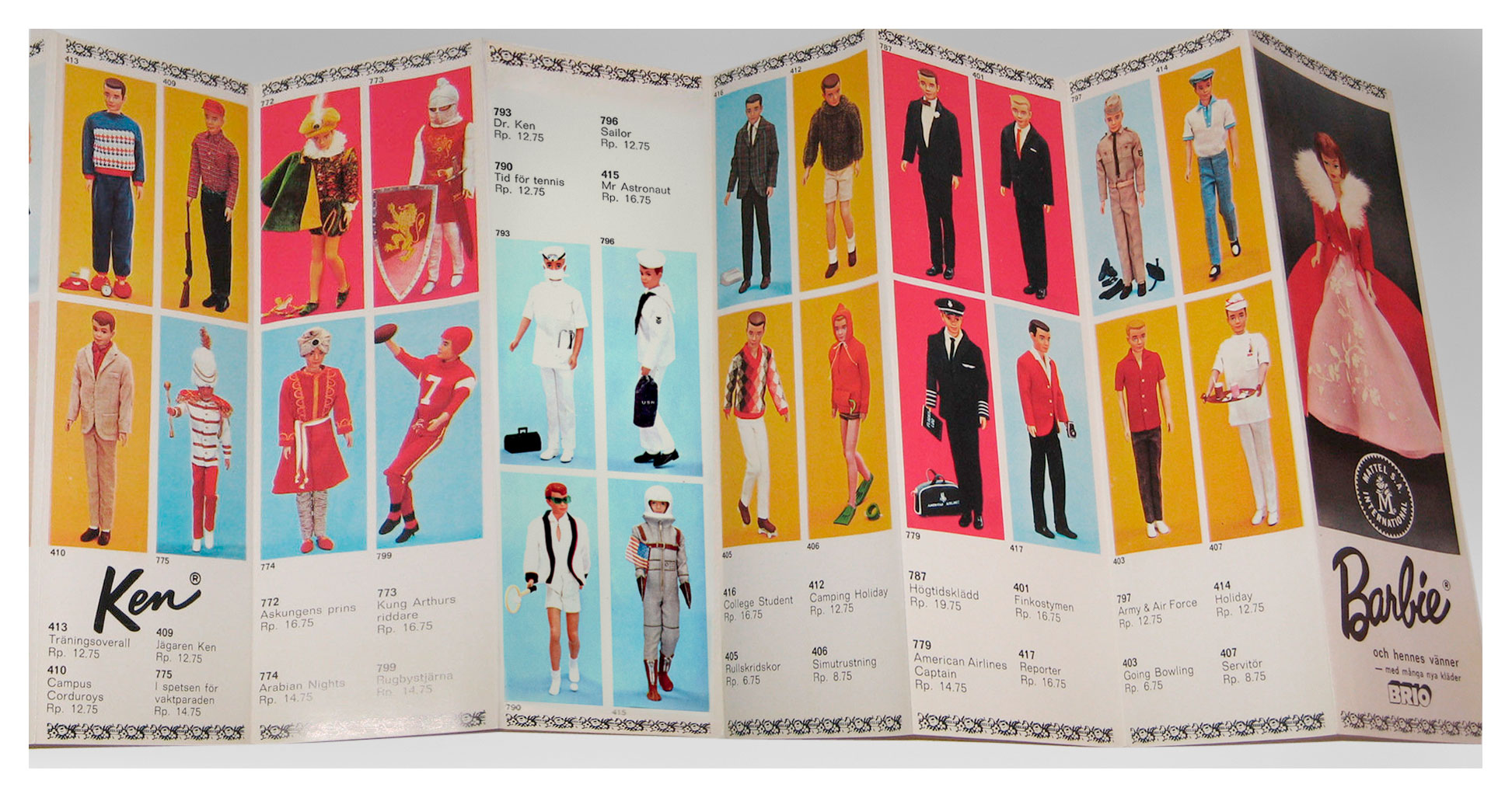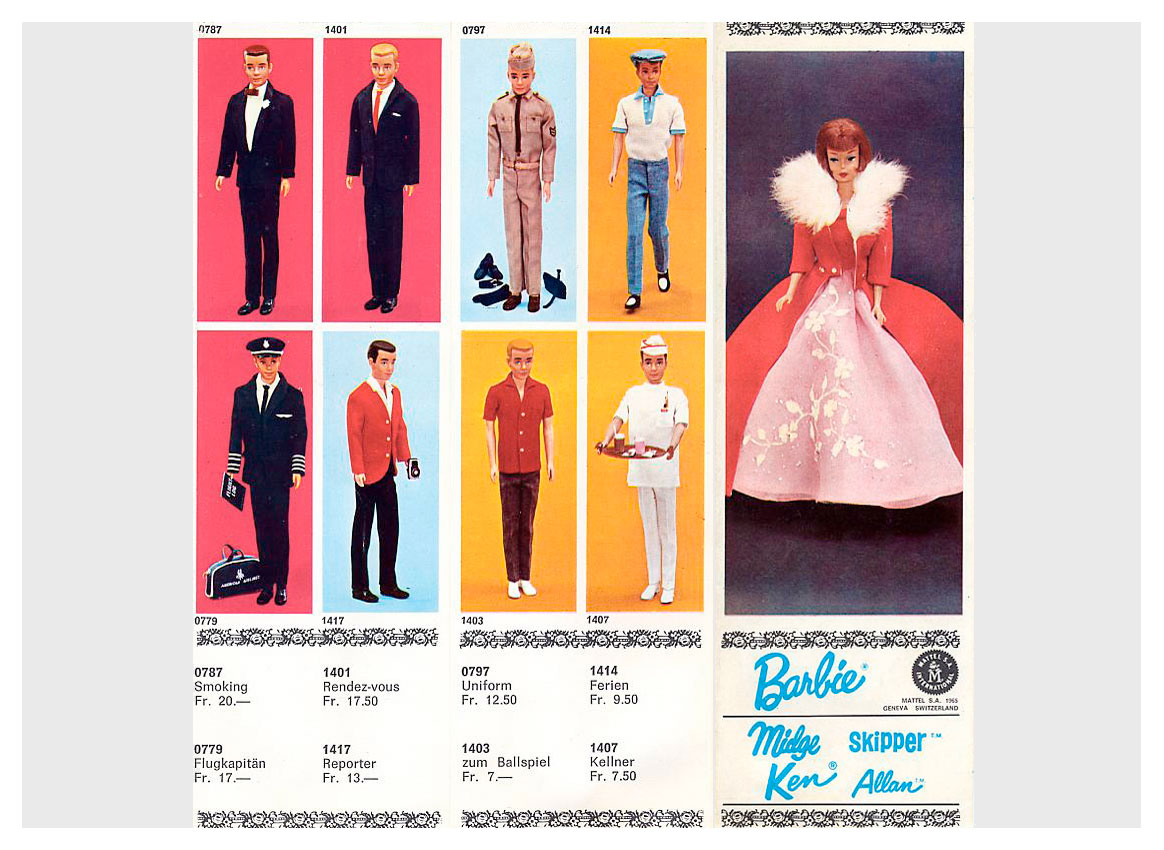 There were also separate German brochures in a lavish magazine style using great colour photography and set design.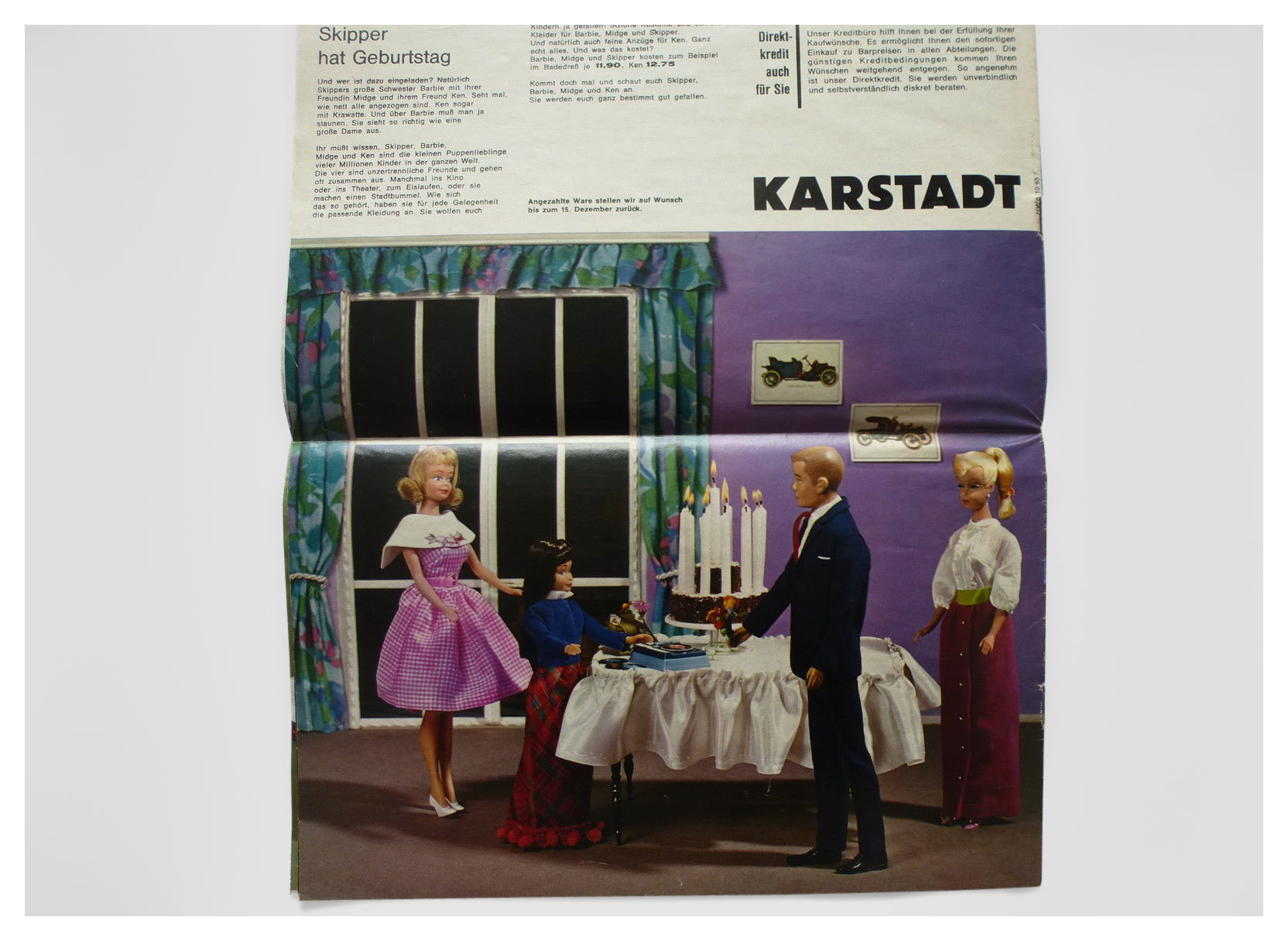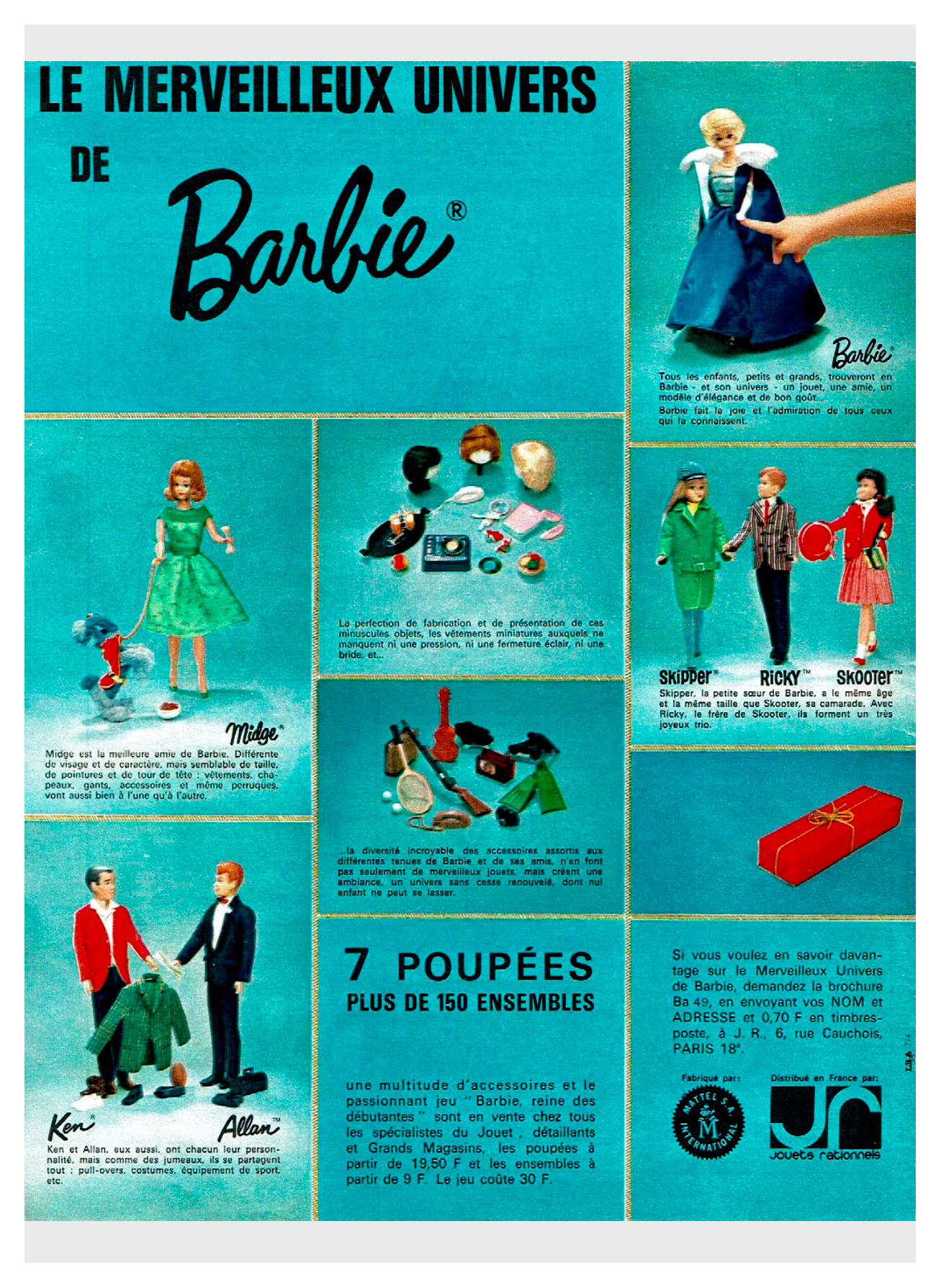 This Japanese booklet is interesting, as it shows outfits like Dreamboat and Saturday Date, which were no longer available elsewhere. Curiously it shows Dreamboat with the green Fashion Pak shirt, Sailor with a blue hand towel, and Goin' Huntin' with the boots from Mr. Astronaut. The outfits were sold separately, but the Kens pictured in the Japanese booklets all seem to have been available as Dressed Dolls (see section 1963 Painted hair Kens).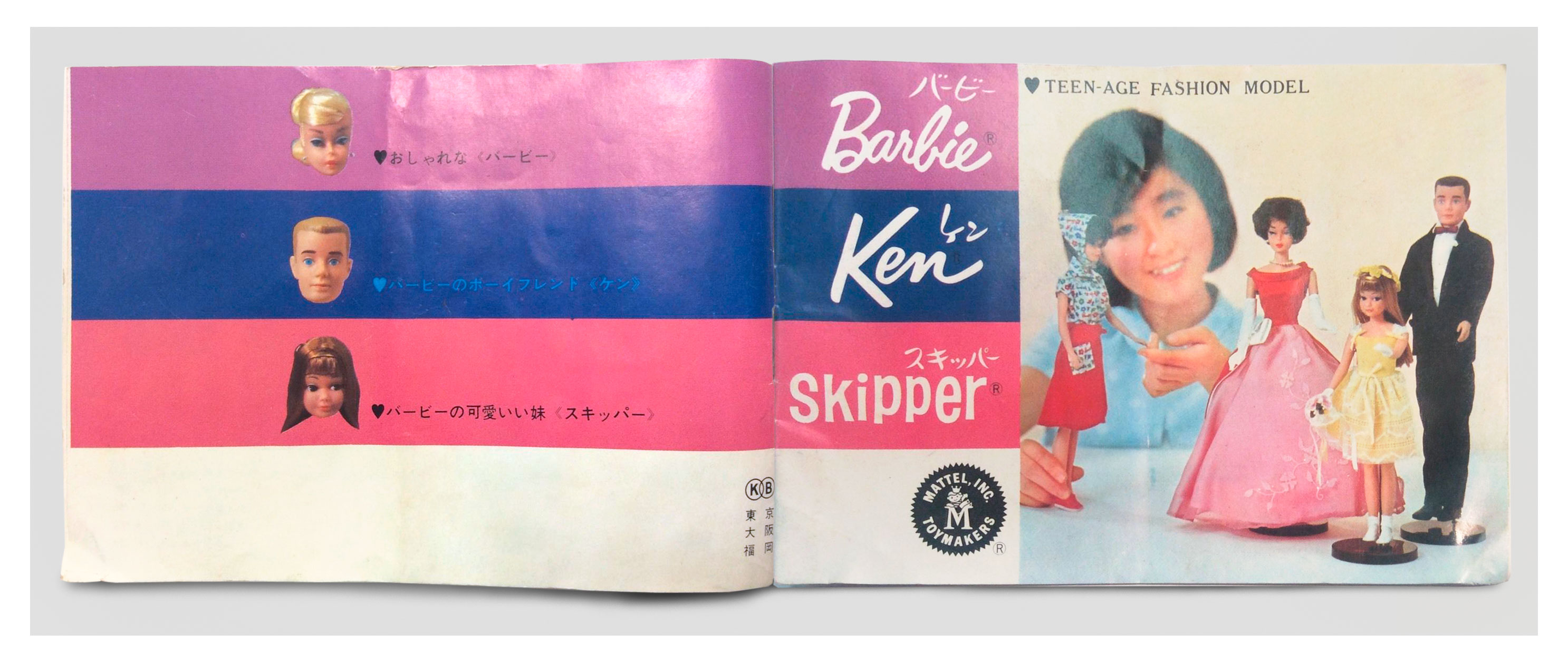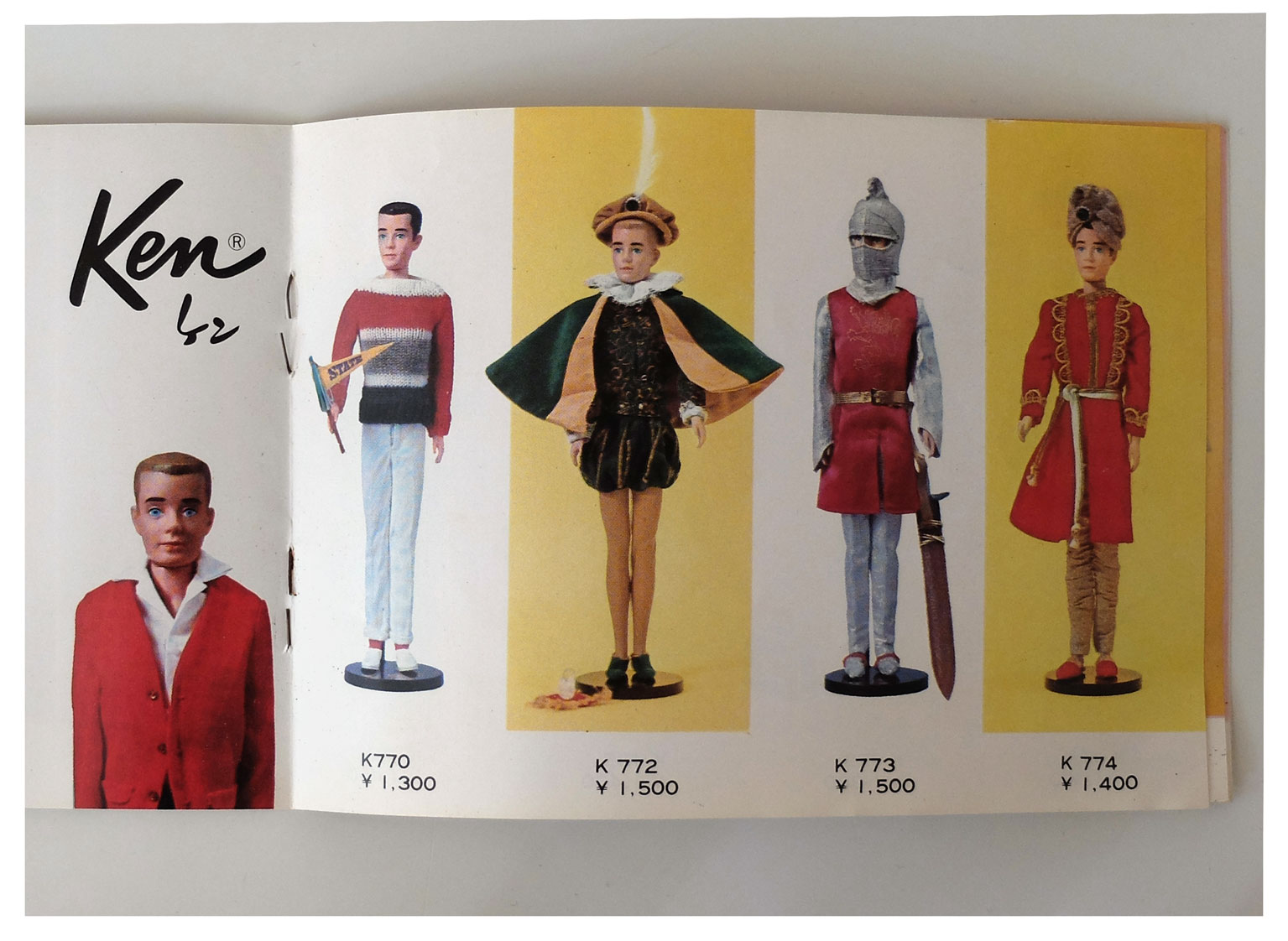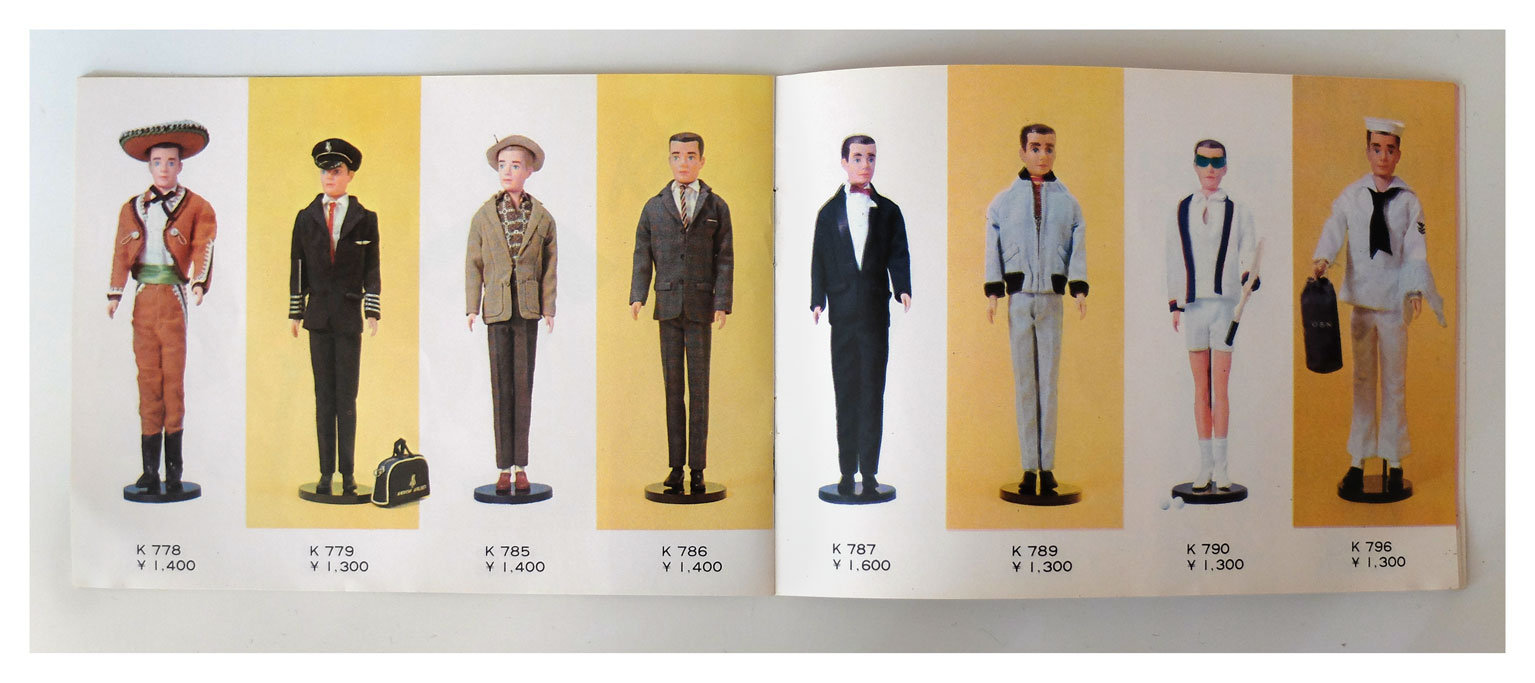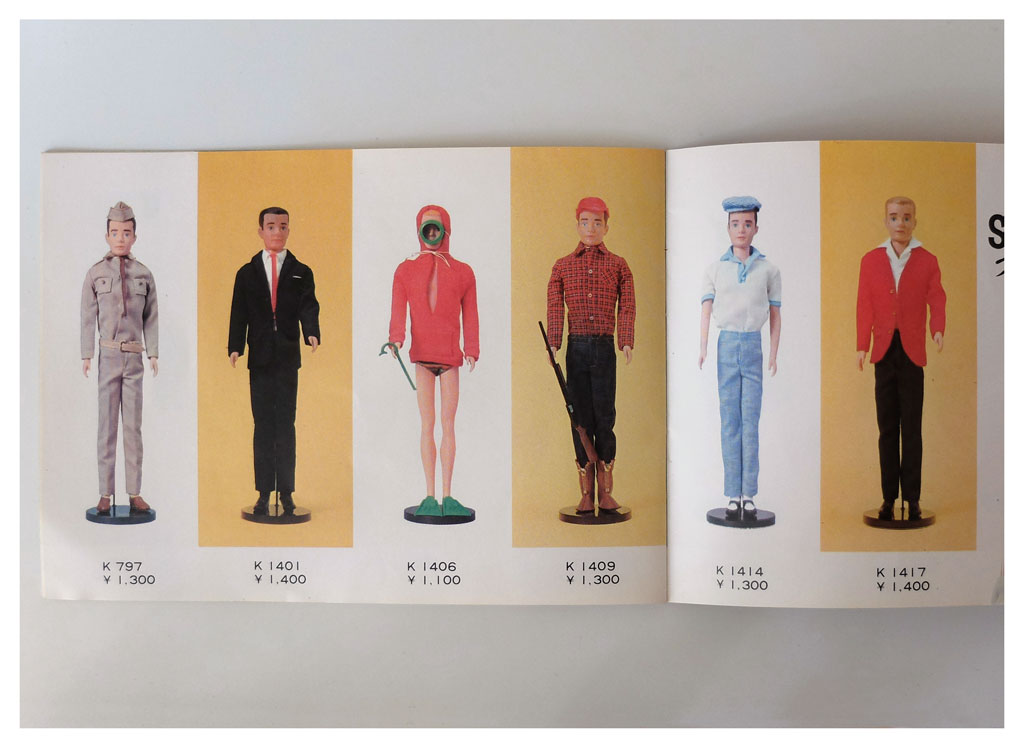 ---
REVERSE OF PACKAGING
Now that Ken had a buddy who could wear his clothes, Mattel designed new illustrations for the reverse of both the Ensemble Pak packaging, and the Fashion Paks. The later packaging is also noticeably different from the front, as the stripes are much thicker and more brightly-coloured.