From 1965 Mattel sold only the Japan-made version of the 750 Ken. That is to say, the 'shorty' Ken no longer appears in any catalogues, and I've never found a MIB 'shorty' with a 1965, or later, booklet (although their US-made boxes were occasionally used to package Japan-made Kens right up to 1967 (see section 1967 the Braniff International Pilot Uniform). The 750 Kens from 1965 are practically identical to the 1964 Japan-made Kens (see section 1964 Ken and his buddy Allan). The only difference I've noticed is that their eyes tend to have a bolder black line painted around the iris. These versions all have blue eyes (some brighter than others), and came with labelled beach jacket, shorts, sandals, wire stand and booklet.
For more information and many more detailed photographs see THE VINTAGE KEN® BOOK.
---
KEN #0750 (blonde and brunette)
The box lid design and wrist tag are identical to that of the previous Japan-made Kens from 1963-64. Many Kens after 1964 (and Allans) have 'tanned' faces and/or arms, an effect which is probably just the result of ageing: see example in THE VINTAGE KEN® BOOK.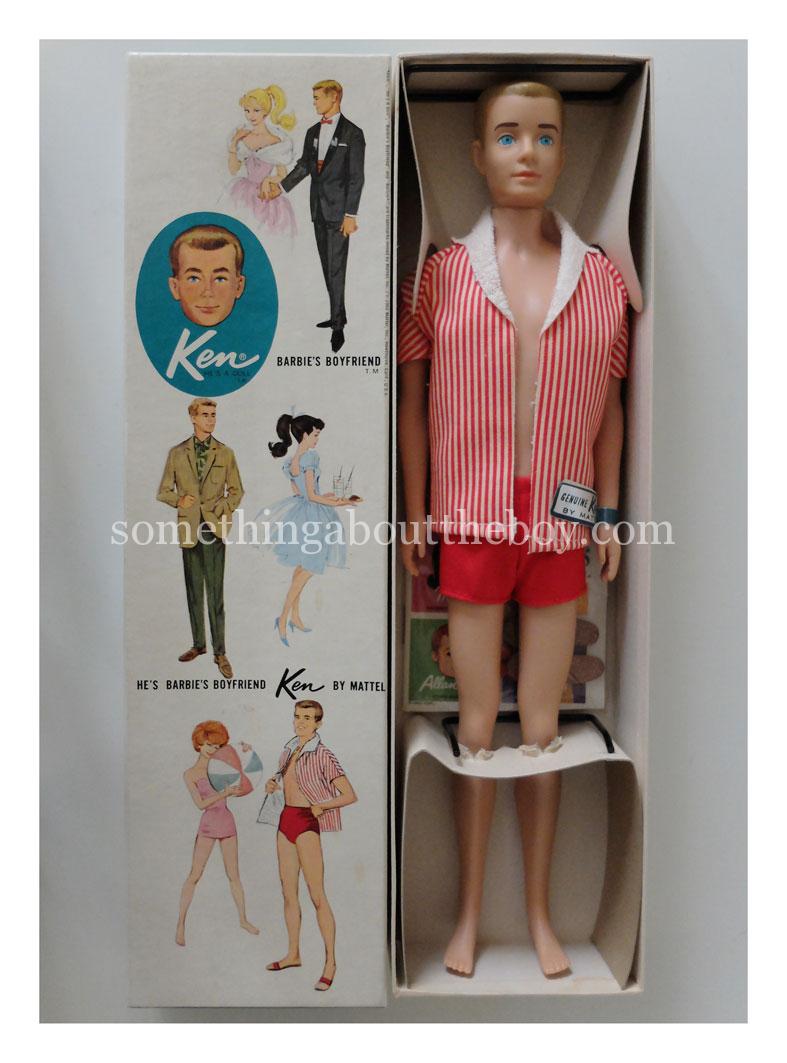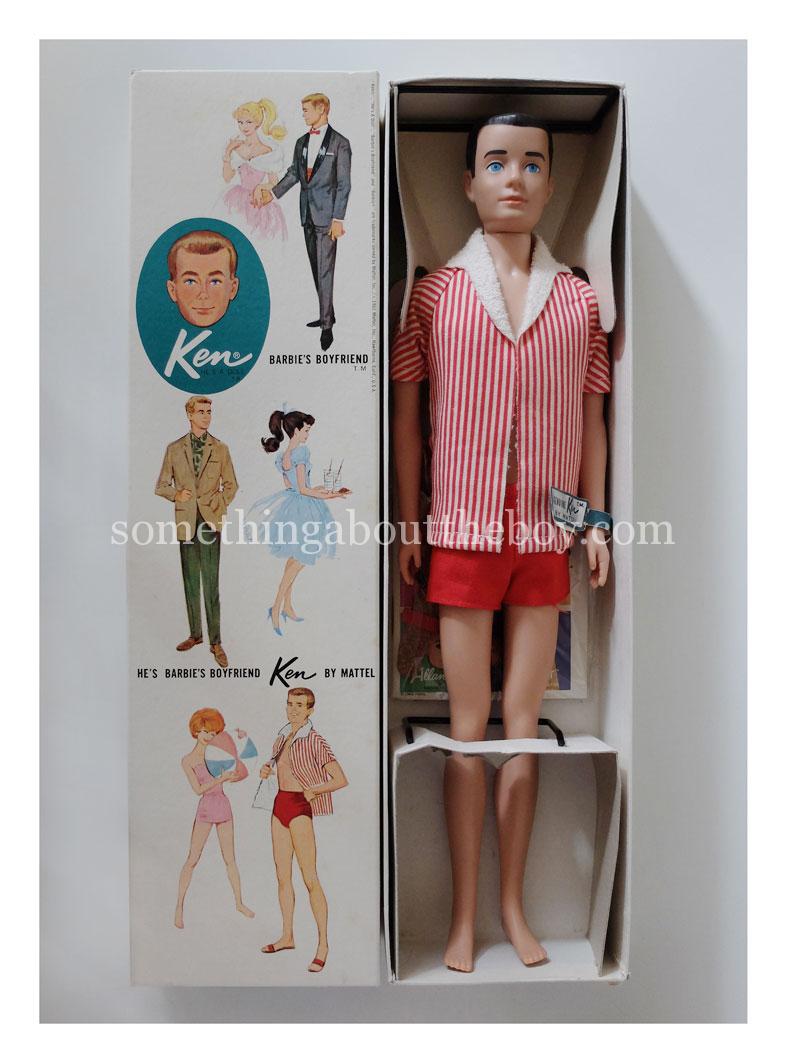 ---
KEN & ALLAN WITH "LIFELIKE" BENDABLE LEGS
Mattel introduced bendable leg Ken and Allan in 1965. These boys are great to pose but trickier to dress, as their legs are sticky and their feet too big. While all the doll heads, arms and bodies were still produced in Japan, some legs are marked U.S.A. on the soles of the feet (see more information at bottom of page).
They were given new outfits and photo-illustrated 'deluxe' packaging, and all came with wire stand and booklet. For some unknown reason, they seem to have come with plastic bags over their heads, like the original flocked hair Kens. At least this is how many MIB versions are now sold, despite there being no apparent reason for it, or any evidence that the regular 750 painted hair Kens came with such a bag. The boxes were printed in the US and Japan.
ALLAN #1010
The bendable leg Allans which came in the US-printed boxes have wrist tags in a lighter green with a silver wrist-band, marked Allan™. Those in Japan-printed boxes are a darker green, with a half-green wrist-band and marked Allan®. Both tags are marked KEN'S® BUDDY™ Made in Japan on reverse. Close-up photos of these wrist tags can be seen in THE VINTAGE KEN® BOOK. The bendable leg Allan has mid-blue shorts (the regular Allan came with dark blue shorts).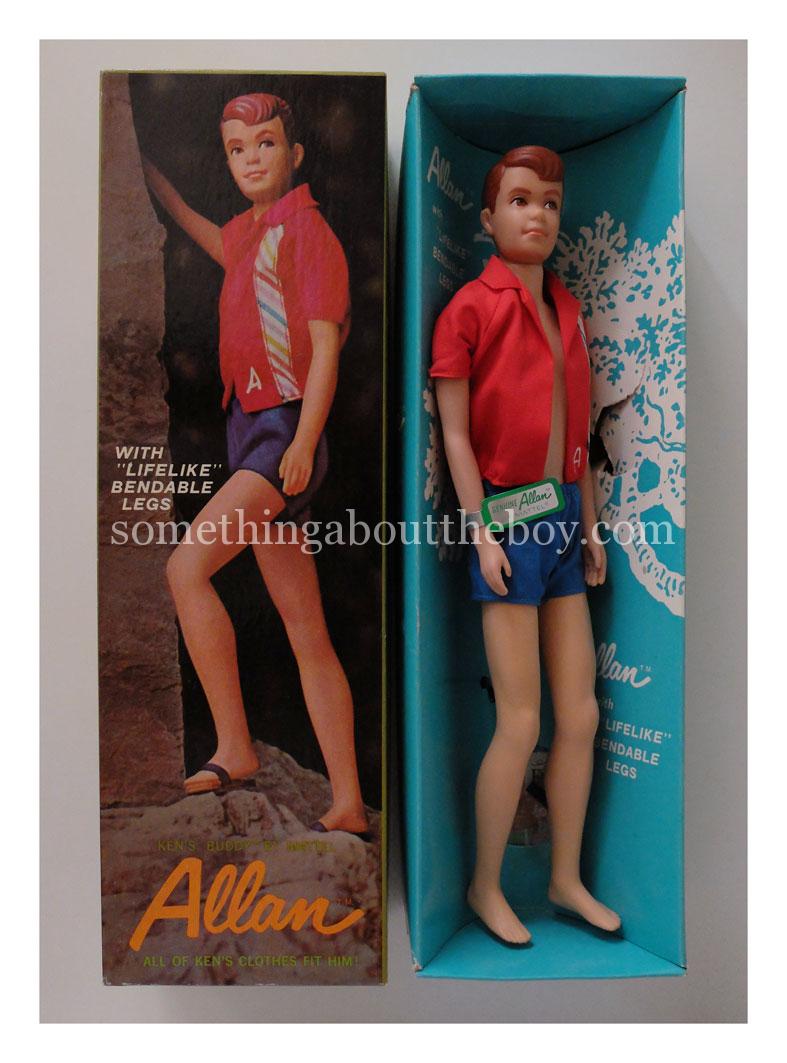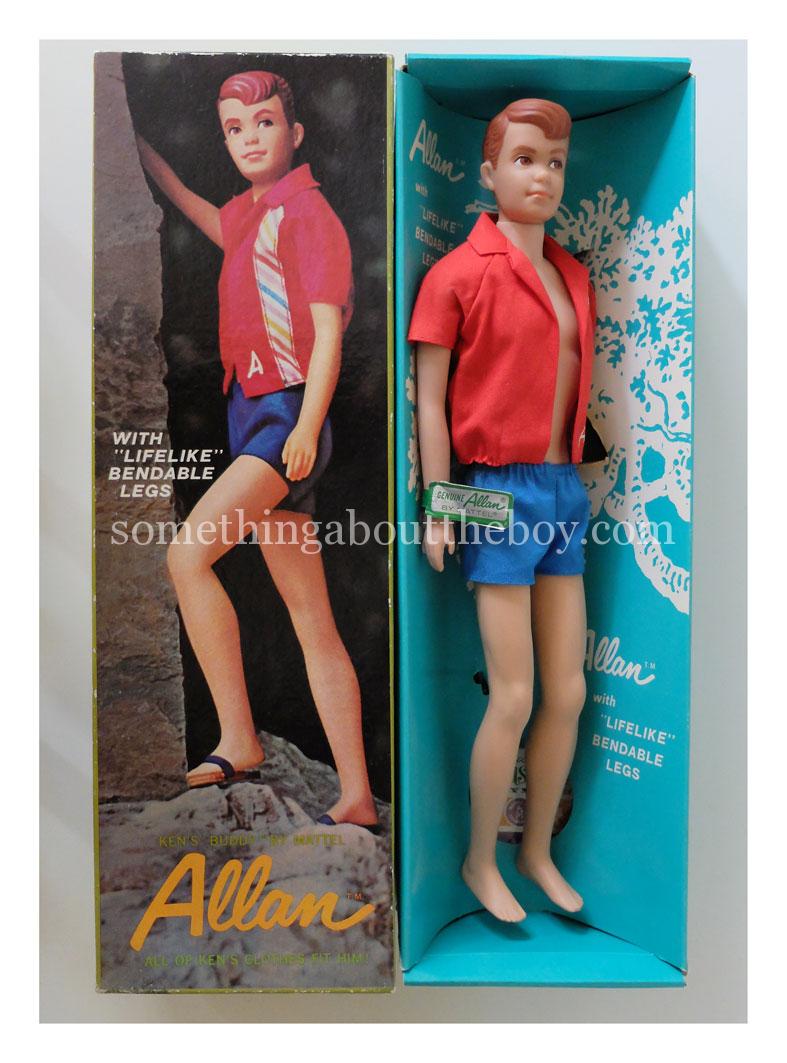 ---
The bendable leg Ken was available in blonde and brunette. They all have blue eyes, some brighter than others, and were packaged in a box showing a blonde Ken on the lid. Ken's boxes printed in Japan had the words blonde or brunette printed directly on the box, while those printed in the US had blonde or brunette stickers added. Bendable leg Ken's wrist tag is a new design, with Made in Japan printed on the reverse. As with Allan the tags in the US-printed boxes have silver wrist-bands, and those in the Japan-printed boxes have half-blue wrist-bands. See THE VINTAGE KEN® BOOK for more photos.
KEN #1020 (blonde)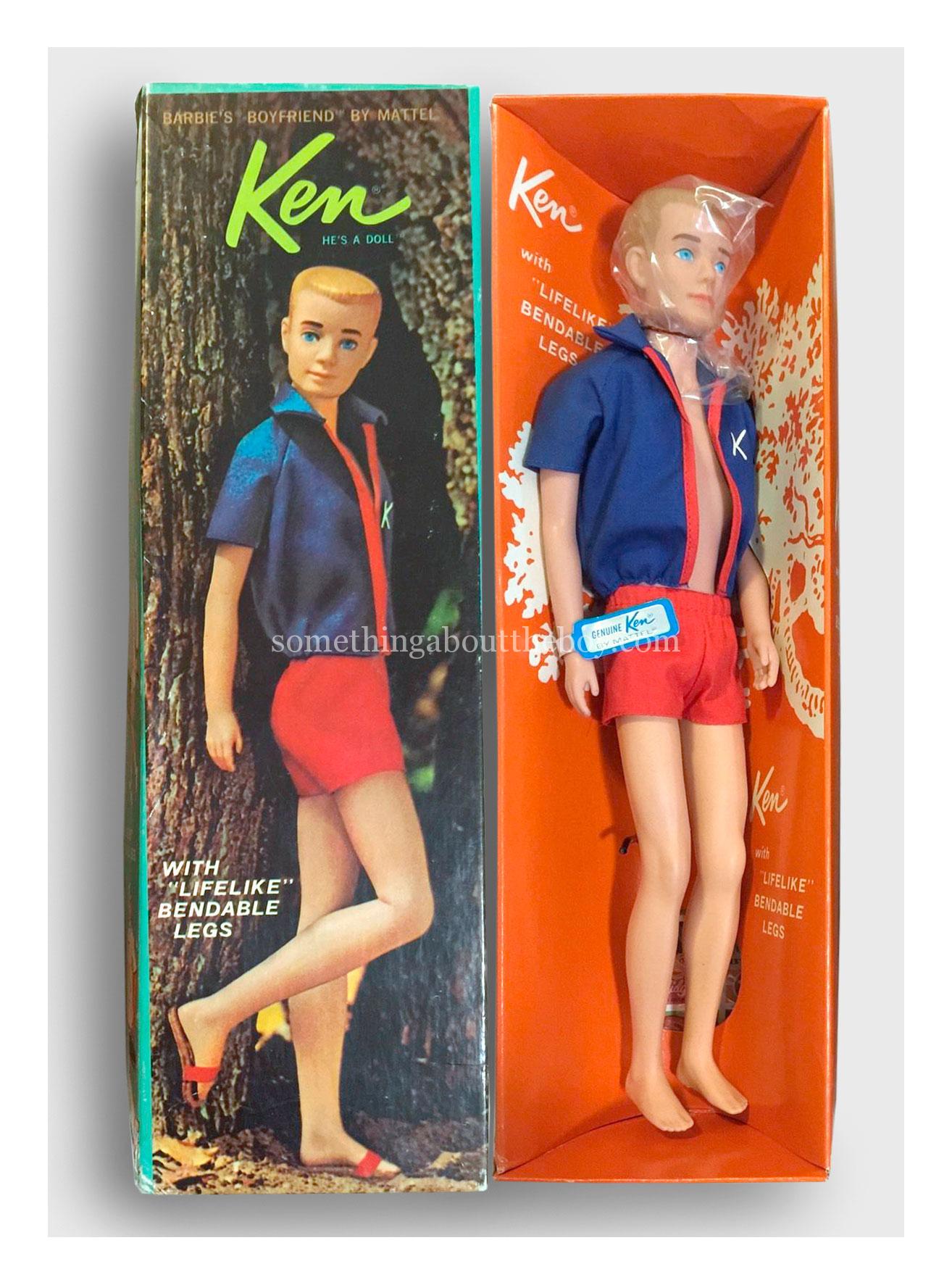 KEN #1020 (brunette)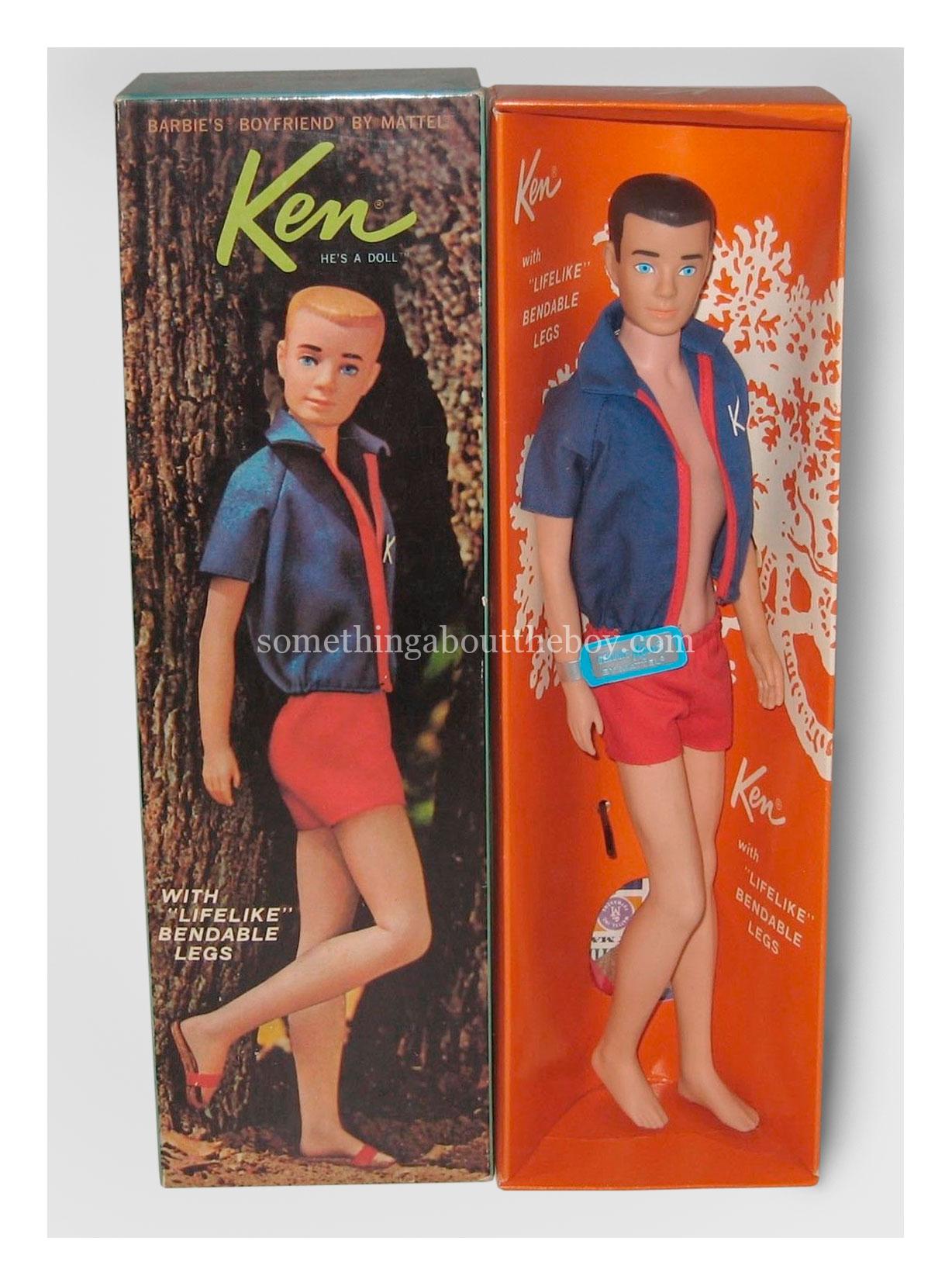 KEN #1020 (blonde)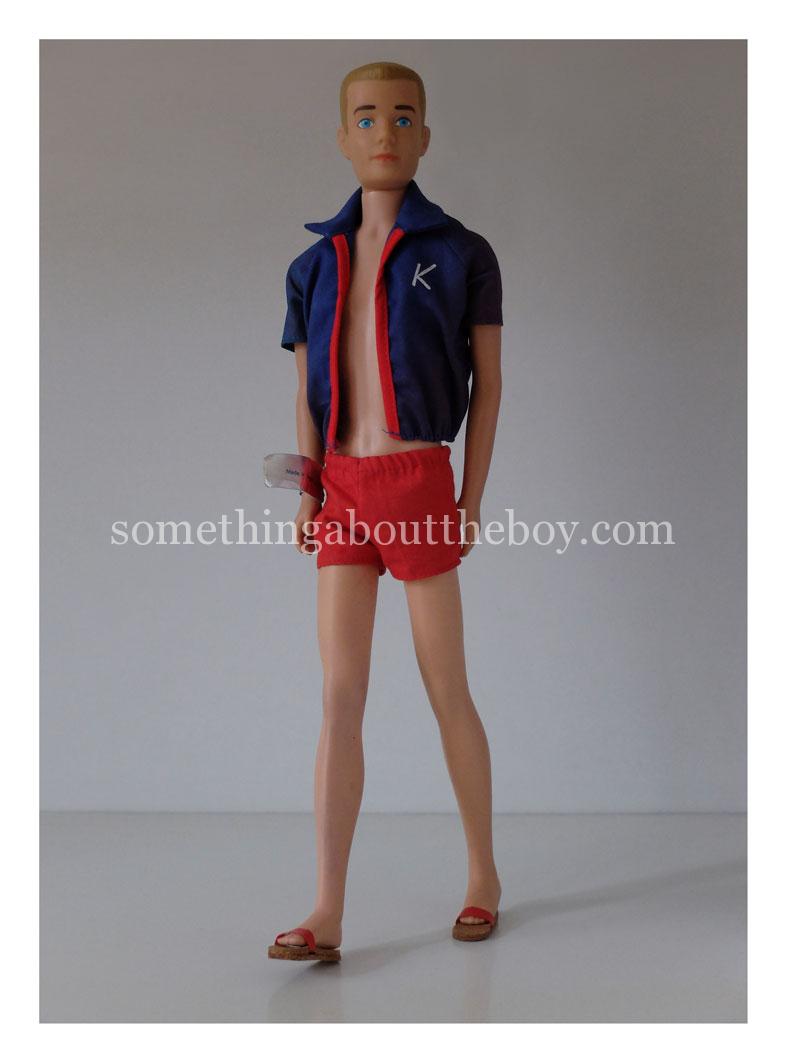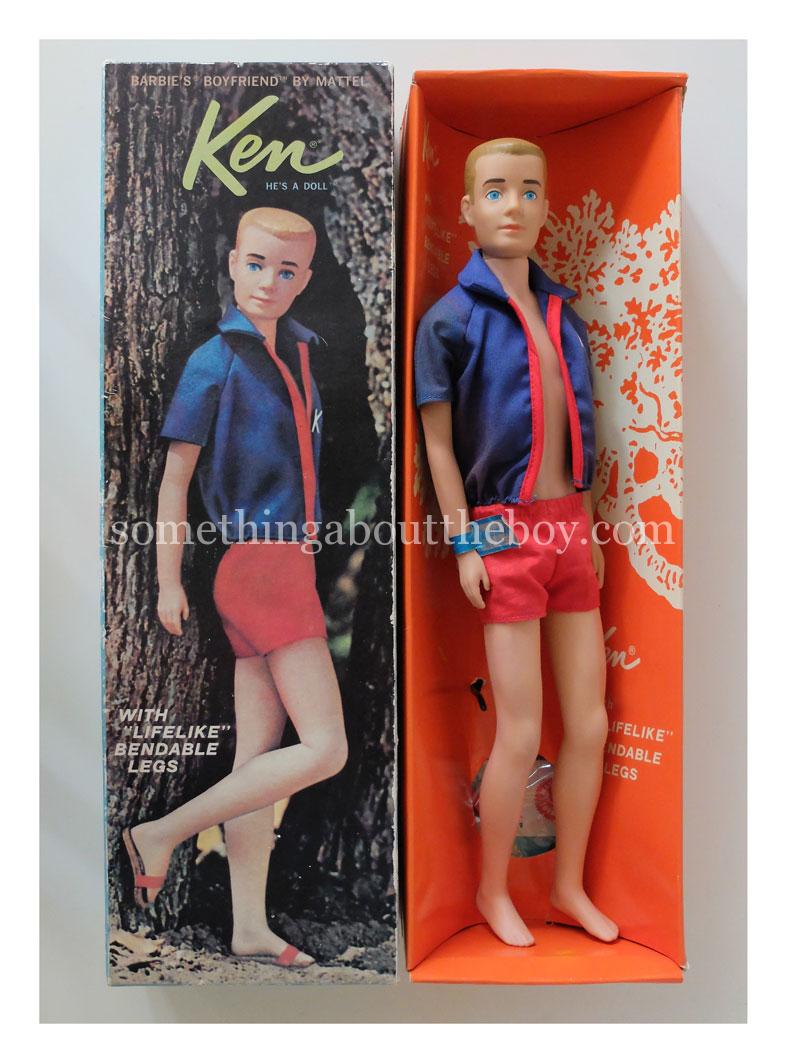 ---
DRESSED DOLL ALLAN
Though not featured in any catalogues, Mattel produced a Dressed Doll Allan in 1965, wearing Rovin' Reporter. The box front is the same as Ken's, but the ends mention Allan. His wrist tag is worn on the right hand, so is printed like the 1010 Allan tag. He can be seen in THE VINTAGE KEN® BOOK.
---
---
BOOKLETS & CATALOGUES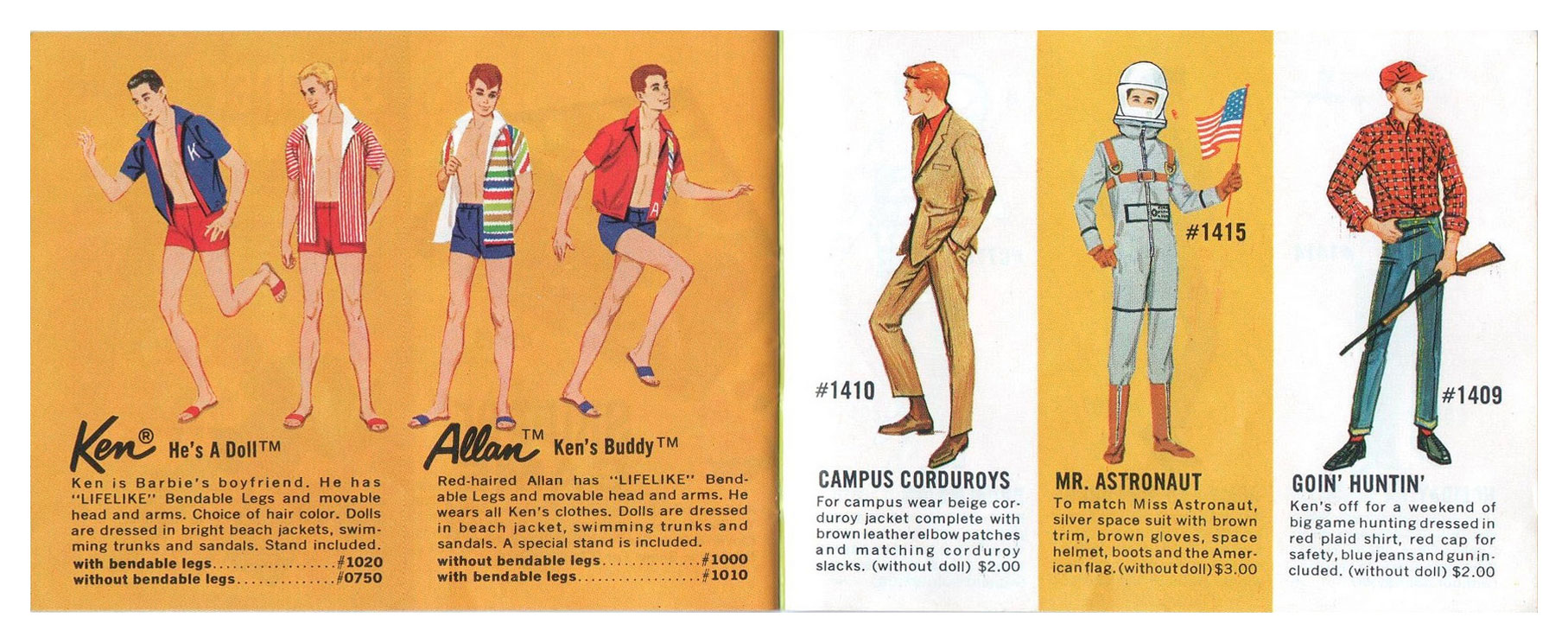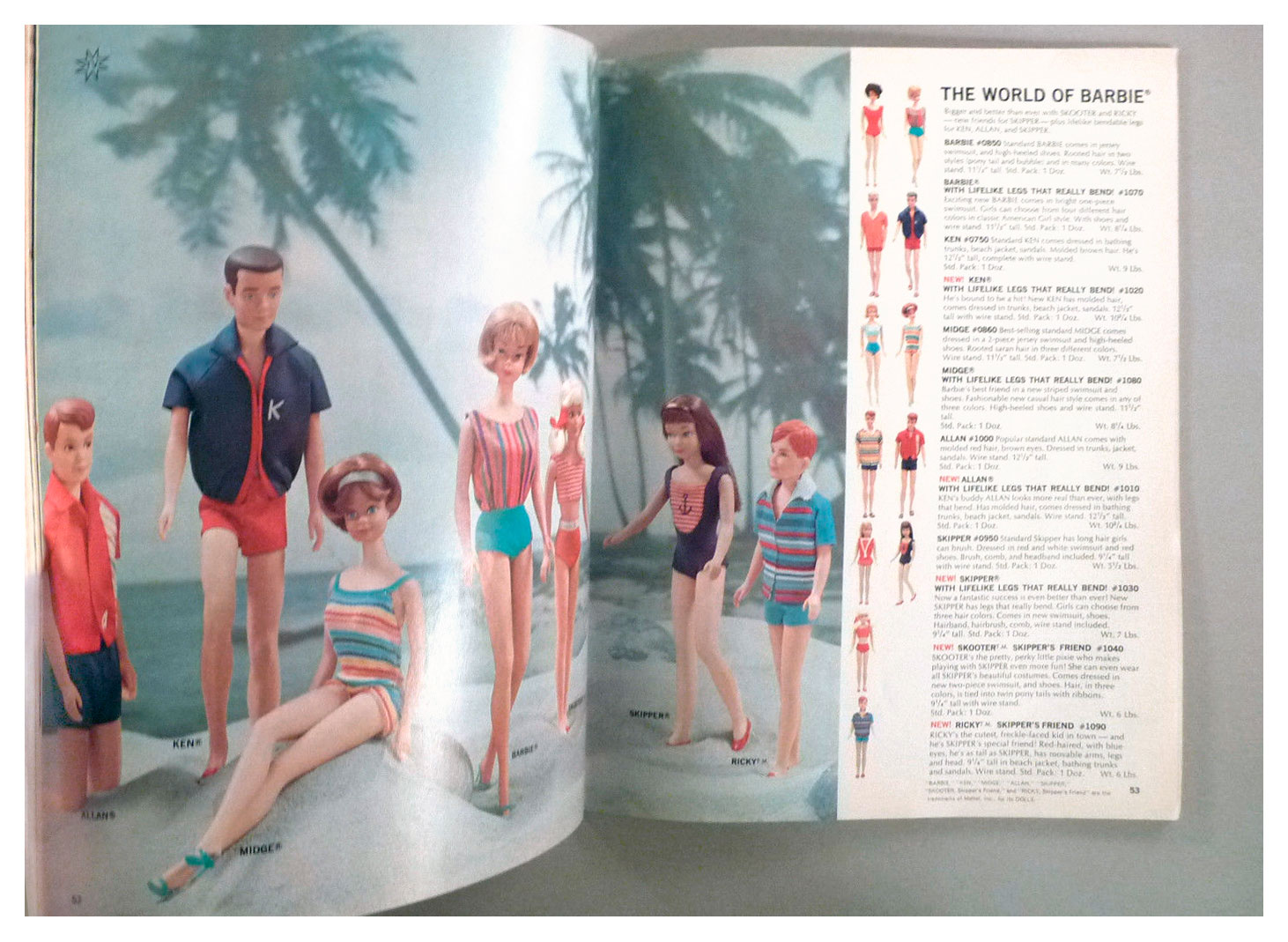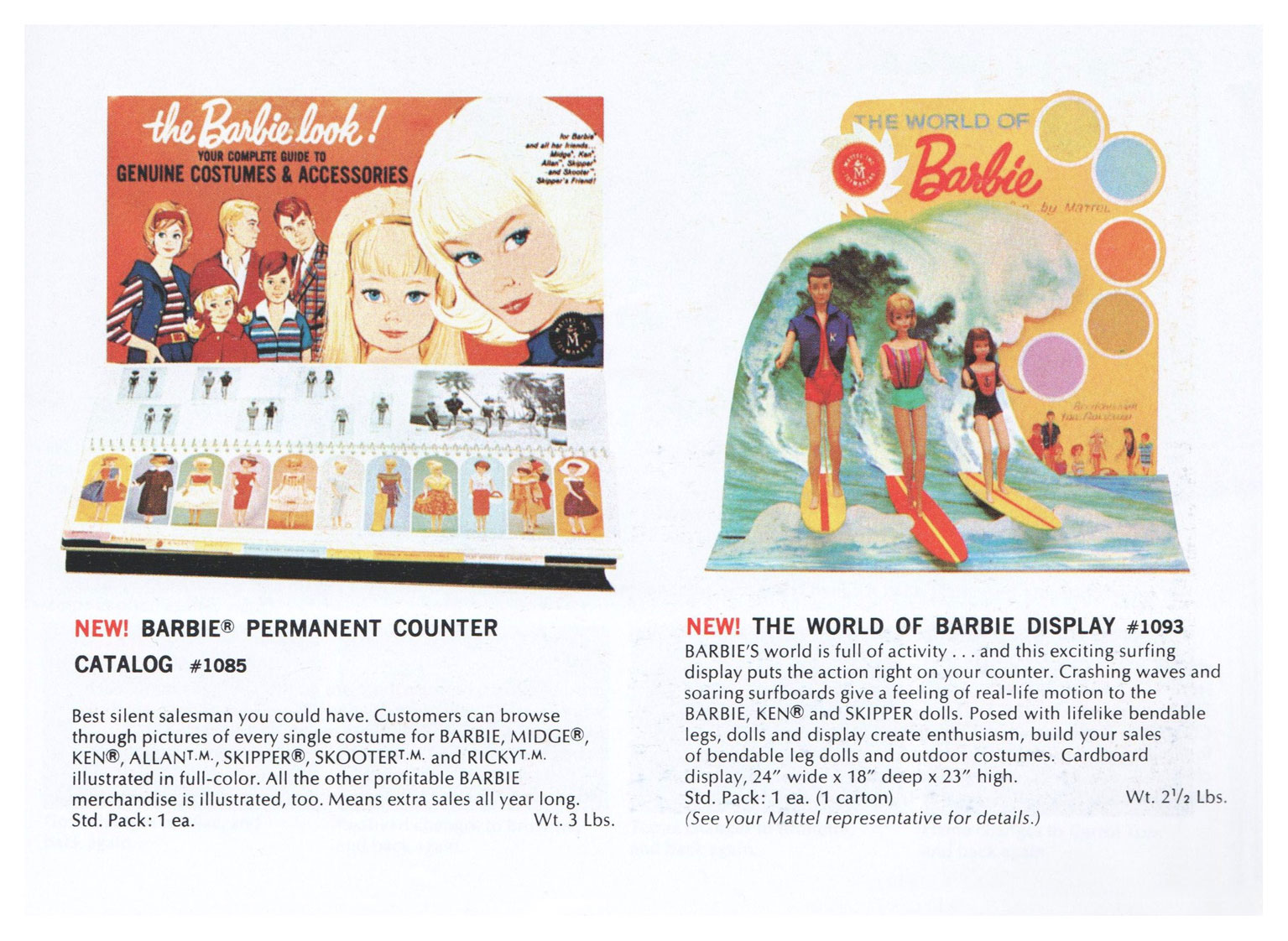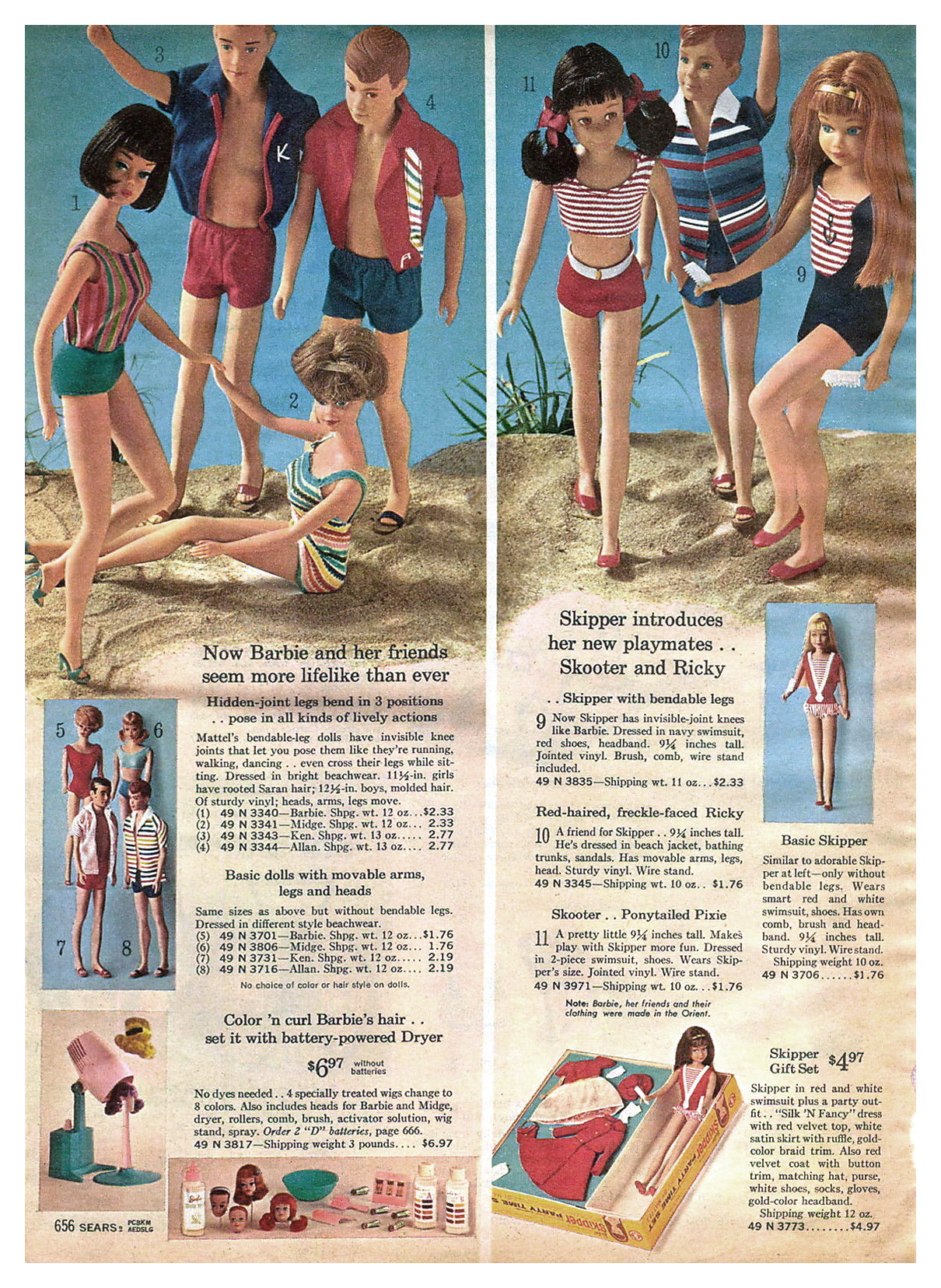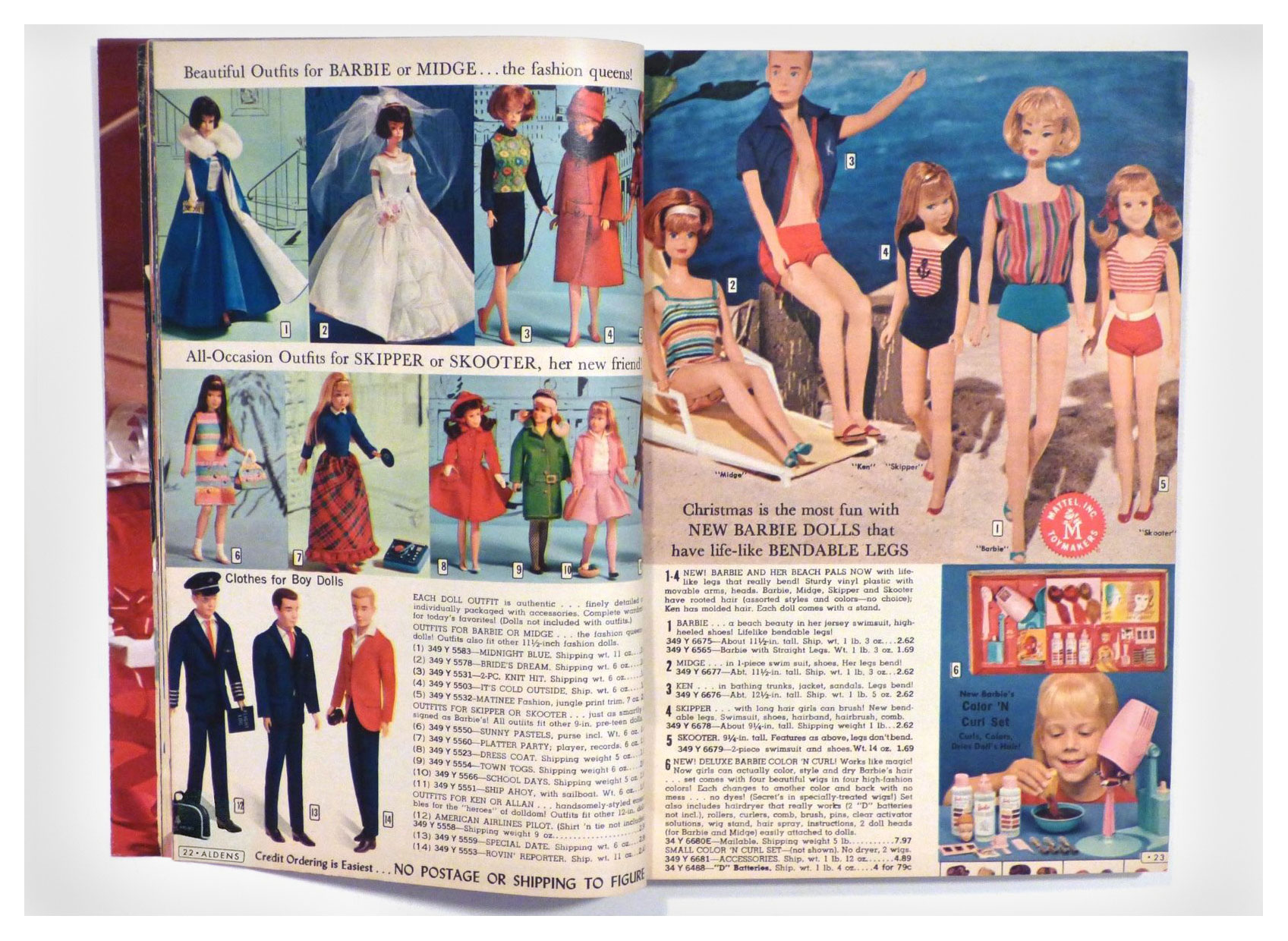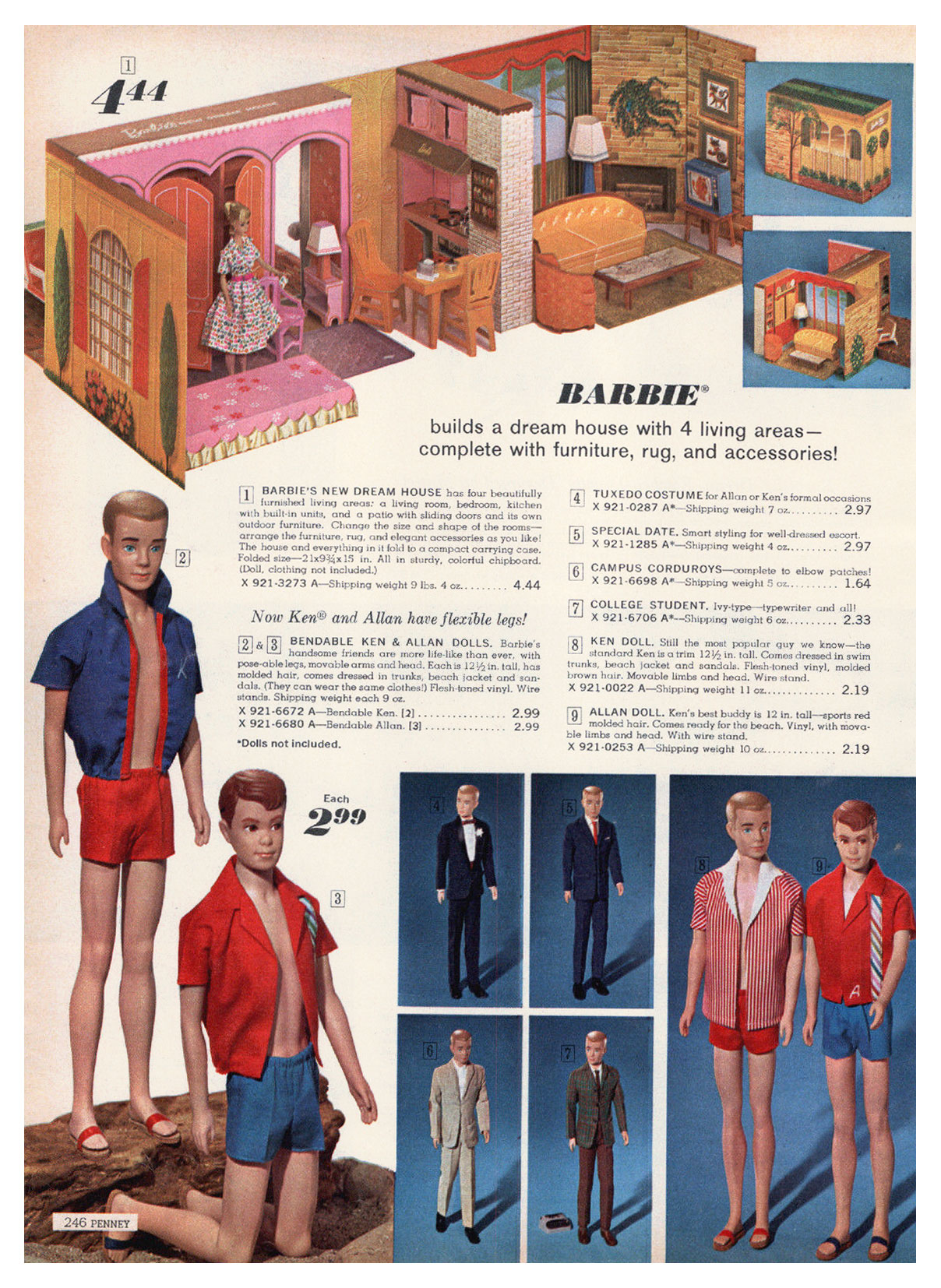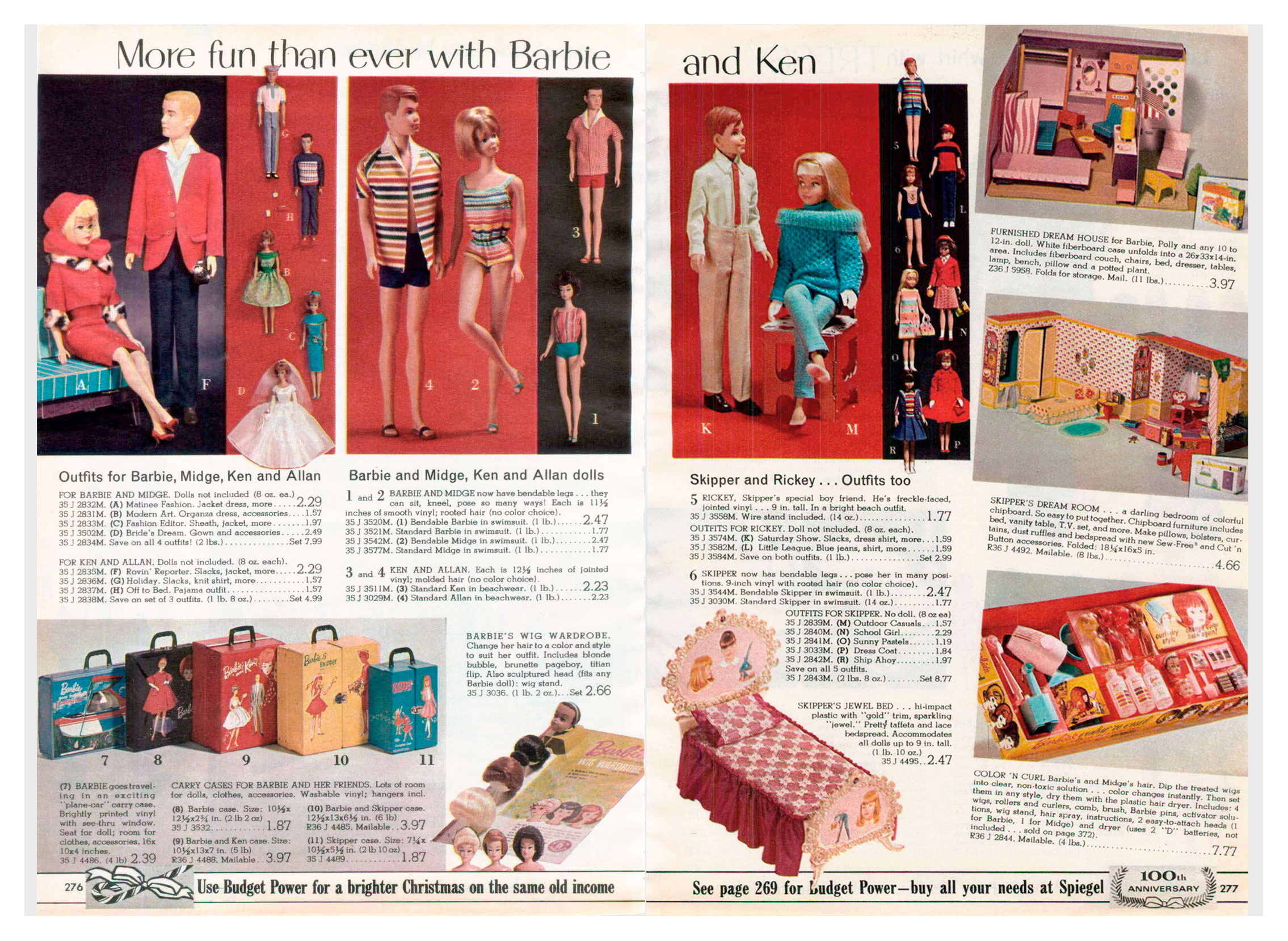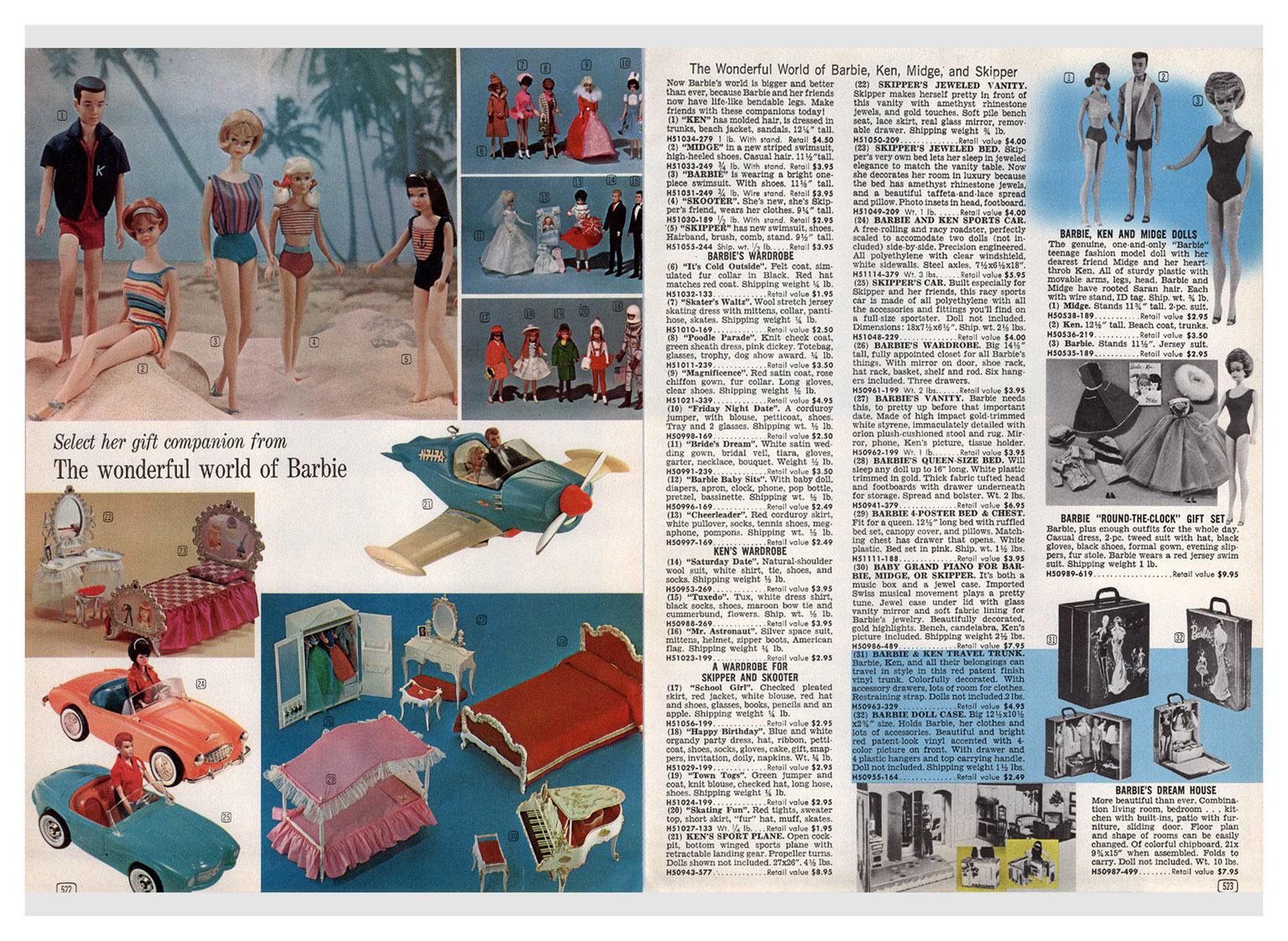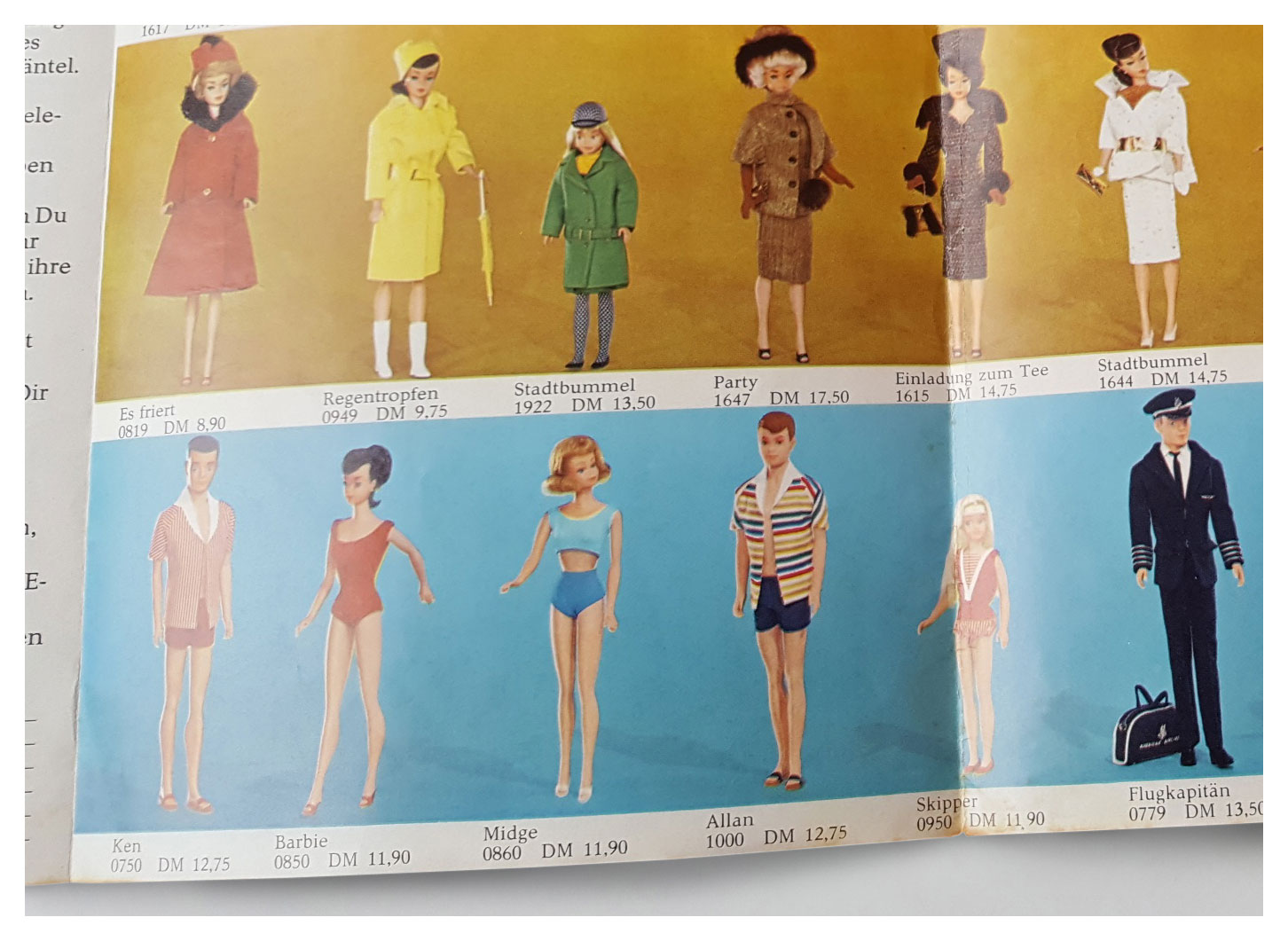 ---
FEET MARKINGS
Some bendable leg boys have feet marked Japan, some are like the 1964 'shorty' Kens with no markings, and others are intriguingly marked U.S.A.. The boxes which were printed in the US say Made in Japan/Printed in U.S.A. on the ends, obviously suggesting that the doll itself was made in Japan. Which the beautifully-painted heads of these Kens certainly seem to back up – so unlike the mostly awful US-made heads of the 'shorty' Kens. Also, the wrist-tags clearly have Made in Japan on the reverse, even on those in U.S.A. printed boxes, or with U.S.A. feet.
It is therefore more likely that the U.S.A. foot stamp was for patent purposes, simply to register the design of the legs (as with the torso stamp). An alternative explanation is that the earliest legs were indeed produced in the US, but either shipped to Japan for assembly, or used to assemble dolls in the US with other Japan-made parts. This last possibility would certainly explain why some boxes were printed in the US. It would also explain why both feet are stamped, rather than just the right foot.