During 1962 Mattel changed Ken's original outfit and box design slightly. He now came with red sandals, plain red trunks or shorts, an unlabelled beach top, wire stand, and booklet. The towel was no longer included. These versions were only available in blonde and brunette.
For more information and many more detailed photographs see THE VINTAGE KEN® BOOK.
---
KEN #750 ('thick-brow' blonde and brunette)
I also have a very rare version of this Ken with regular red shorts. He was sold by Montgomery Ward, and came in the 'factory-flaw' box (described further below). He can be seen in THE VINTAGE KEN® BOOK.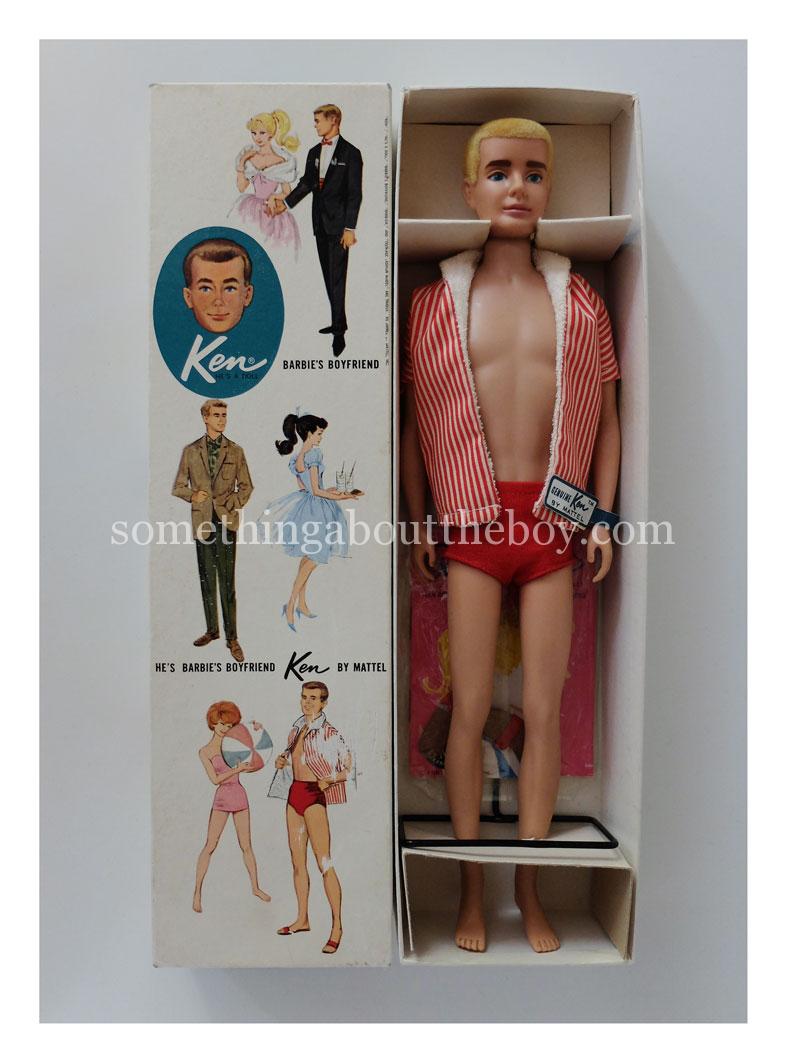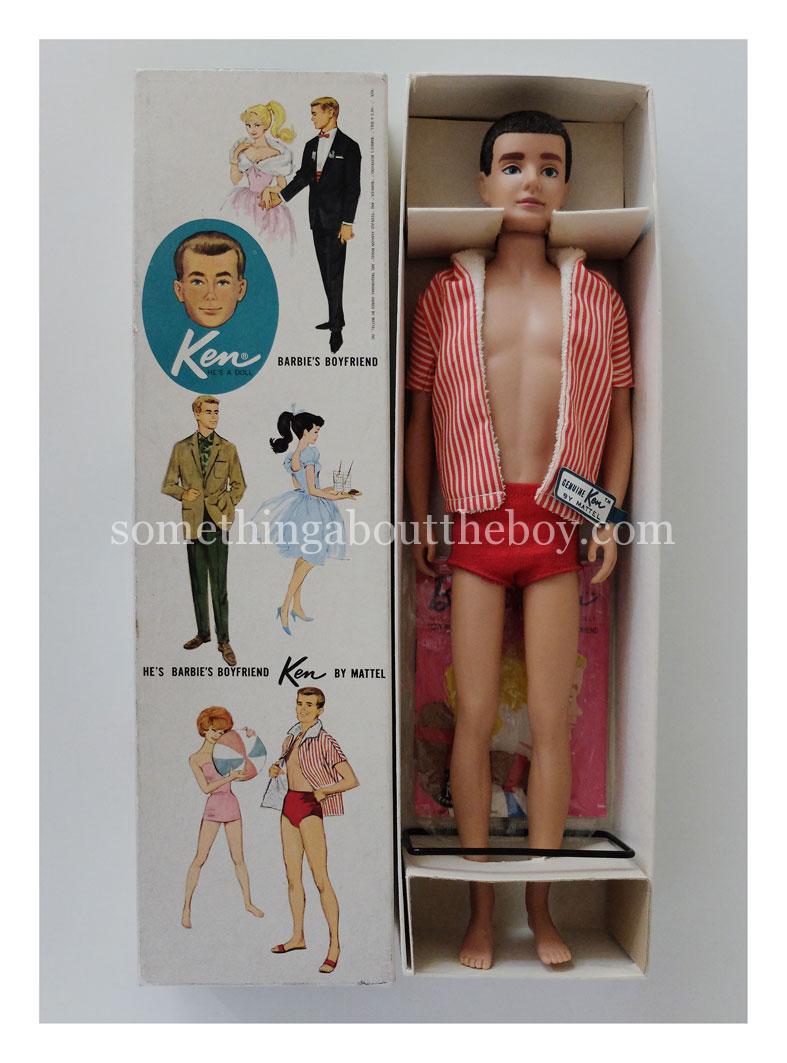 ---
The later flocked hair Kens have much thinner eyebrows. Initially they still had swimming trunks, but later on they came with plain red shorts. They appear in the 1963 catalogues, and would have been sold in 1963 until the flocked hair version was completely replaced by the new-look painted hair Ken before Christmas.
KEN #750 ('thin-brow' blonde and brunette wearing trunks)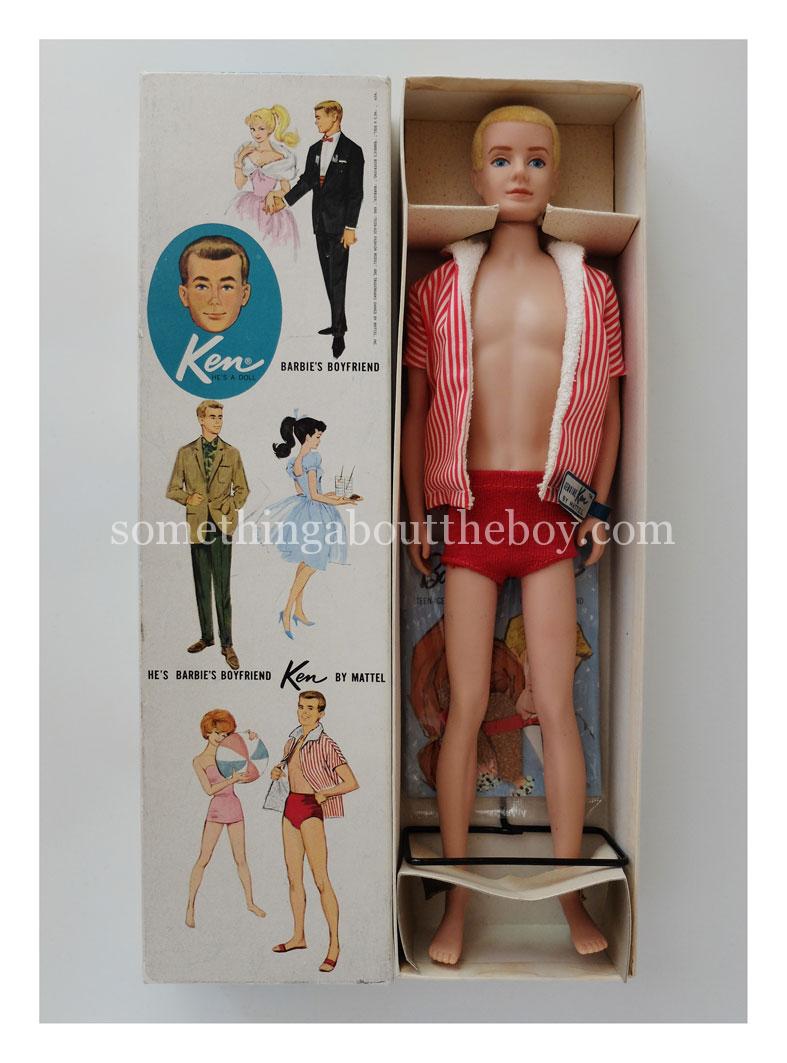 KEN #750 ('thin-brow' blonde and brunette wearing shorts)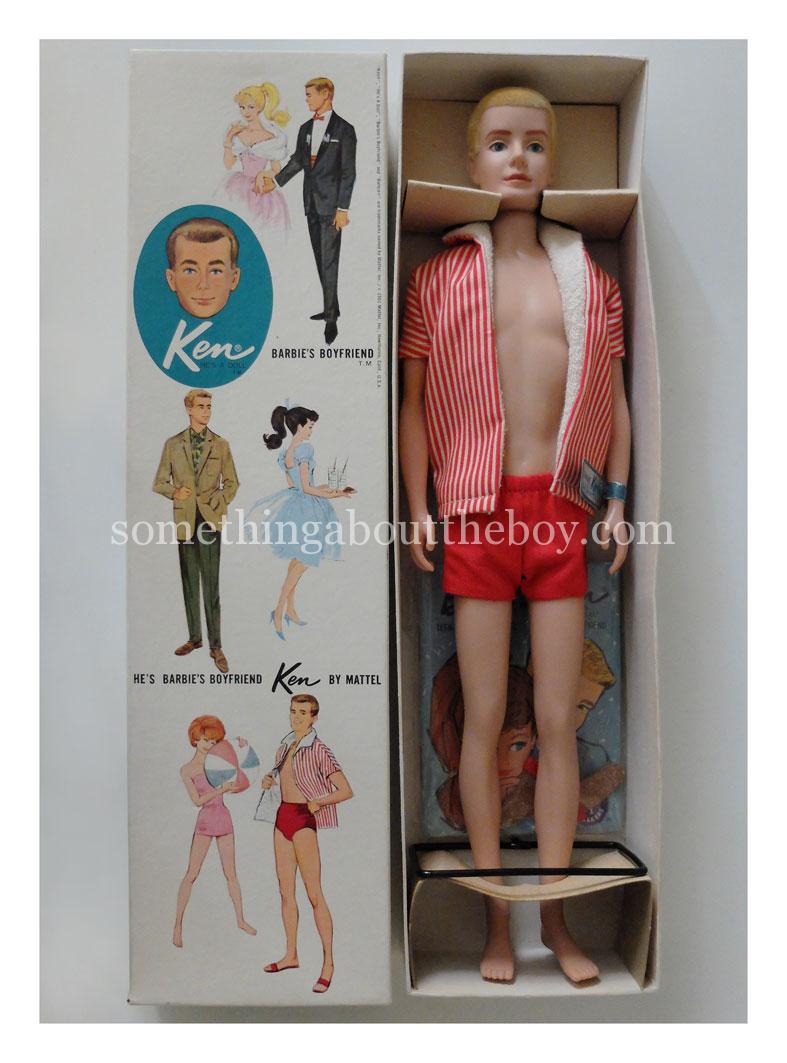 ---
---
THE 1962 BOXES
As seen above, the box lid has completely new illustrations, including one of Ken in his new 'cabana' outfit, which replaced the earlier, redundant picture of him in black and white shorts. There are two cover variations: the 'factory-flaw' version below left, and the ultra-rare 'red shorts & towel' box lid below right, both of which housed a 'thick-brow' Ken. To judge by the natural card box base (not white like those made in Japan), this rarer box was possibly printed in the US, and was either a prototype or an extremely limited release. It has all the new illustrations like the regular version opposite, but shows Ken with a towel and red shorts. If anyone has this box, I'd be very grateful for photos of the box lid ends. I'd also be very interested in buying it of course. Please write to: contact@somethingabouttheboy.com.
The box lid ends differ from each other, and came in three versions: (1) 'Thick-brow' Ken. These are the ends sometimes found with the variation 'misprint' box cover. (2) 'Thin-brow' Ken earlier version, which still came with trunks. (3) 'Thin-brow' Ken later version which came with shorts. This design was also used for the painted hair version of Ken sold simultaneously in 1963, and all subsequent Japan-made 750 Kens.
The box lid ends often show an extra stamp with the number of the department store which sold them. Some of these can be seen in THE VINTAGE KEN® BOOK.
---
BOOKLETS & CATALOGUES
As shown above, the earliest Kens were still sold with the pink booklet. The later, thin-brow Kens came with the blue booklet dated 1962. The new illustration of Ken shows him with the beach jacket and trunks.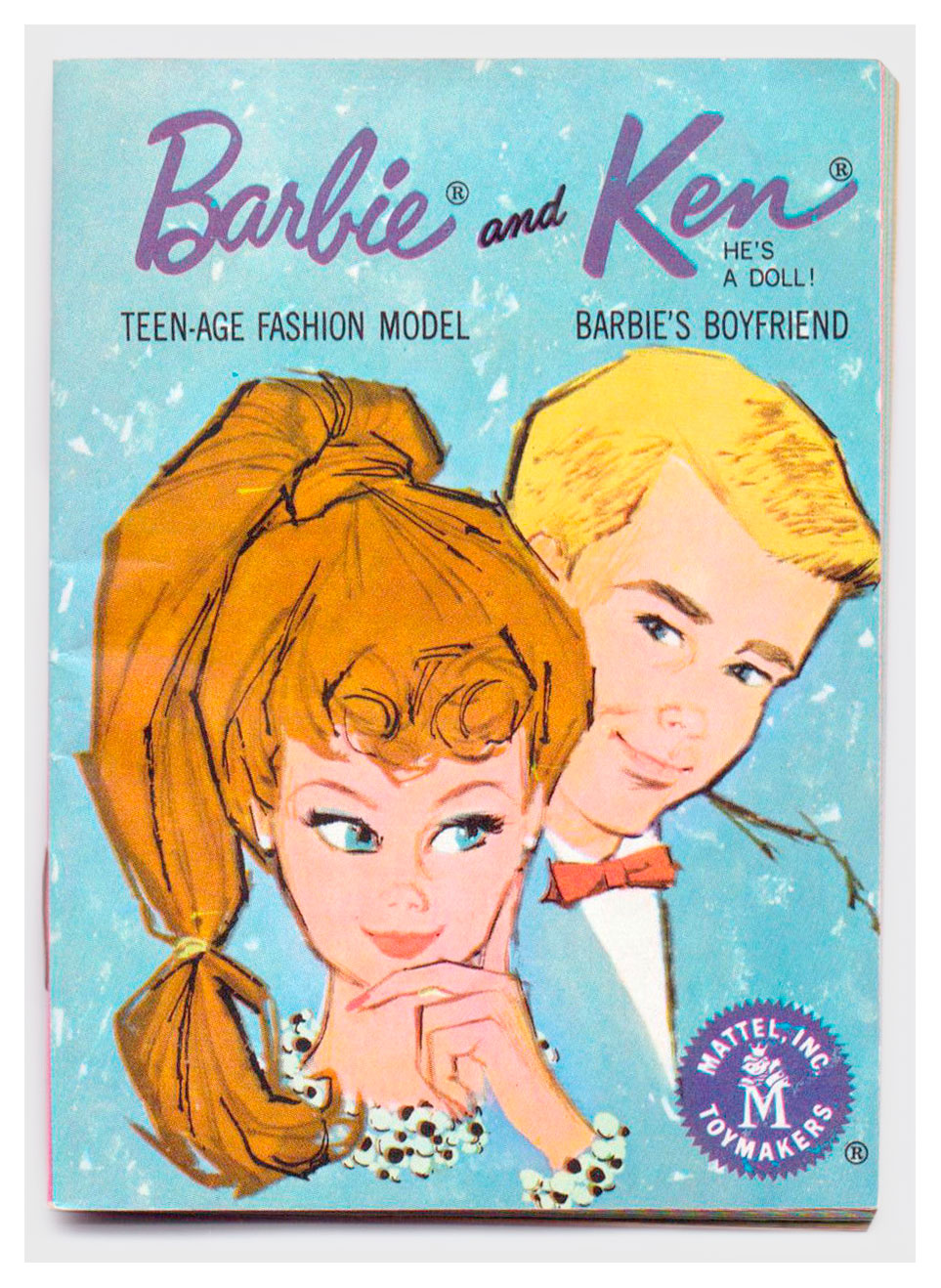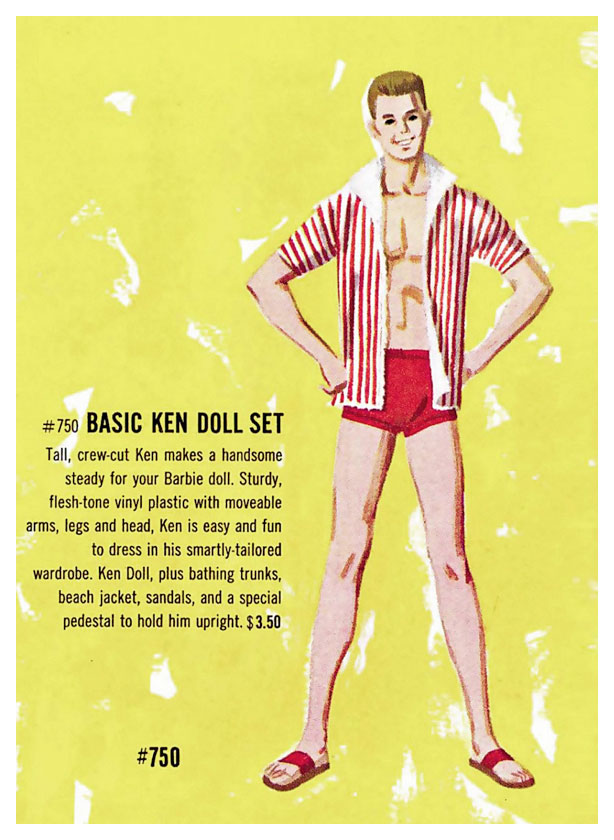 The original flocked hair Ken with white-striped shorts and towel (or even the prototype) still appears in several catalogues for 1962, even both editions of the Mattel Dolls for Fall '62 catalogue. The 2nd edition (which is an enlarged – 56-page – version of the 24-page original) also features the new painted hair version of Ken (see section 1963 Painted hair Kens). This 2nd catalogue was almost certainly designed as a 1963 Preview, as I have not discovered the painted hair Ken in any other printed source from 1962. Midge also appears, and according to the January 1963 issue of trade magazine Toys and Novelties, she had just "come off the drawing boards and into production…".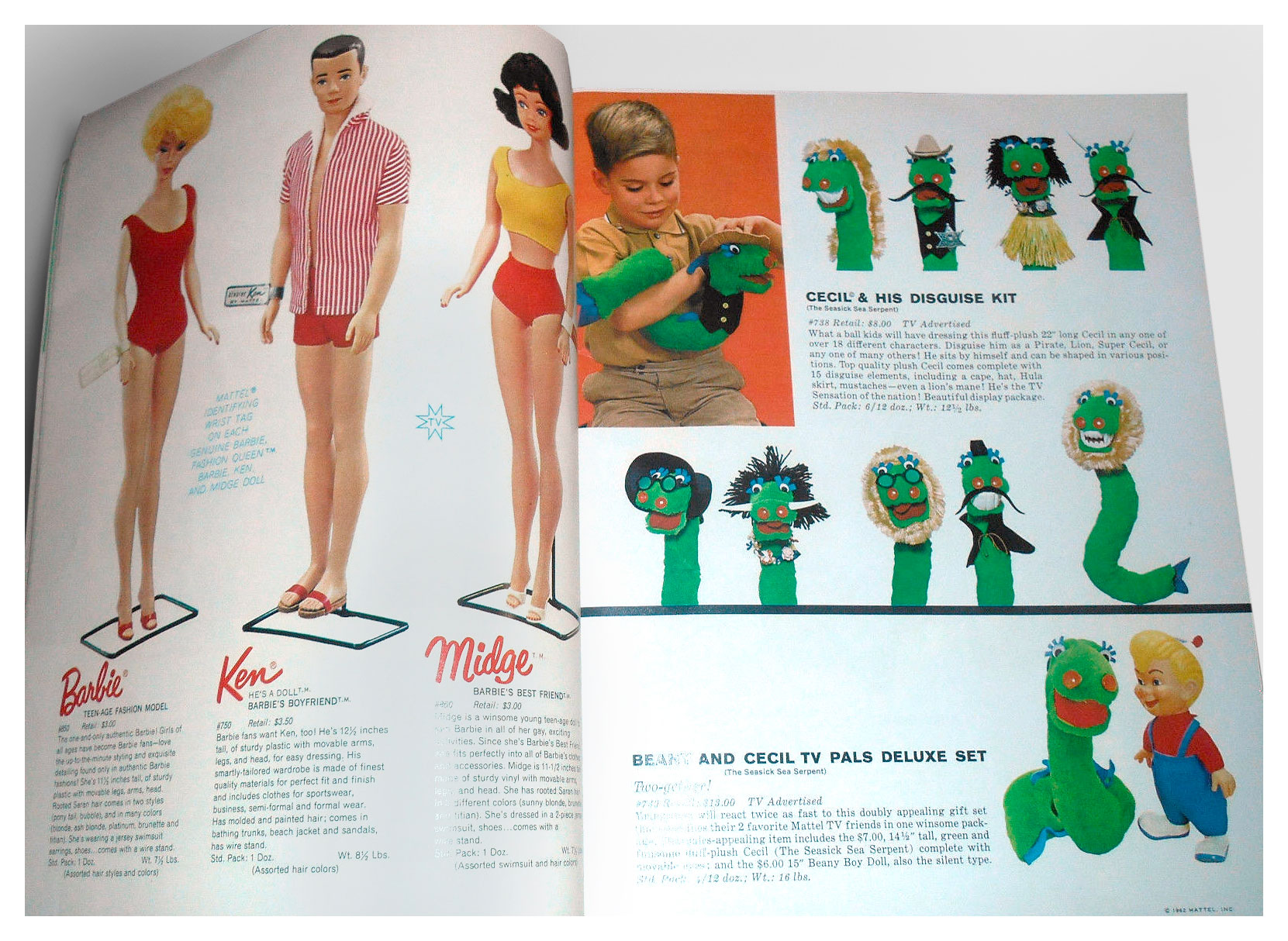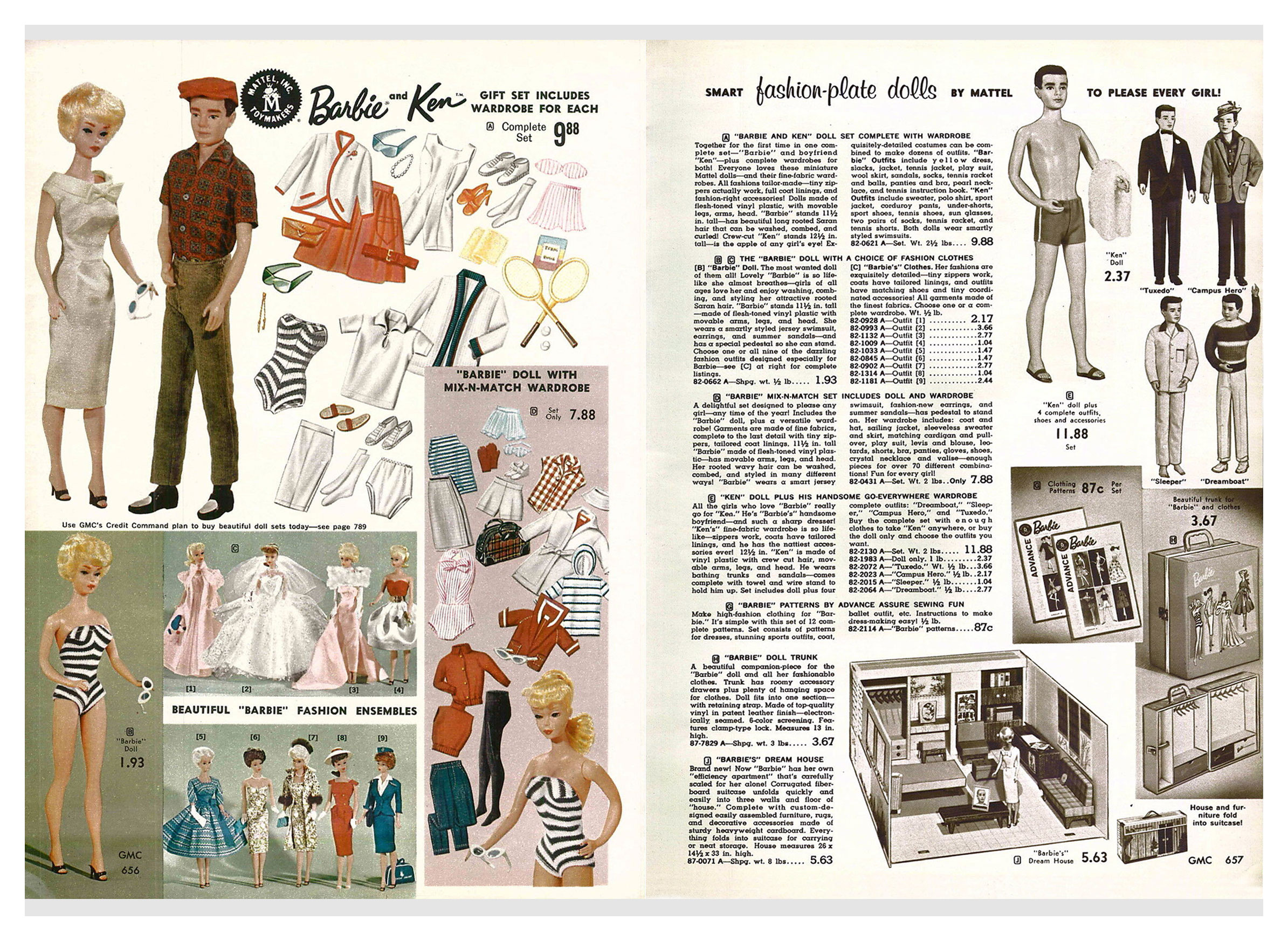 Some catalogues mention that his hair comes in "assorted colors", but by this time he was only available in brunette (black-brown) and various shades of blonde.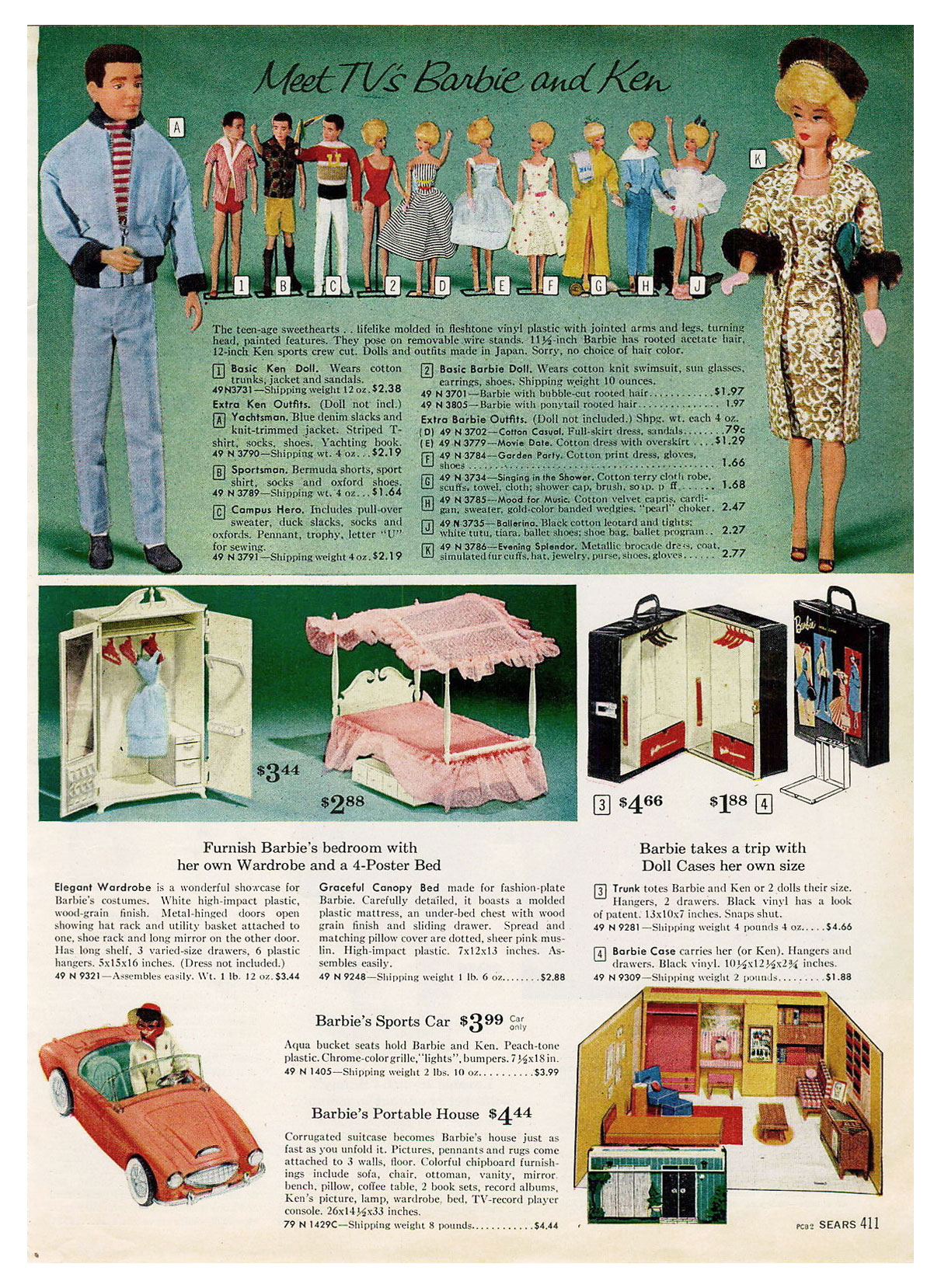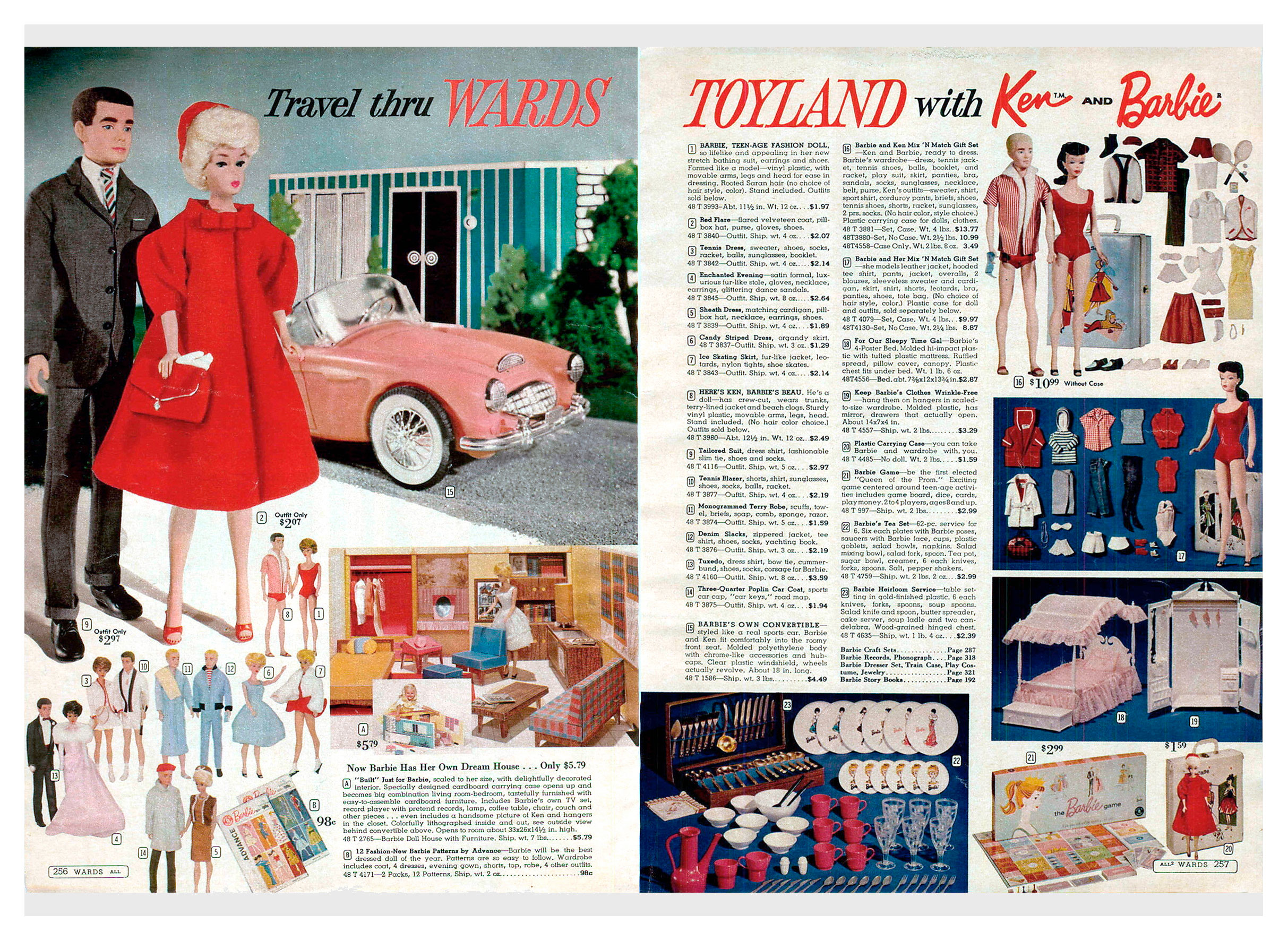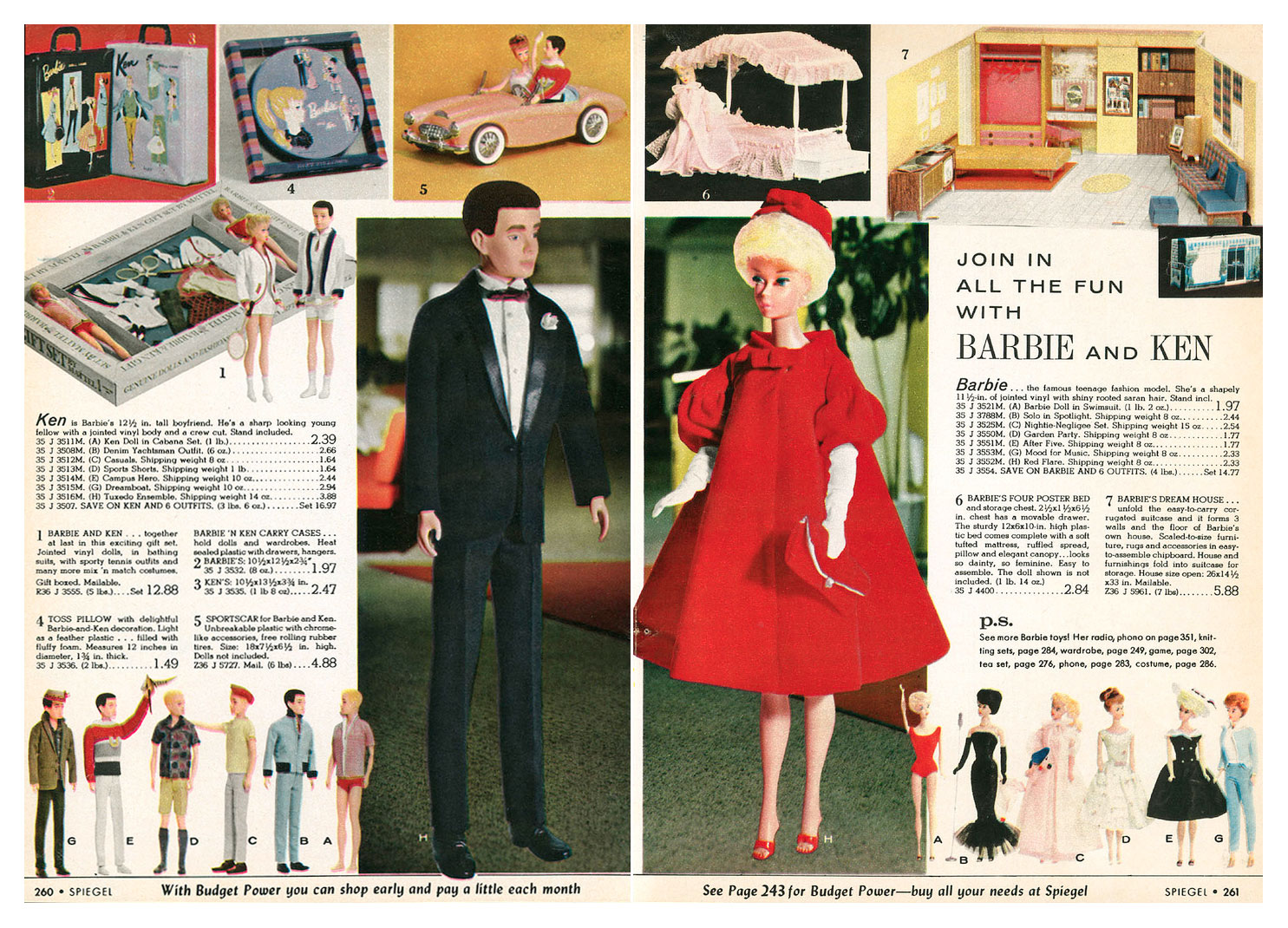 Annual catalogues, as well as Spring Summer and even Fall Winter usually only showed items from the previous Christmas.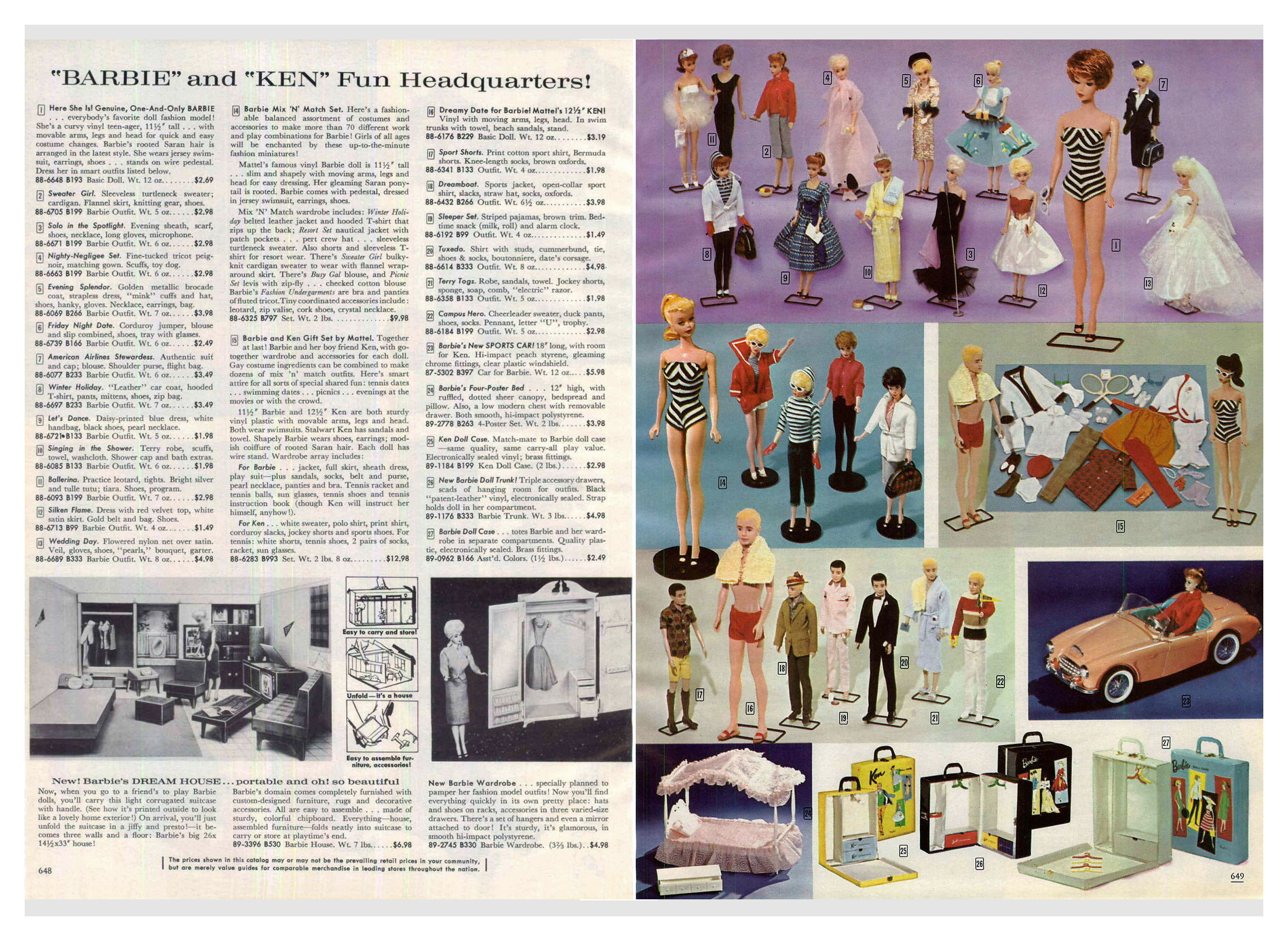 The General Merchandise Company catalogue (now owned by JCPenney) still uses the 'bendy-arm' picture of Ken from their previous issue. The first official Penneys catalogue featuring Ken appeared for Fall Winter 1963.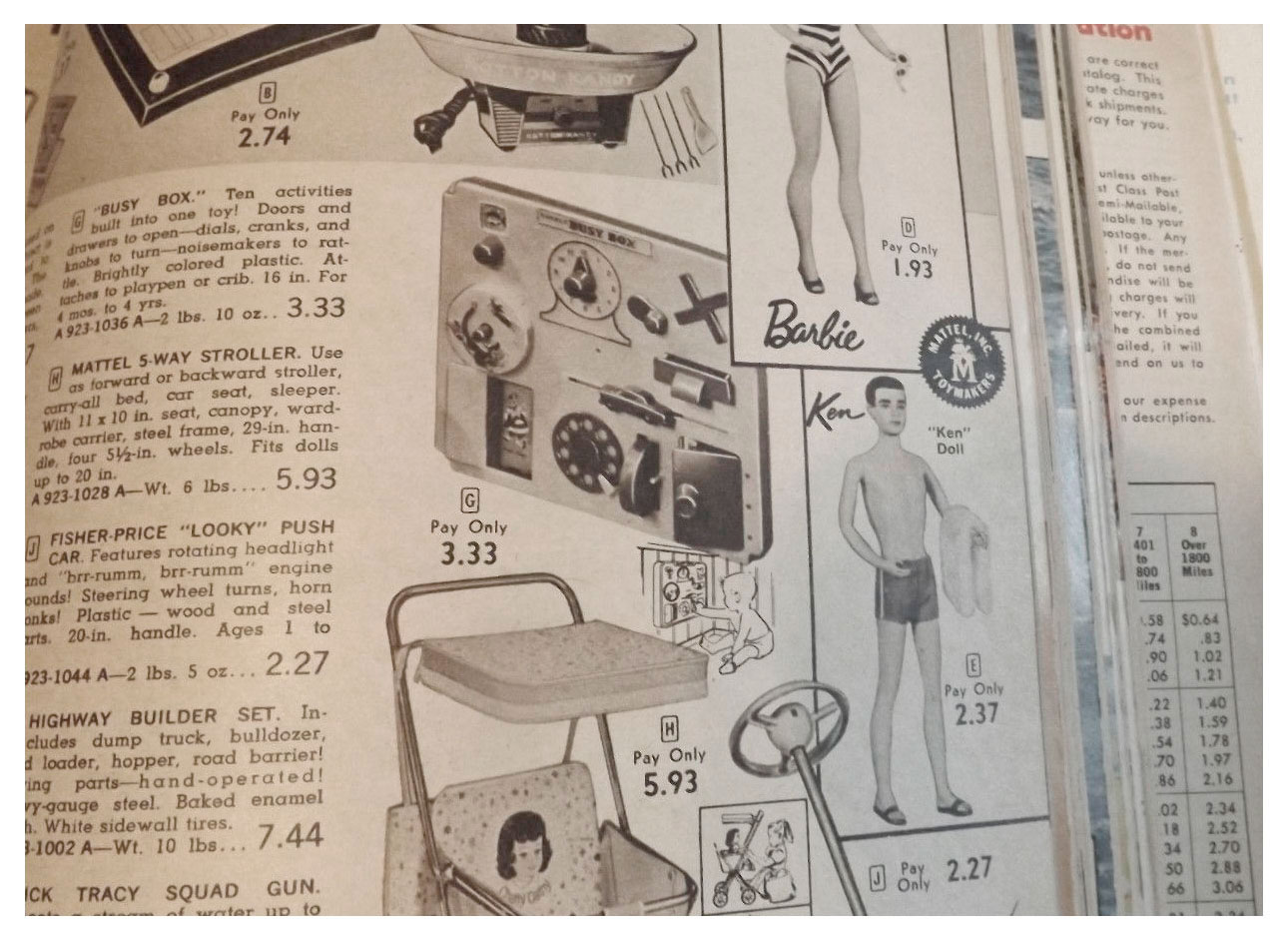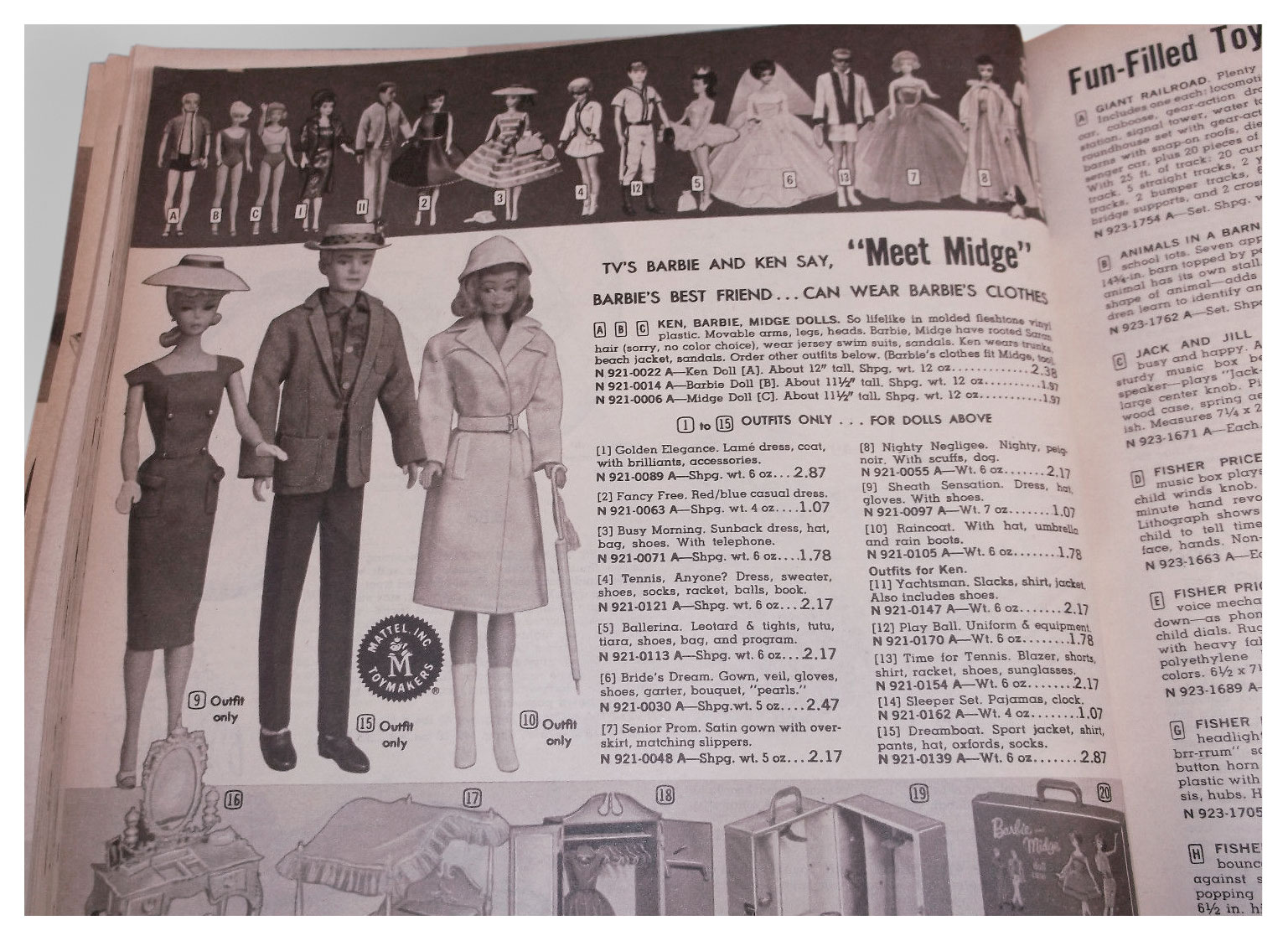 The Spiegel catalogue from Spring Summer 1963 oddly shows an earlier version (1961 shorts) of Ken to the ones featured in their 1962 Christmas or 1963 Spring Sale catalogues. Both Spring '63 catalogues refer only to his crew cut with no mention of it being molded, so presumably they were still selling the flocked hair version.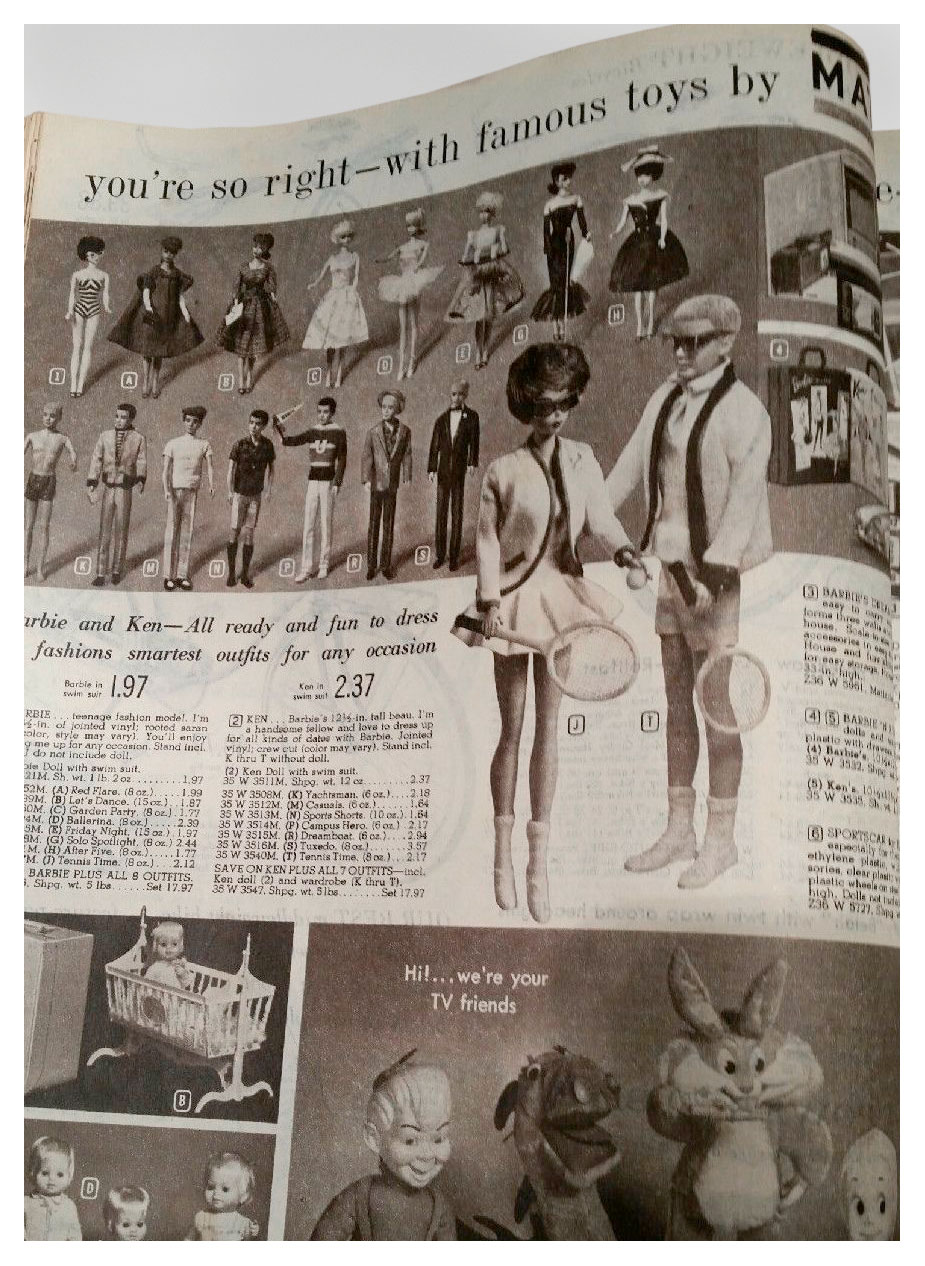 Flocked hair Ken was presumably sold parallel to the new painted hair Ken during 1963, until the flocked hair version was phased out in the autumn. He still appears in print up to 1964, although by this time he was certainly no longer available. The Spiegel, John Plain and Aldens catalogues may show him, but the texts are unambiguous: his crew-cut hair is "molded", "moulded" or "molded-in and painted".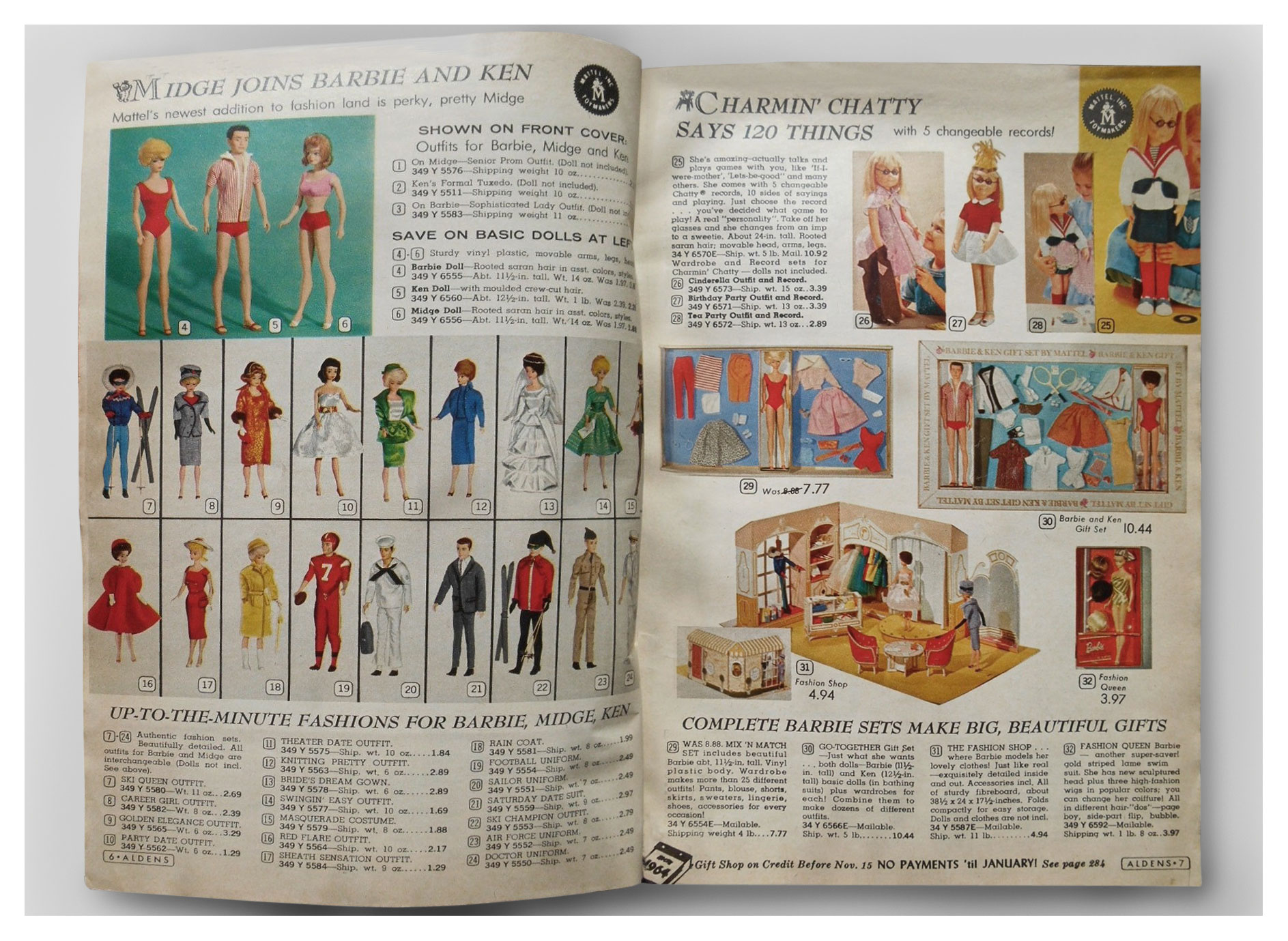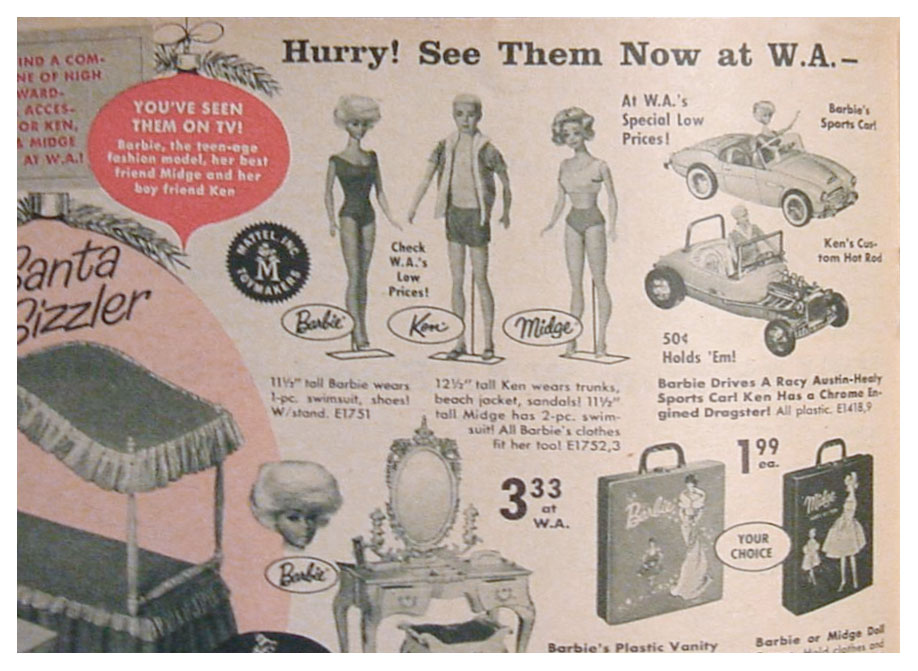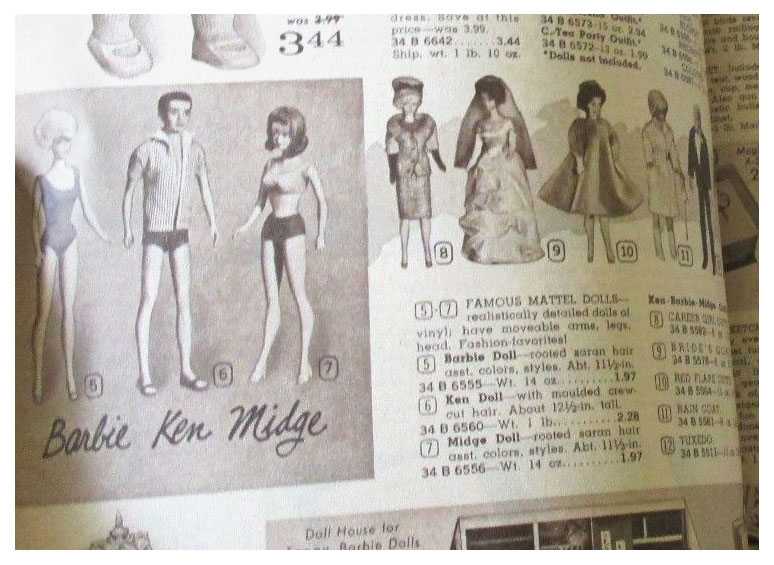 Flocked hair Ken was however sold in Japan in 1964. Ken's first appearance in Japan is in the April 1964 issue of Japanese Toy magazine, introduced, along with Midge, as a NEW FRIEND of Barbie. The flocked hair Kens were not just used as models – they regularly turn up nowadays in Japanese auctions as Dressed Dolls. This was possibly to sell off old stock. The painted hair version was certainly sold in 1964 too. By 1965 only the painted hair version appears in Japanese advertising.