There were nine complete outfits available for Ken in 1961: the basic wardrobe for a young undergraduate. All 1961 trousers have a visible YKK zip, but no popper/snap, and the Campus Hero, Dreamboat, and Saturday Date trousers all have turn-ups/cuffs. These three trousers were revised in 1962. The turn-ups disappeared and the trousers were given a hidden zip plus a popper. This became the standard trouser design for all vintage slacks from 1962 on, except for the shorts from Sport Shorts and the trousers from Casuals and Tuxedo, which only changed to zip-and-popper in 1964 (see section 1964 The Outfits).
For more information and many more detailed photographs showing close-ups see THE VINTAGE KEN® BOOK.
---
CAMPUS HERO #770
The General Merchandise Company and Mattel trade catalogues for 1961, as well as the 1962 Sears Christmas catalogue, tantalizingly describe Campus Hero as including a "sports trophy", but I have never seen any evidence that it really did. In 1964 Campus Hero was reissued with an M instead of a U (see section 1964 The Outfits).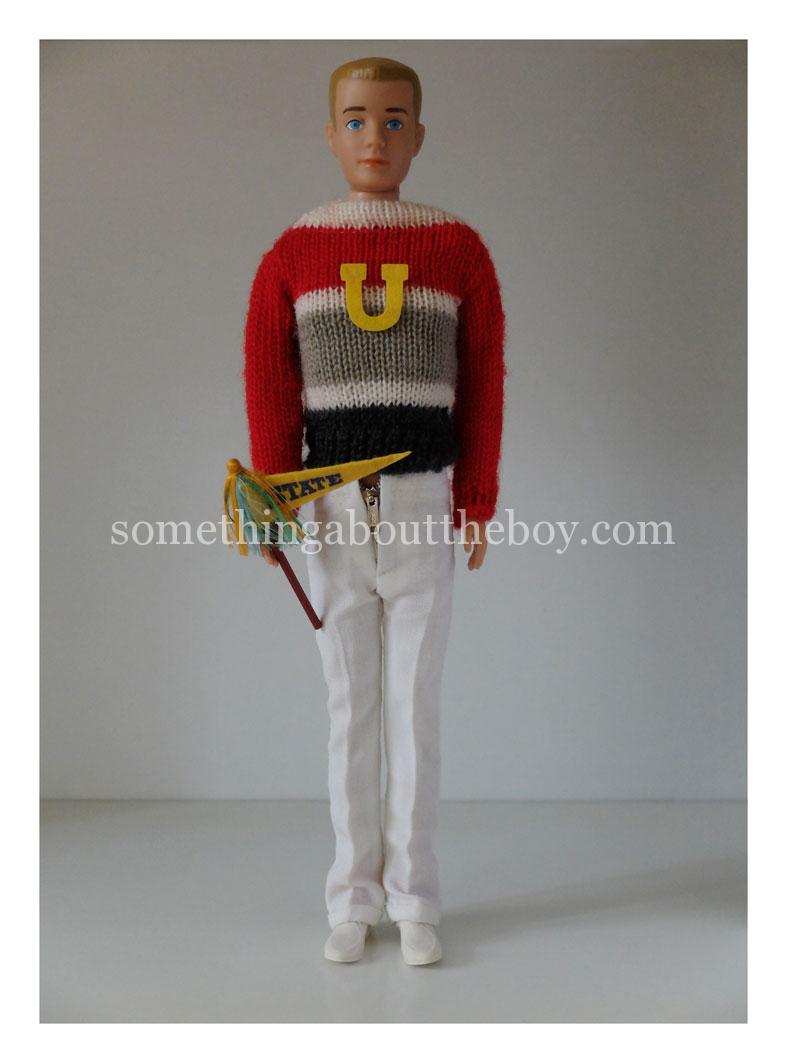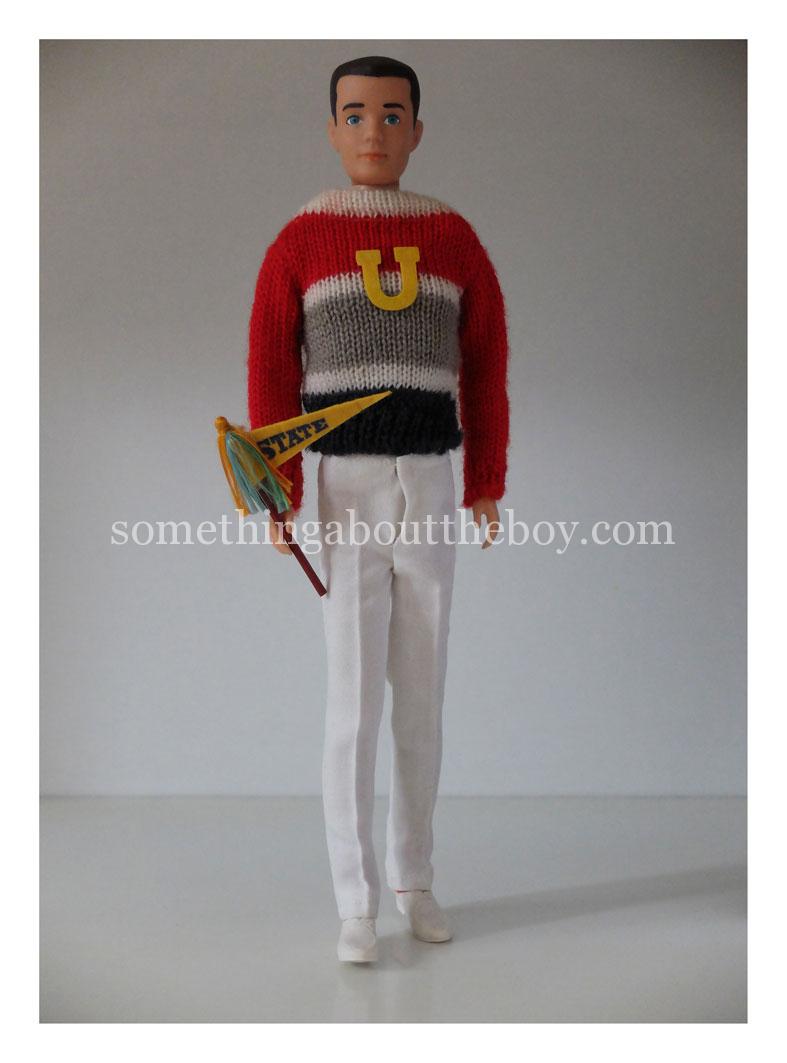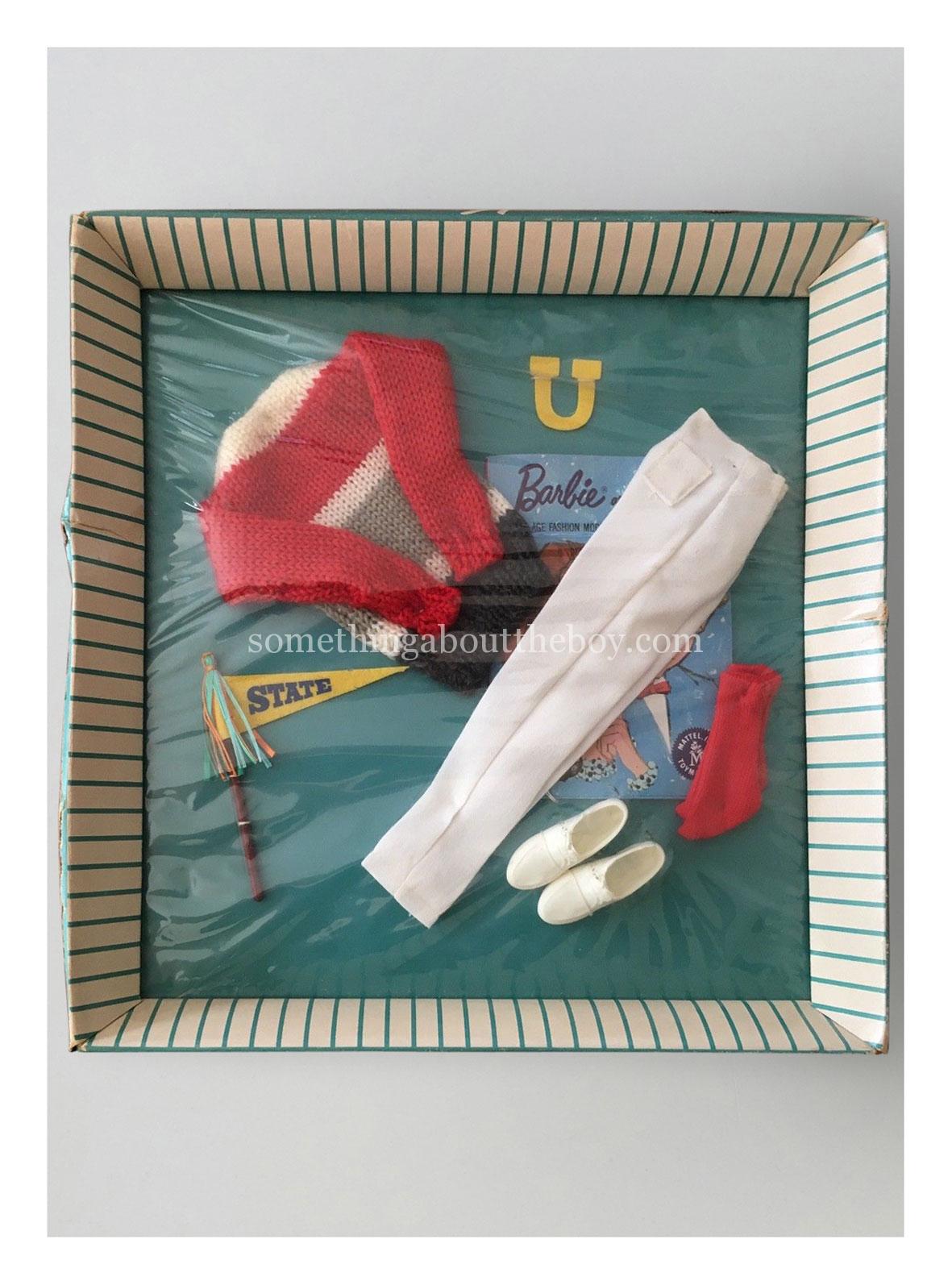 ---
CLONE CAMPUS HERO SWEATERS
Out-of-box collectors should be aware of 'clones'. Many pieces produced by companies such as Totsy and Shillman are so similar that sellers sometimes add them, however unintentionally, to online Ken auctions. Check out the section Vintage Clones for more information.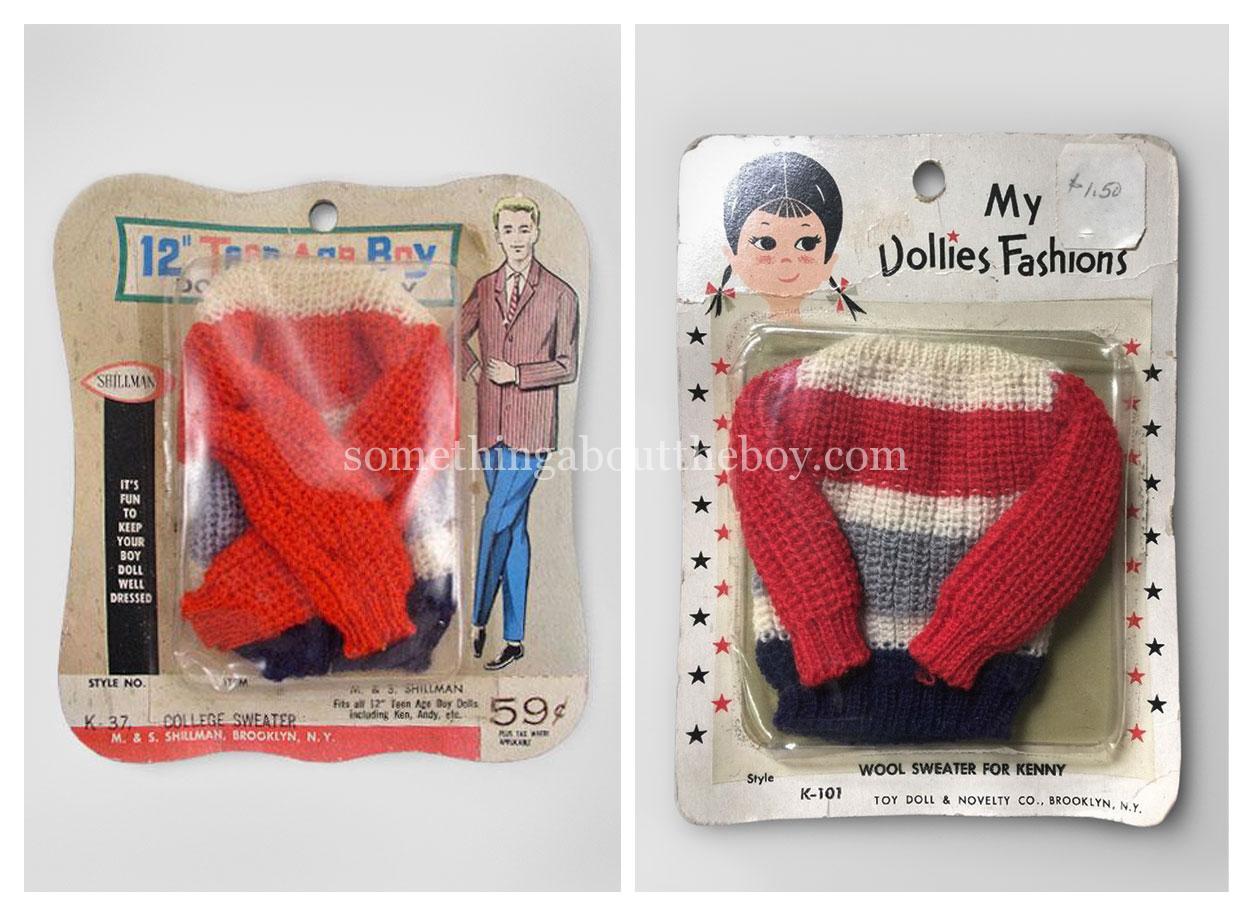 ---
IN TRAINING #780
---
SLEEPER SET #781
In 1964 Sleeper Set was reissued with blue pajamas (see section 1964 The Outfits).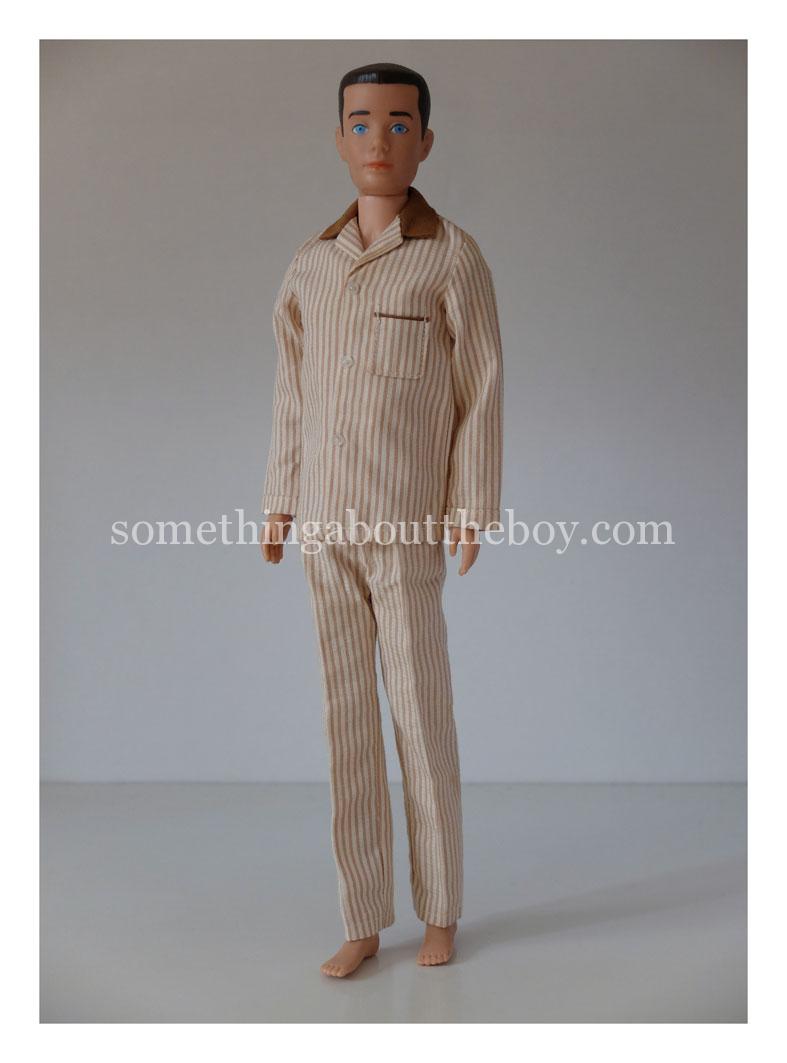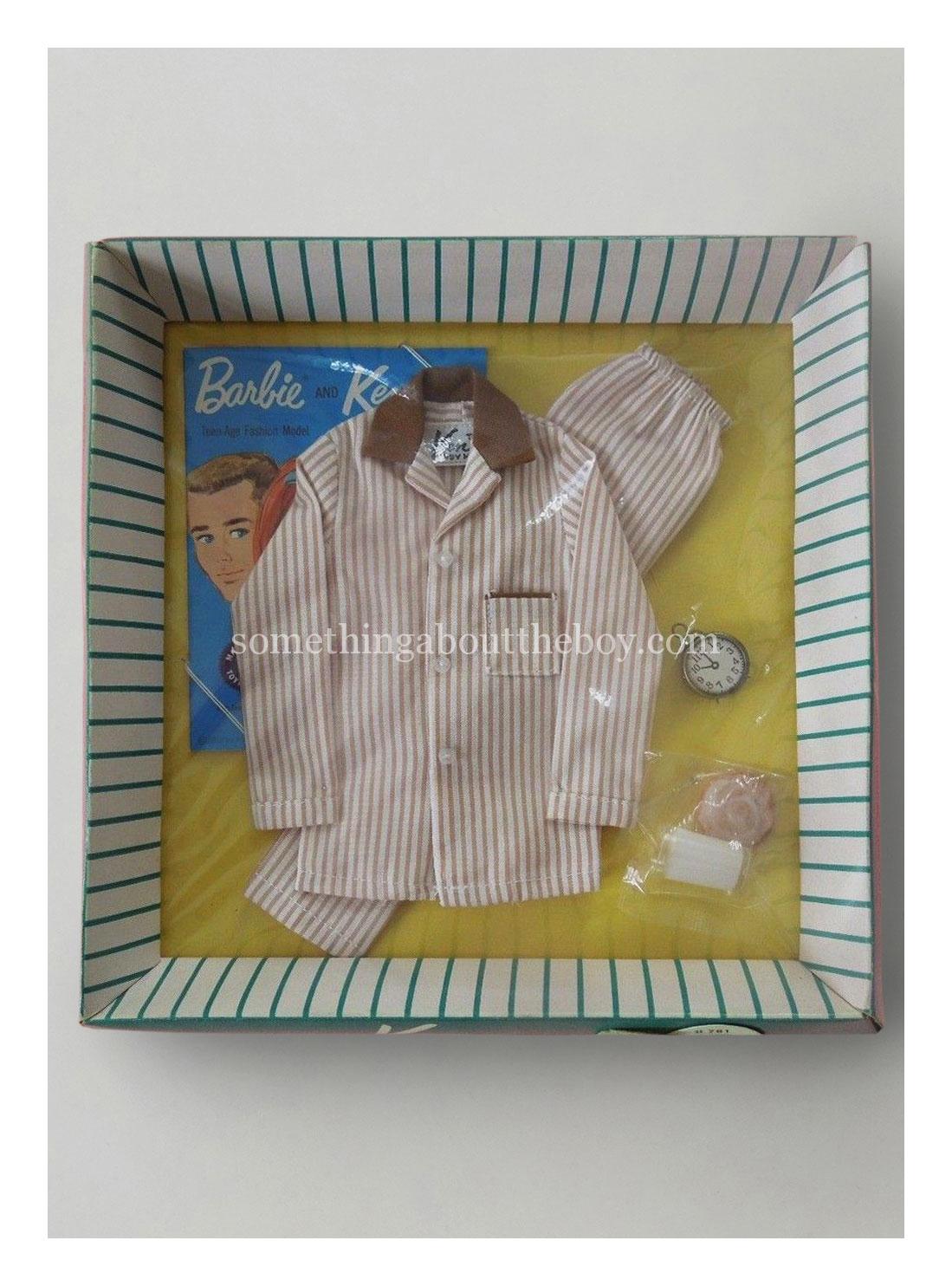 ---
CASUALS #782
Casuals was revised for 1964, and came with the new-style trousers, and a t-shirt in the same fabric as the socks (see section 1964 The Outfits). Both t-shirts were labelled. Many similar clone t-shirts were produced (I've seen practically identical clone t-shirts in red, and also with blue and white – or black and white – stripes like a clone Yachtsman t-shirt), but they can easily be told apart, as they obviously have no Ken label inside.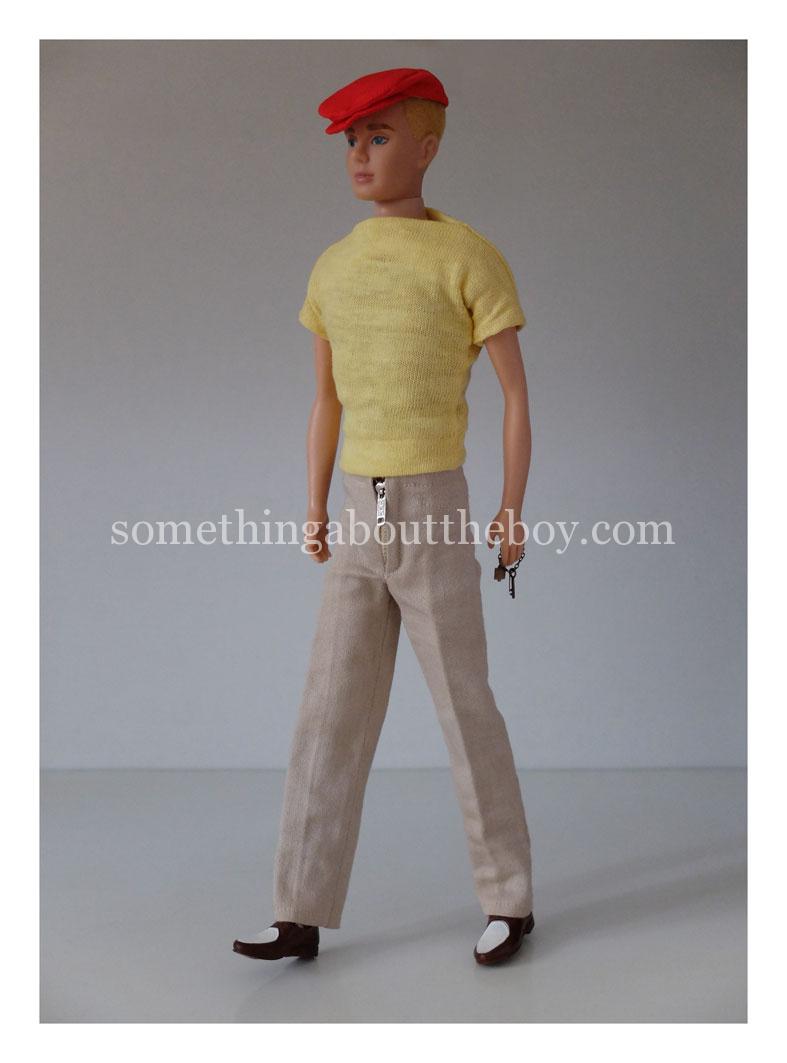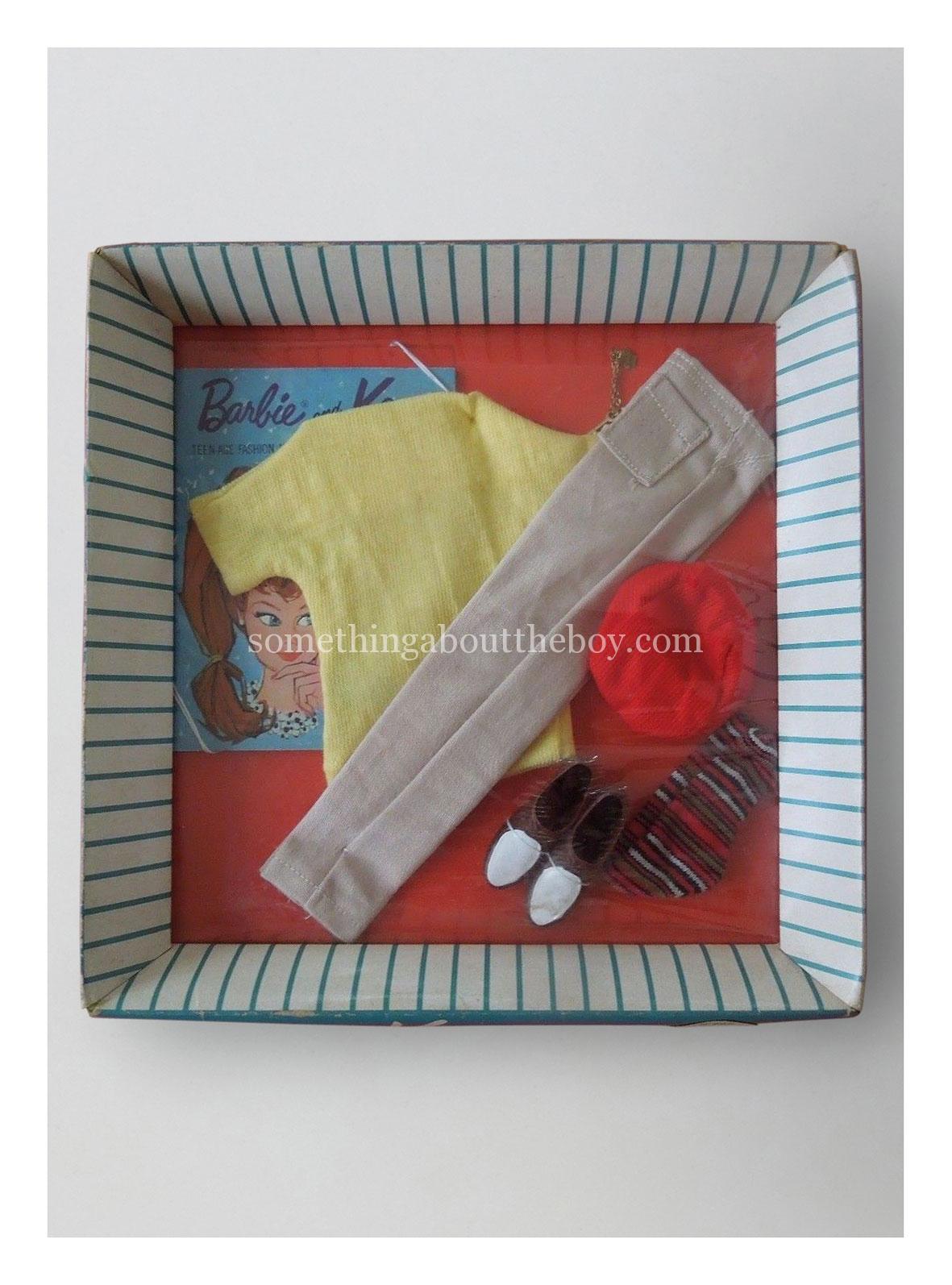 ---
The trousers and shorts from 1961 have front 'pocket' stitching as shown below left. From 1962 on they have a revised pocket design as shown below right. The only exceptions are some outfits with jackets – such as Saturday Date and Tuxedo – which have trousers with no pocket stitching at all.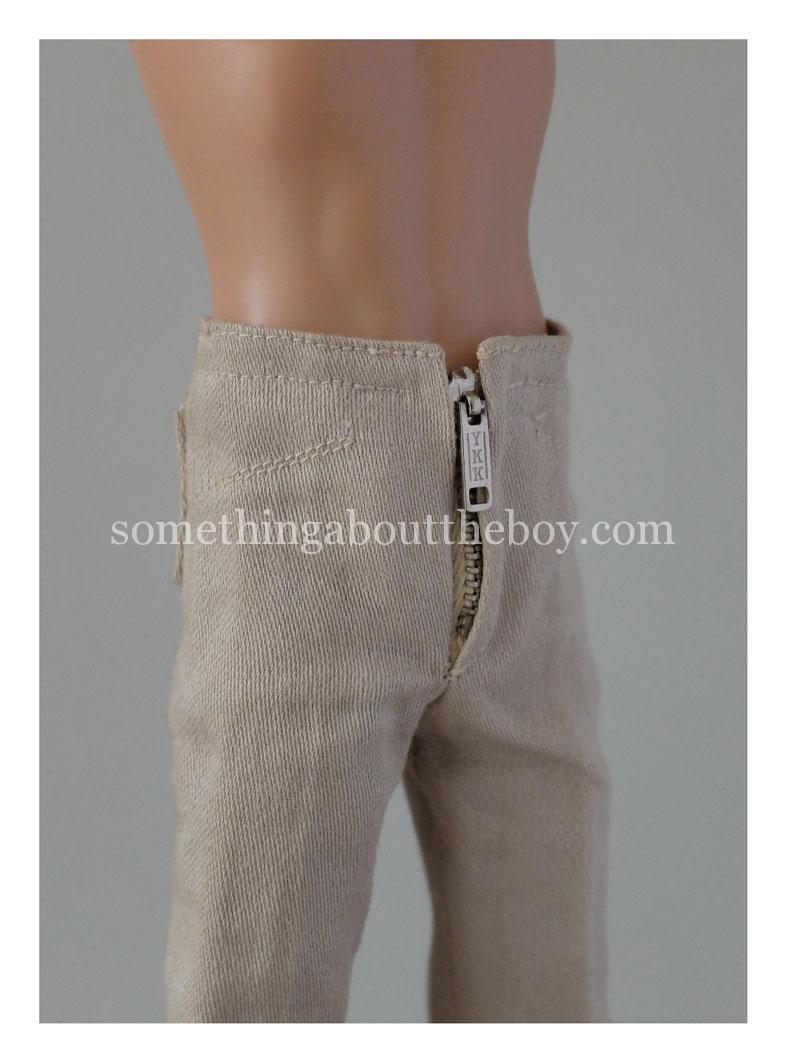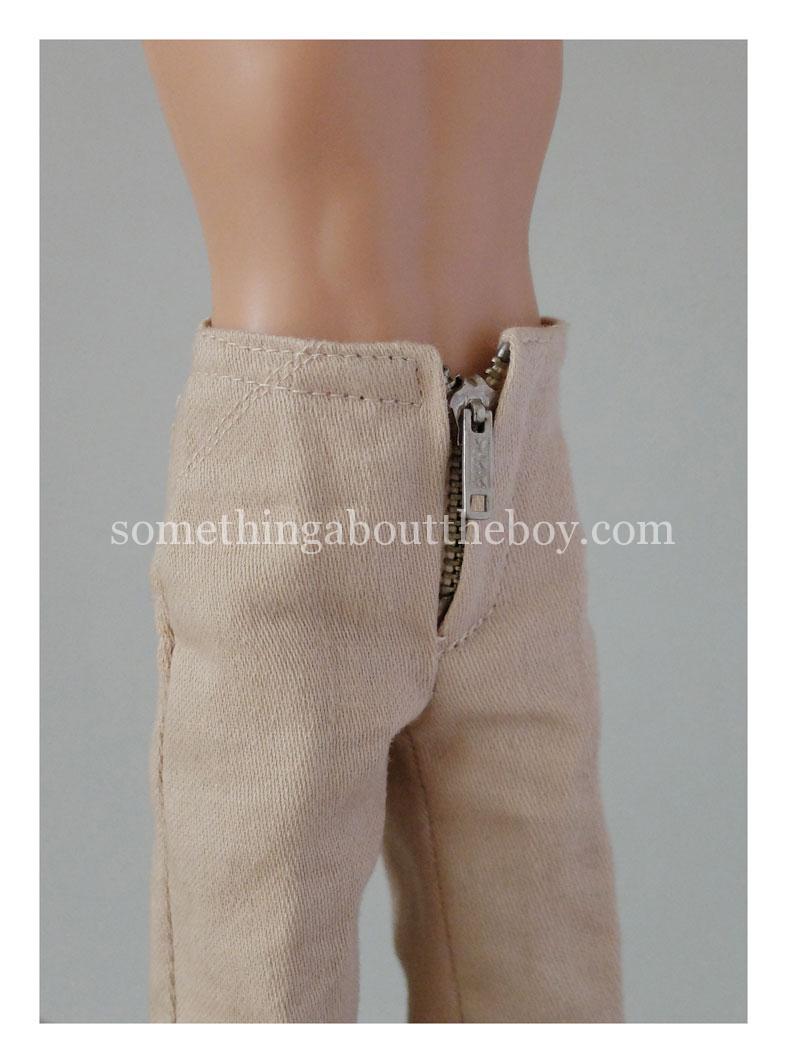 ---
SPORT SHORTS #783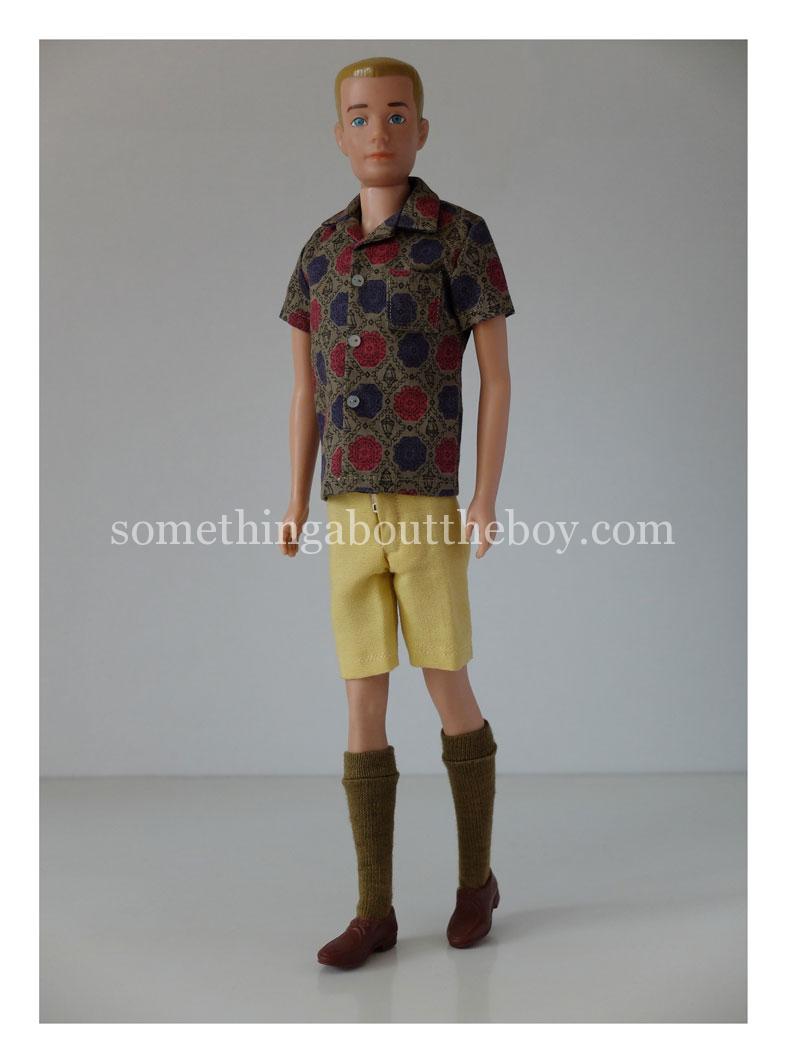 ---
TERRY TOGS #784
The bathrobe and slippers from Terry Togs came in various shades of pale blue, but were also available in a much deeper blue, and in white* (see THE VINTAGE KEN® BOOK). The robes were either embroidered with the K monogram, or it was stamped on. From the NRFB versions I've studied, it seems as if they were only embroidered in the first year. I've yet to find NRFB versions of either of the rarer colours. There are some contemporary illustrations and photos of the deeper blue version, but I've found none so far of the white one. This does beg the question of whether the white version is a genuine variation, or just a bleached out version of the regular robe. *I have two white robes and they certainly seem genuine, but the fact that the matching slippers never appear for sale (I have a pair, but their authenticity is extremely dubious), does cast a slight doubt. If anyone has ever seen a NRFB version with the white robe, please let me know: contact@somethingabouttheboy.com.
Ken's sponge did not really stand the test of time. NRFB versions often have the sponge intact, but they usually crumble or turn to dust when handled. Every contemporary illustration of this outfit shows a blue sponge. If it genuinely was blue (and I expect it was) the colour didn't last either, as every NRFB version I've ever seen had a grey sponge, like the one shown here.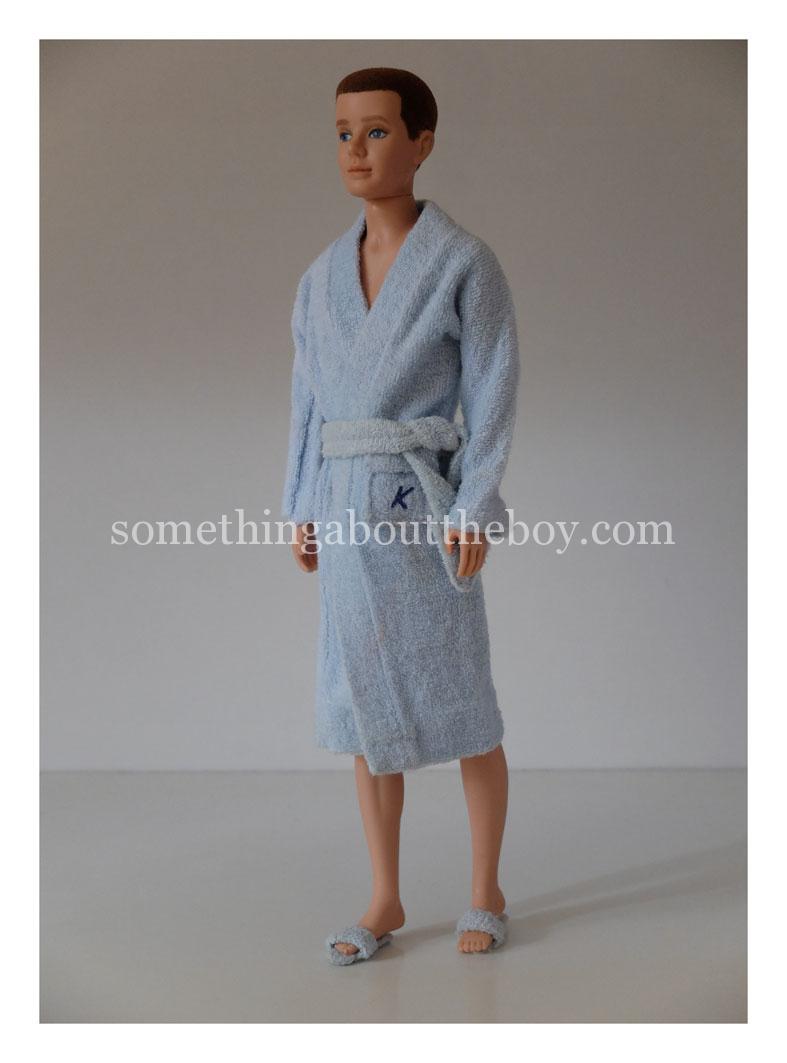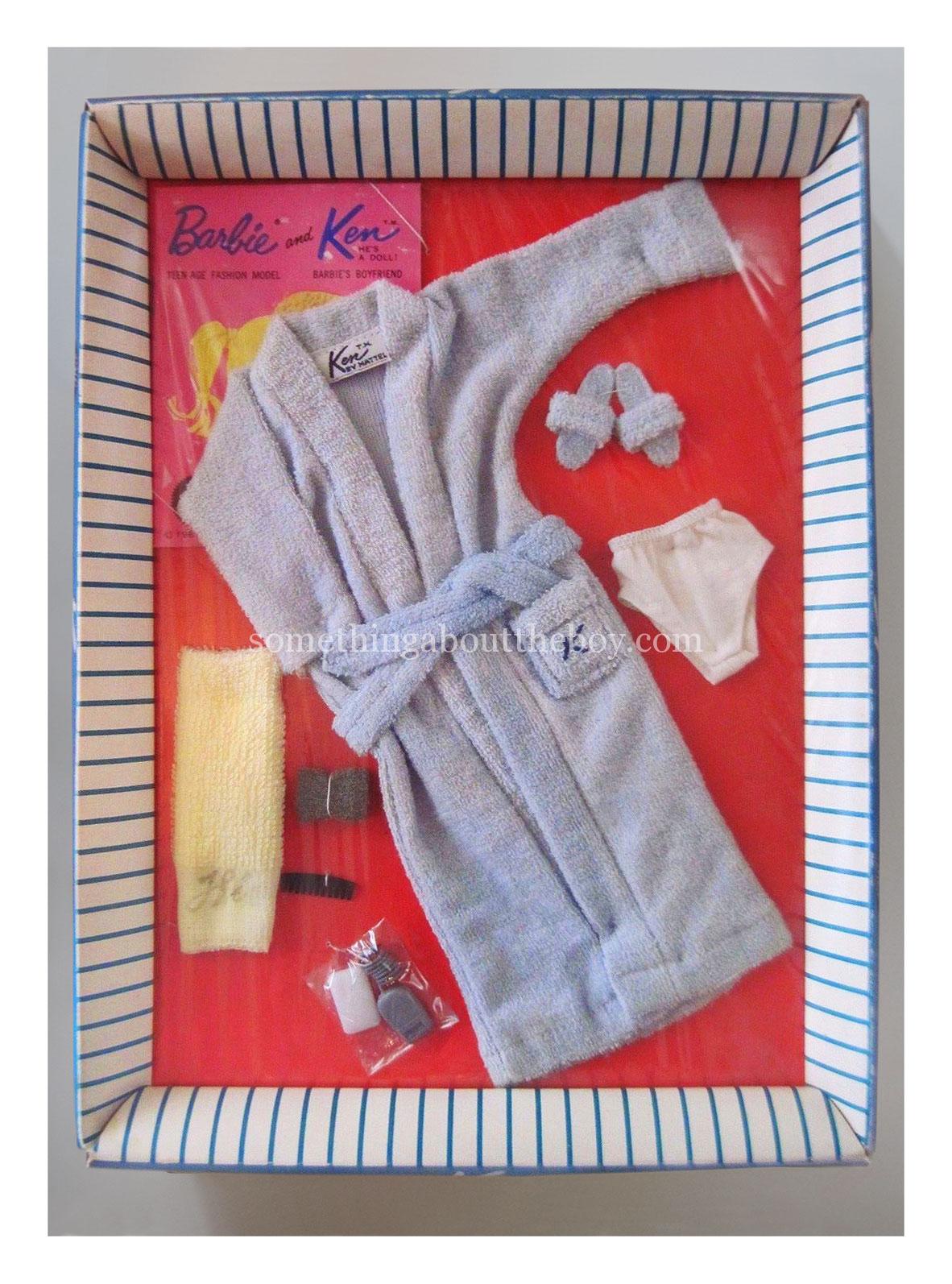 A variation (fluffier) towel has been found with some versions of Terry Togs. It can be seen in THE VINTAGE KEN® BOOK.
---
DREAMBOAT #785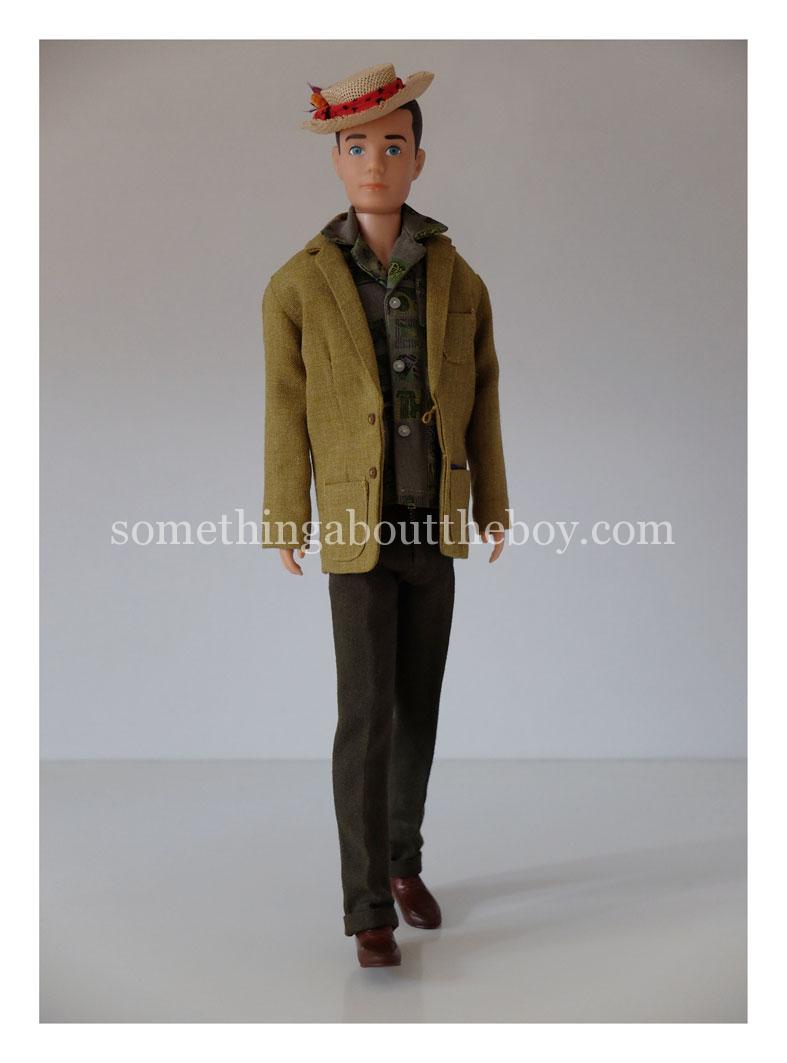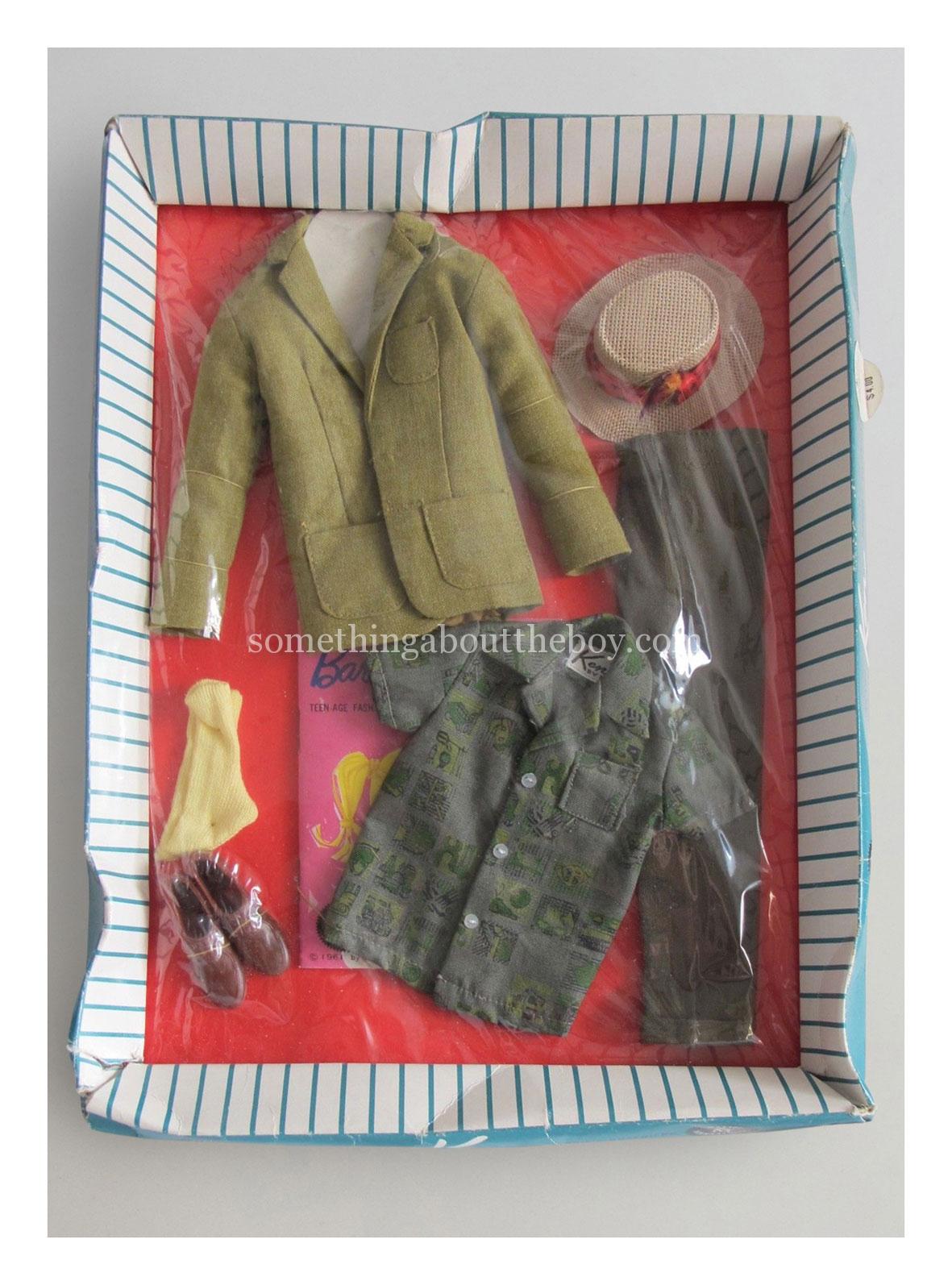 As well as the revised trousers, the 1962-63 version of Dreamboat came with a noticeable alteration to the hat – it now came with a pink band instead of orangey-red.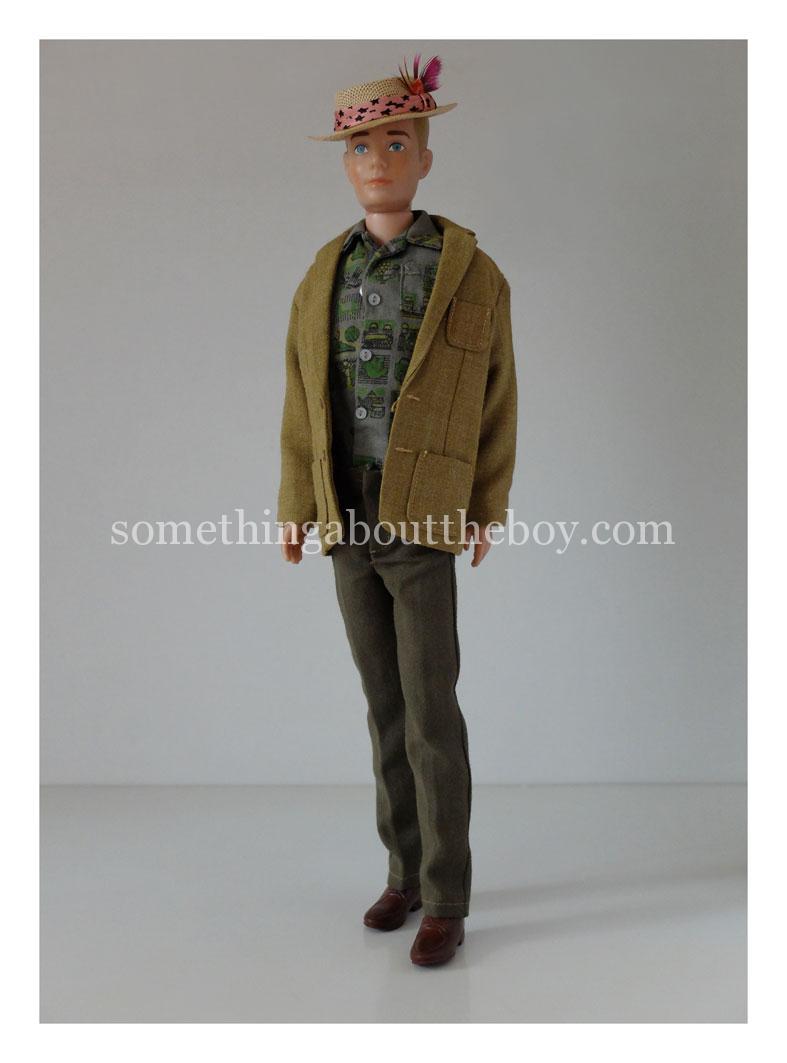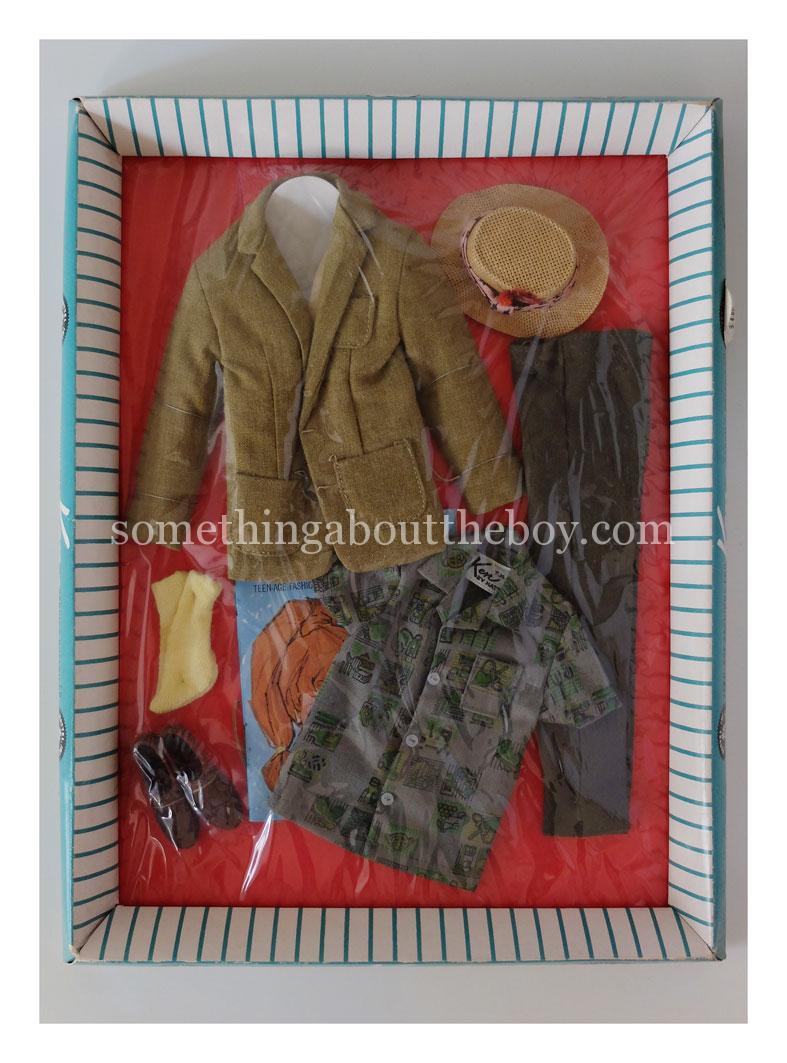 The 1963 version can be found arranged in the box identically to the earlier versions, but was also available in a slightly different arrangement (the hat and the booklet have swapped places), as shown below.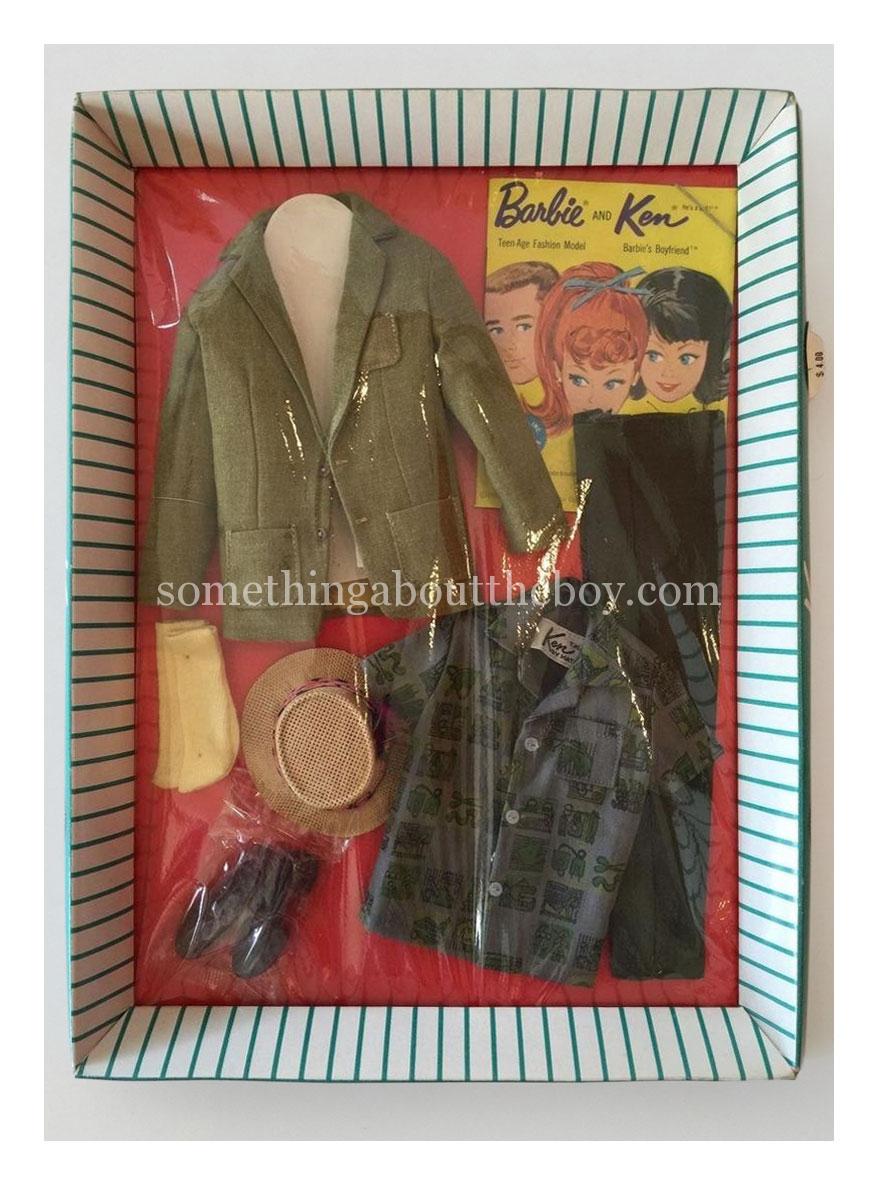 ---
NECKWEAR FASTENING
In 1961 the neckwear came with a sturdier type of elastic, which seems to have stood the test of time, at least with the NRFB versions. From 1962 on all Ken ties came with a regular rubber band, replacing this white 'knicker' elastic. There are two obvious reasons for this: firstly rubber bands are stretchier and therefore easier for children to use, and secondly, being softer and more flexible, would cause less damage to Ken's delicate flocking. However, the rubber almost always perish with age, even when kept in the original packaging, so most Ken ties are now found without any band. If the rubber band is still attached, it has usually solidified and/or snapped.
---
SATURDAY DATE #786
Like Tuxedo, Saturday Date came with stretchy nylon socks.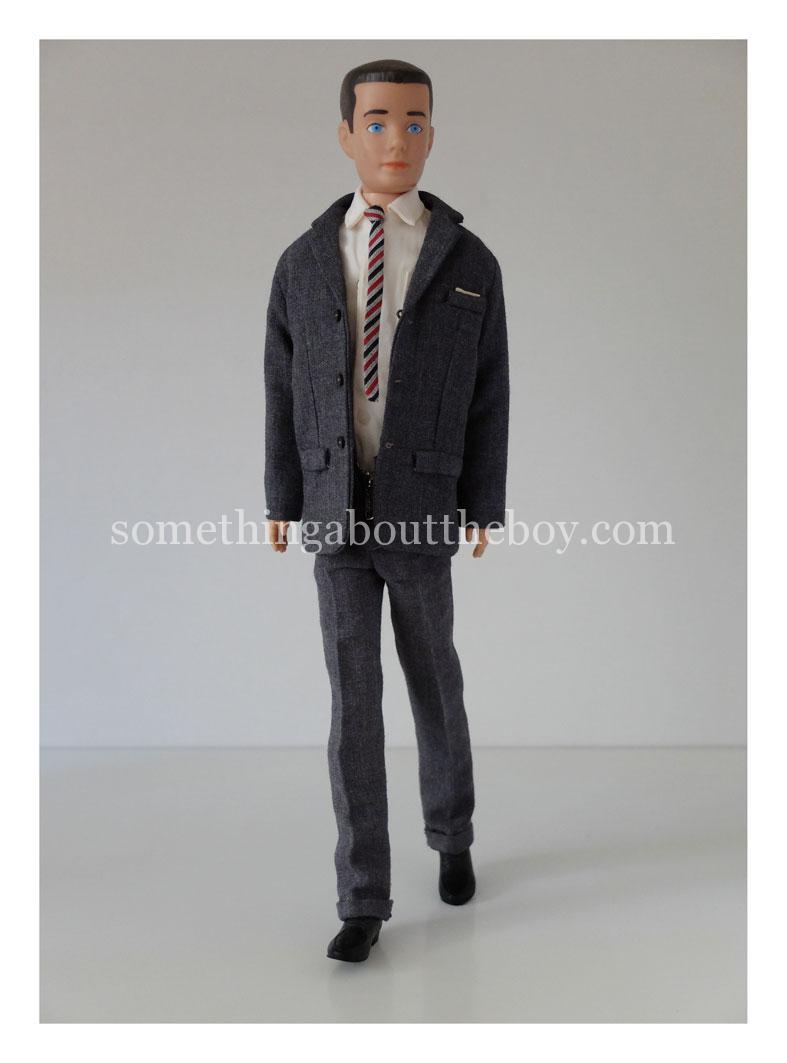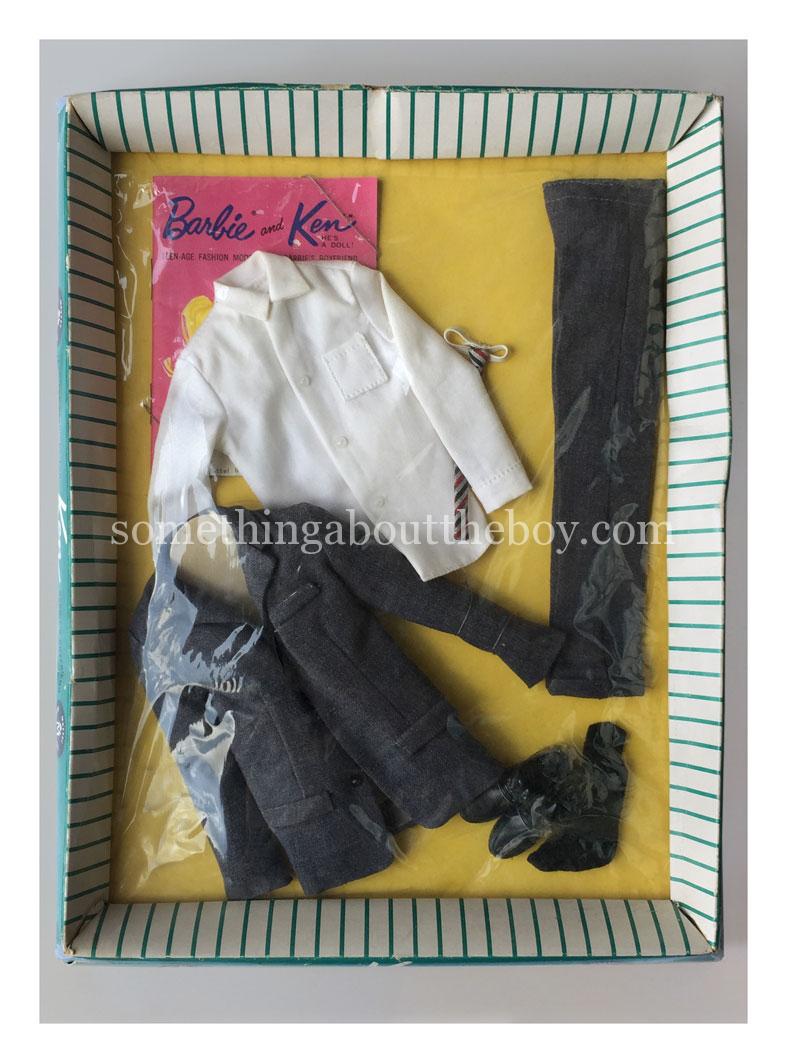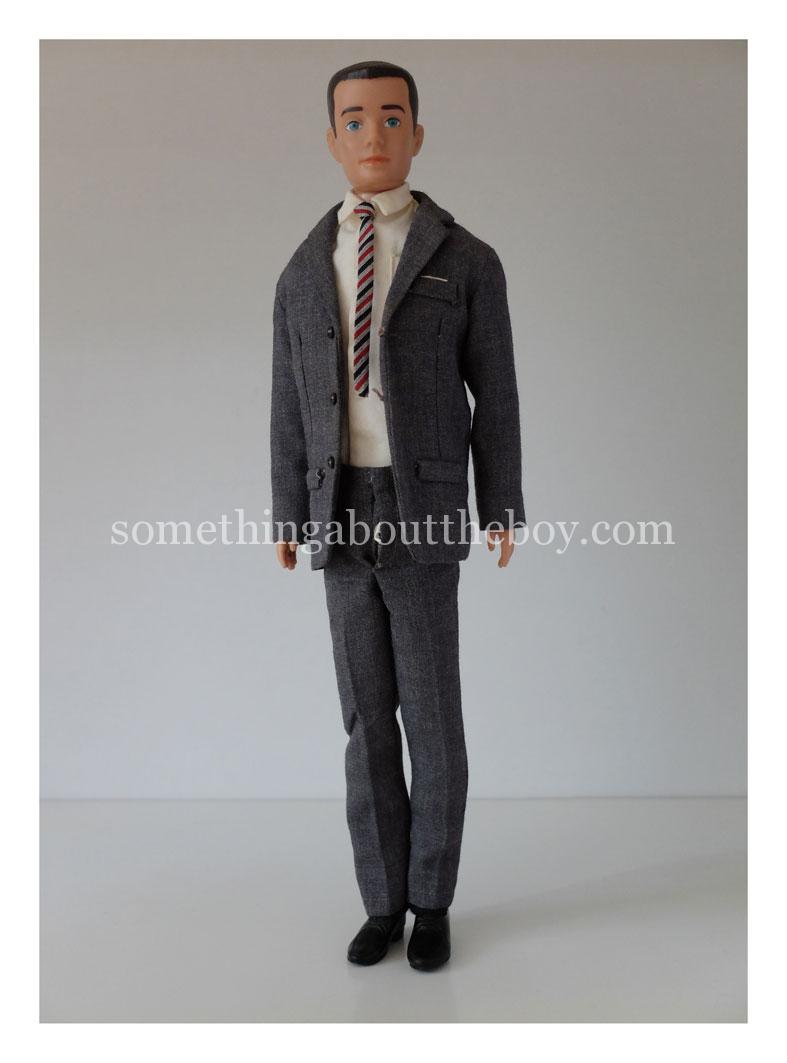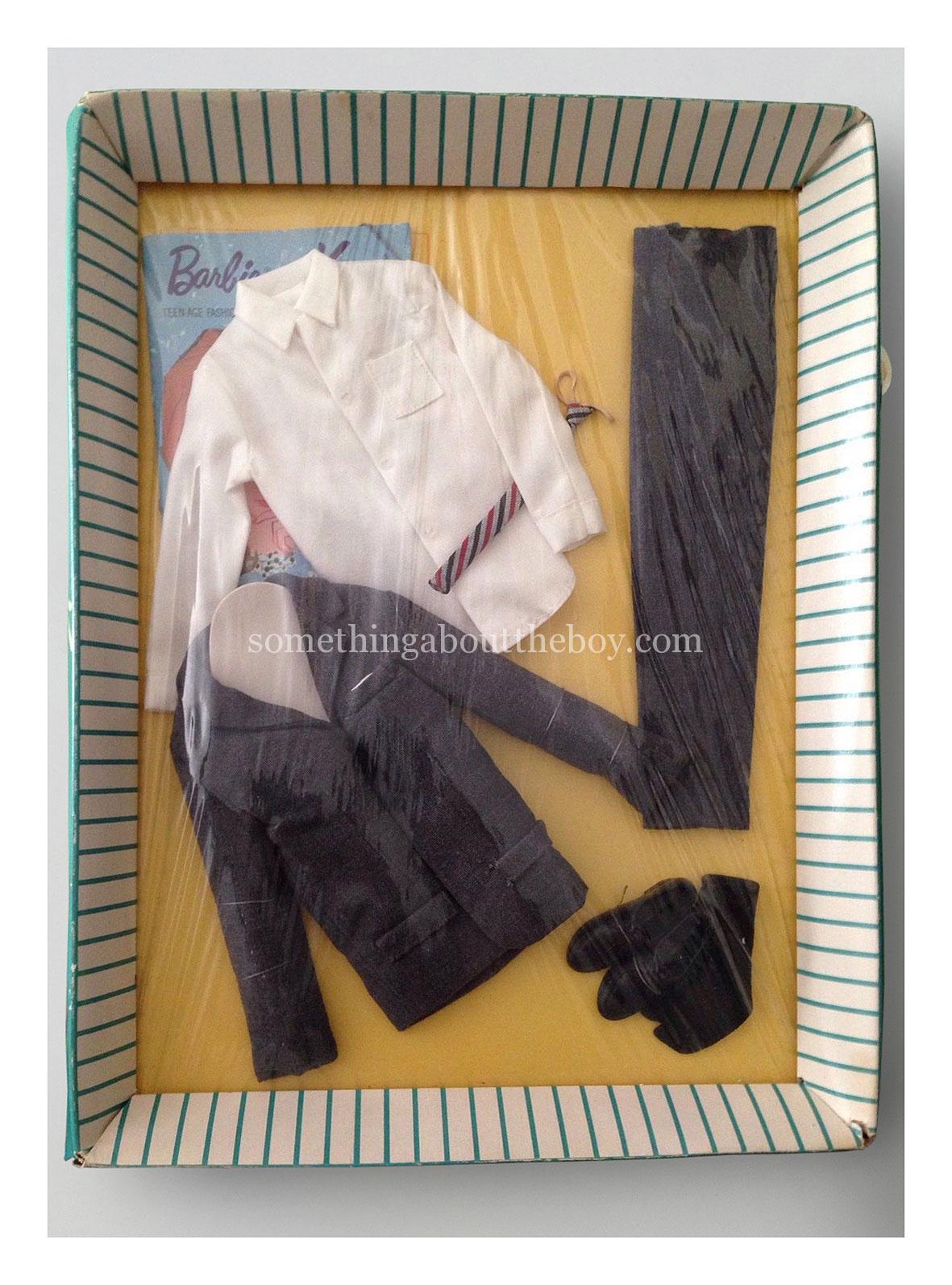 ---
TUXEDO #787
As mentioned above, the 1961 version has a bow tie with a white elastic band to fasten. The versions produced from 1962 on came with a regular rubber band. Close-up photos of both versions of the bow tie can be seen in THE VINTAGE KEN® BOOK.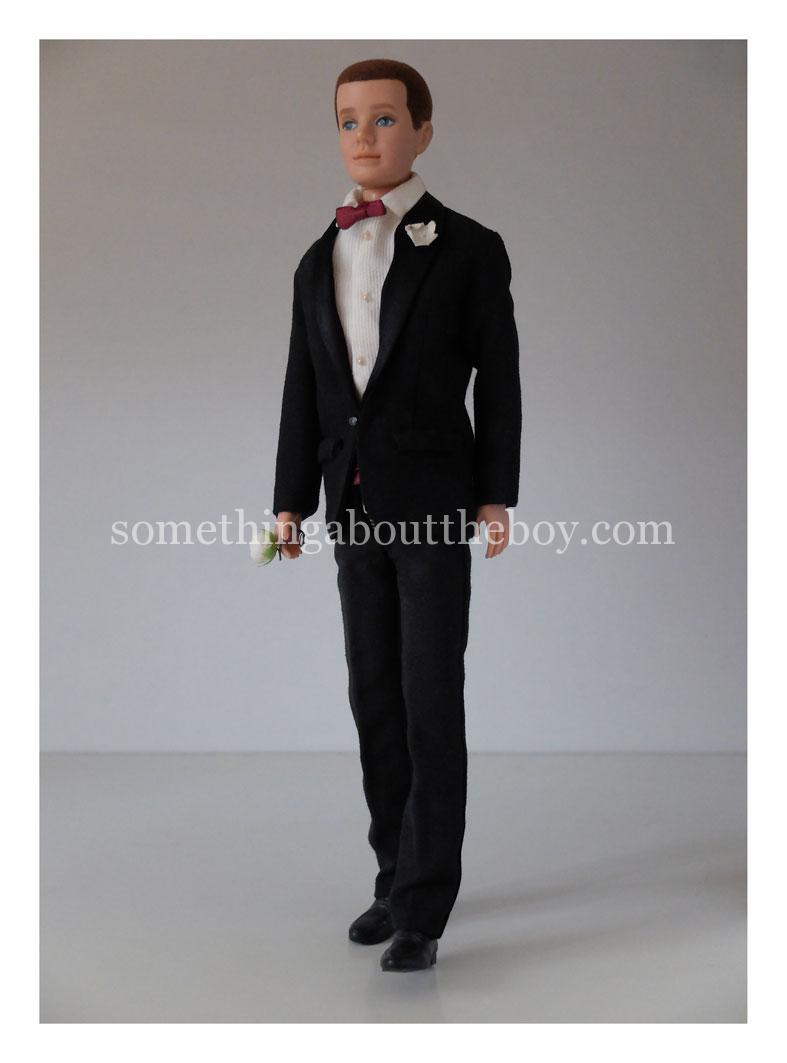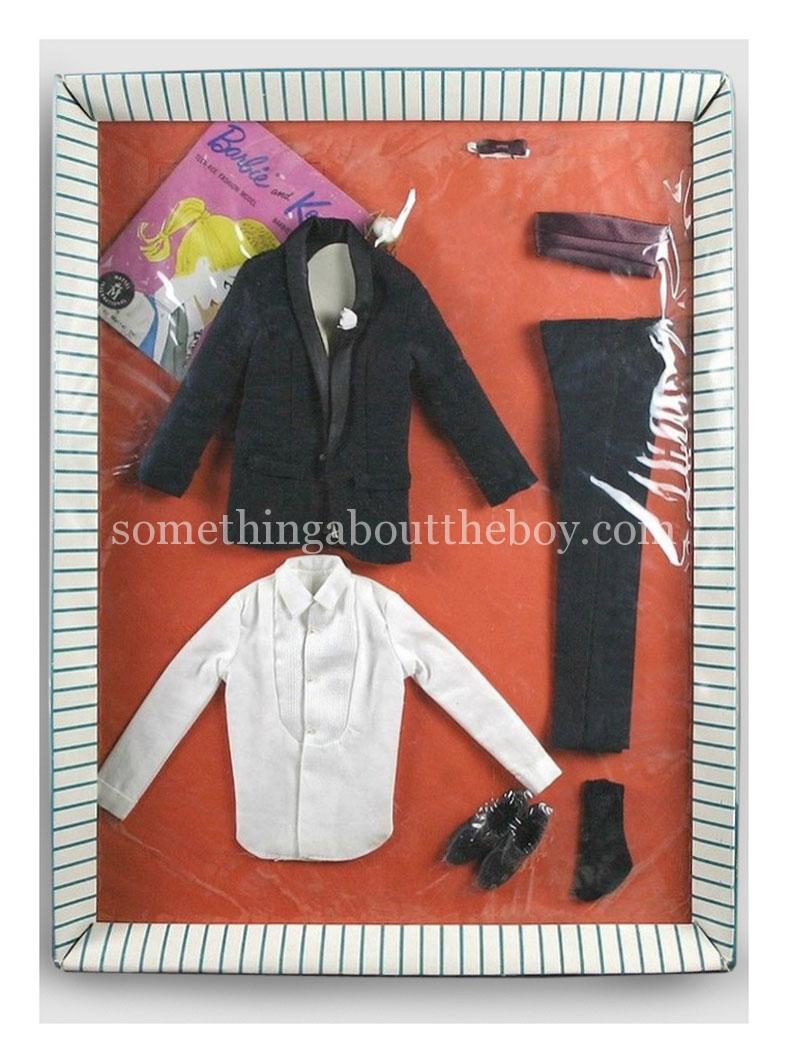 ---
BOOKLETS & CATALOGUES
Every Ken item came with a booklet. These are now useful, not only as general reference, but also to date your NRFB outfit. Many outfits were produced for a few years, so by dating the booklet, you can work out roughly which year the outfit was produced. For example, a NRFB outfit with a pink booklet must be from 1961-62. The same outfit with the pale blue booklet, must be from 1962-63, and so on.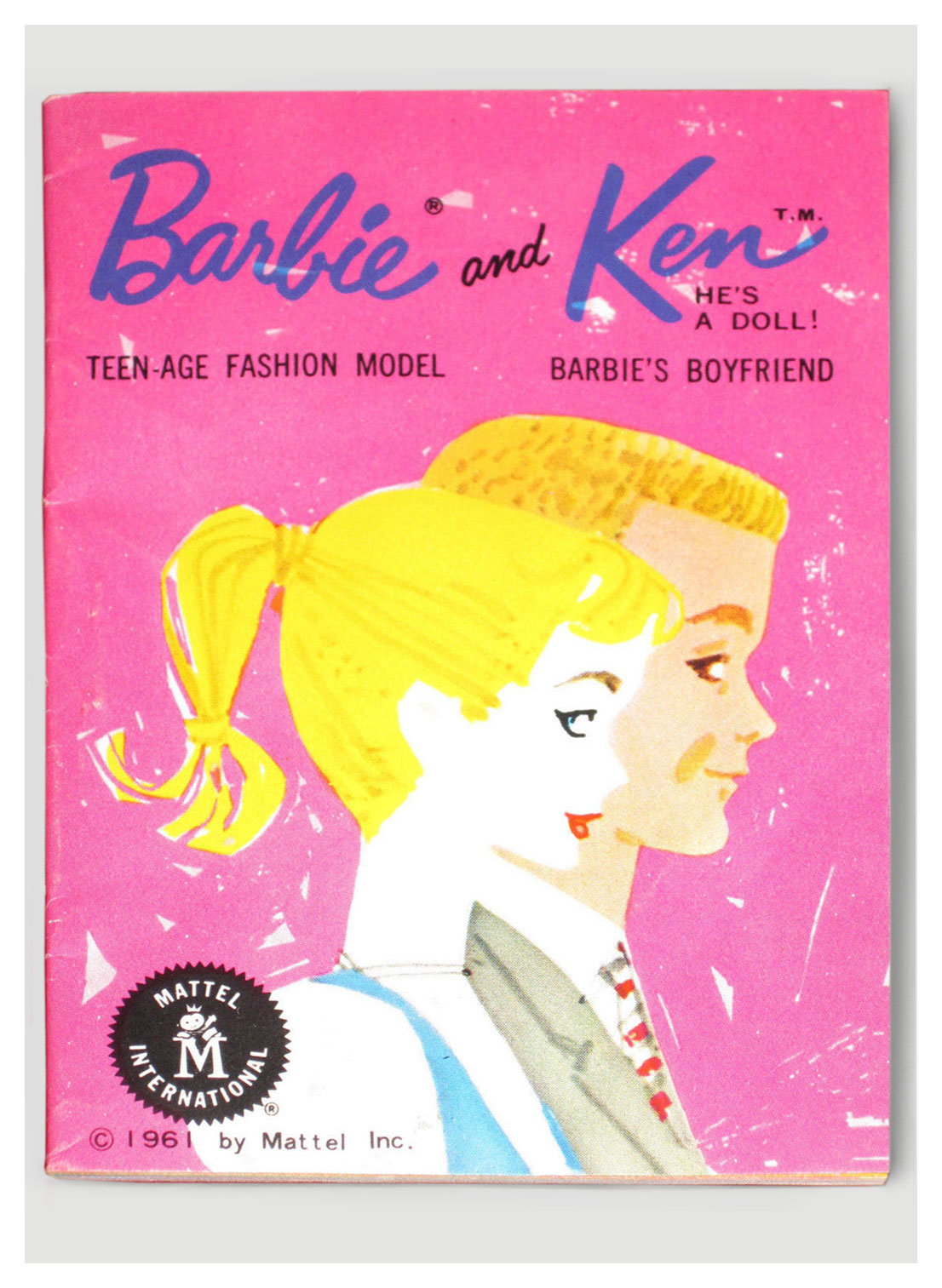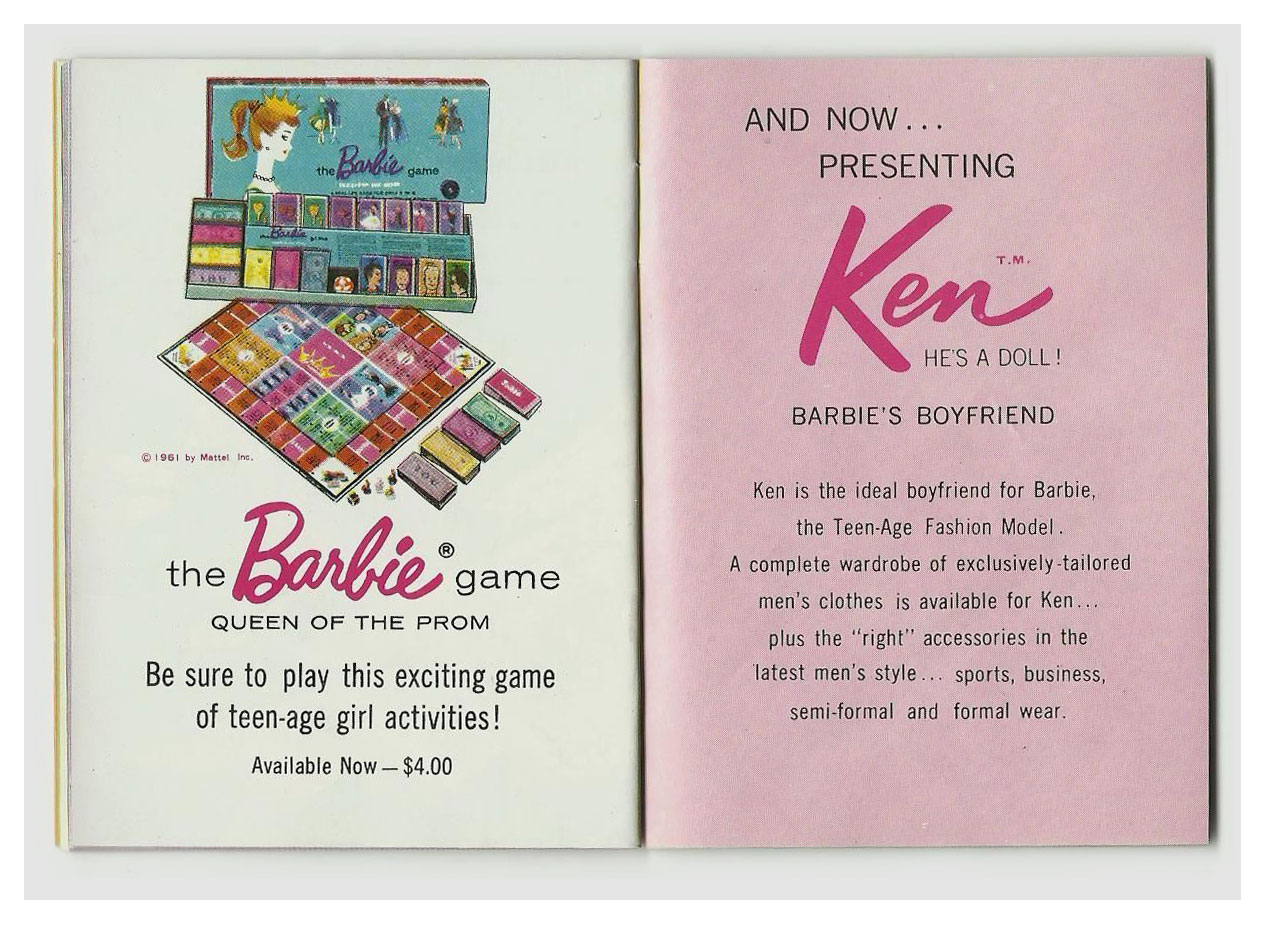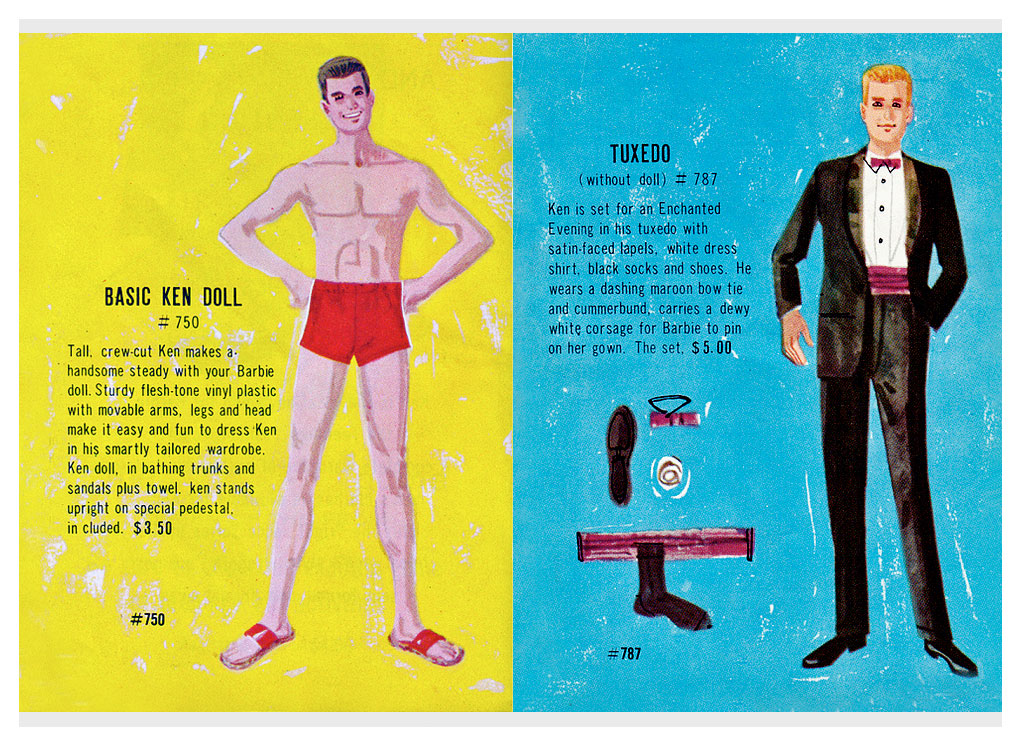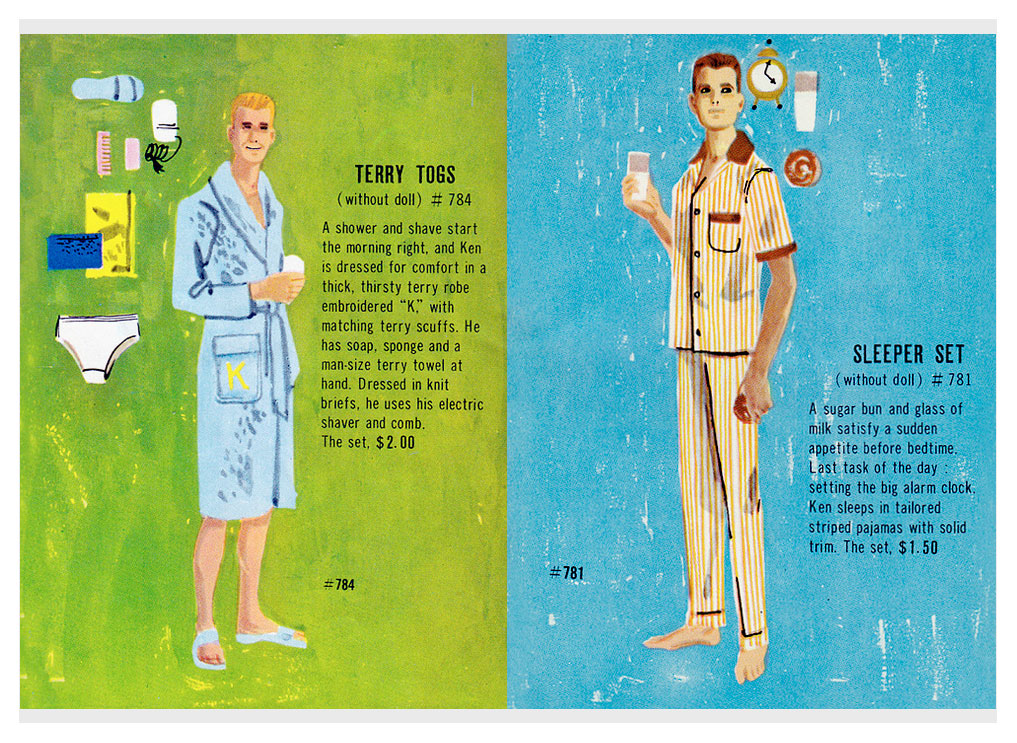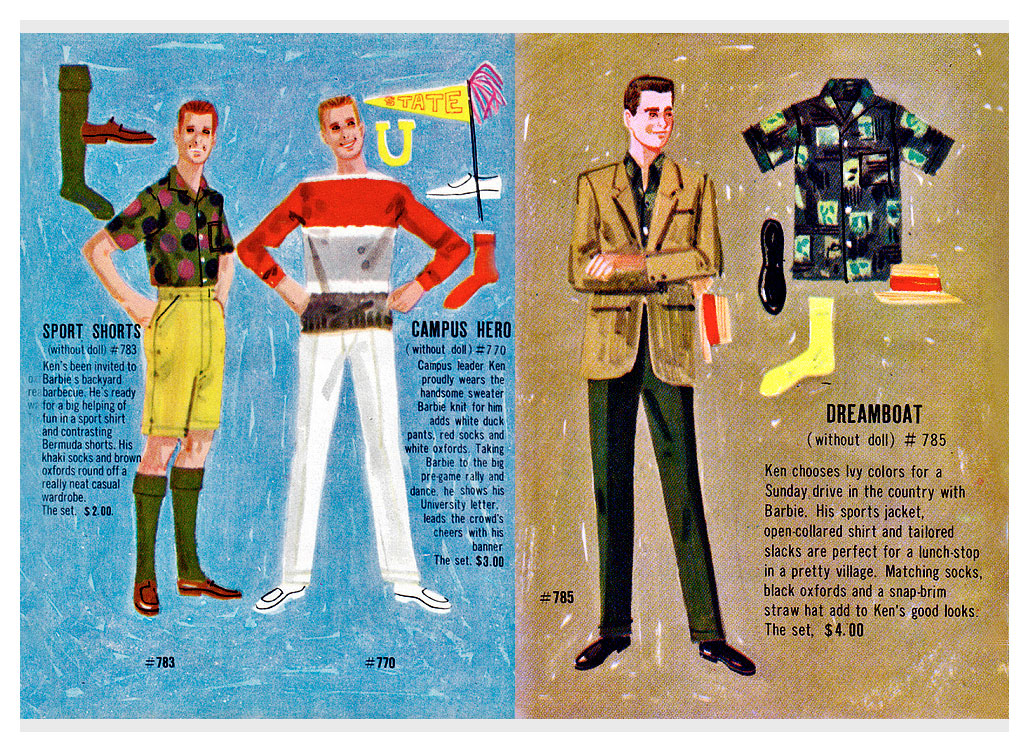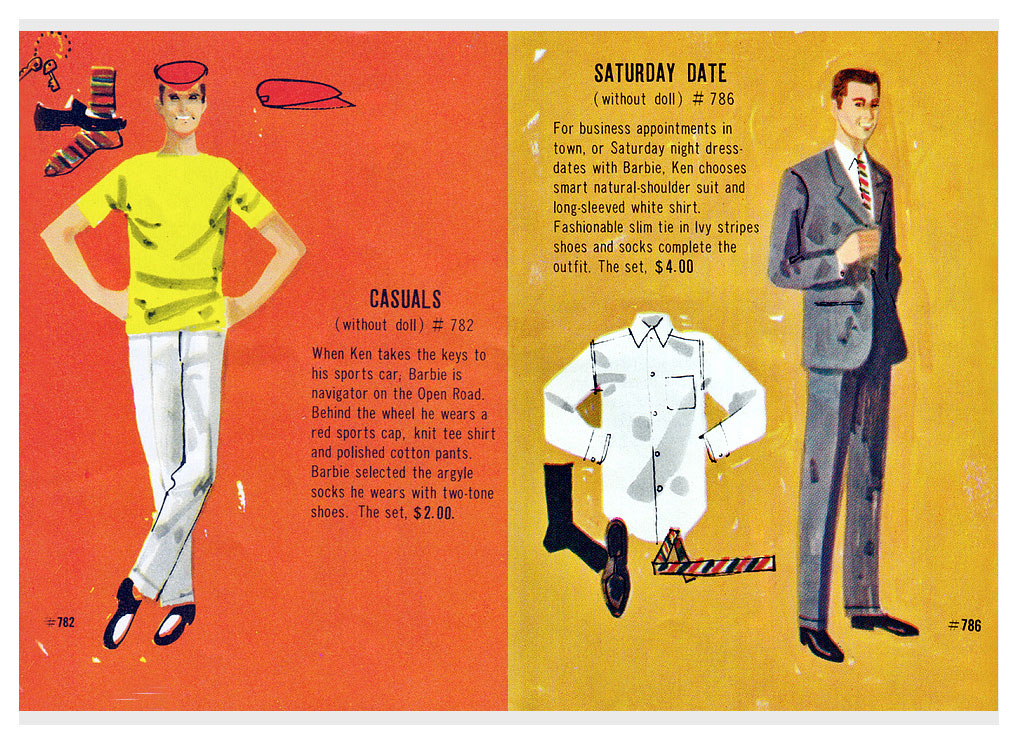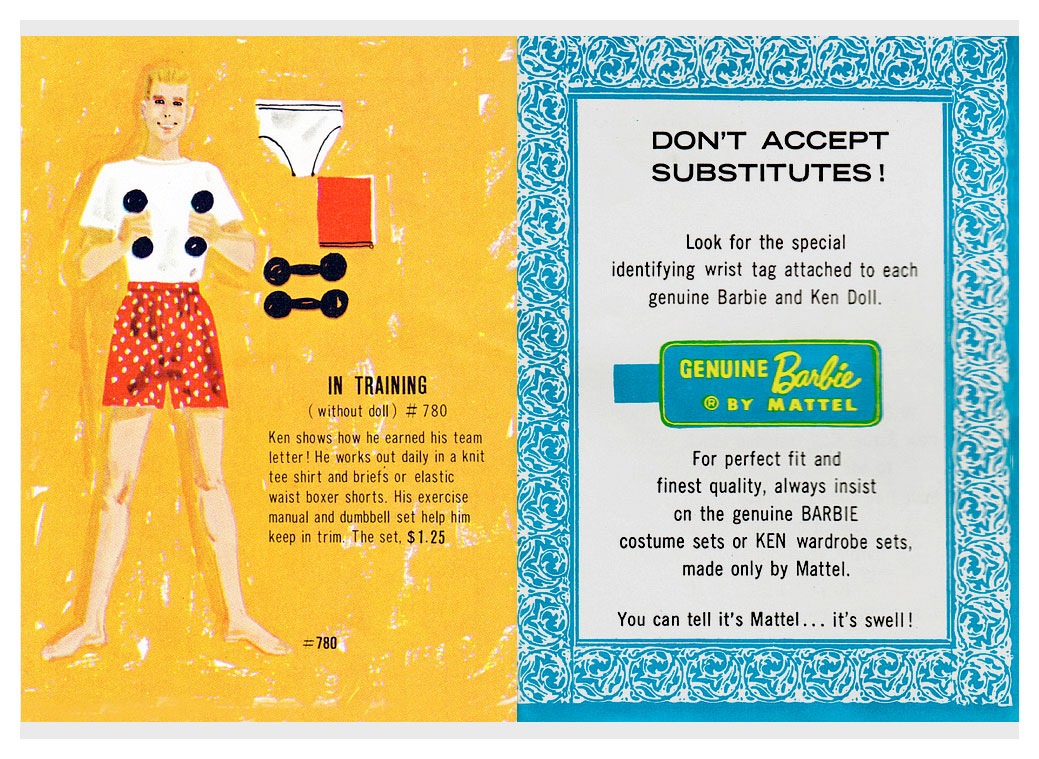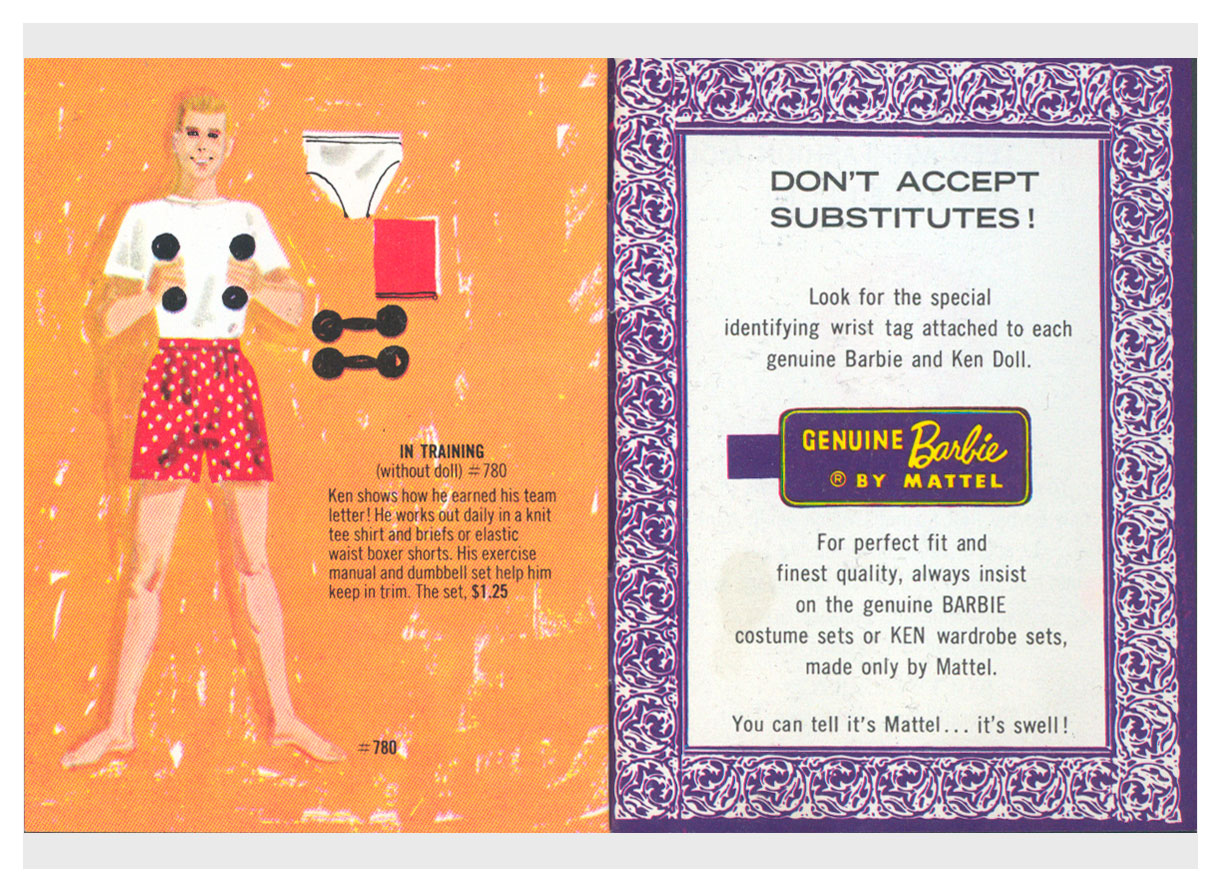 The earliest publications for 1961 show the prototypes of each outfit. Some are noticeably different from the actual produced versions.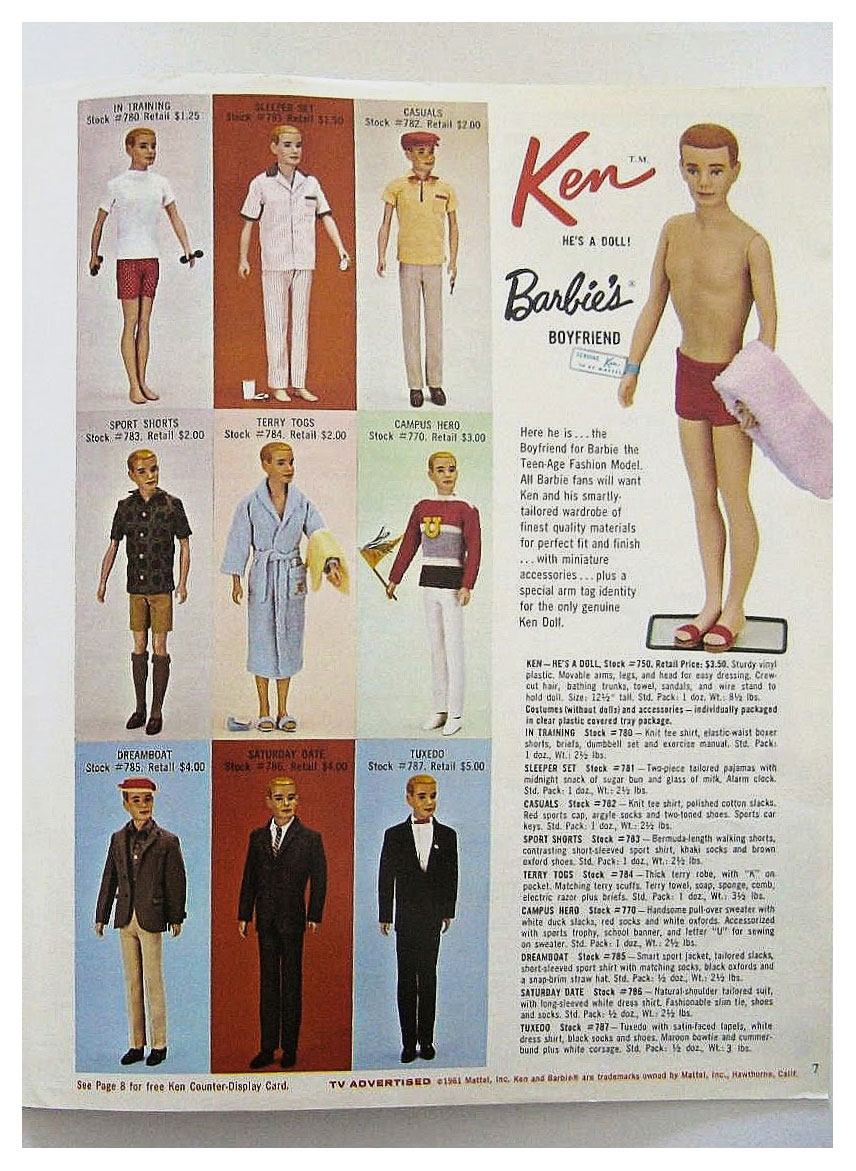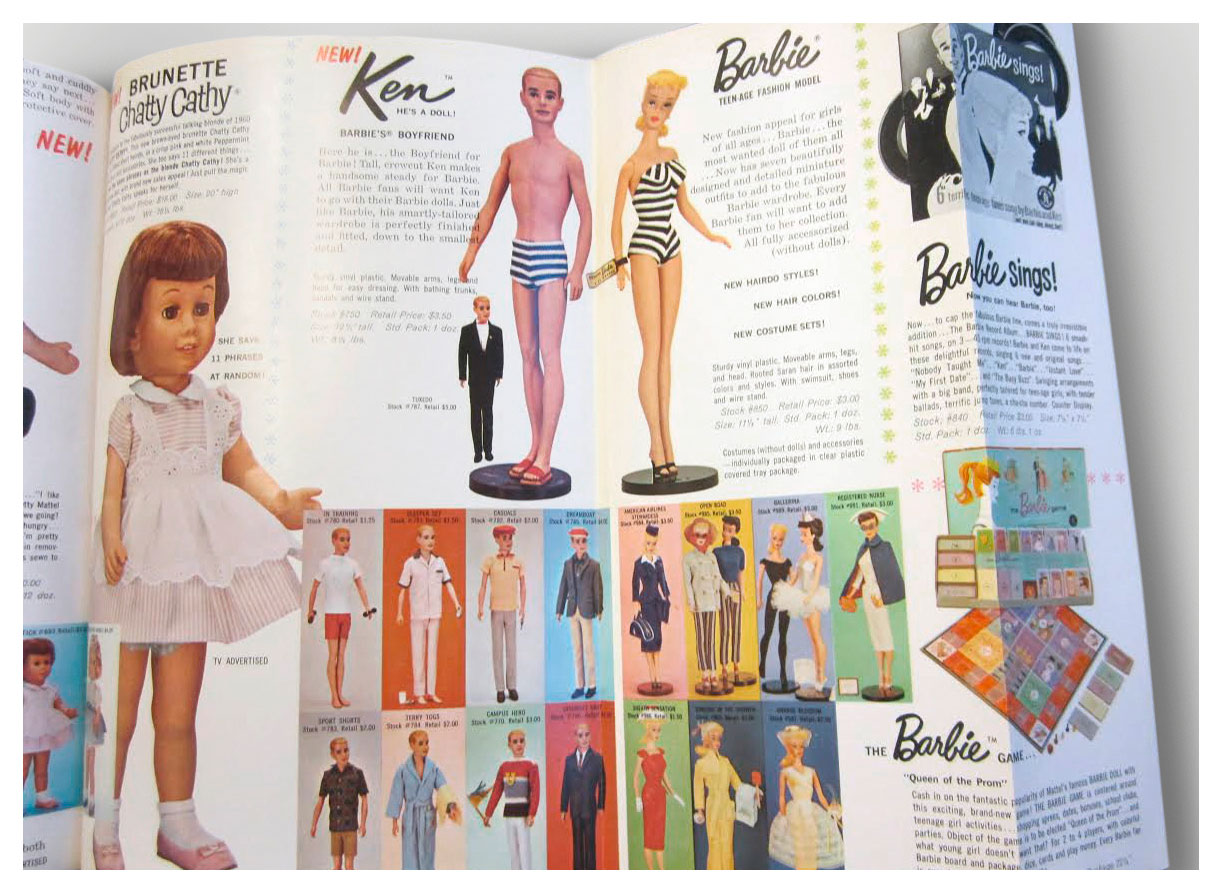 The booklet inside the Barbie Sings! record set released in 1961 features Ken wearing the prototype versions of his outfits, like Casuals shown below.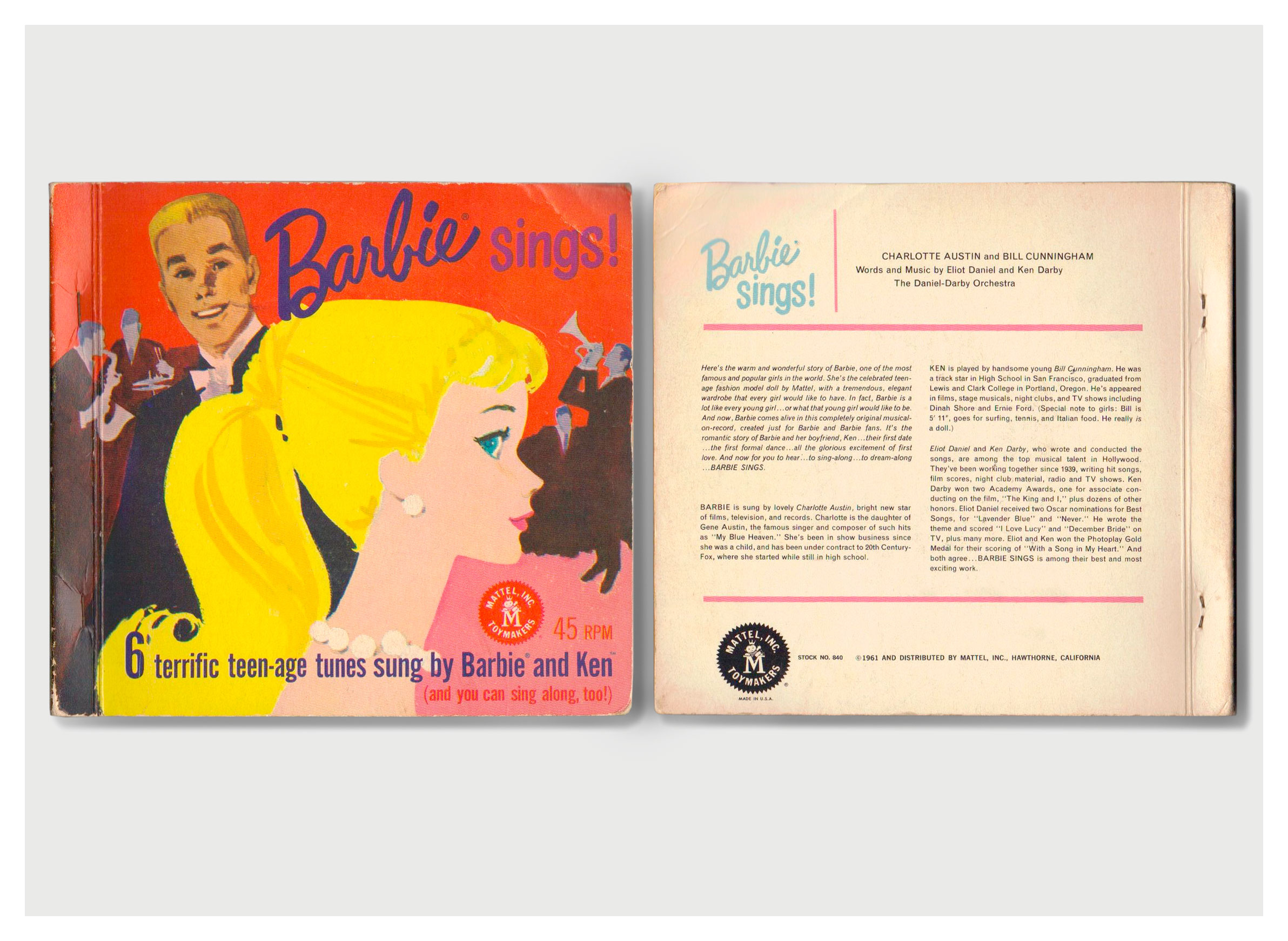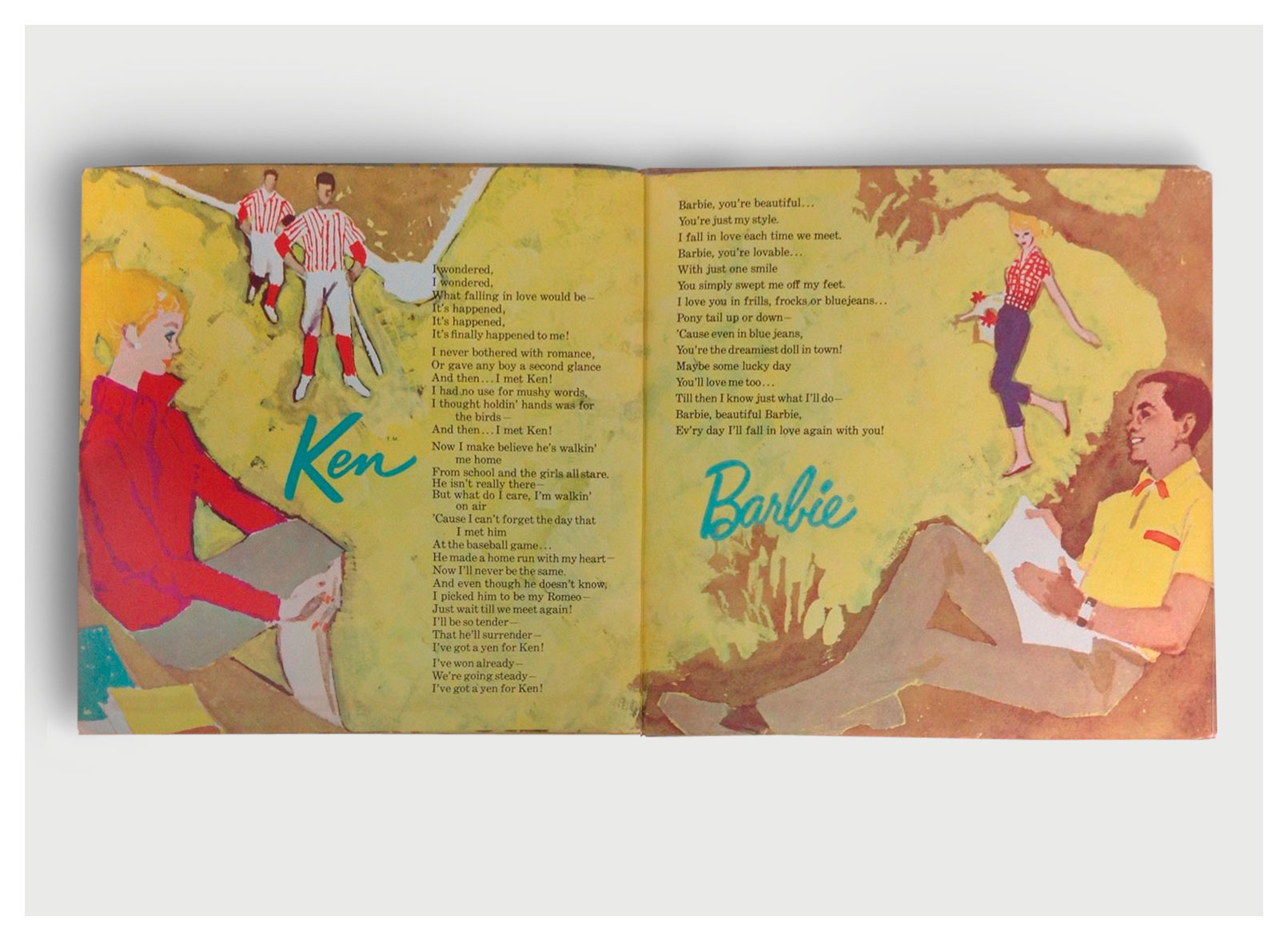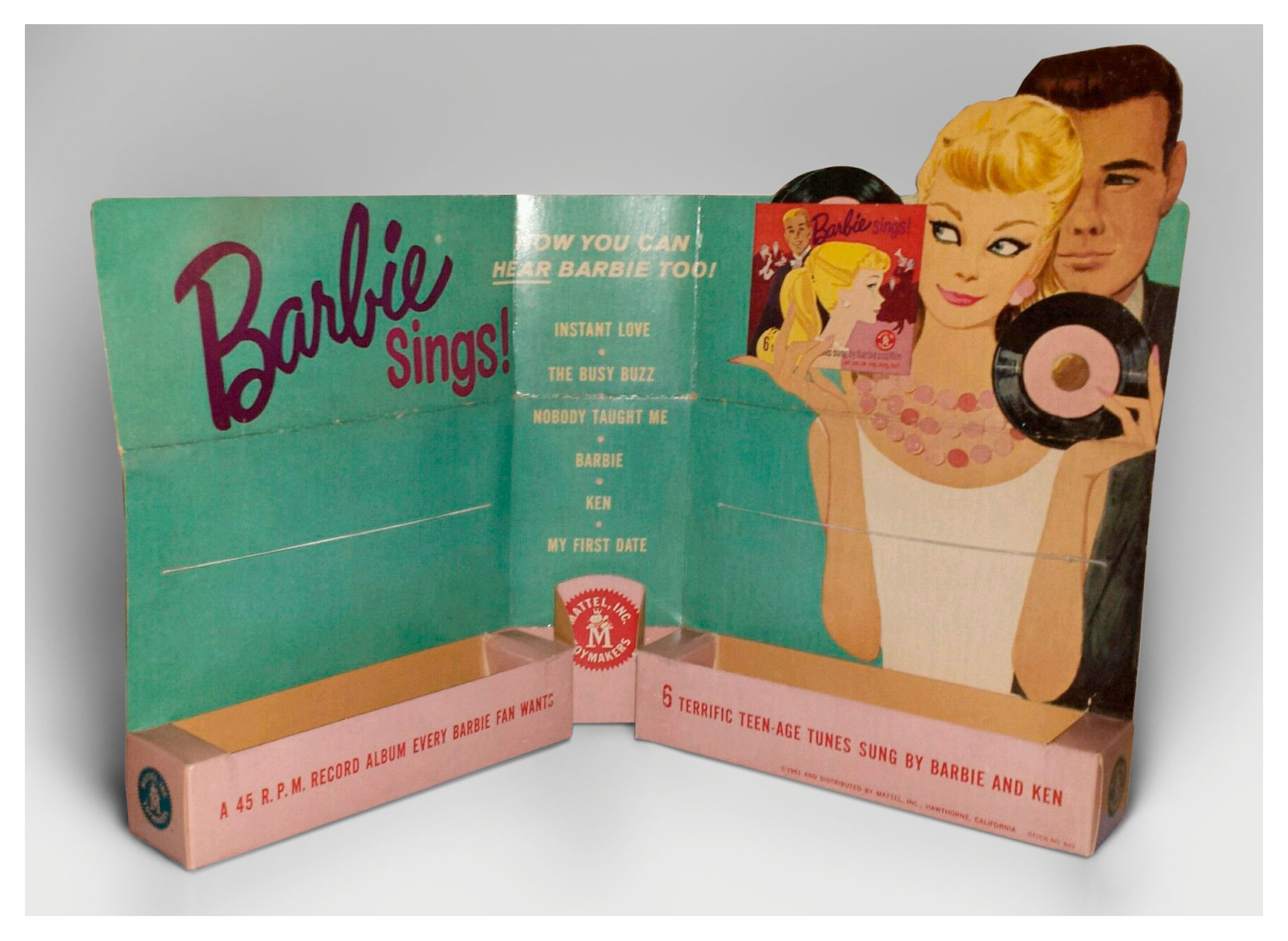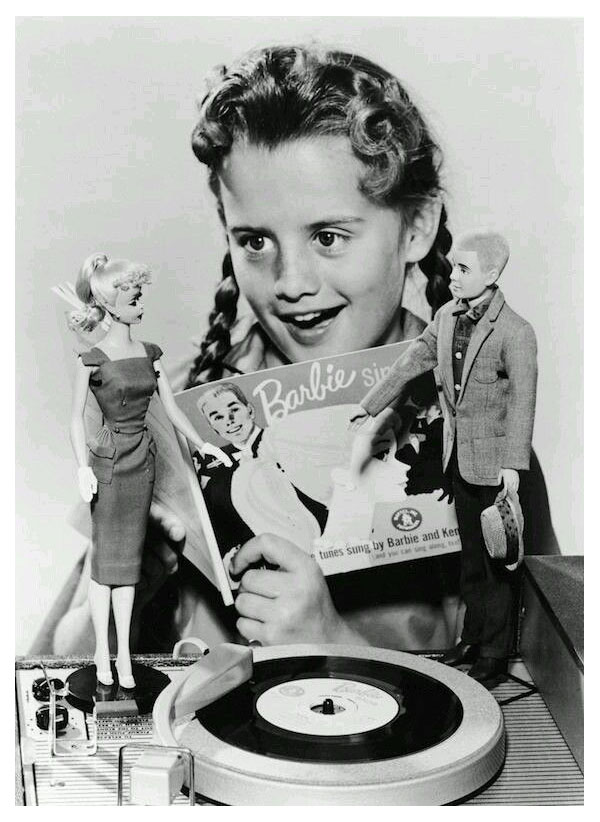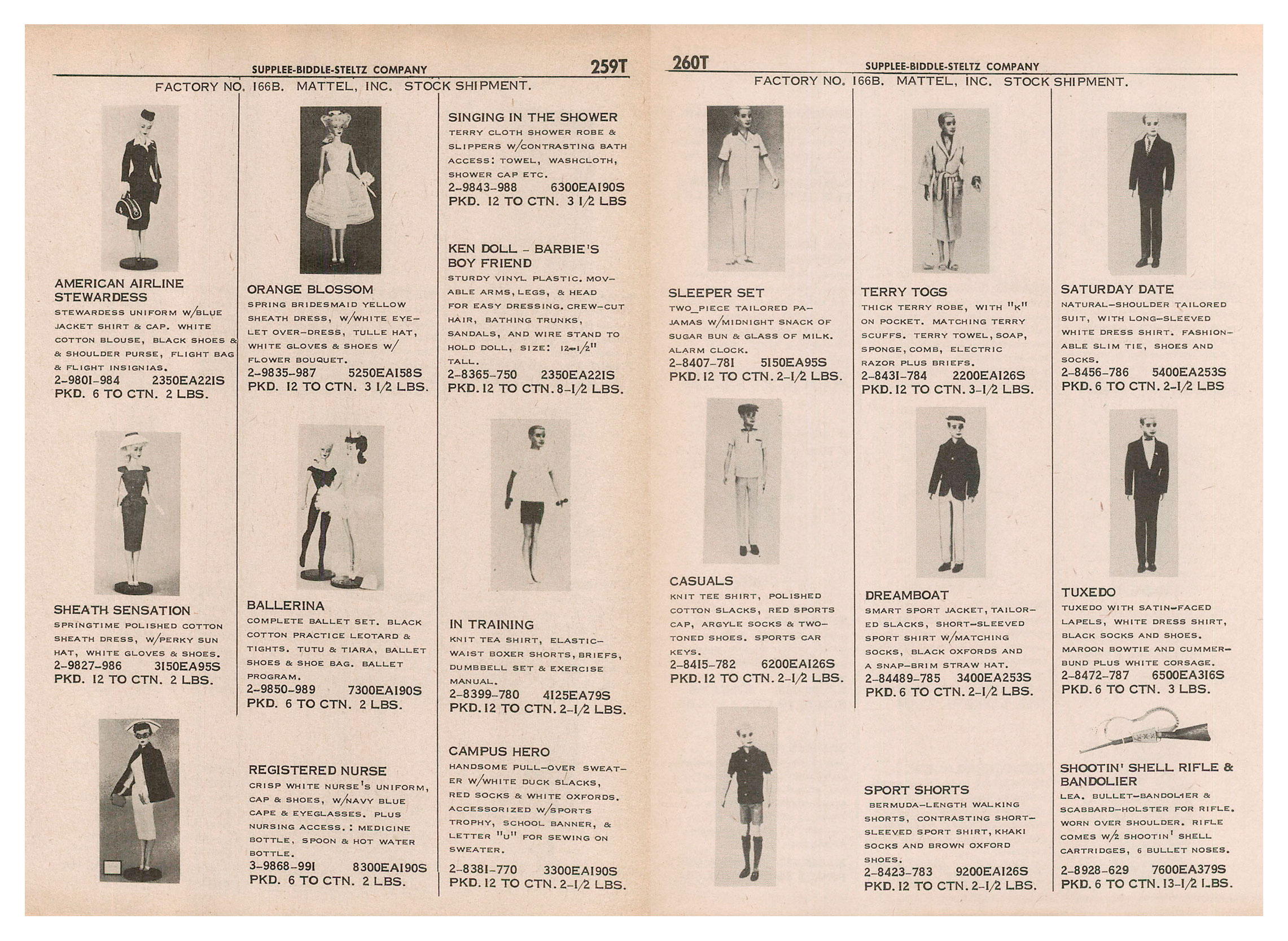 Despite some order catalogues showing Campus Hero with black and white shoes, the descriptions clearly state that the outfit came with white shoes.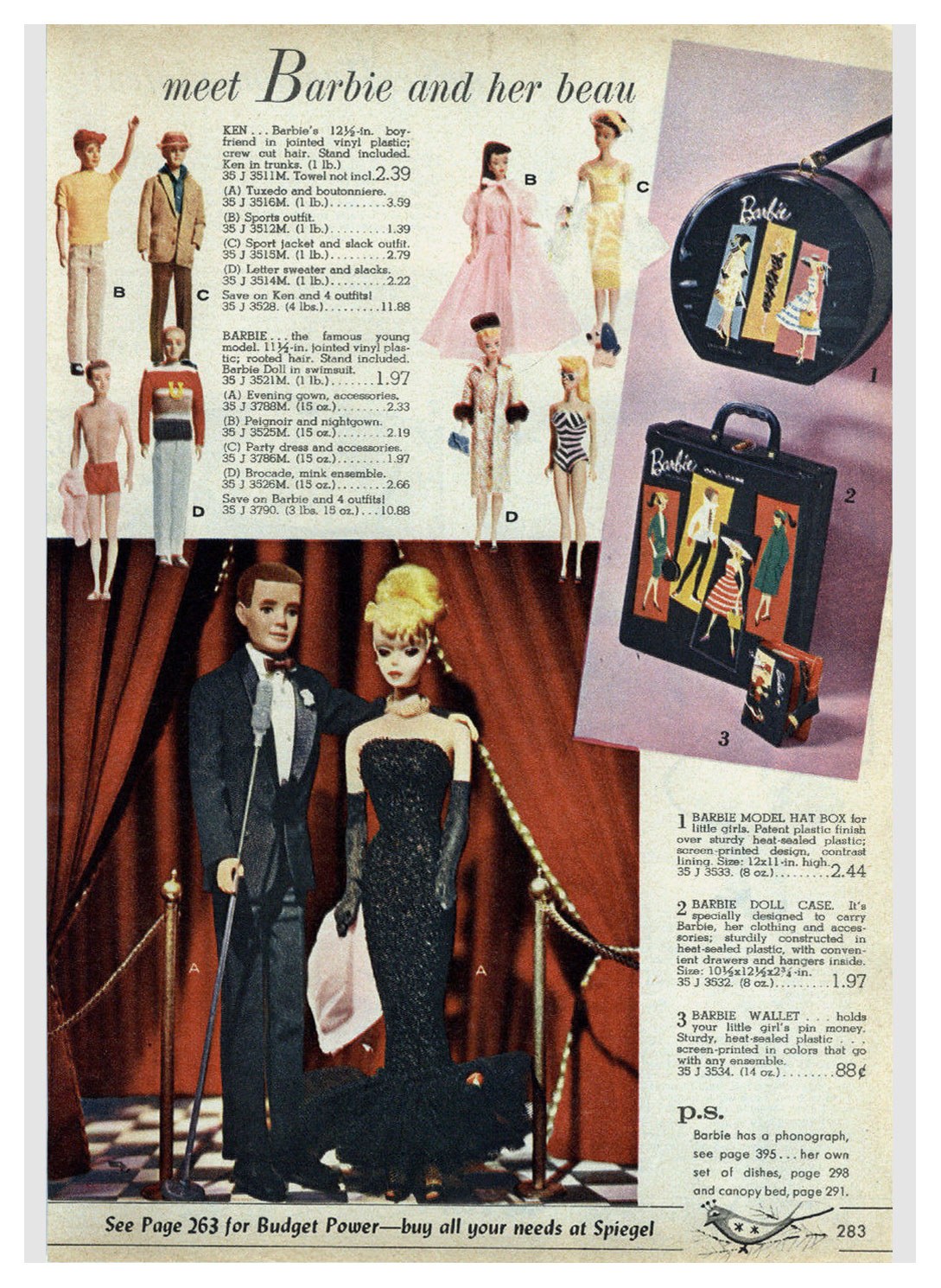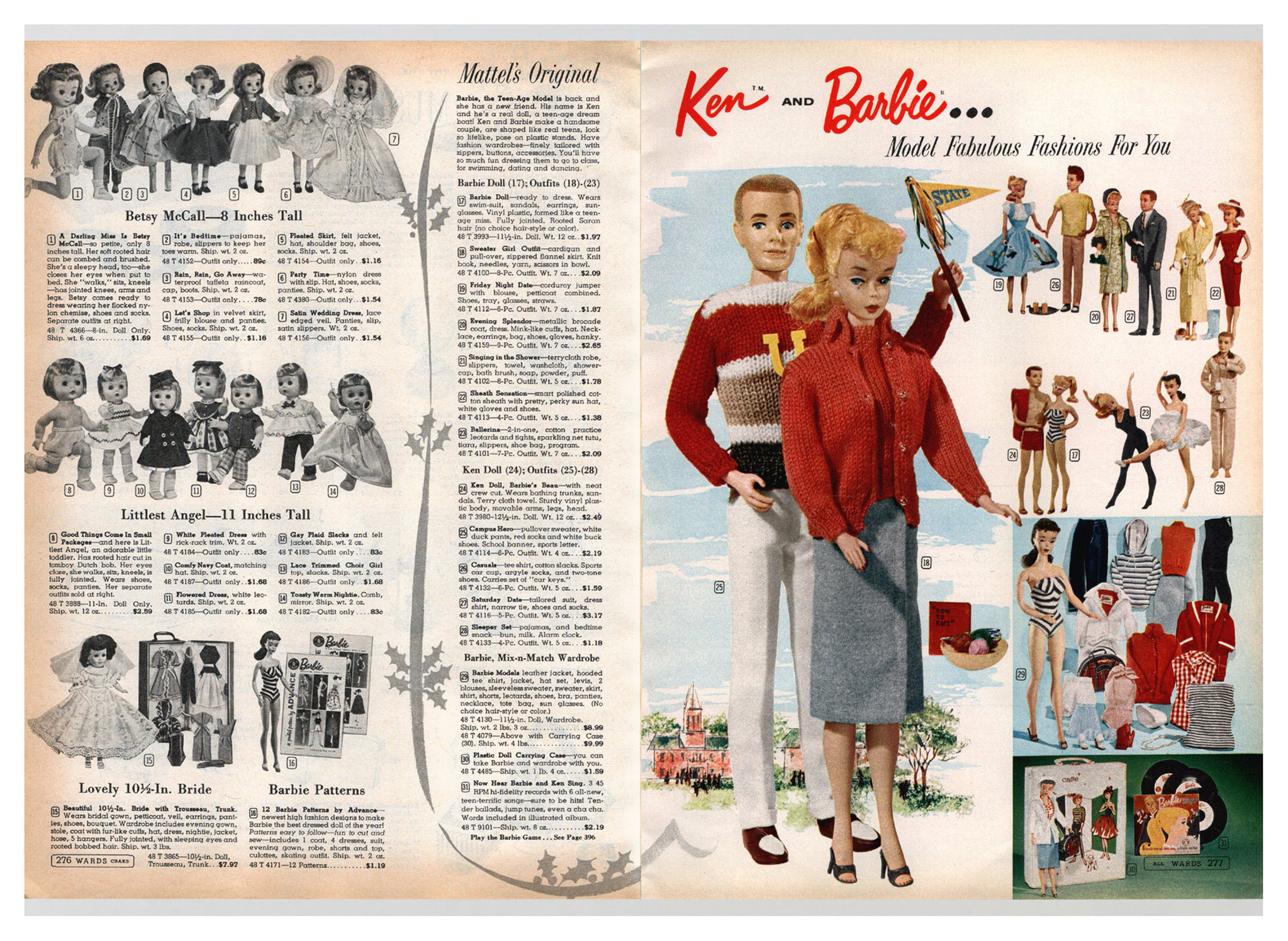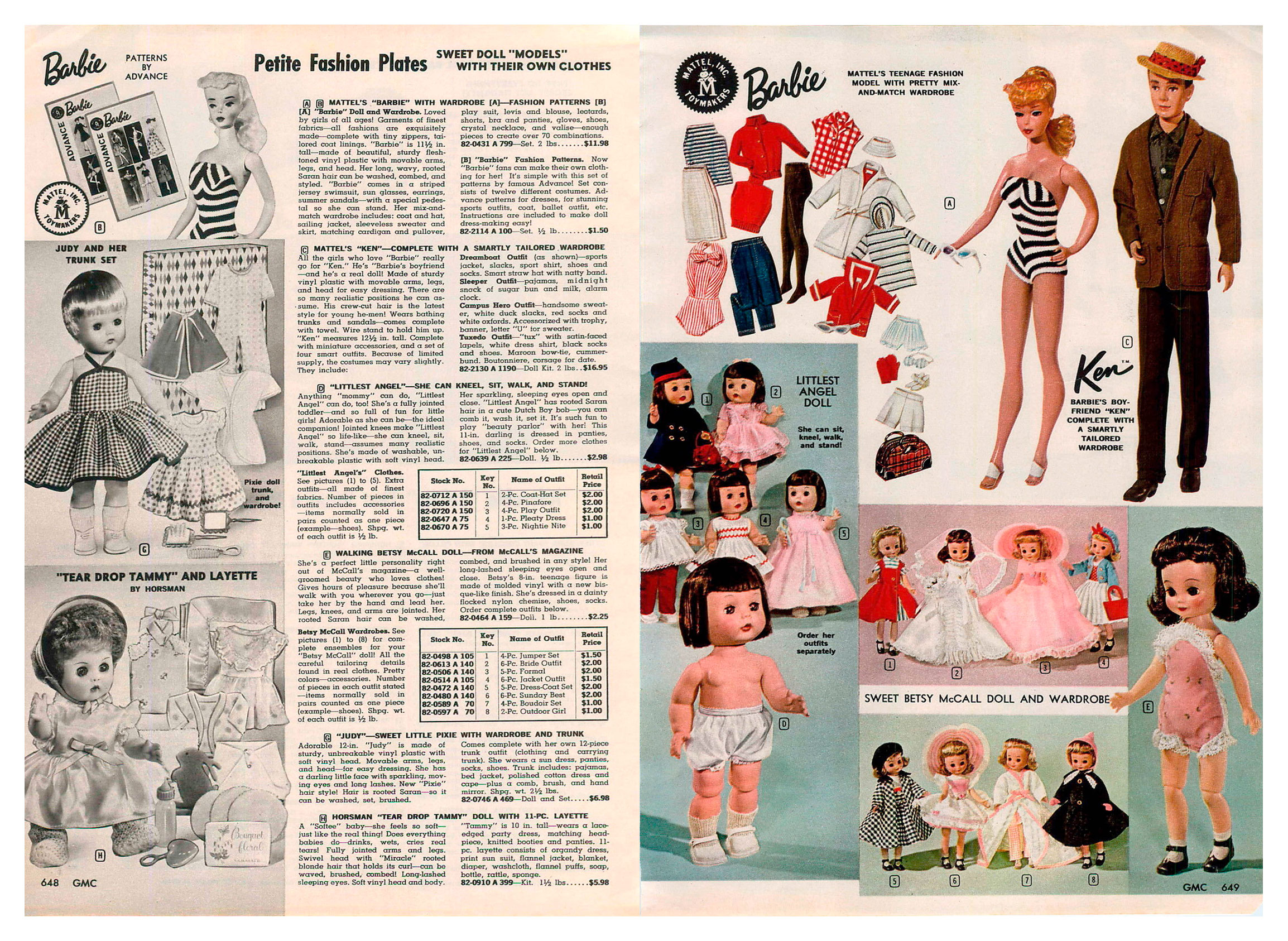 The Spring/Summer and even Fall/Winter catalogues usually only show items released the previous year, the new items being introduced for the Christmas market.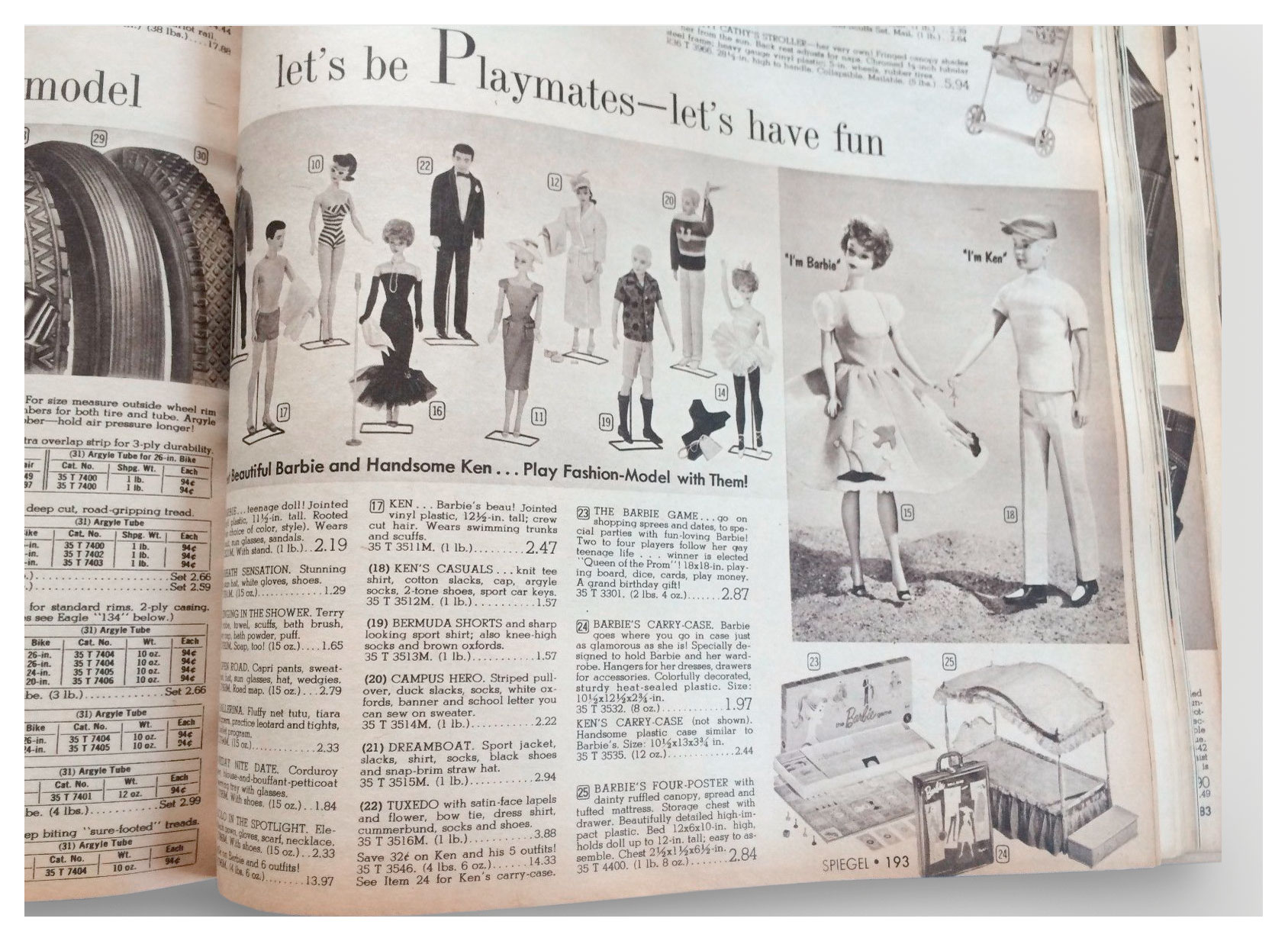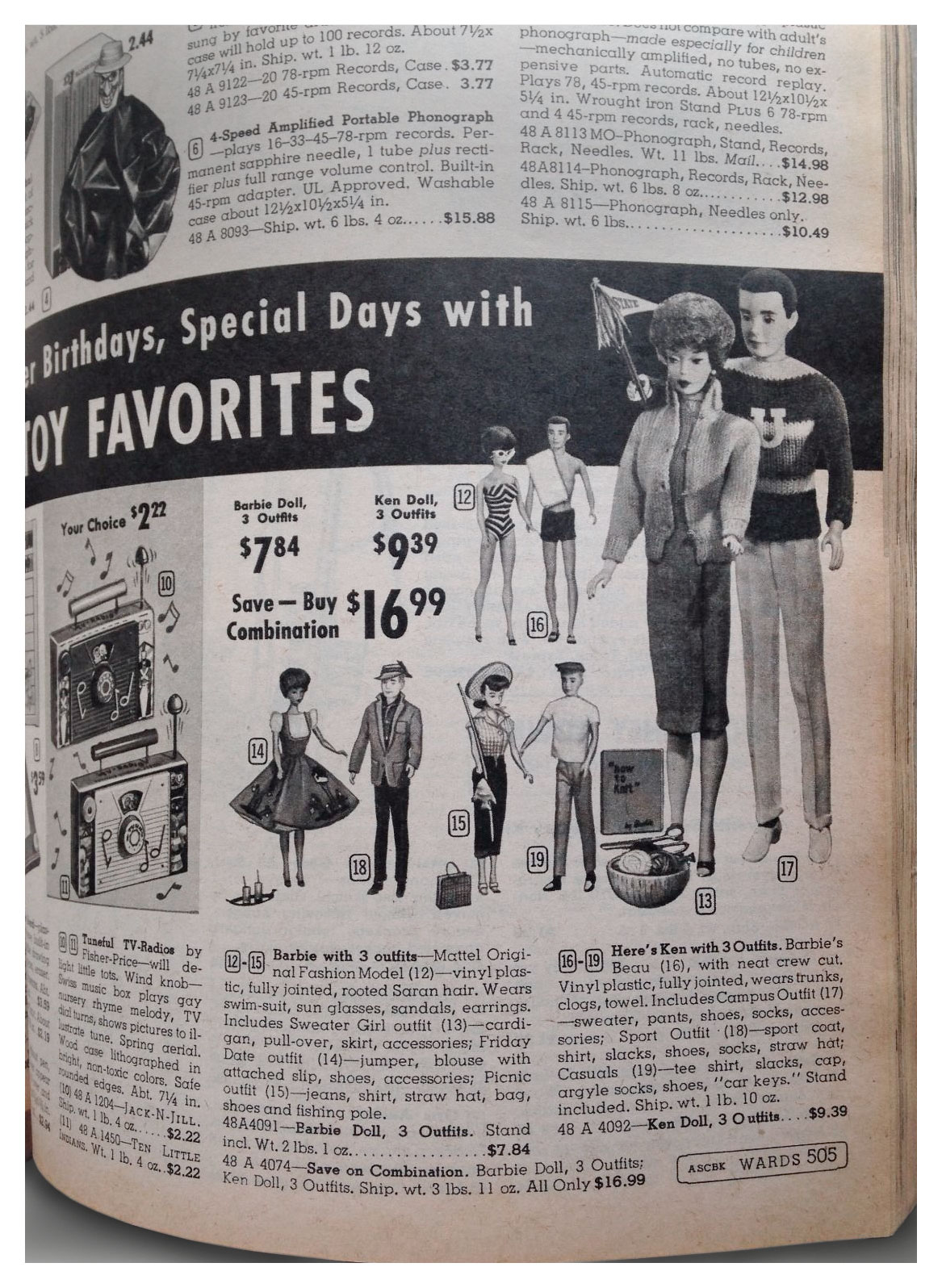 ---
The 1961 outfits were available as follows.*
CAMPUS HERO (1961-1964) (Until 1965 in Japan). A reproduction of the 1964 version of this outfit was issued in 2008 as part of the Midge & Allan Campus Sweet Shop gift set.
IN TRAINING (1961-1962)
SLEEPER SET (1961-1964)
CASUALS (1961-1964)
SPORT SHORTS (1961-1963)
TERRY TOGS (1961-1964) (Until 1967 in Europe)
DREAMBOAT (1961-1963) (Until 1965 in Japan). A reproduction of this outfit was issued in 2006 as part of the Barbie & Ken Friday Night Dream Date gift set.
SATURDAY DATE (1961-1964**) (Until 1965 in Japan)
TUXEDO (1961-1965) (Until 1968 in Europe). A reproduction of this outfit was issued in 2009 as part of the Barbie & Ken Wedding Day gift set.
* Based on information taken from US, European and Japanese Barbie booklets from 1961-1968, Mattel catalogues from 1961-1967, and Employee Order Forms 1965-1967.
**Although no longer shown in any Mattel catalogues and booklets by 1964, Saturday Date does appear in the Penneys 1964 Christmas catalogue (see section 1964 The Outfits). The 1966 Continental catalogue also sells "Saturday Date", but the description mentions no exact tie or colour of suit, and the photo clearly shows Special Date, so it was probably just a printing error.
---
SHOES
All vintage 1961-1967 Ken shoes (except boots and sport shoes, which have no markings) are marked Japan on the soles, and are made of a soft, squishy plastic. Any similar-looking shoes marked Hong Kong are not genuine Mattel, but 'clone' pieces from a rival company.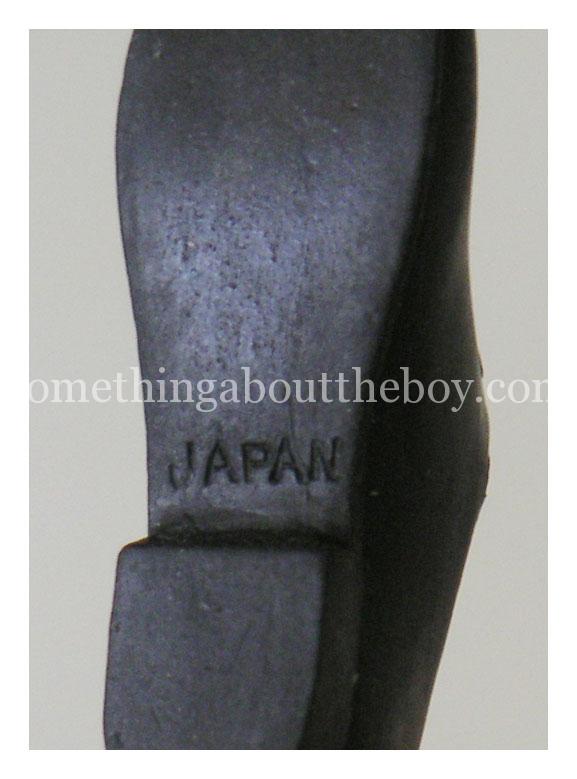 Most outfits from 1961-63 have the shoes simply sewn onto the backing card like the other pieces. Some irregular footwear such as sandals and clogs continued to be sewn on like this until 1967. During 1963 however, Mattel began packing shoes in a separate plastic bag. This was itself replaced in 1964 by a molded plastic cover sewn onto the backing card.