Between 1985 and 1990 Mattel released a Barbie & Ken spin-off series called The Heart Family. This is a vast series, presumably produced for very young children. It is mostly quite tacky and even a little creepy: Mom & Dad are rather dwarfed by their massive, cartoon-like offspring. It is worth mentioning however, as 'Dad' is basically Ken under a different name, and he does have a few interesting outfits.
---
THE DADS
Mattel produced eight differently-themed dads in total, each with their own outfit. There are Canadian (La Famille Boncoeur) and European versions (Famille Doucoeur, Die Familie mit Herz, Famiglia Cuore), some with variations. Mattel Mexico (La Familia Heart) and Rotoplast in Venezuela (Familia Corazón) also produced slight variations of many sets. Shown here are all the versions I've so far discovered, but there are undoubtedly many more. Mattel Spain produced their own Familia Corazón versions. Their dads have slightly different looks, variation fabric outfits, and most of them have the straight-arm body mold. All dads keep the same head-molds throughout the entire series, with the exception of the black Disneyland dad from 1990.
DAD & BABY #9079 & #9719 (1985)
This first dad came without a wedding ring. Someone must have alerted Mattel to the 'moral' implications of this, as all later dads sport a painted-on silver ring. Oddly, the Mattel Spain dad also has a ring on the left hand, even though in Spain (and many other European countries) the wedding ring is worn on the right.
---
THE CLONES
A similar set exists by the Greek company EL GRECO, who also produced their own Barbie & Ken type dolls. For some reason the baby is usually upside-down. Plasty in Germany also produced several similar sets with their Fred doll.
---
NEW ARRIVAL SET#2415 & #2499 (1986)
---
SURPRISE PARTY! #2382 & #2512 (1986)
---
KISS & CUDDLE #3141 & #3769 (1987)
The Mattel Spain Kiss & Cuddle dad also has the articulated body-mold.
All regular dads except New Arrival were also available in deluxe box sets together with a mom, girl and boy.
---
ESTRELA (BRAZIL) DADS
Some of the licensed South American companies produced their own versions. Rotoplast in Venezuela obviously produced the Dads featured above (and at least three Familia Corazón deluxe sets), and Estrela in Brazil produced these Família Coração dads below.
Estrela uniquely used the Great Shape era head-mold, with a reddish, mid-brown hair colour. Unlike the various regular dads though, which all have slight variations to hair and face-paint, making it just about possible to tell them apart, the Estrela dads have absolutely identical looks and markings. I haven't yet discovered if Estrela produced any extra clothing sets, but they certainly produced some uniquely-themed dads. The outfits fasten with buttons, exactly like the Estrela outfits for Bob and Ken.
#10.60.(?) CHEGADA DO NENÊ (1986)
---
#10.60.30 DIA DE FESTA (1986)
Note how the prototype uses a Superstar era head-mold.
---
#10.60.31 DIA DE PASSEAR (1986)
---
#10.60.32 DIA DE ESPORTE (1986)
---
1986 #10.60.33 DIA NA PRAIA (1986)
---
#10.60.(34?) DIA DE ESPORTE (1987)
---
#10.60.35 DIA DE FESTA (1987)
---
---
THE OUTFITS
Four Dad & Baby outfits were released between 1985 and 1986. I have found regular US, Canadian, and European versions, plus Mattel Spain versions of the first three outfits.
DAD AND BABY FASHIONS #9597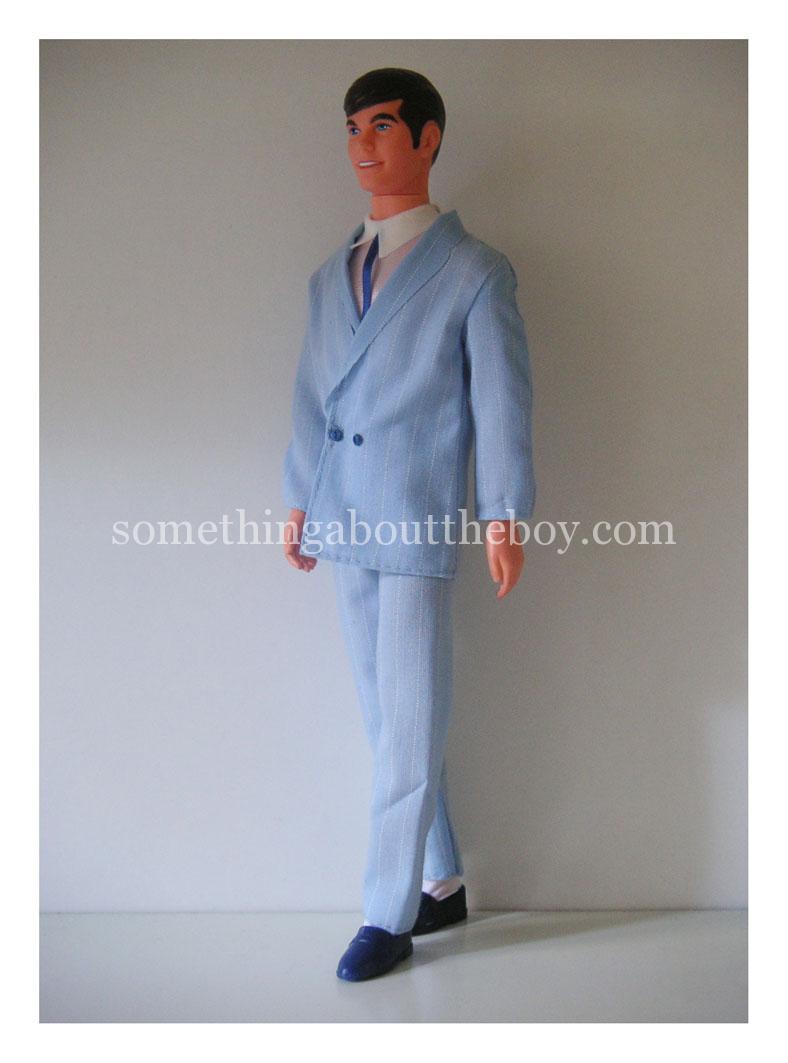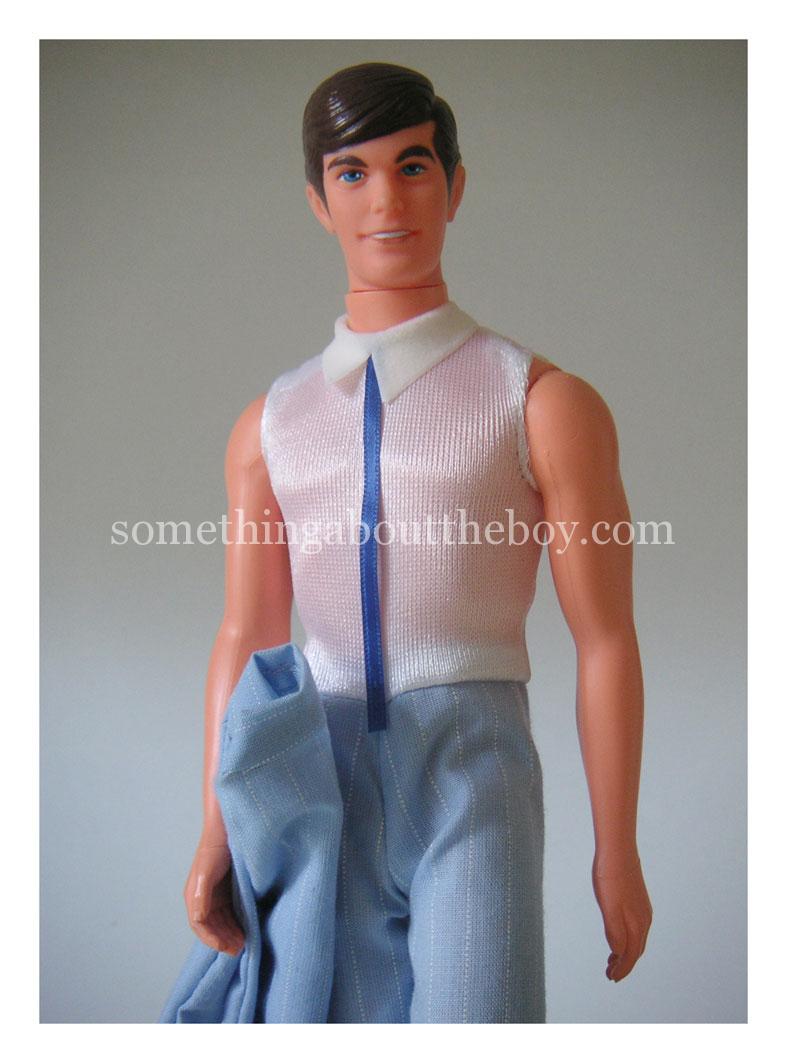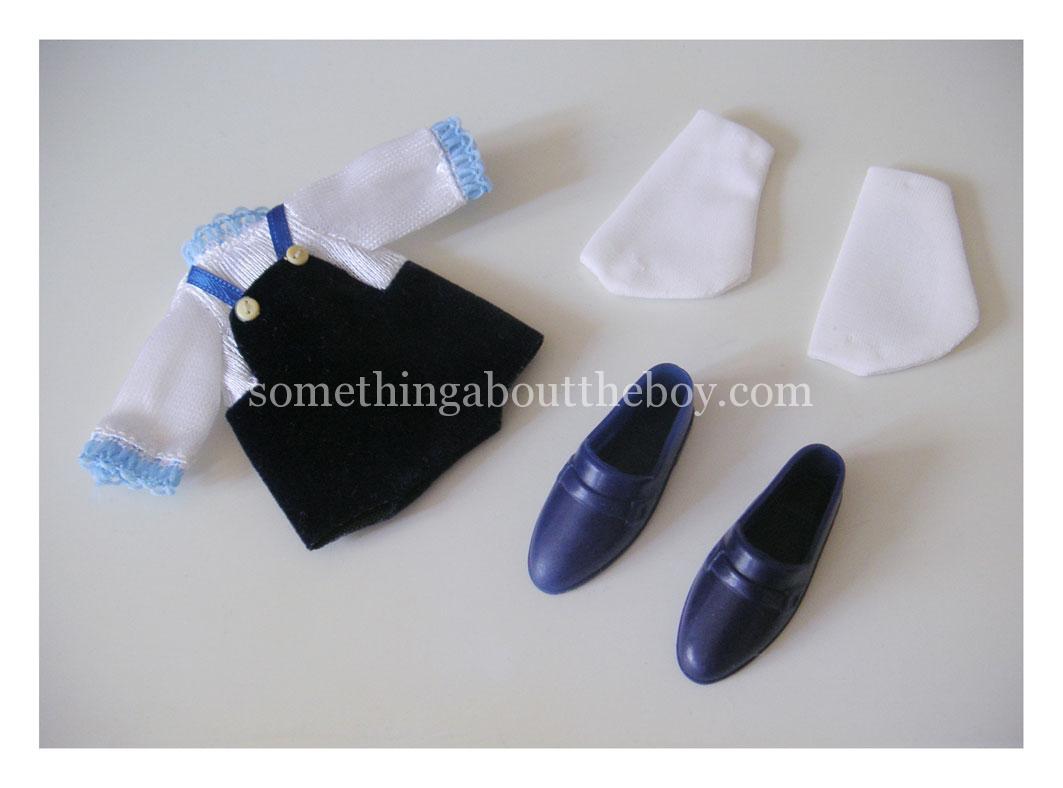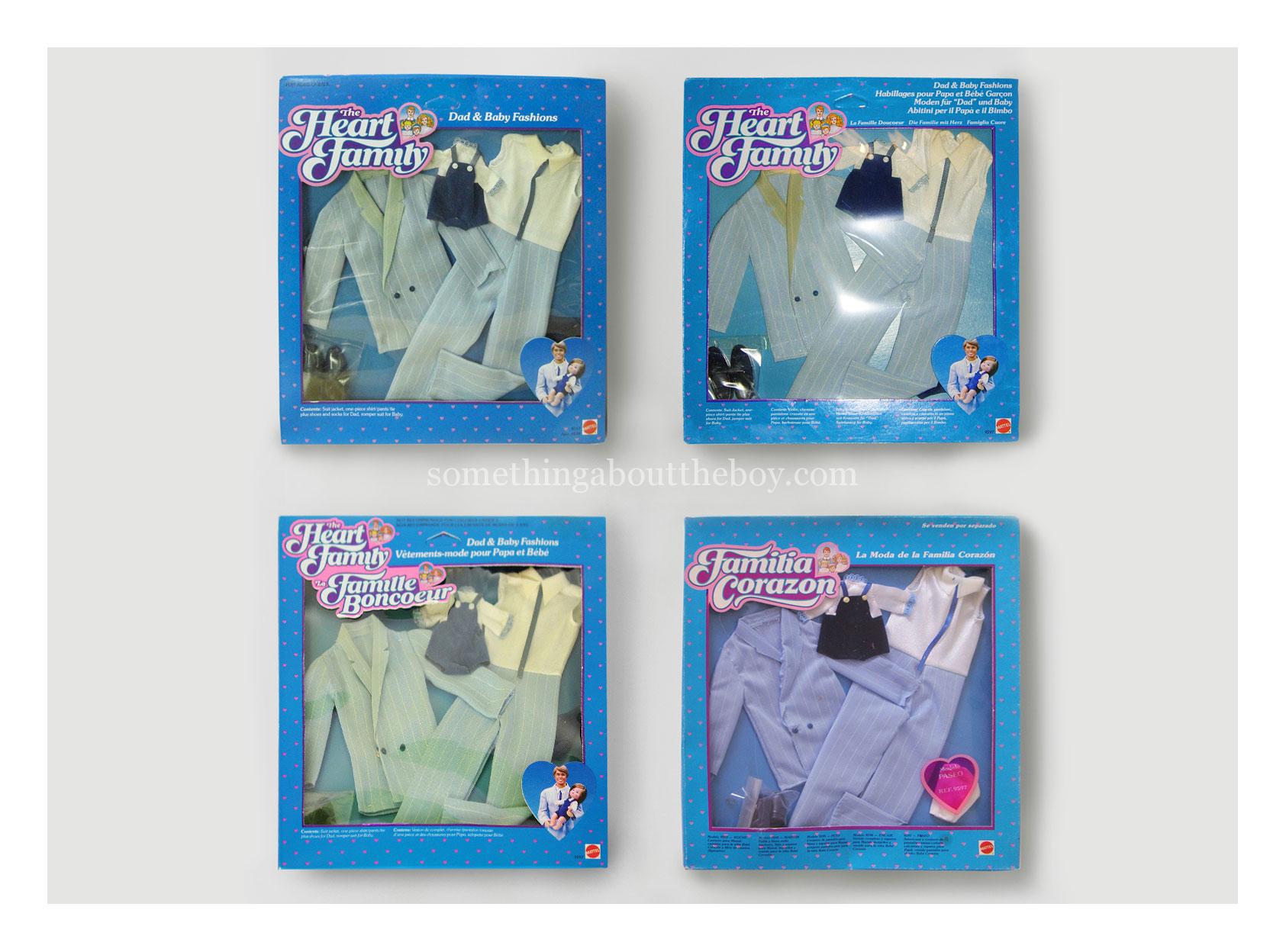 ---
FAMILY FASHIONS JOGGING OUTFIT #2620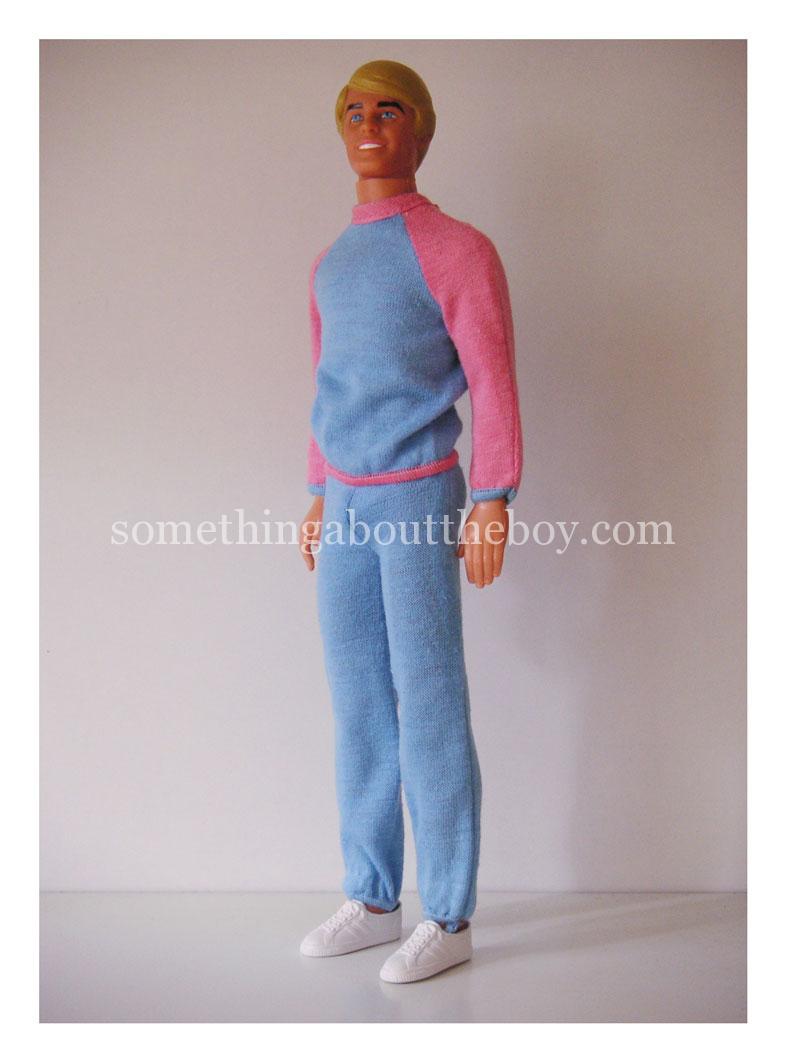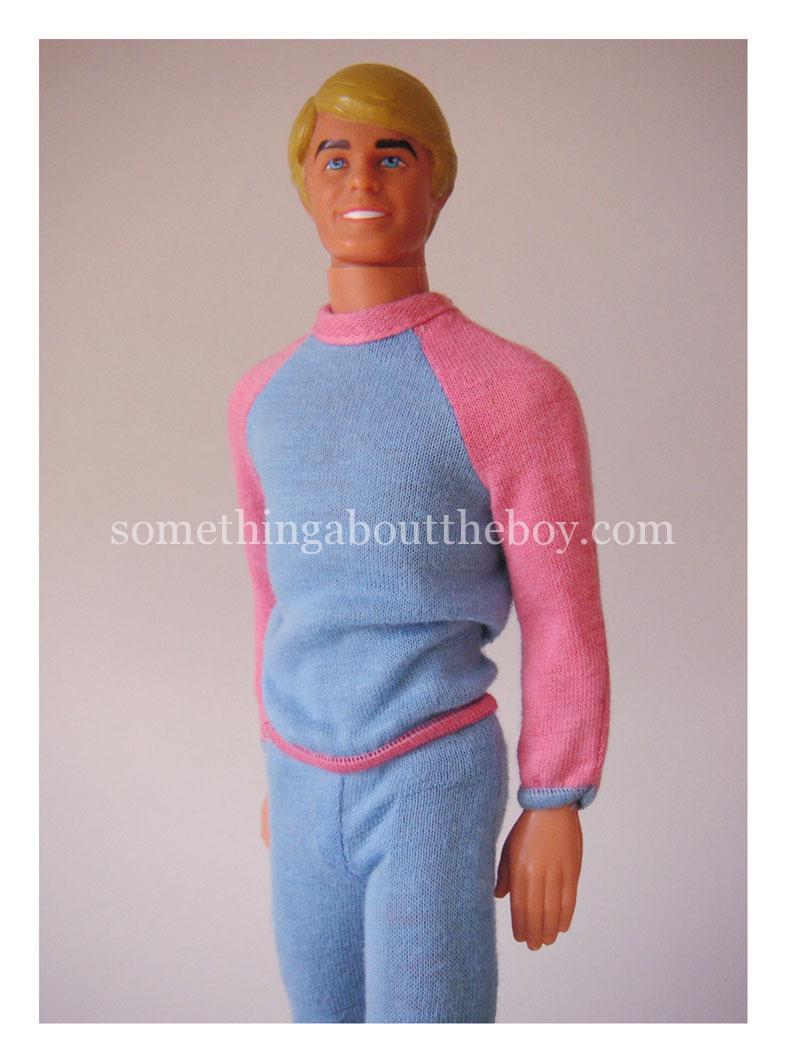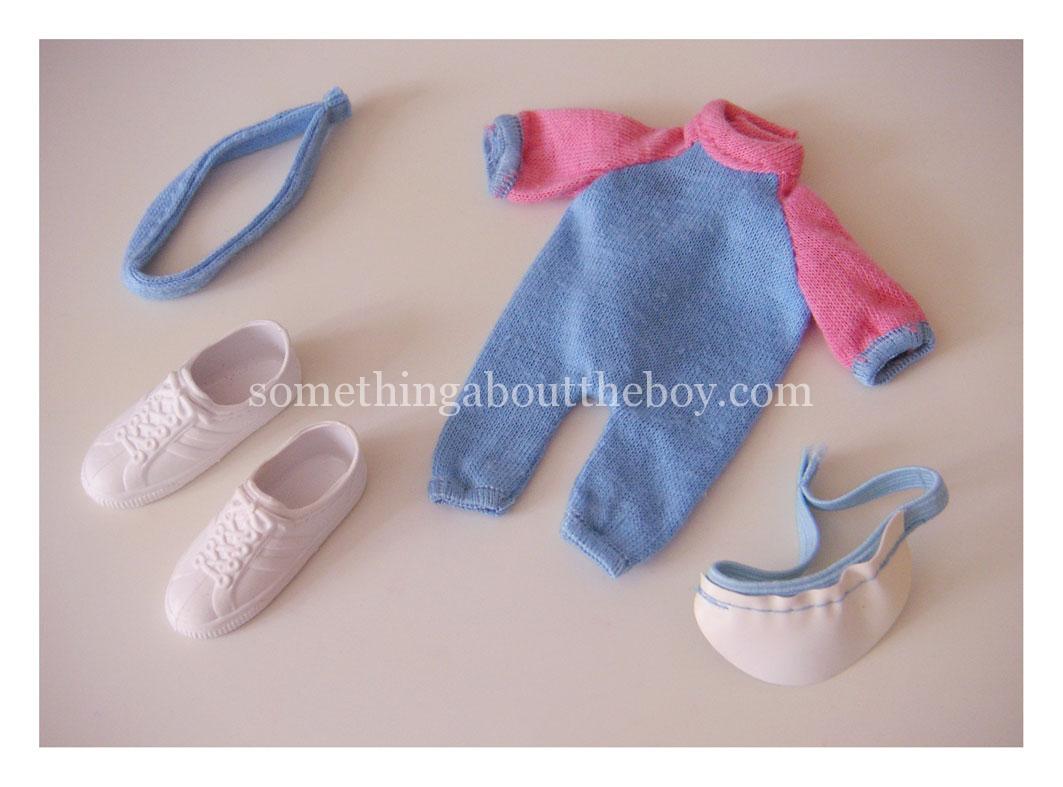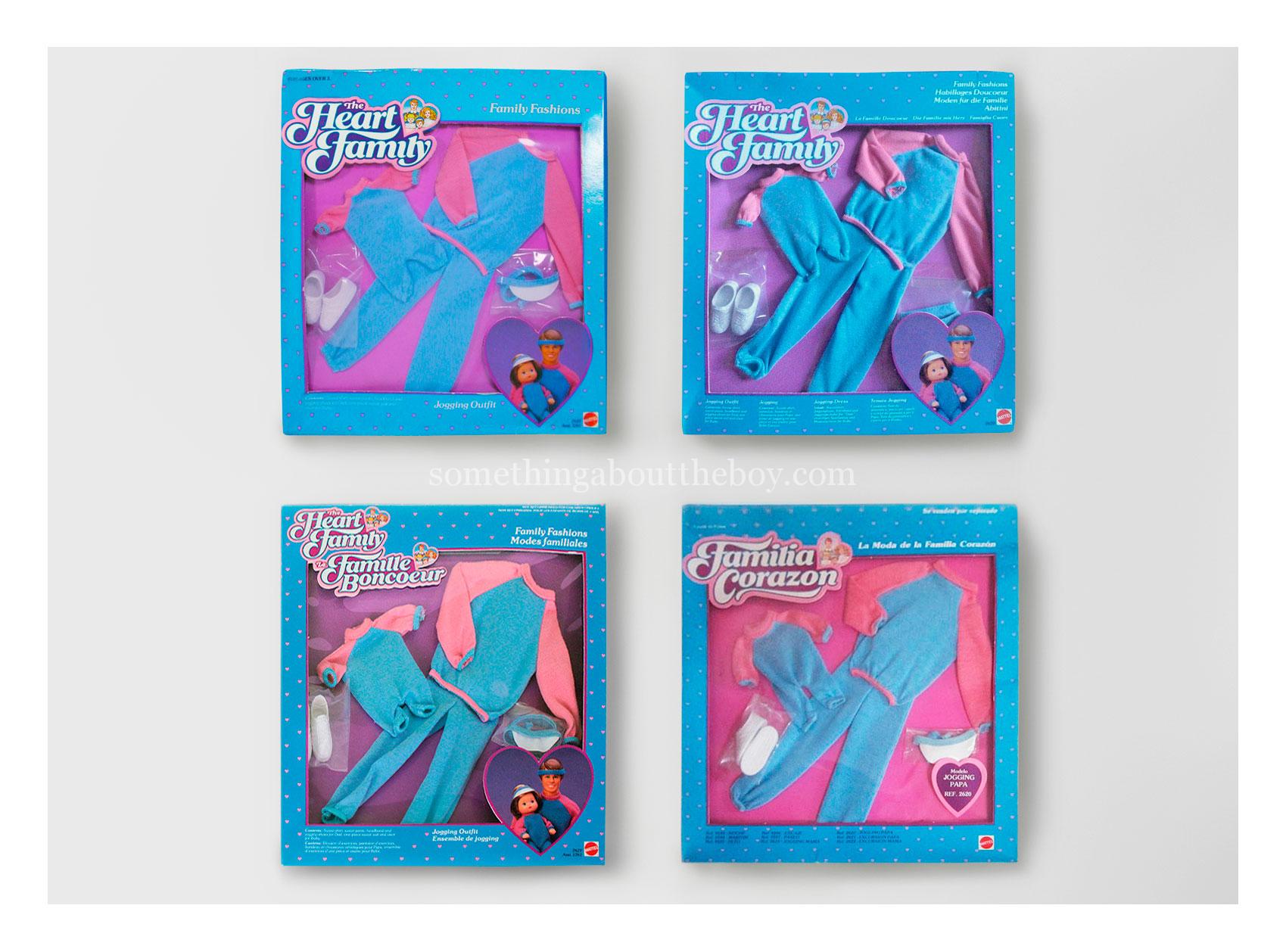 ---
FAMILY FASHIONS HIKING OUTFIT #2622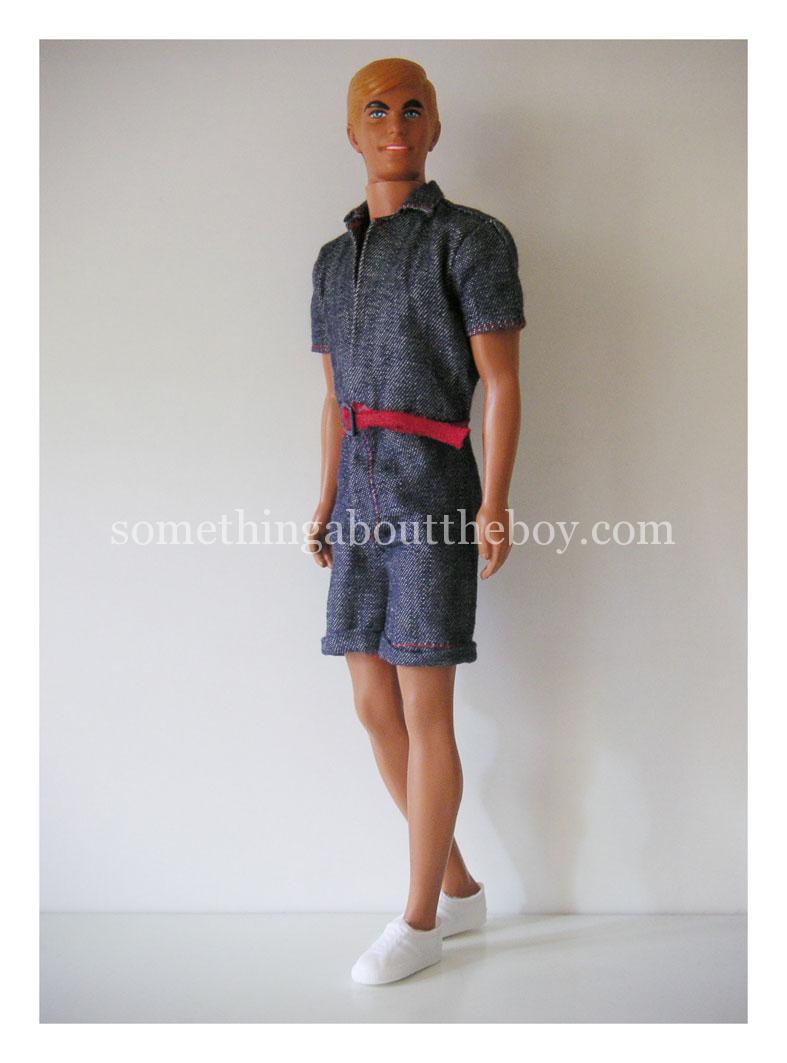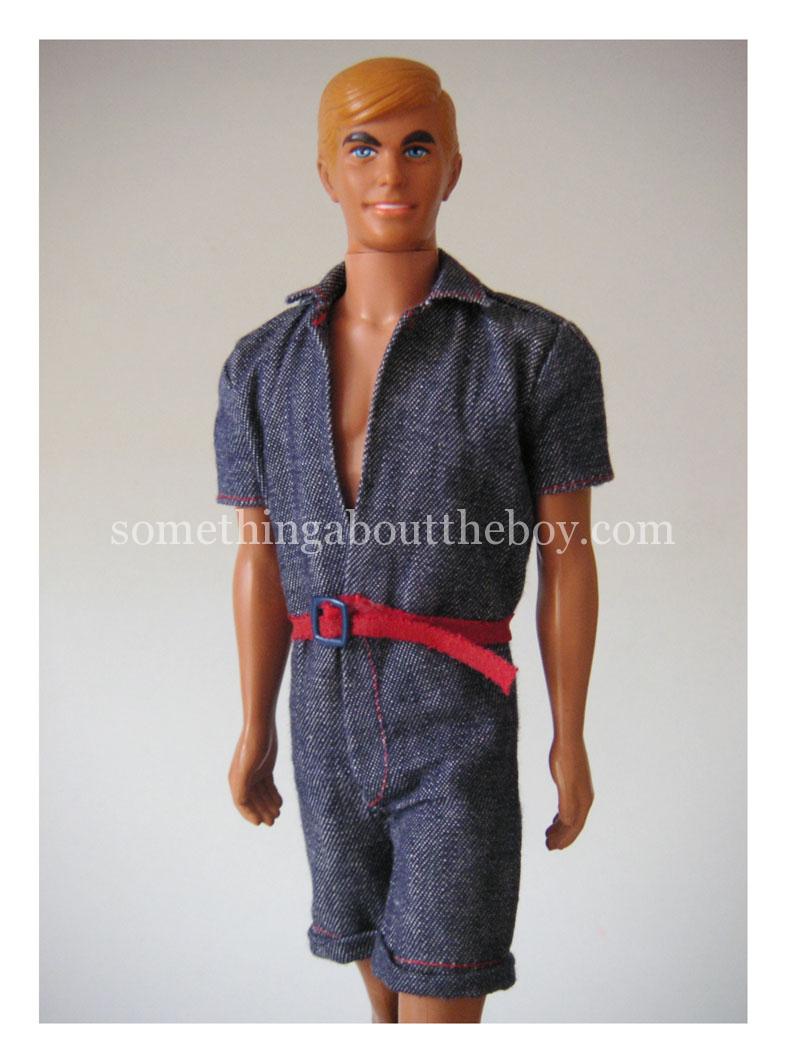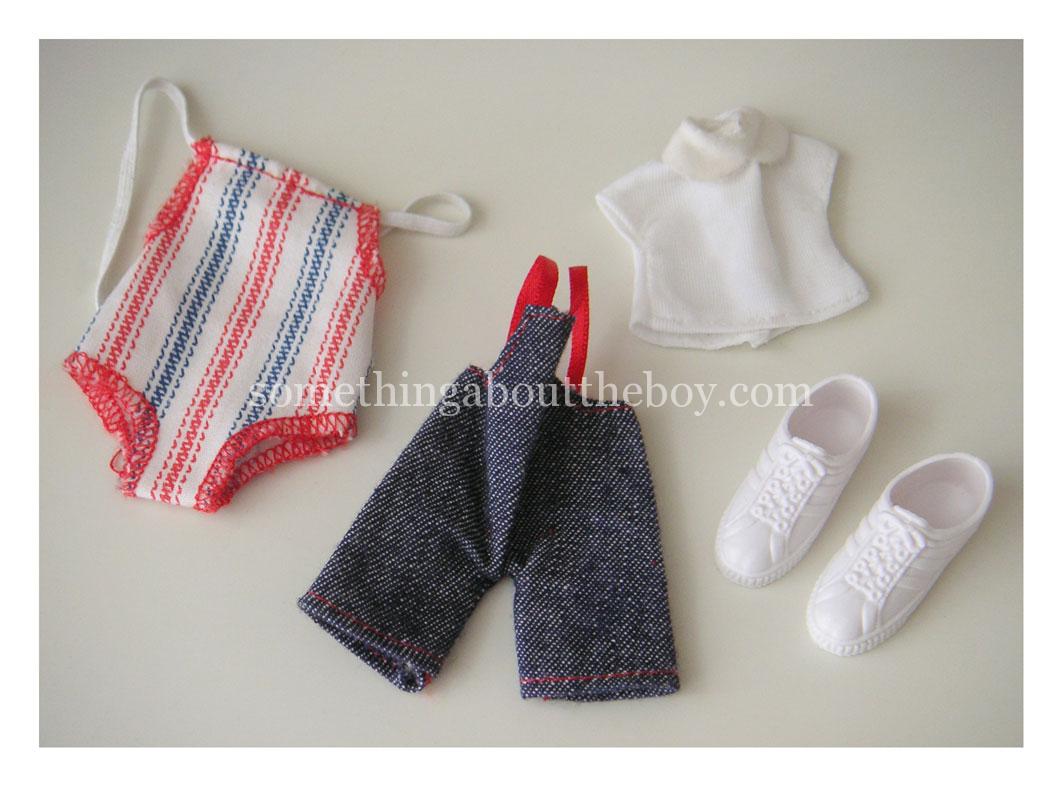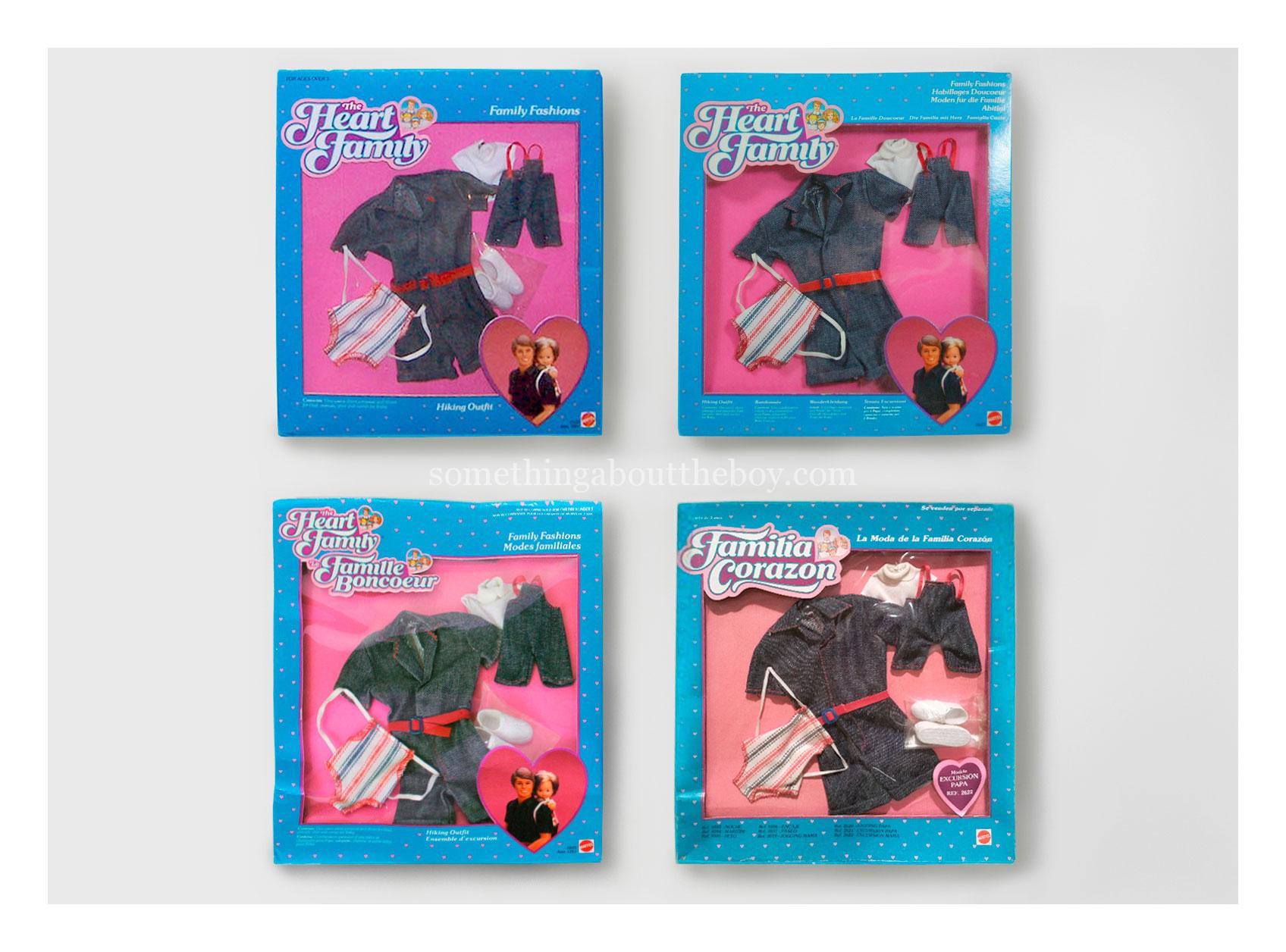 ---
FAMILY FASHIONS BEACH OUTFIT #2624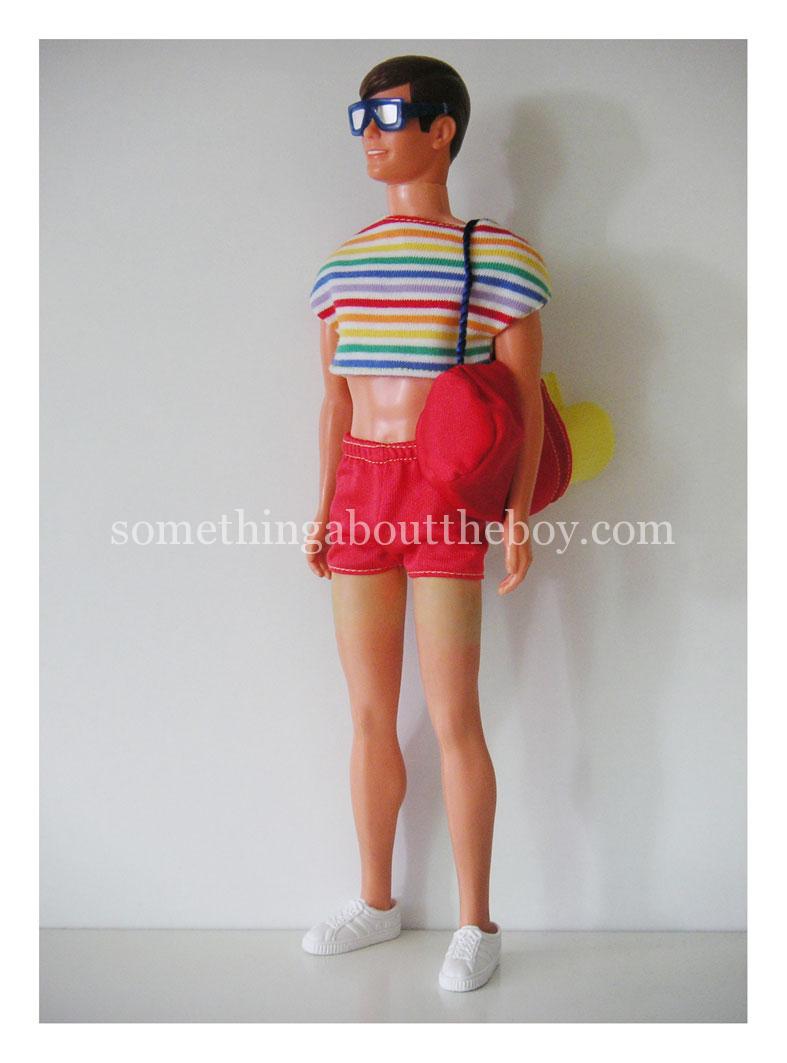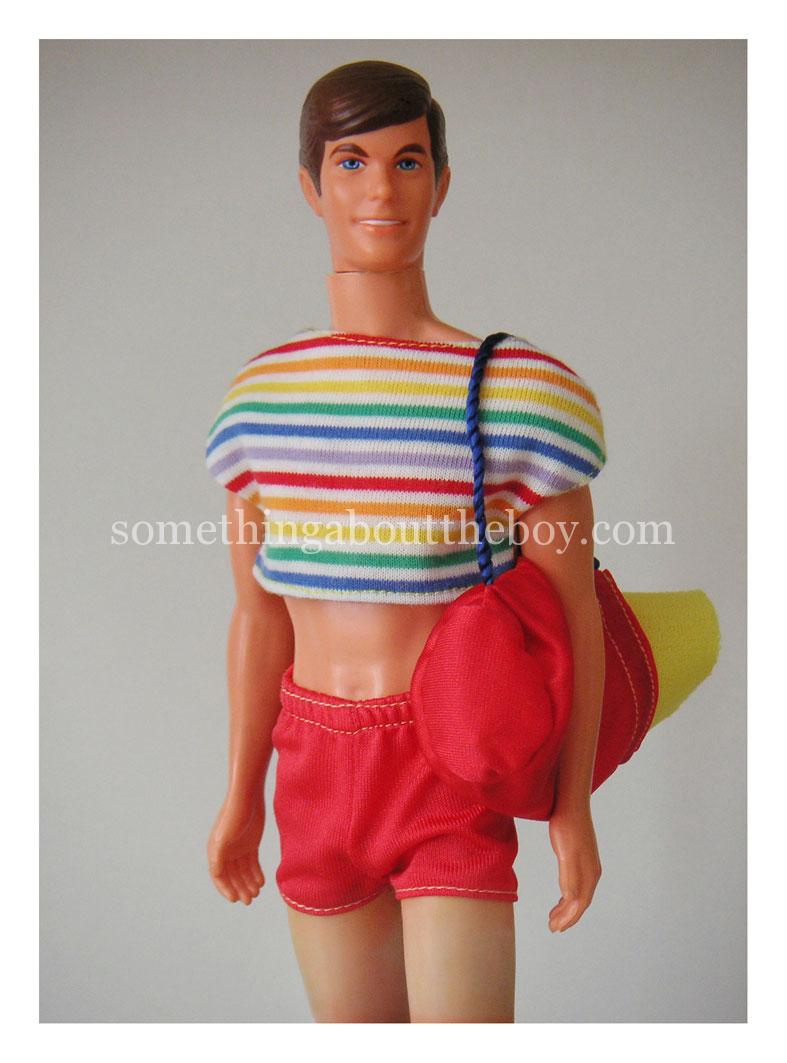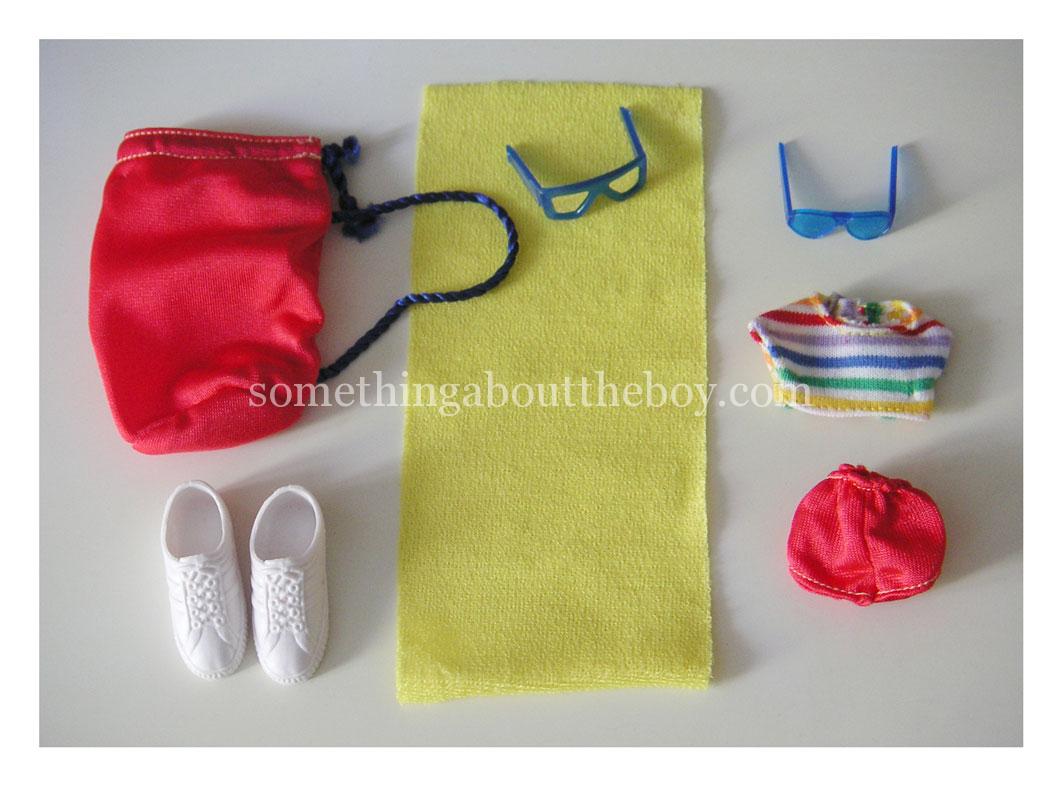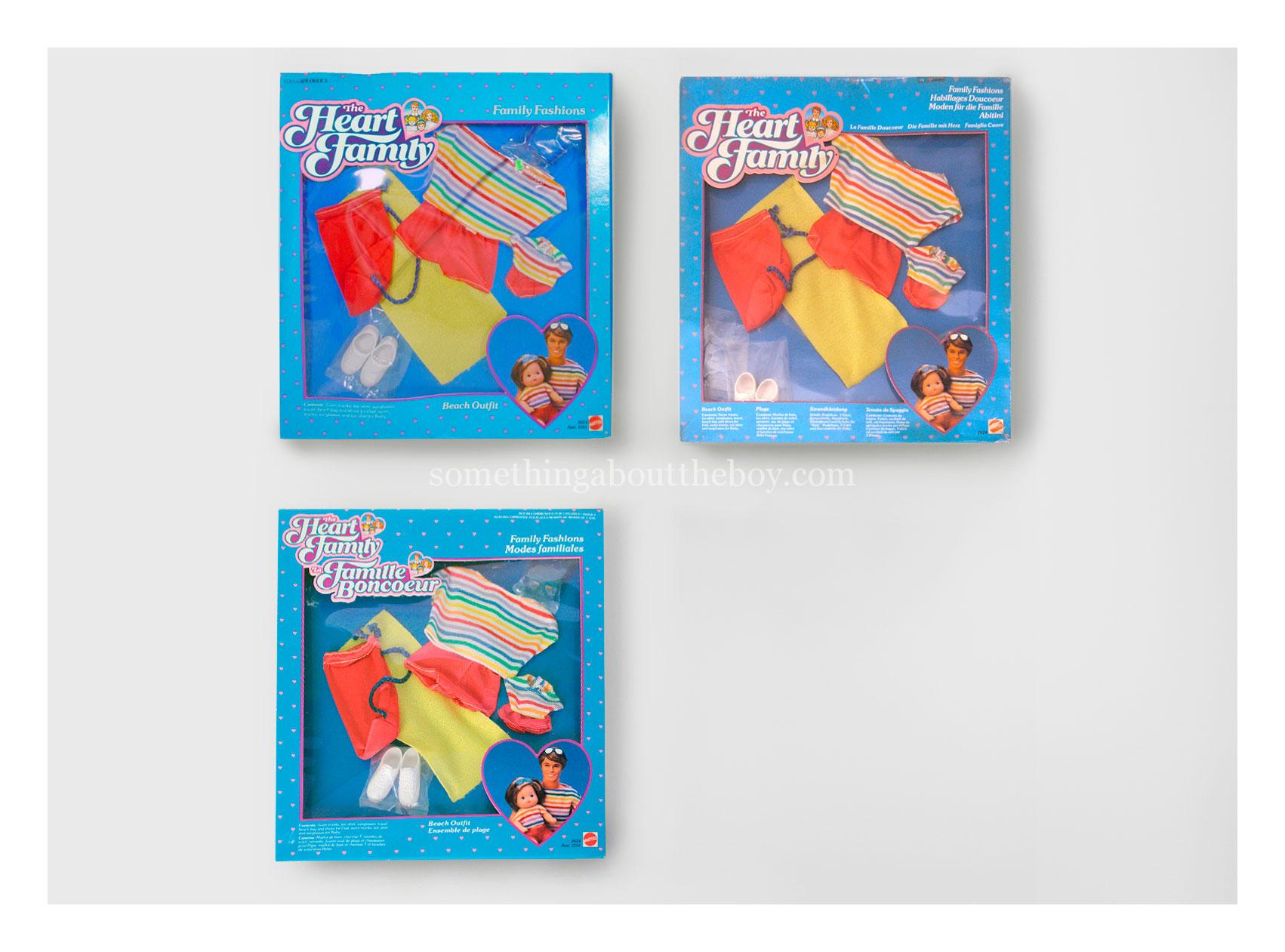 ---
THE BOX SETS
Three FUN! box sets were released in 1987 and all contain outfits for dad. There were at least three versions produced of each set: the regular US, European, and a separate version by Mattel Spain. I have discovered a Mattel Mexico version of Water Fun!, so presumably they also produced all three sets.
CAMPING FUN! #3146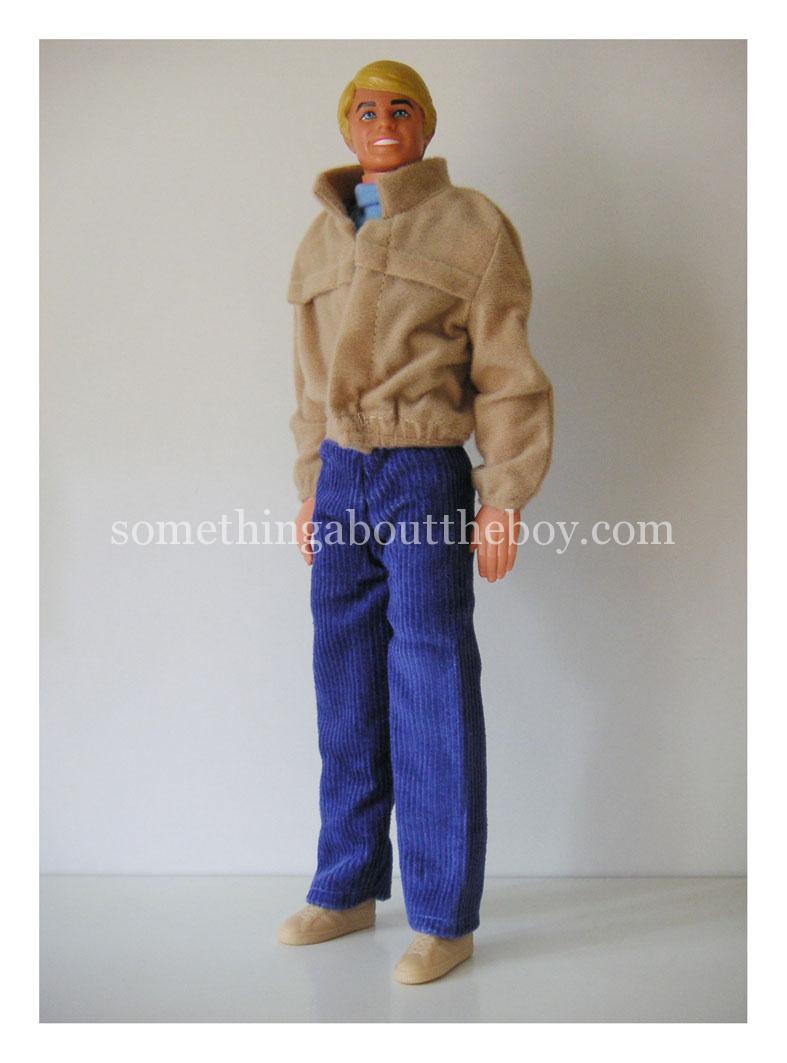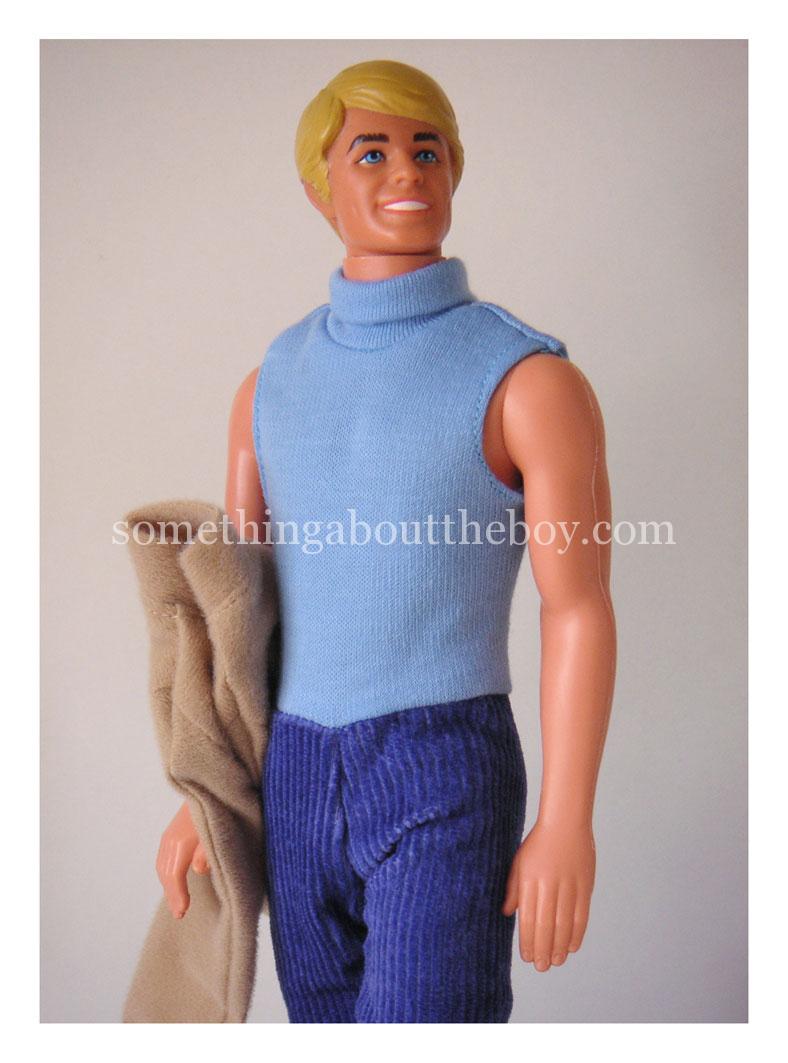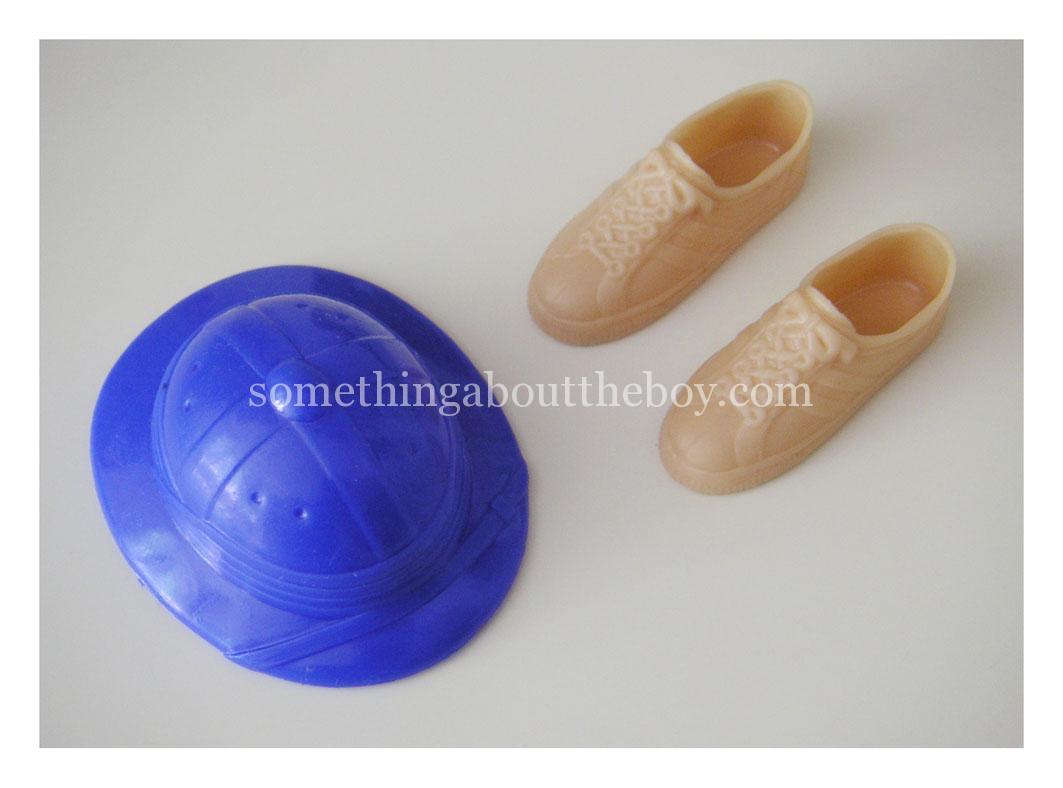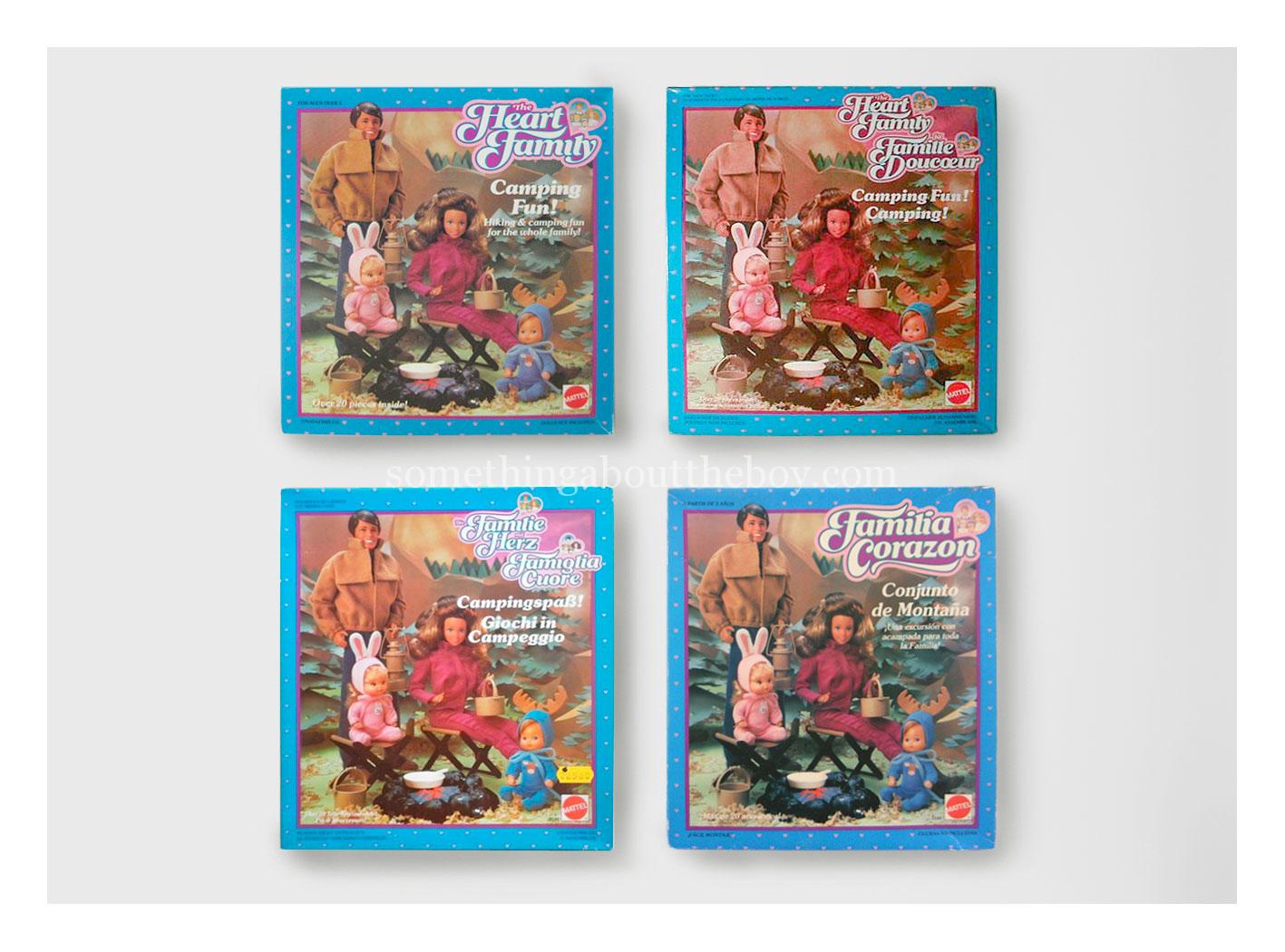 ---
SNOW FUN! #3147
The Snow Fun! box photo shows a different fabric for the pullovers etc. to the one actually used, i.e. the tackier 'heart' fabric, shown here. This heart fabric was used in all versions of this set.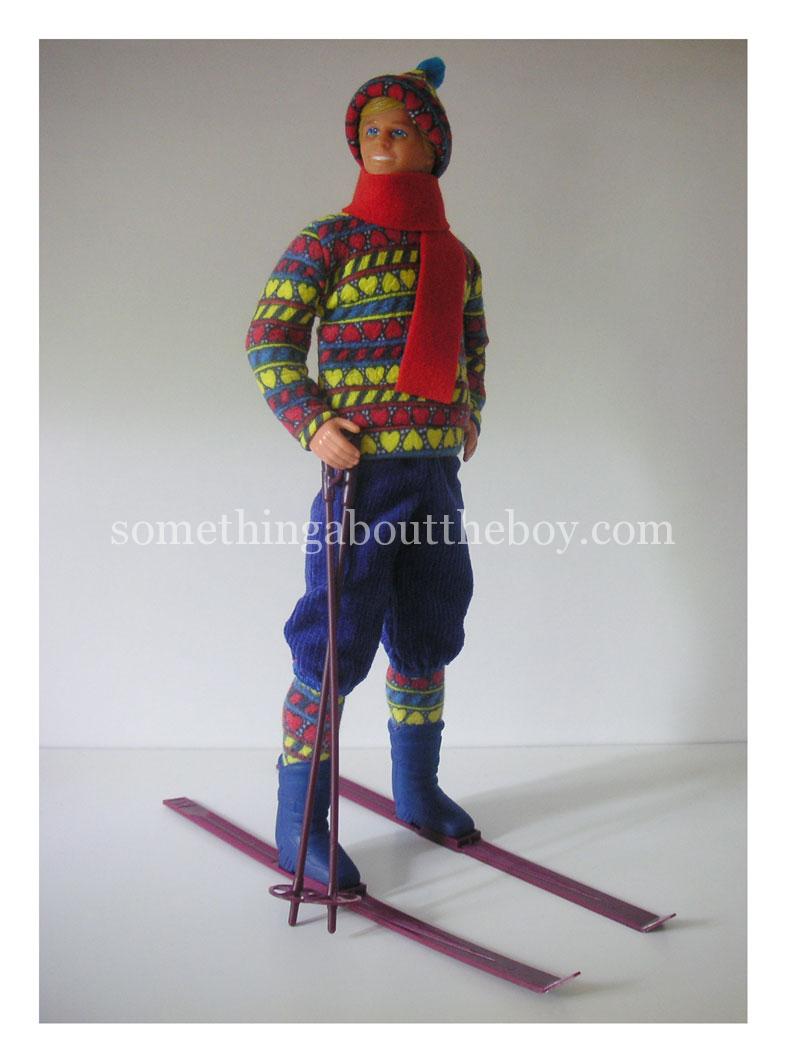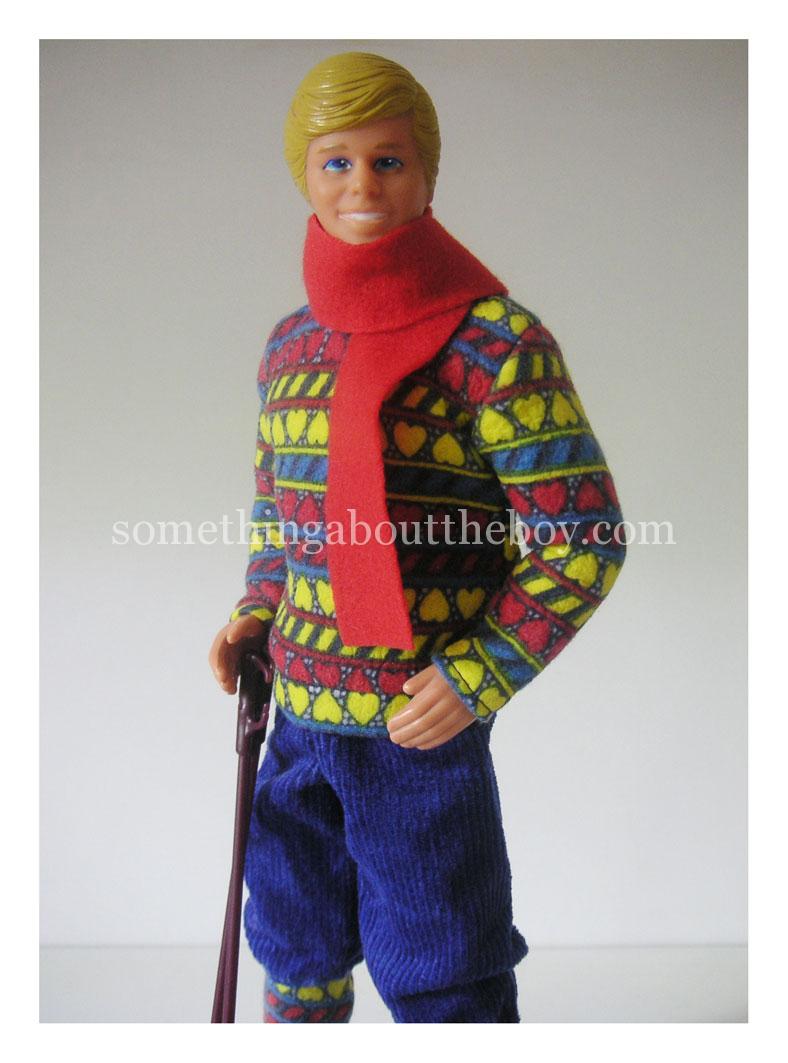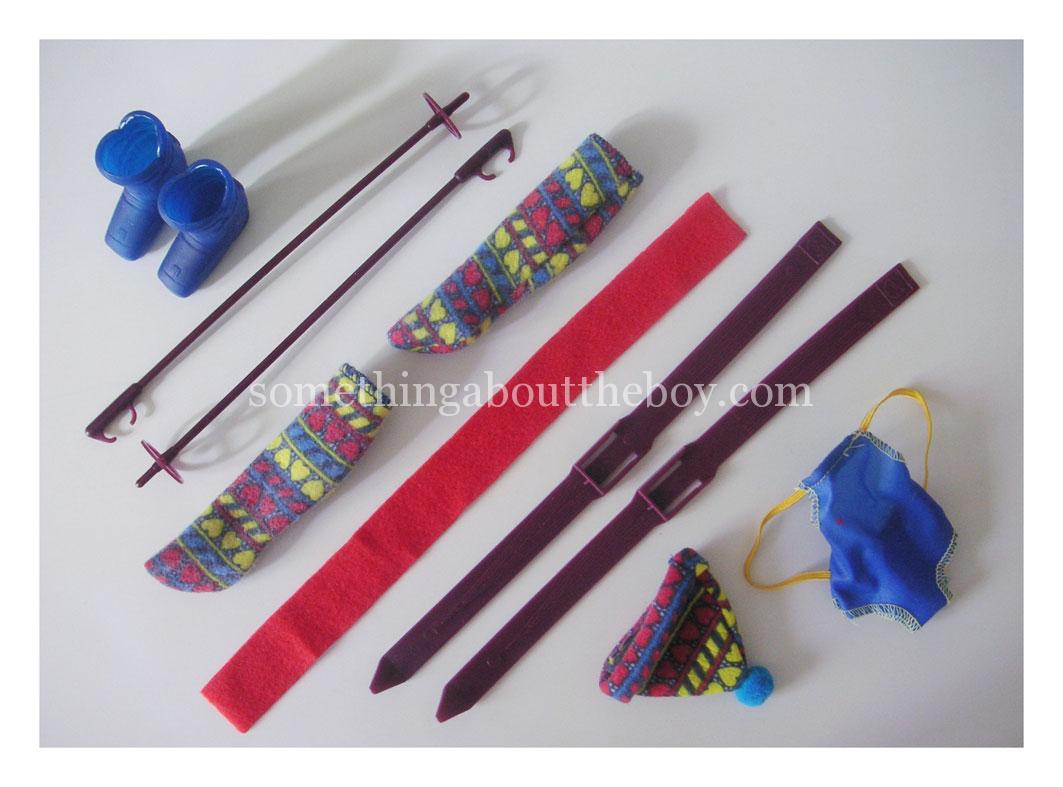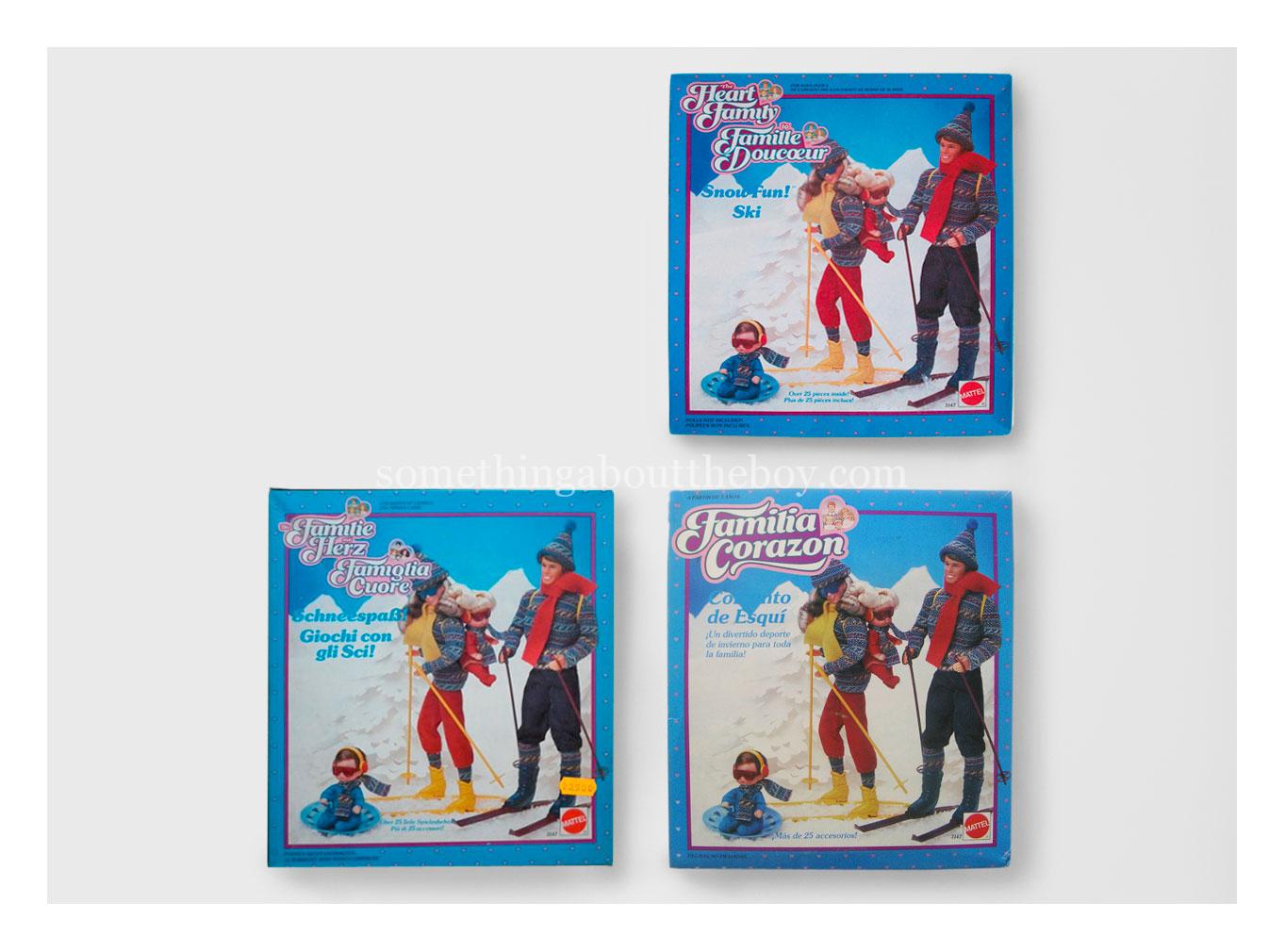 ---
WATER FUN! #3148
The Water Fun! set contains a pair of swim trunks for dad.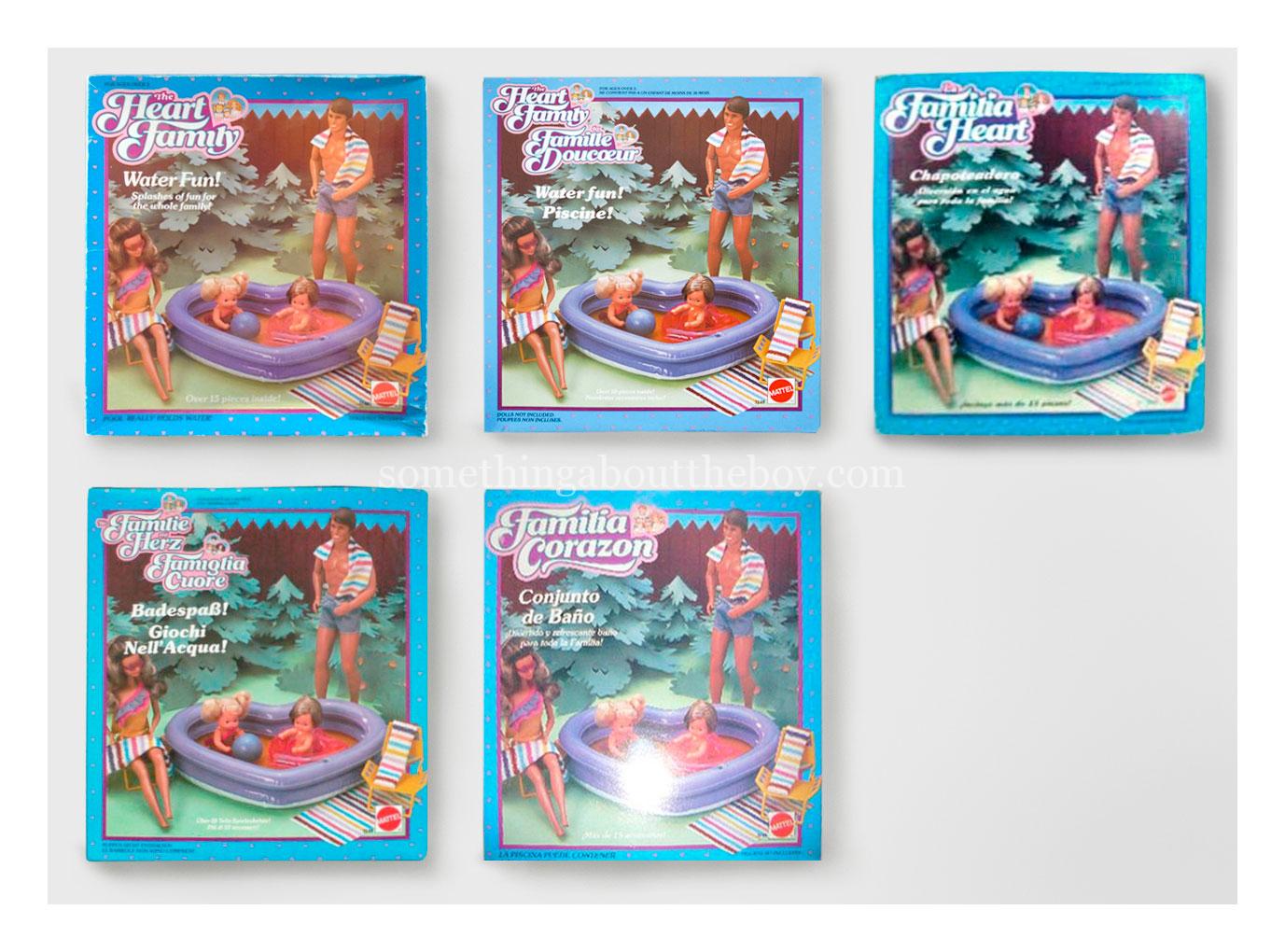 ---
BOOKLETS & CATALOGUES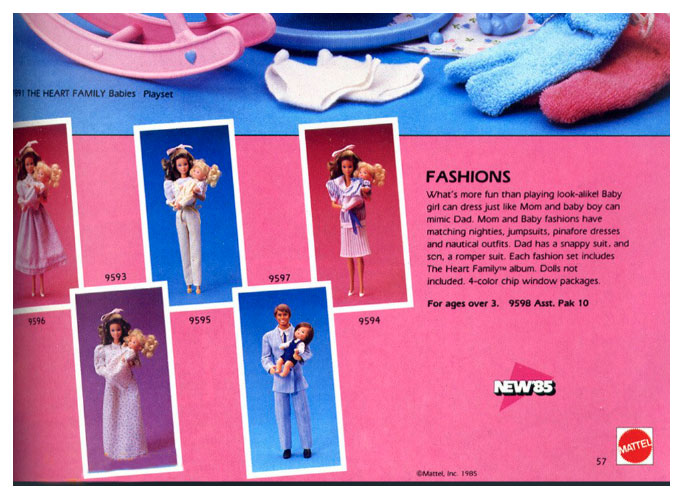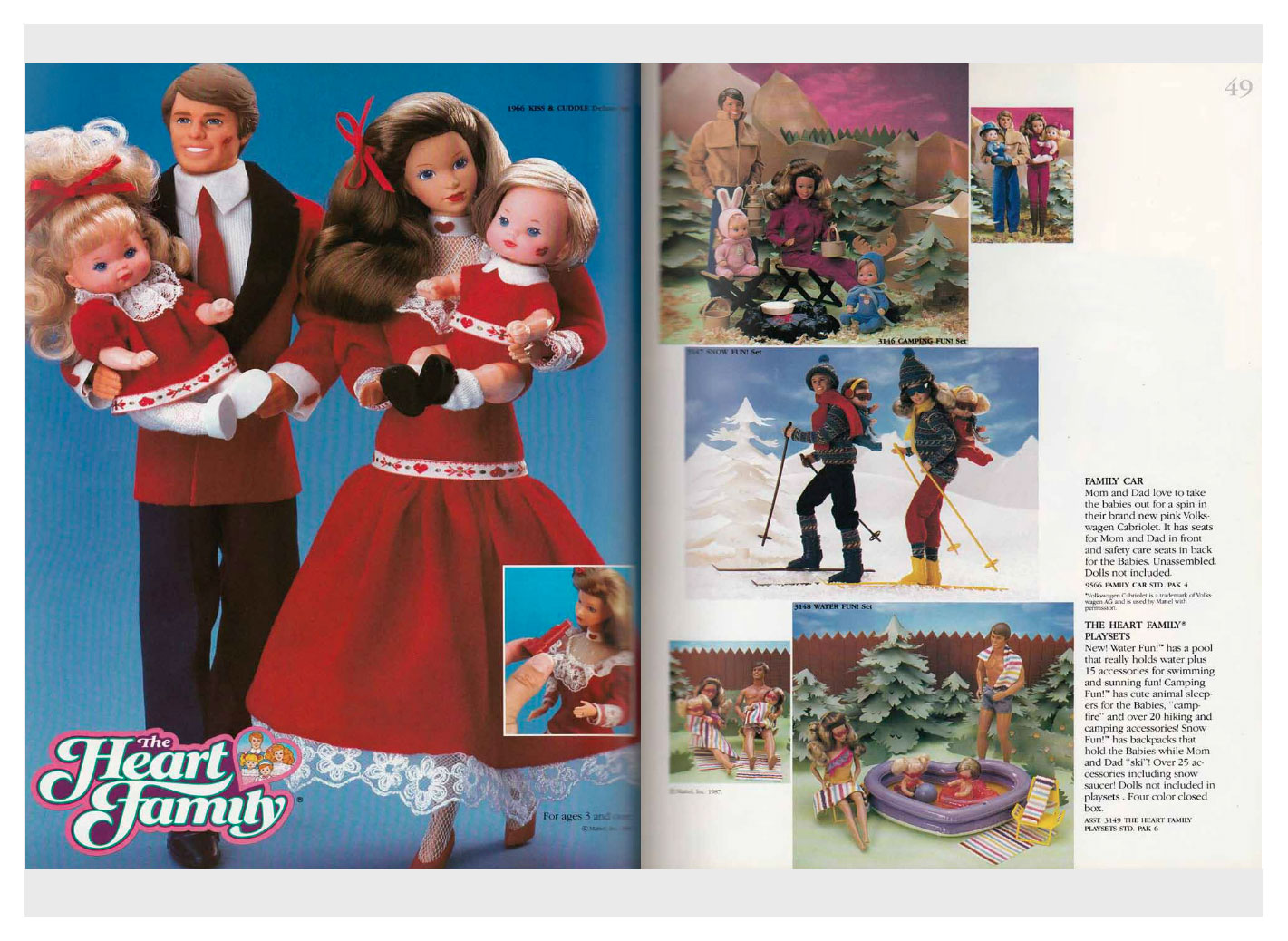 The Christmas catalogues offered their own brand Dad and Baby outfits.