In 1983 Mattel created three brand new racially-diverse head-molds for Ken. The Hawaiian/Hispanic head was only used for three dolls, but the other two appeared on many dolls over several years. The Caucasian head-mold was still being used up to 1990.
Kens from the 1980s are so abundant on Ebay that anyone who pays more than fifteen dollars for a regular NRFB Ken has been robbed. Obviously the European versions are much harder to find, but even they rarely sell for huge amounts. This means collecting 1980s Kens is really affordable. Although some are pretty tacky (Crystal Ken, please stand up), and most Kens with the twistable body may be fun to play with but not so great for adult display, there are still many great-looking ones with the classic Mod body.
---
SUN GOLD MALIBU KEN #1088
Sun Gold Malibu Ken was to come in all three new versions. The first to be released was the Caucasian blonde. In France he was also known as Ken Saint Tropez. All versions came with the identical swimsuit and accessories.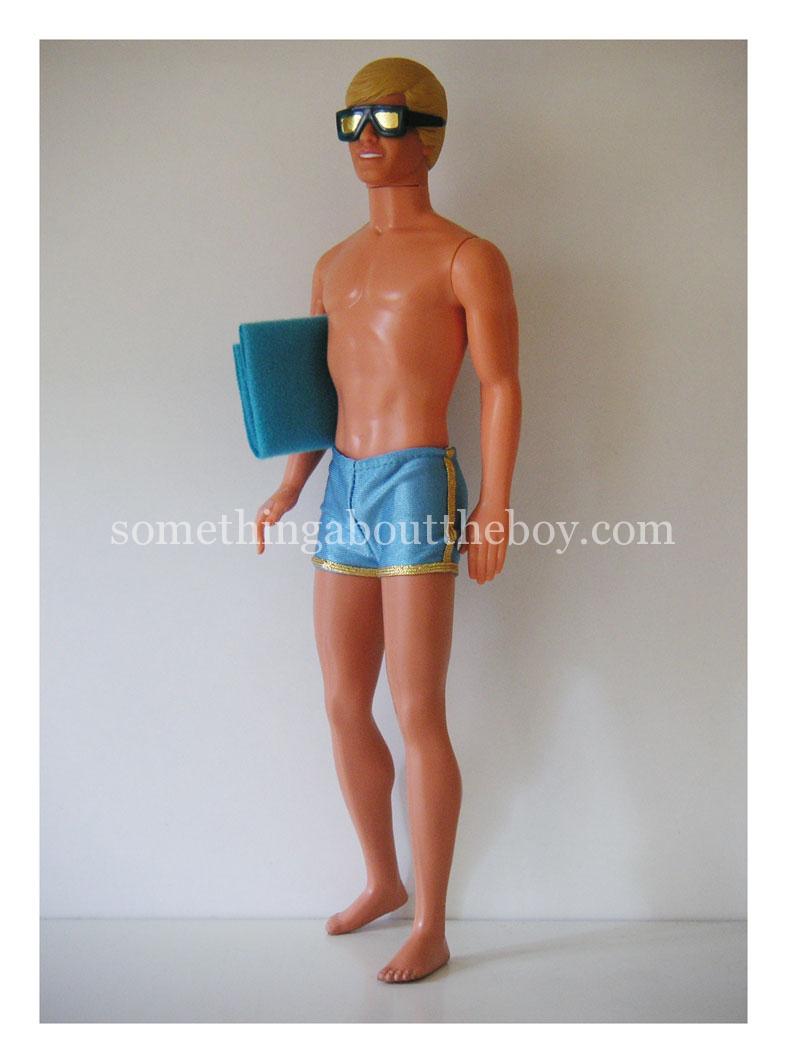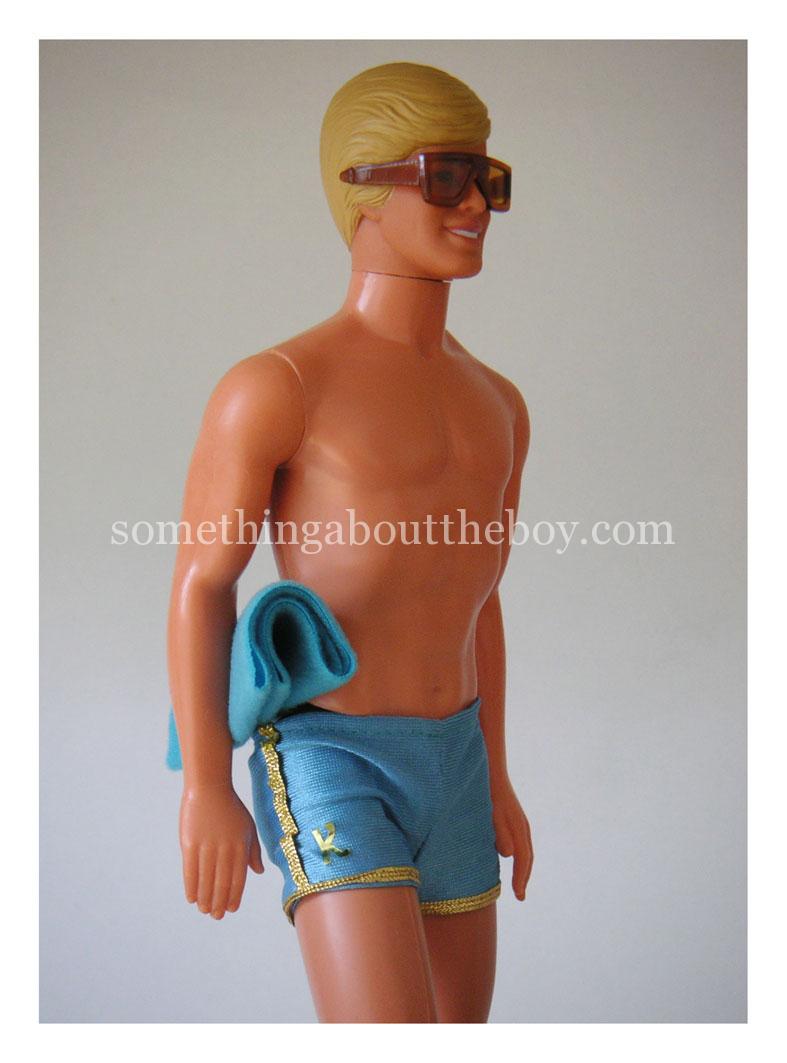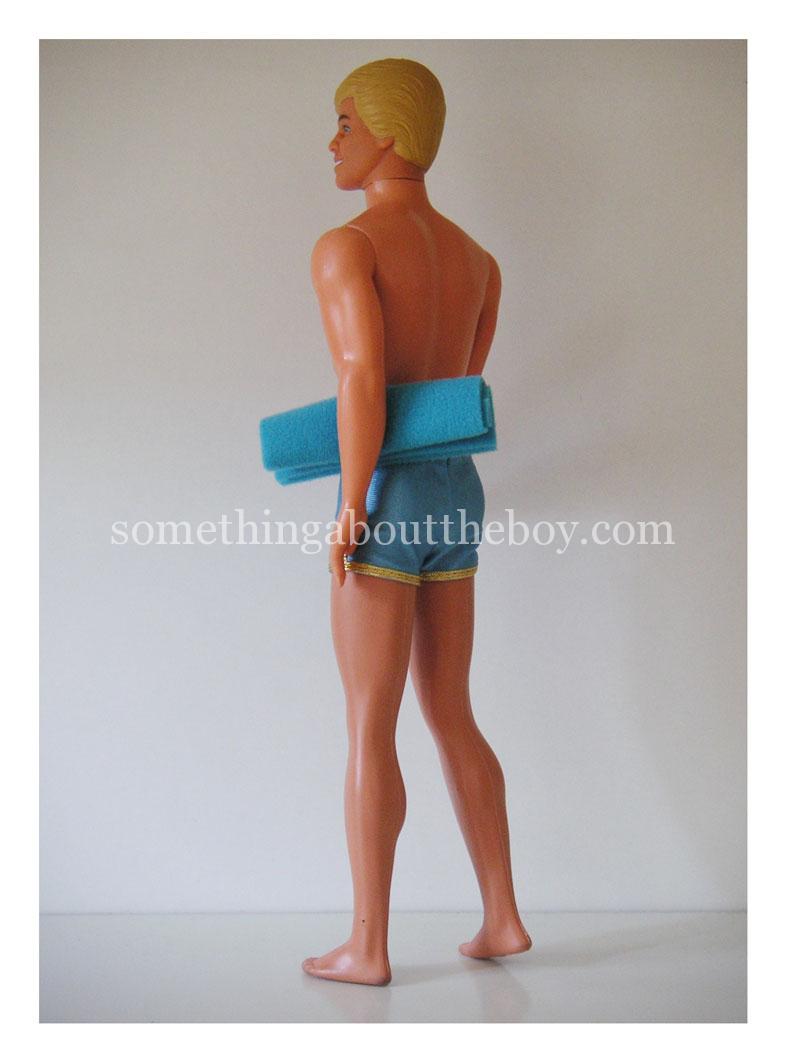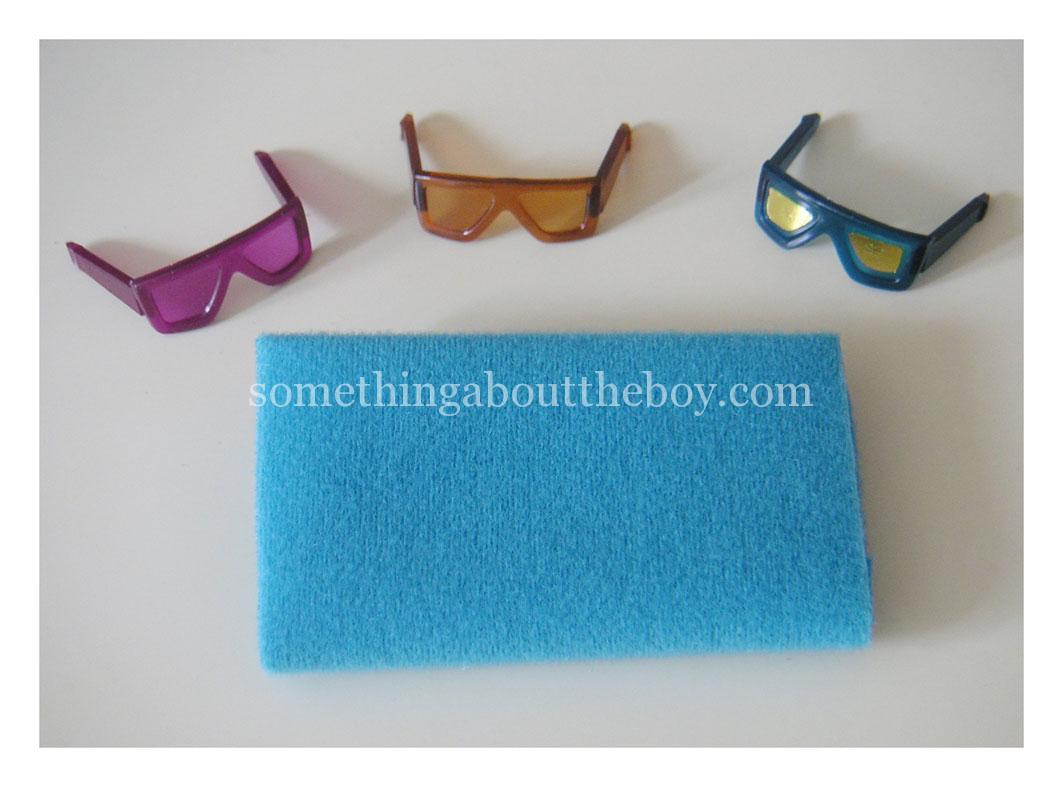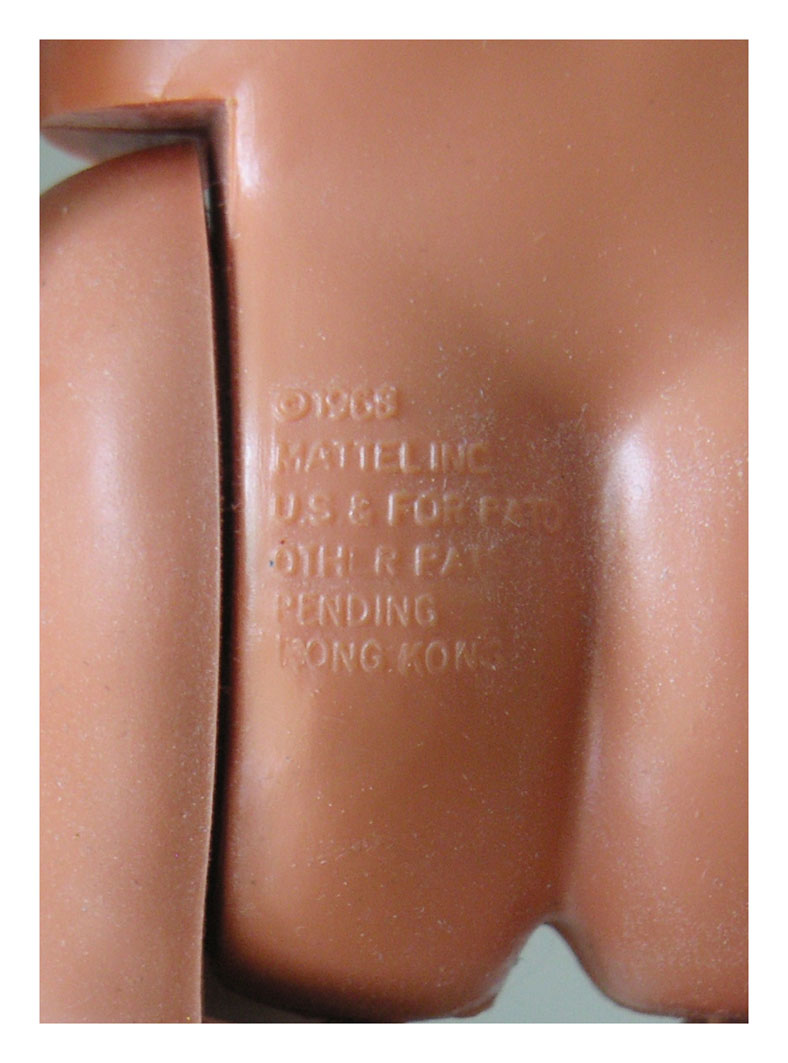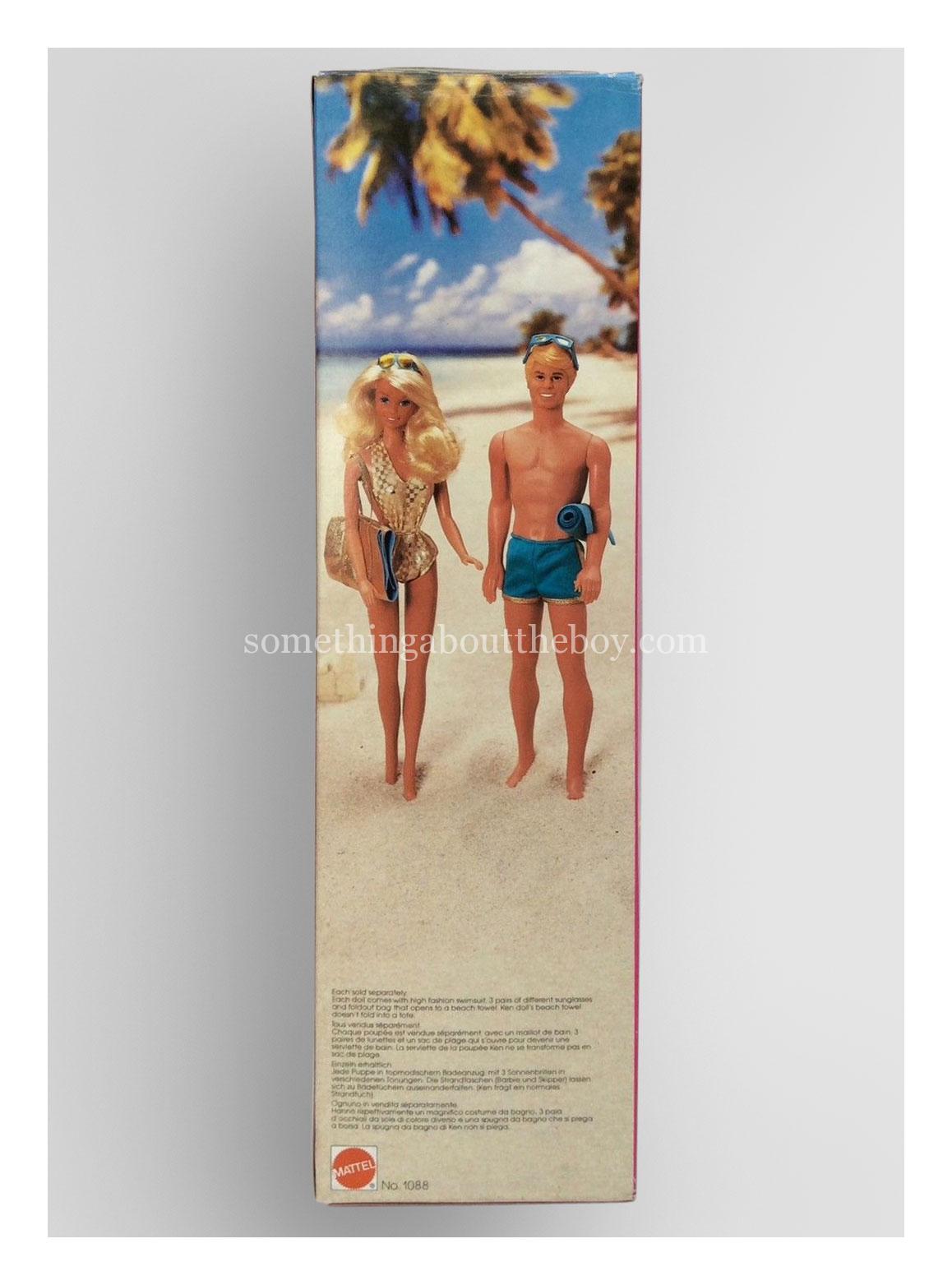 ---
SUNSATIONAL MALIBU KEN
Sunsational Malibu Ken already existed as a Caucasian Superstar blonde and a unique rooted-hair black Ken. Mattel now released a painted-hair black version and a Hispanic version.
SUNSATIONAL MALIBU KEN #3849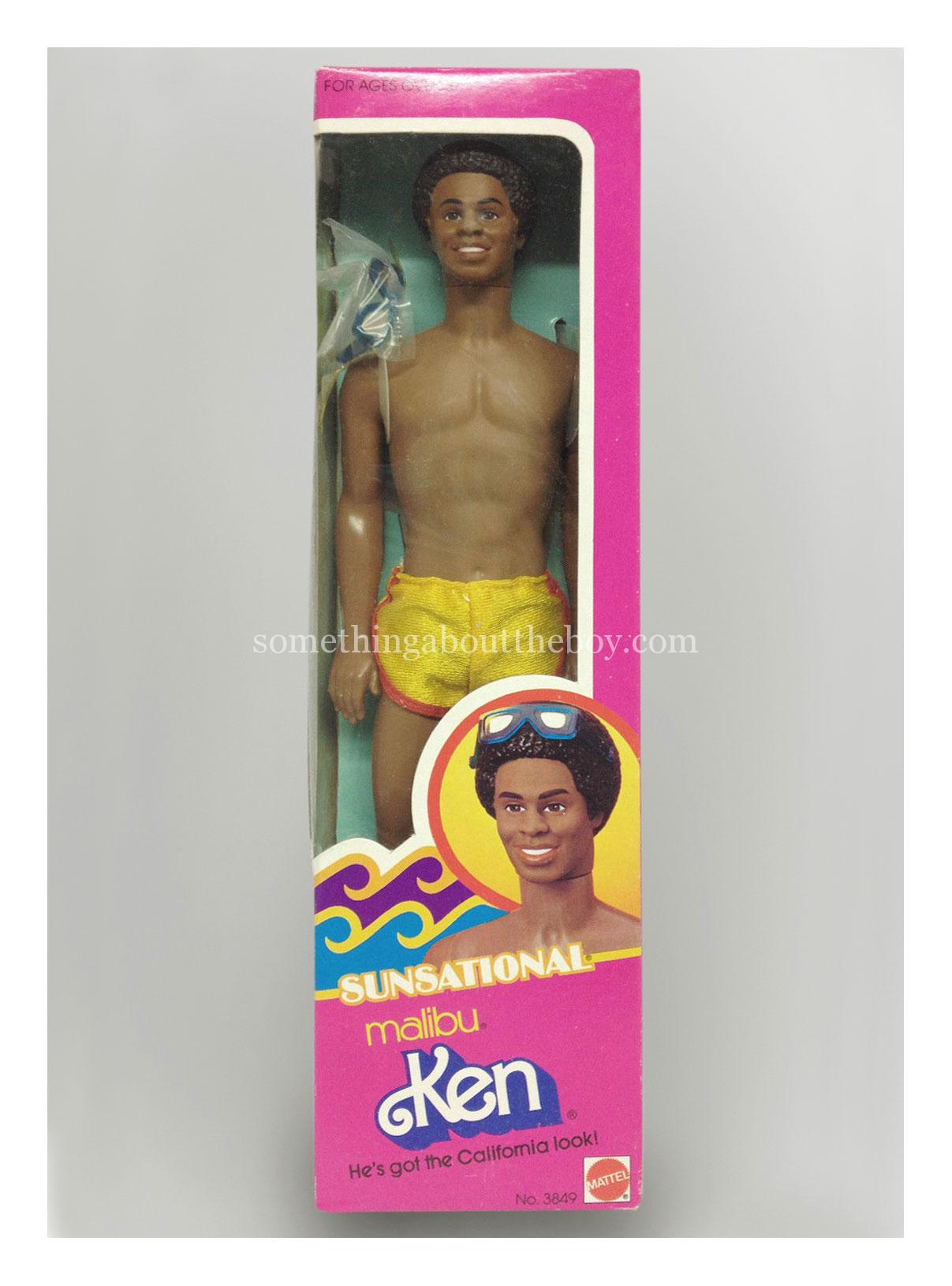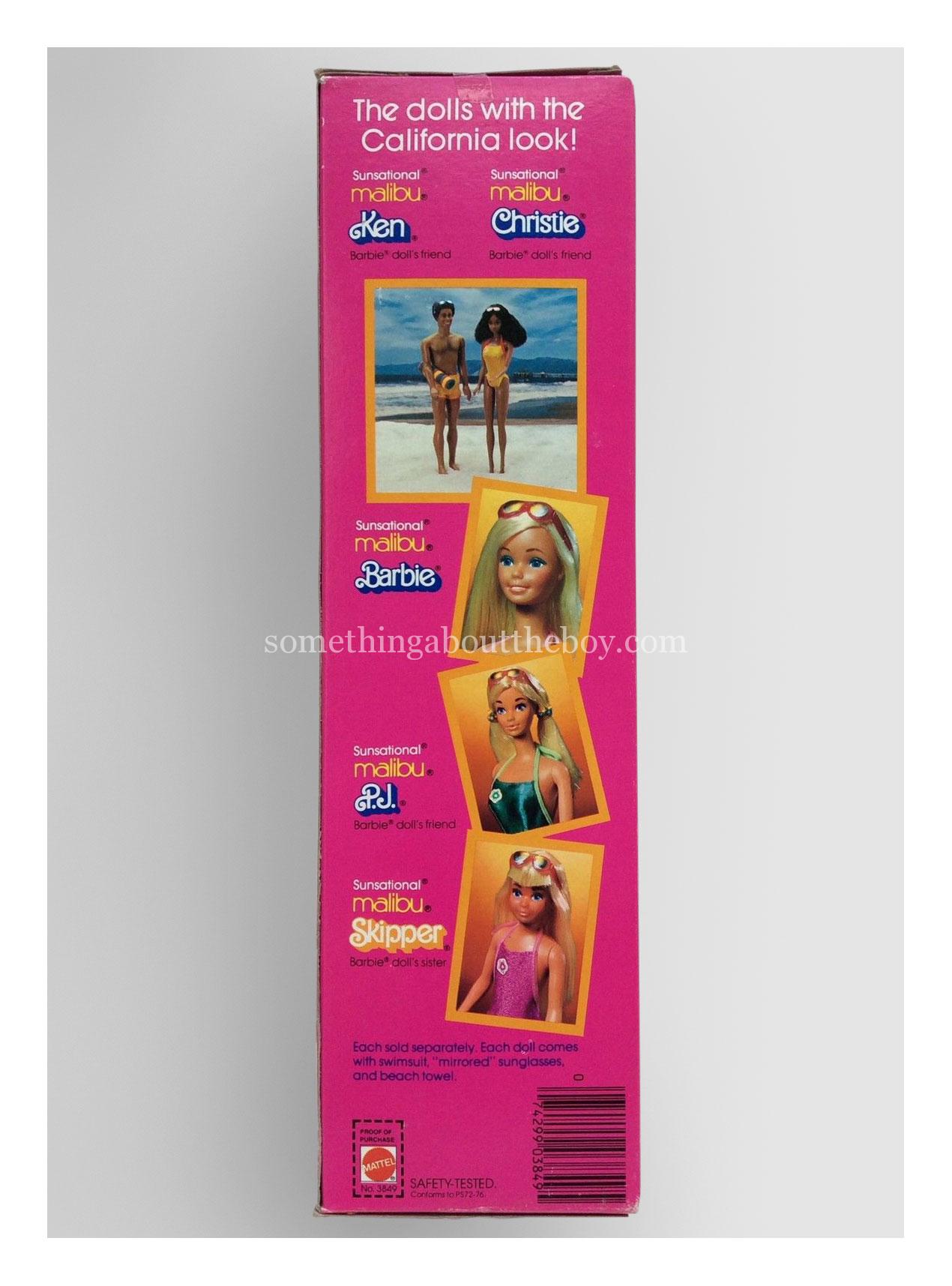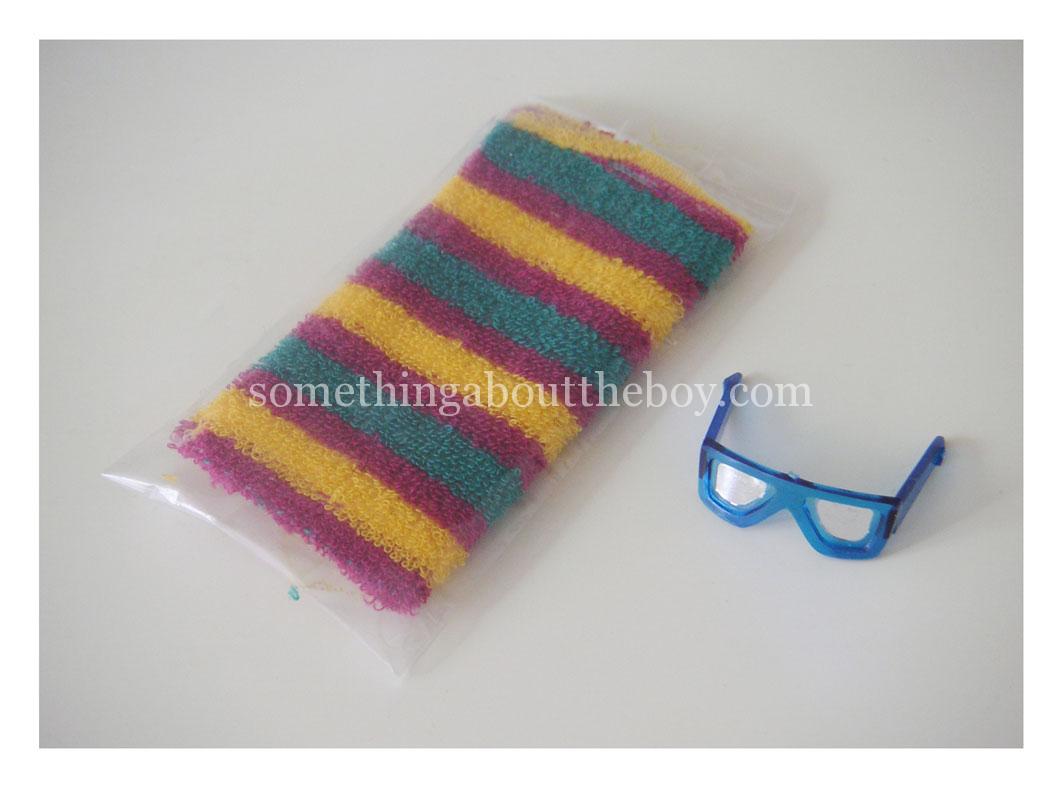 SUNSATIONAL MALIBU KEN #4971
The Hispanic Sunsational Malibu Ken comes with the regular single pair of sunglasses, but has the turquoise towel from Sun Gold Malibu Ken, presumably because the colour fits better to the shorts.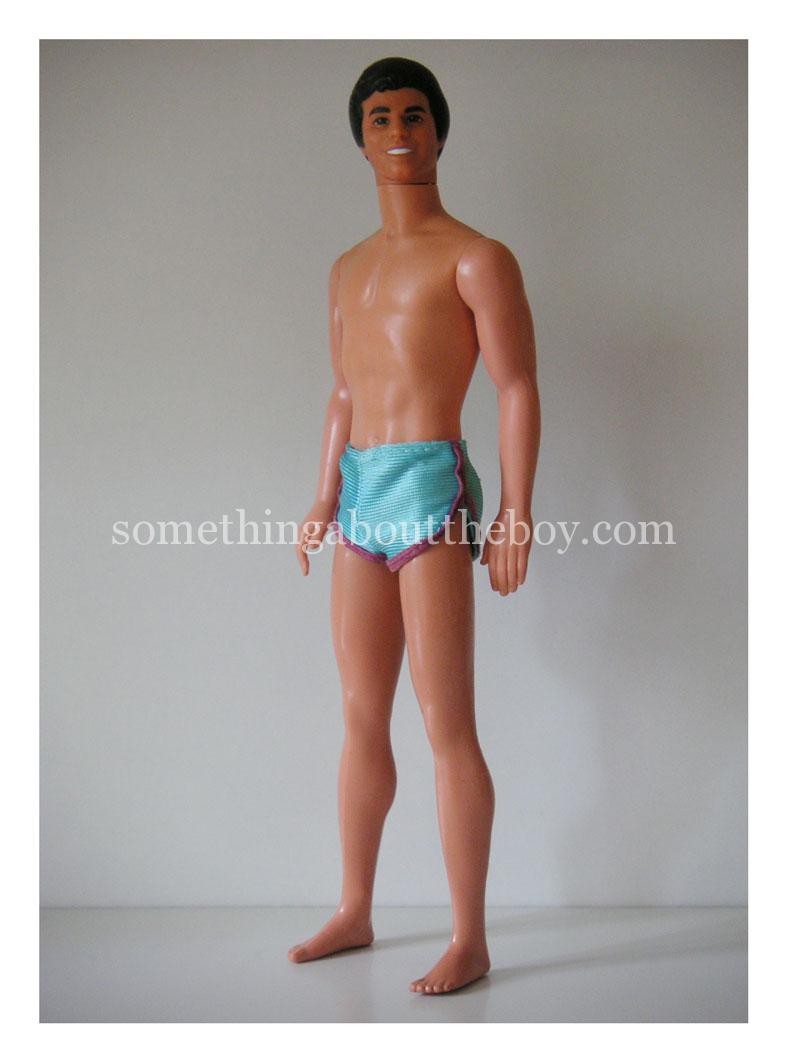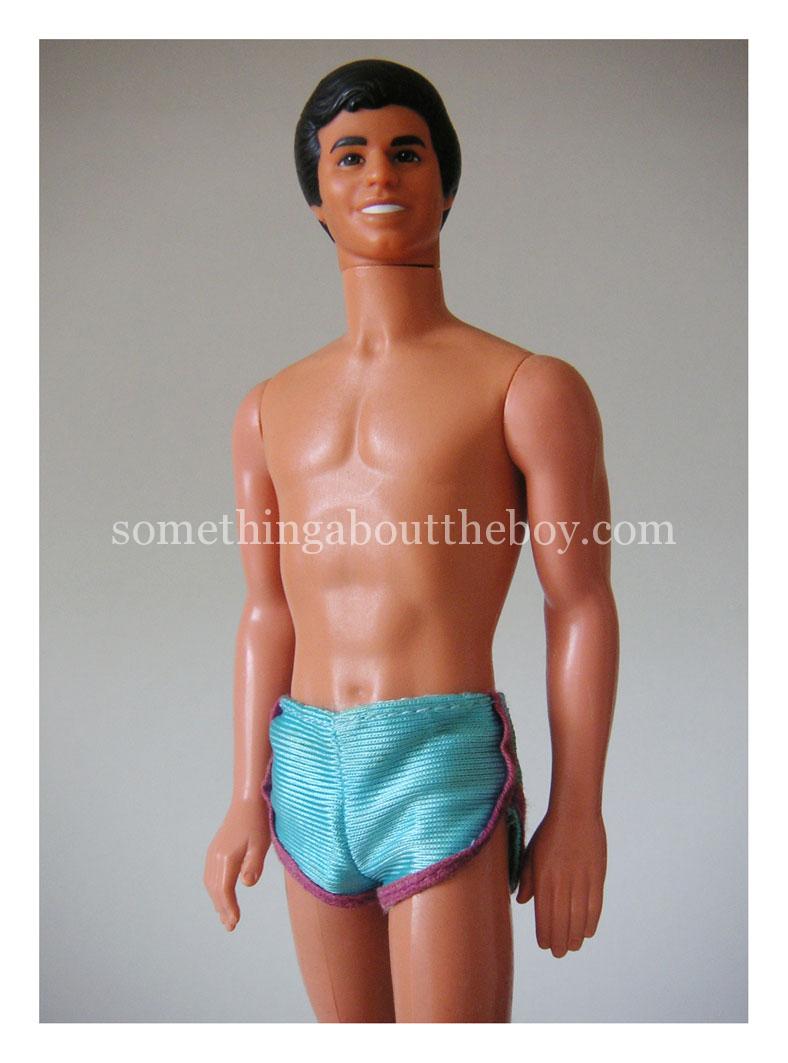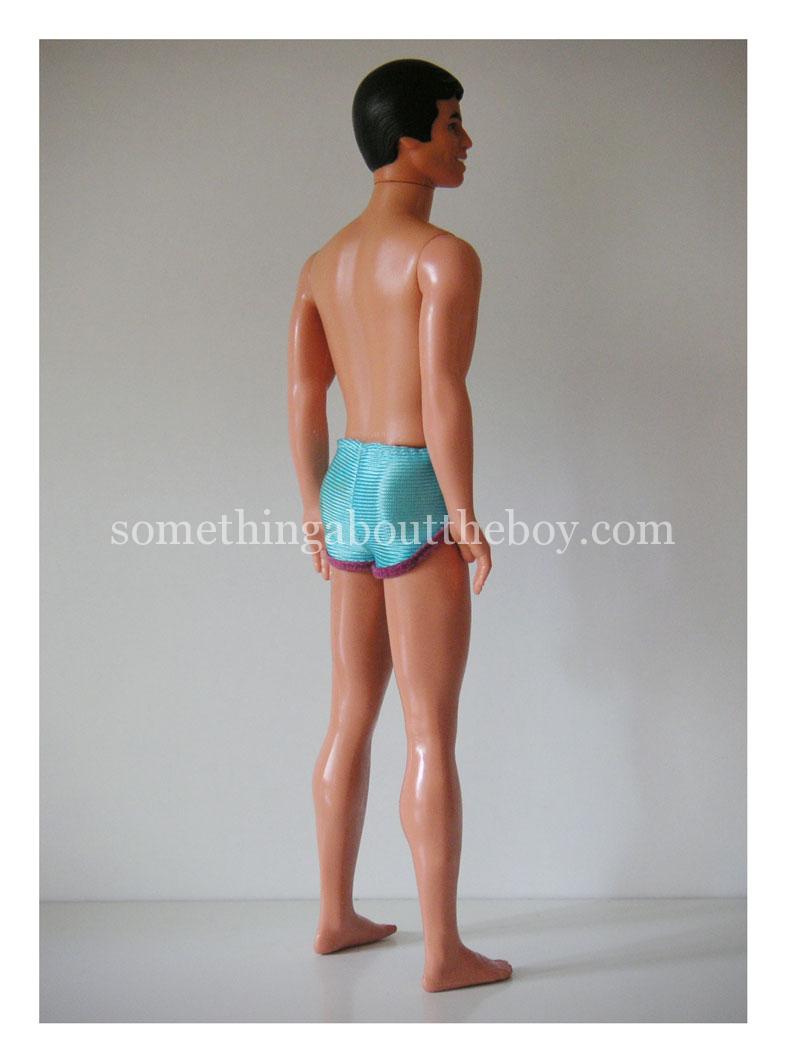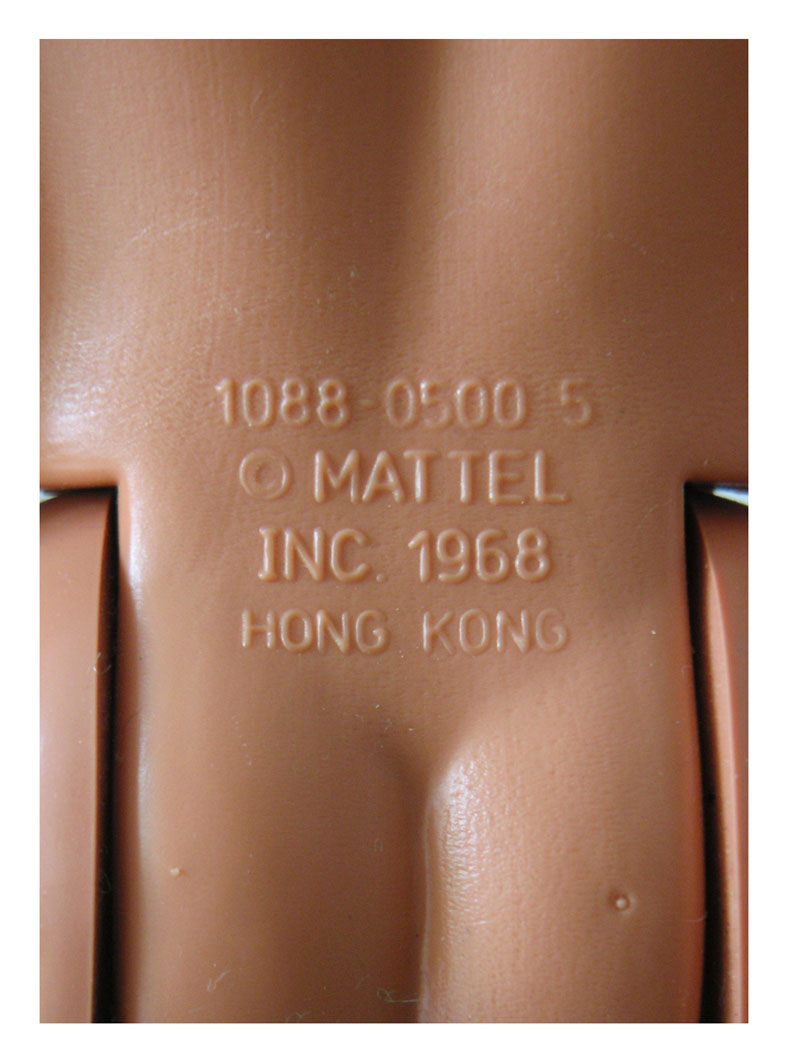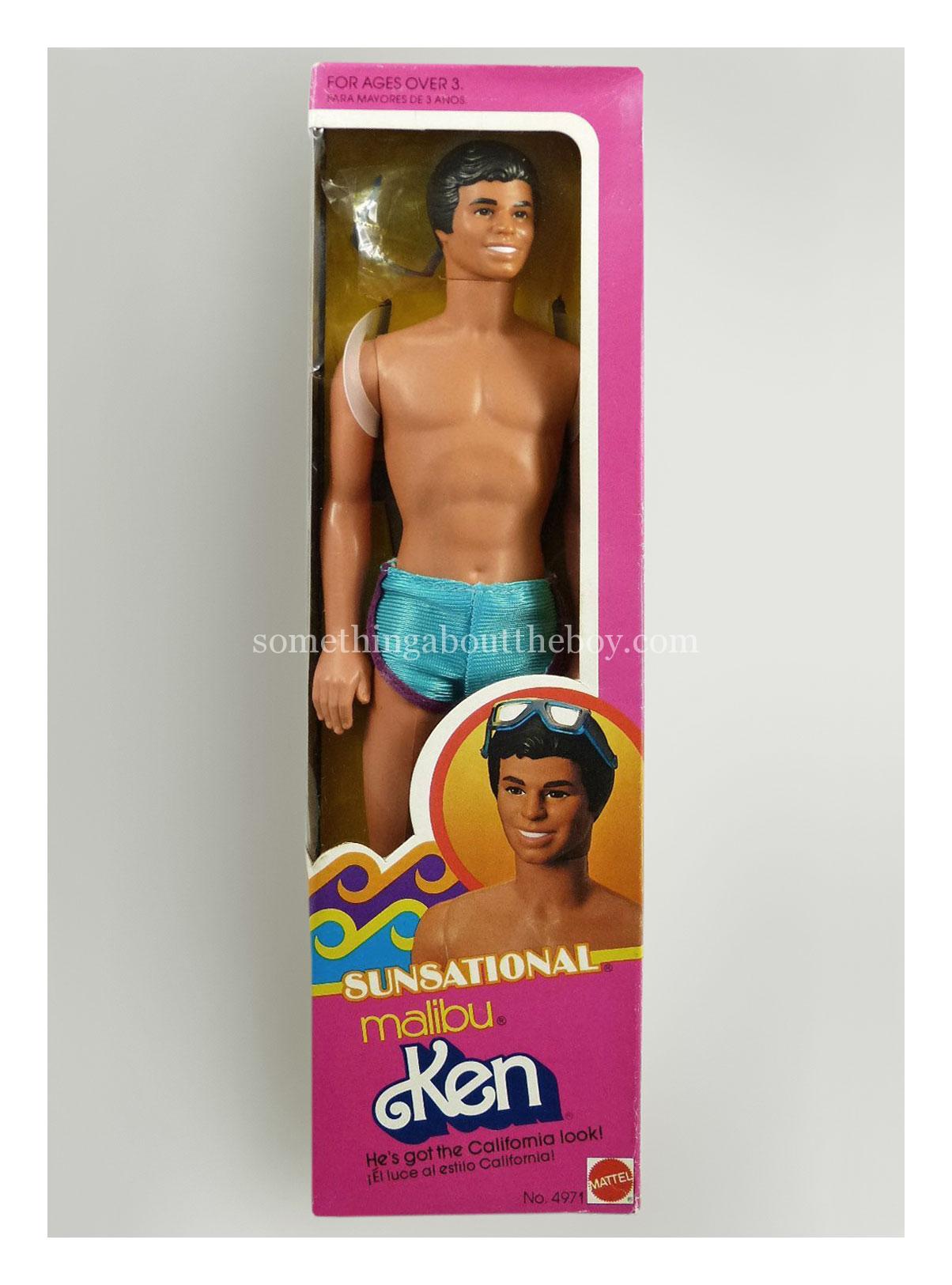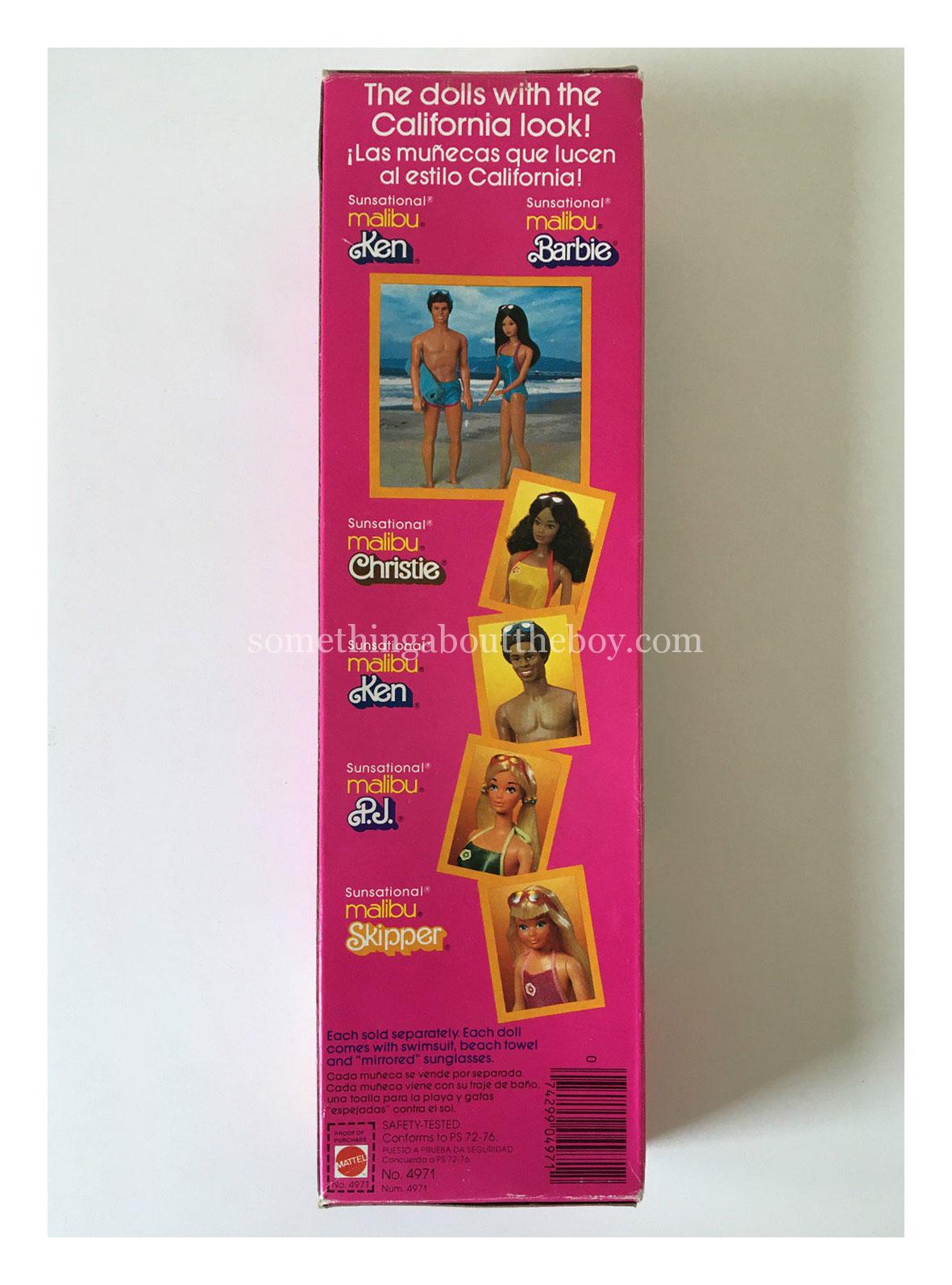 ---
CRYSTAL KEN
Crystal Ken was also known in Canada as Ken Scintillant and in France as Ken Gala. There is an even rarer Mattel France version called Ken Super Gala, with the code #266.
CRYSTAL KEN #4898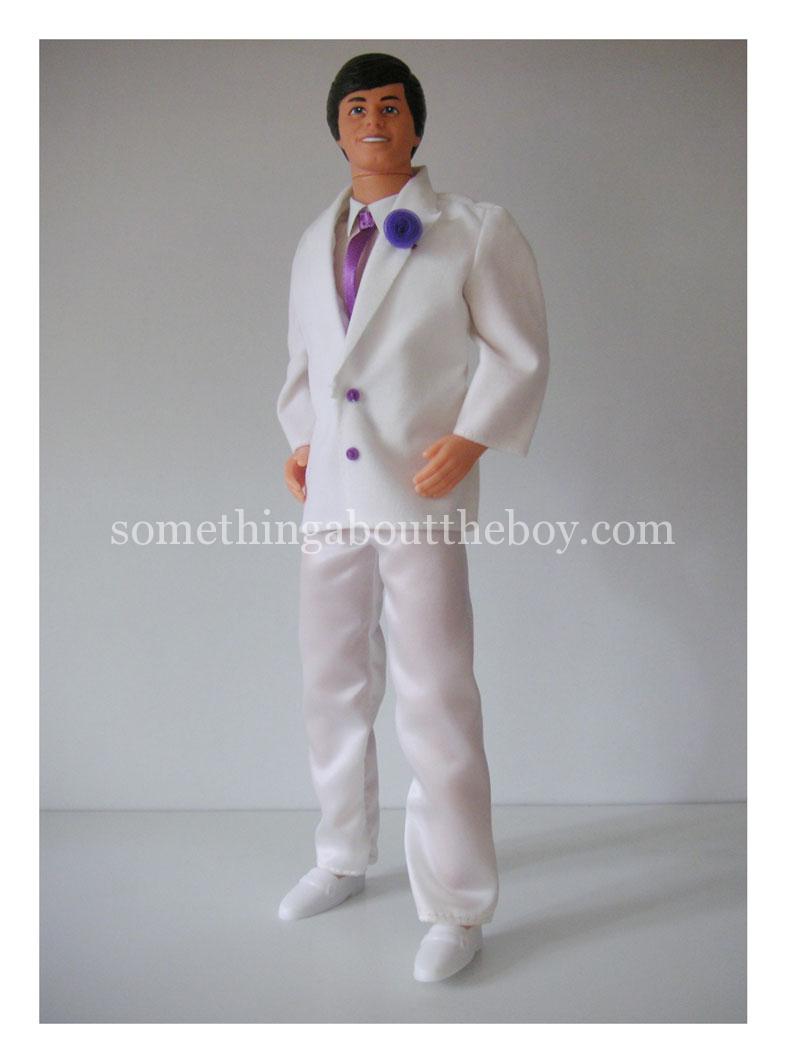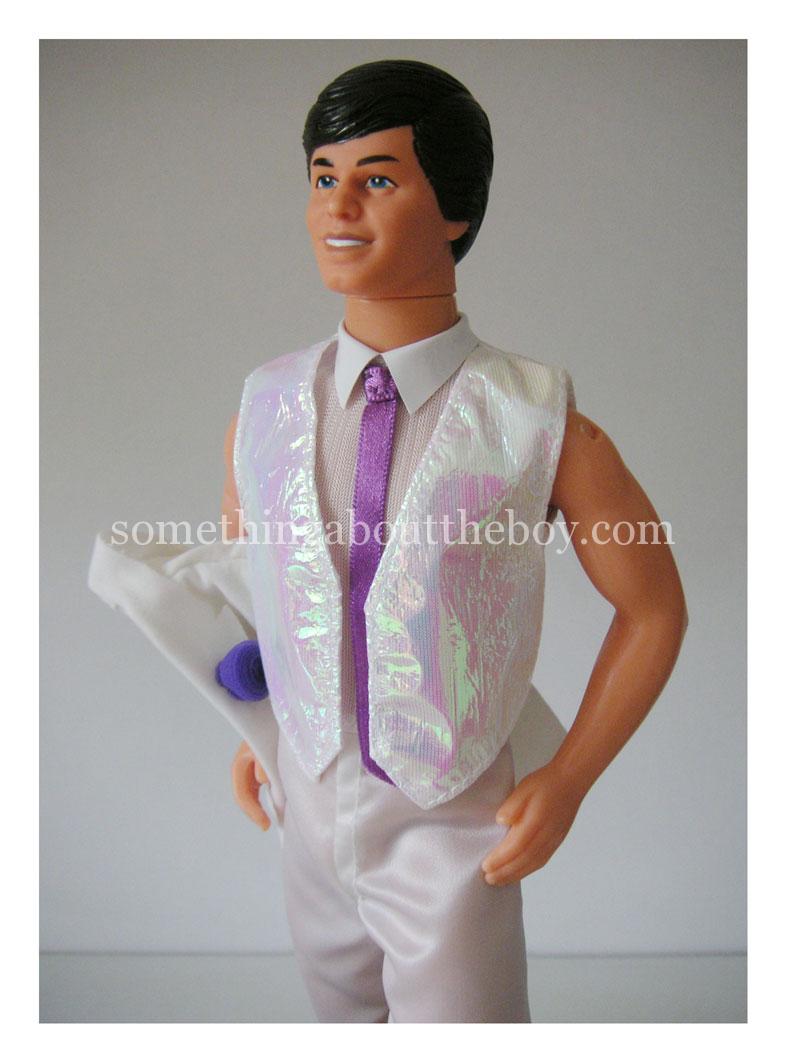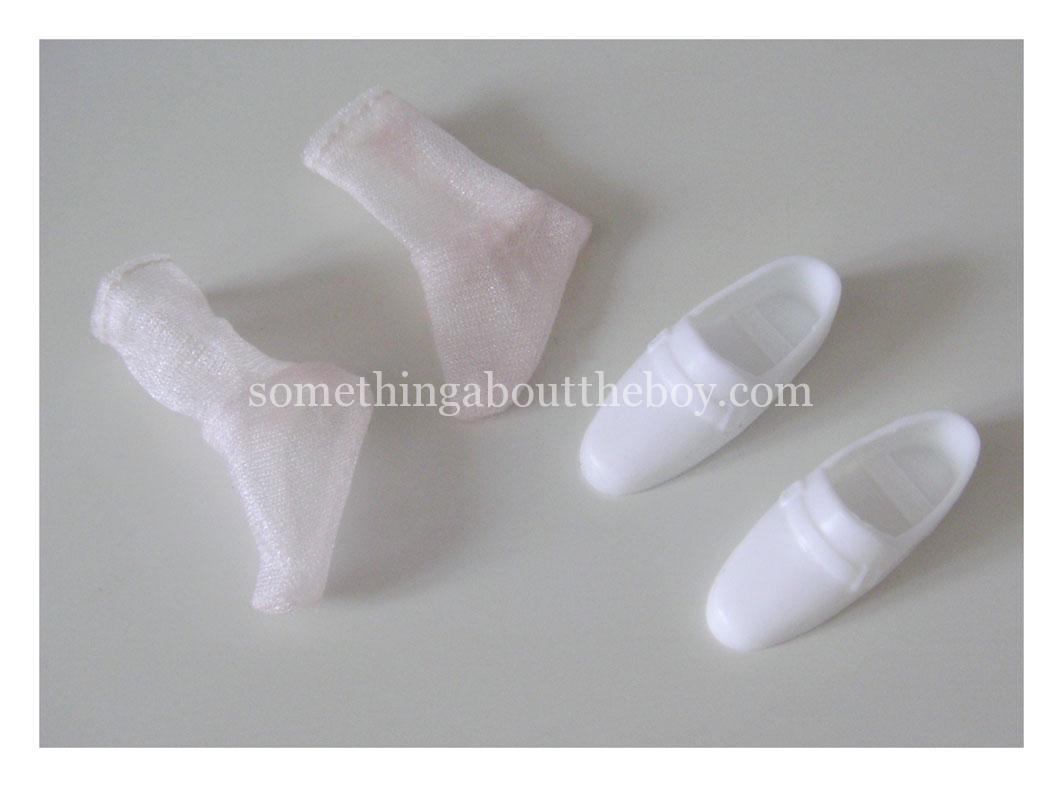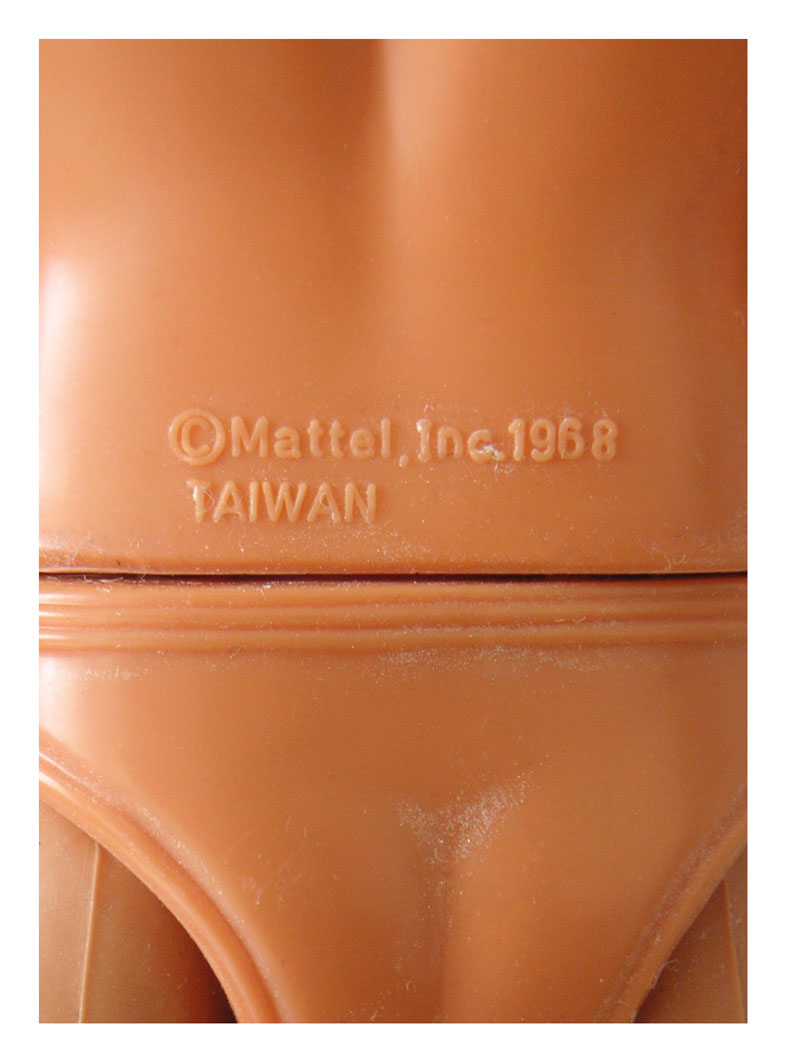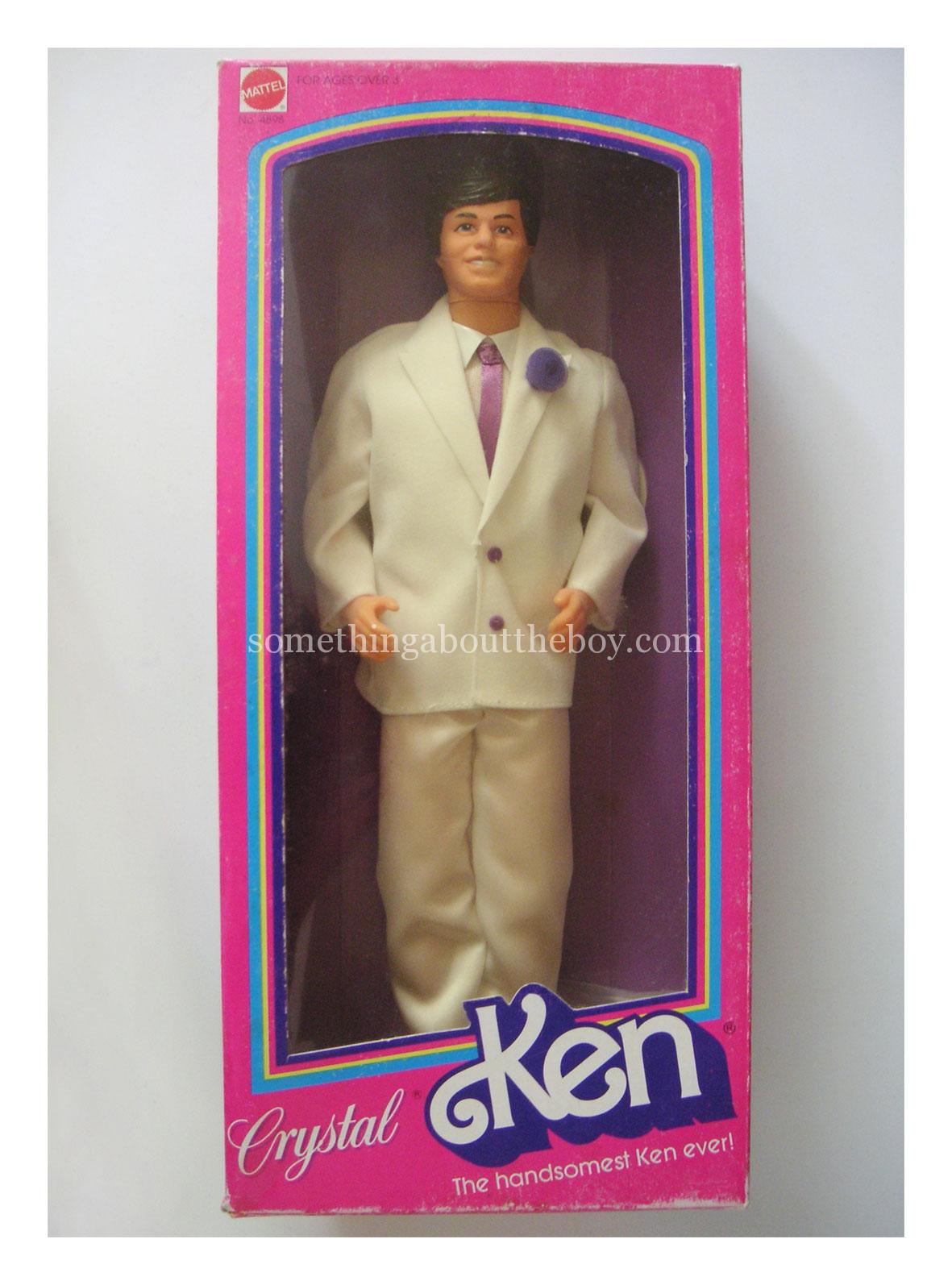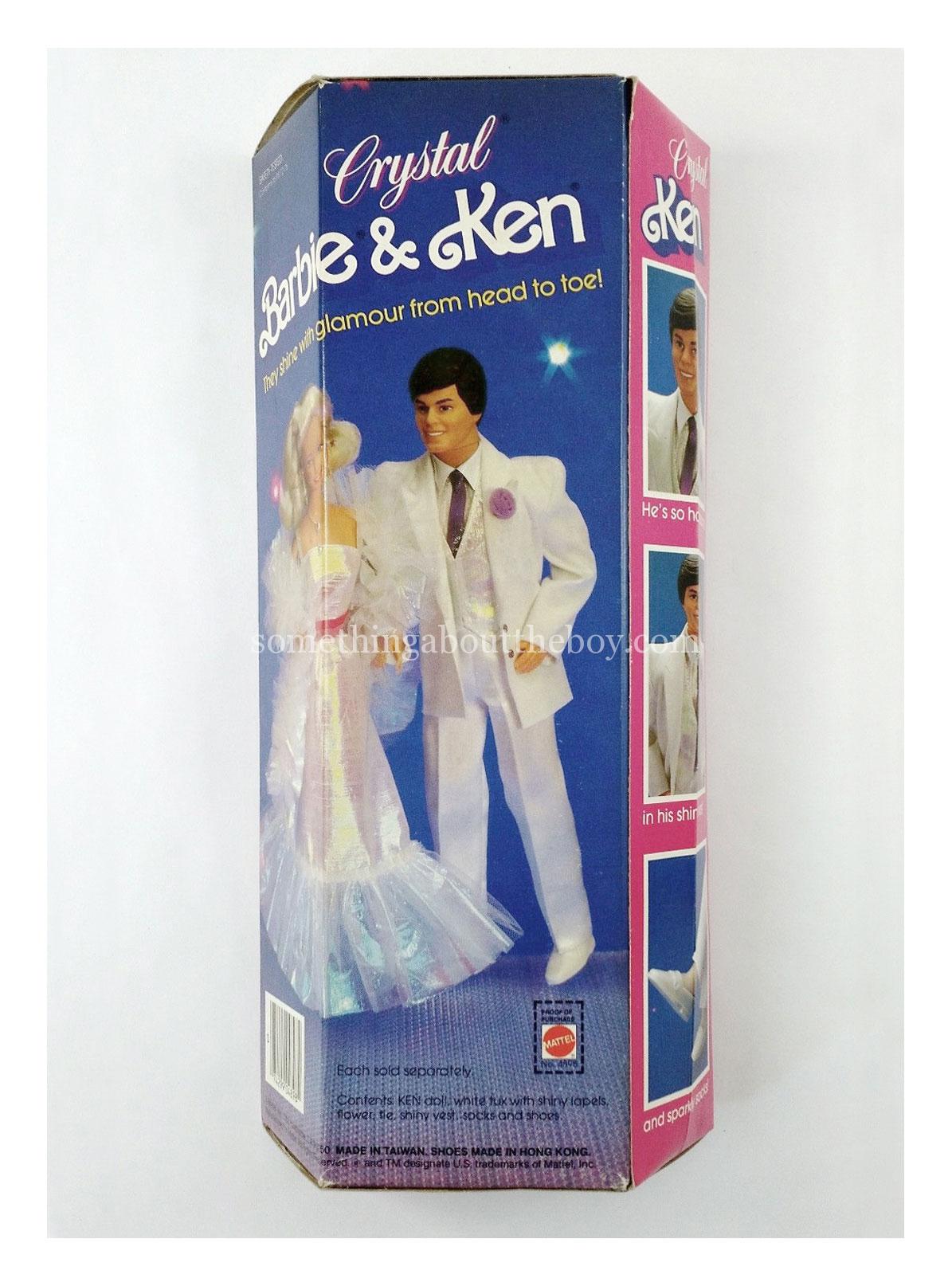 The Canadian version was originally packaged as Ken Scintillante. This was presumably a spelling error copied from the Barbie packaging, as later versions were corrected to Ken Scintillant. The Canadian Barbie booklet makes the further spelling mistake of Ken Scintillate (see below). The packaging reverse of both boxes refers to Barbie & Ken Scintillants.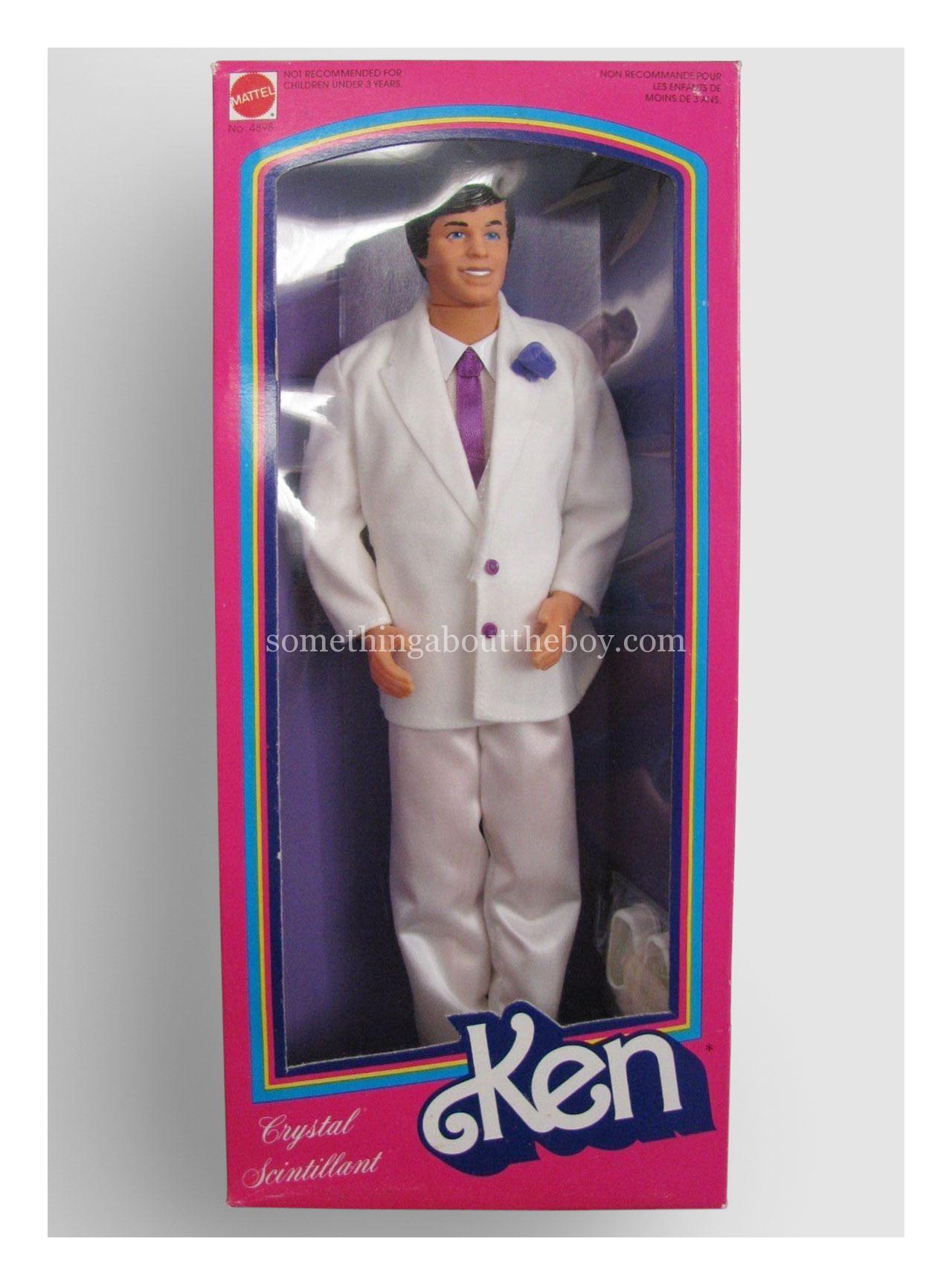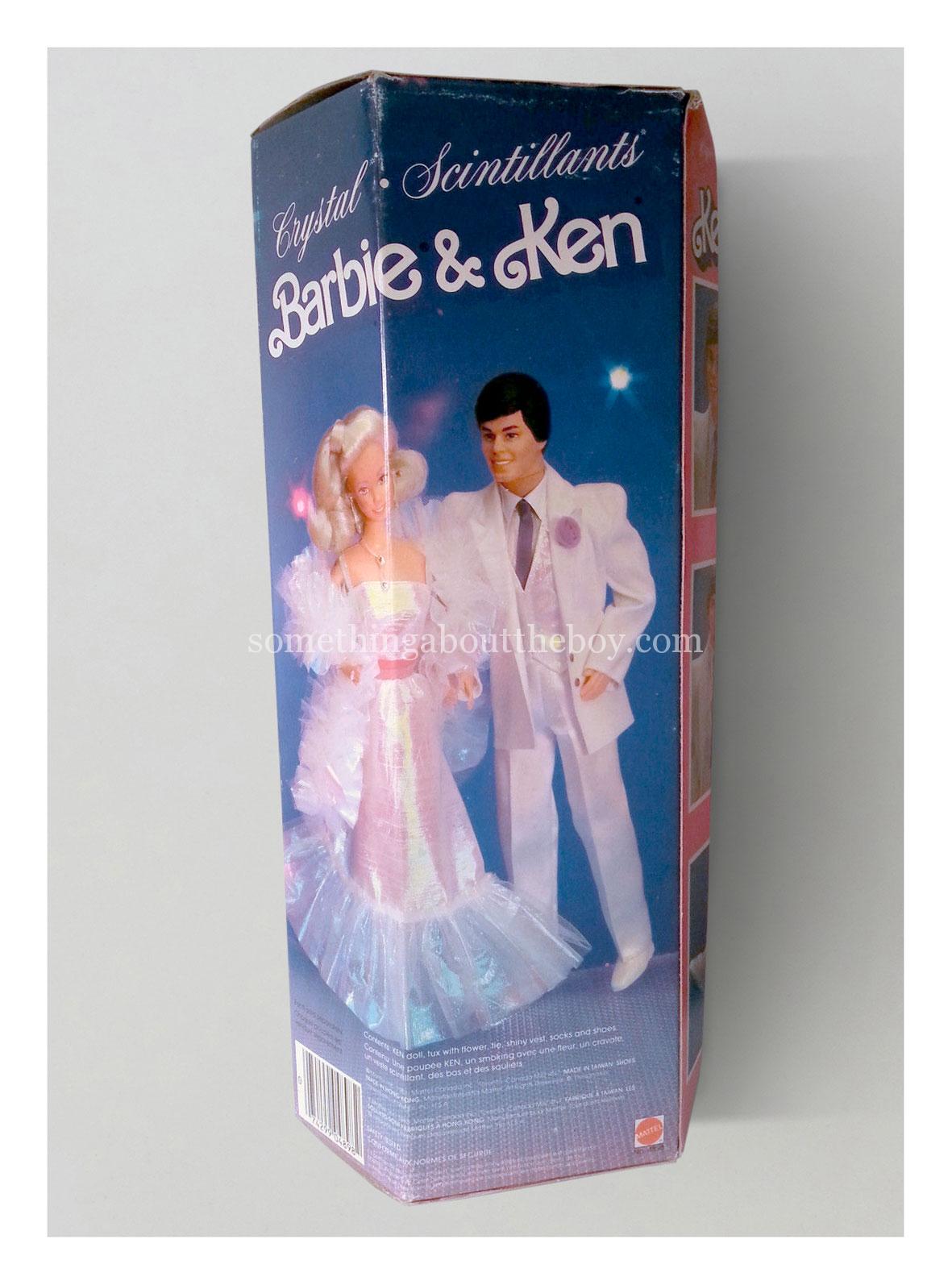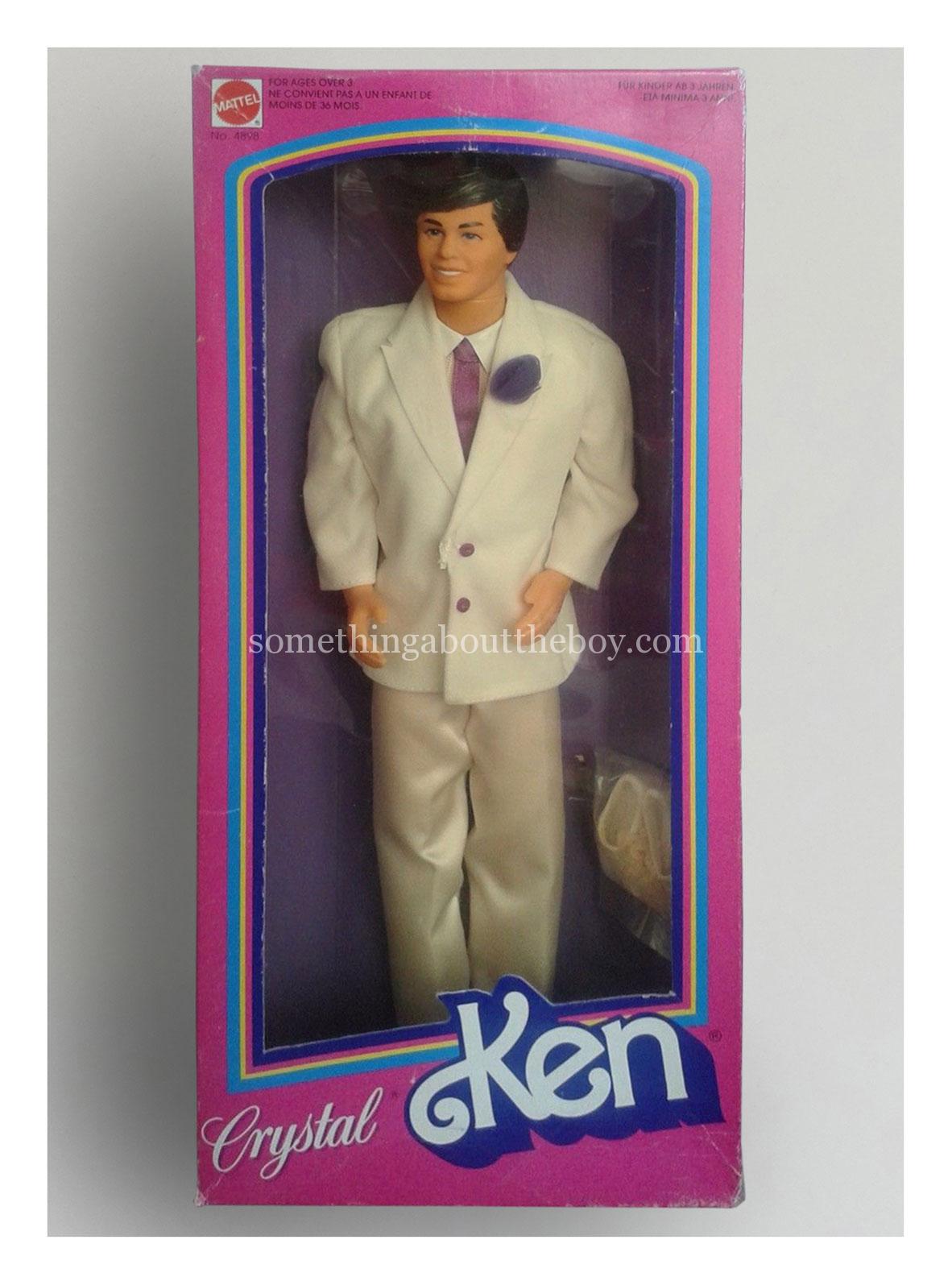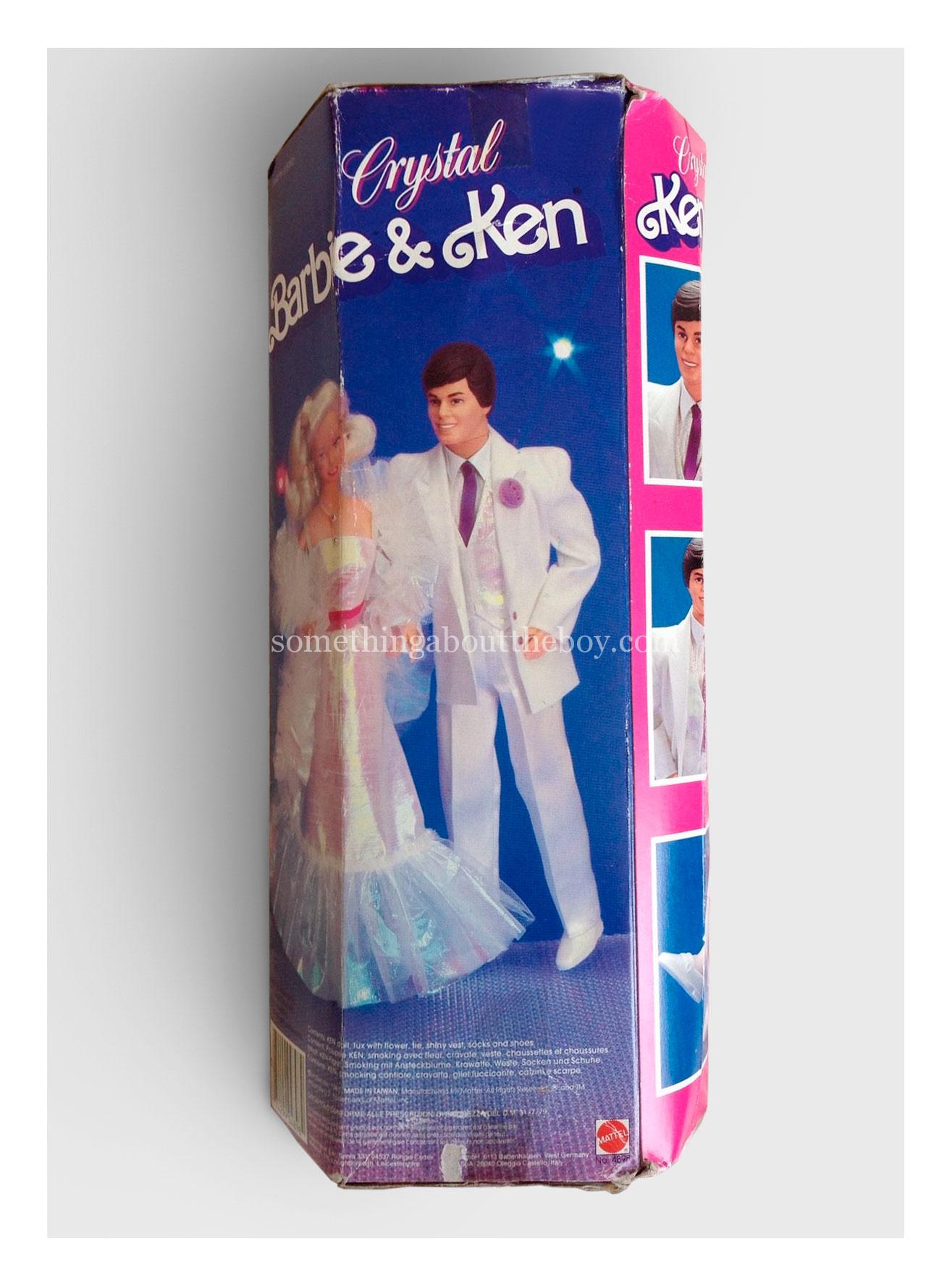 Between 1984 and 1986 the Kens produced under licence by Estrela in Brazil were called Bob. For more information see section Bob & Ken by Estrela Brazil.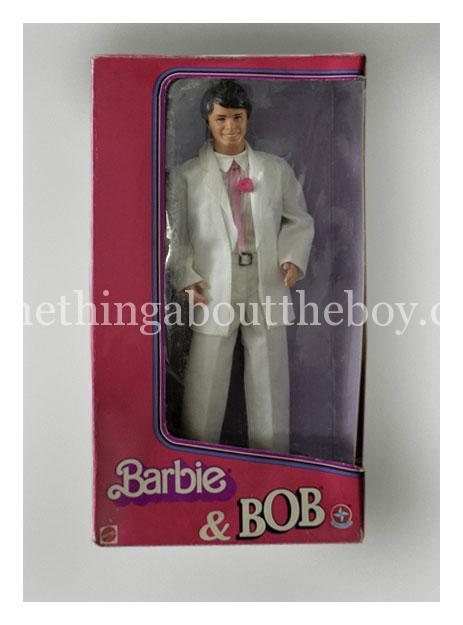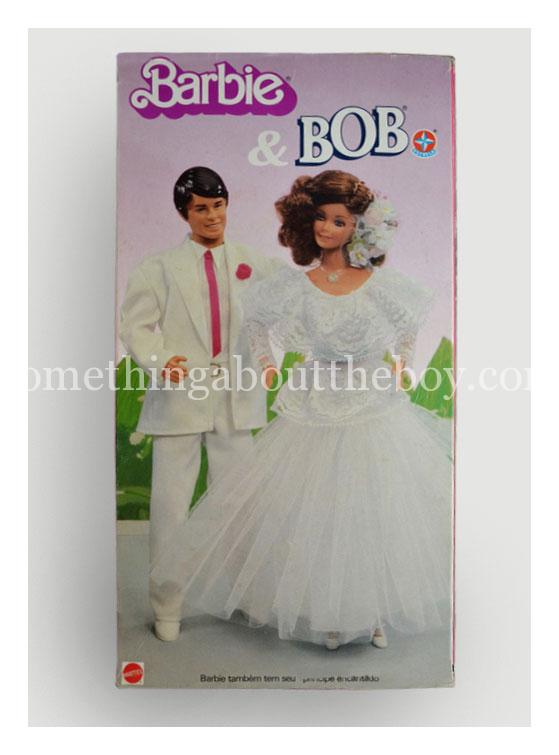 CRYSTAL KEN #9036
I have read that this was a Toys "R" Us exclusive. This would help explain the 1984 box date and odd code number (which suggest he was released in 1985).
---
SAFARI KEN #4974
Safari Ken had an extremely limited release in Europe and Canada, and possibly Australia. In Canada he was also known as Ken au Safari. Notice how similar he is to the Campin' Out Set Ken below.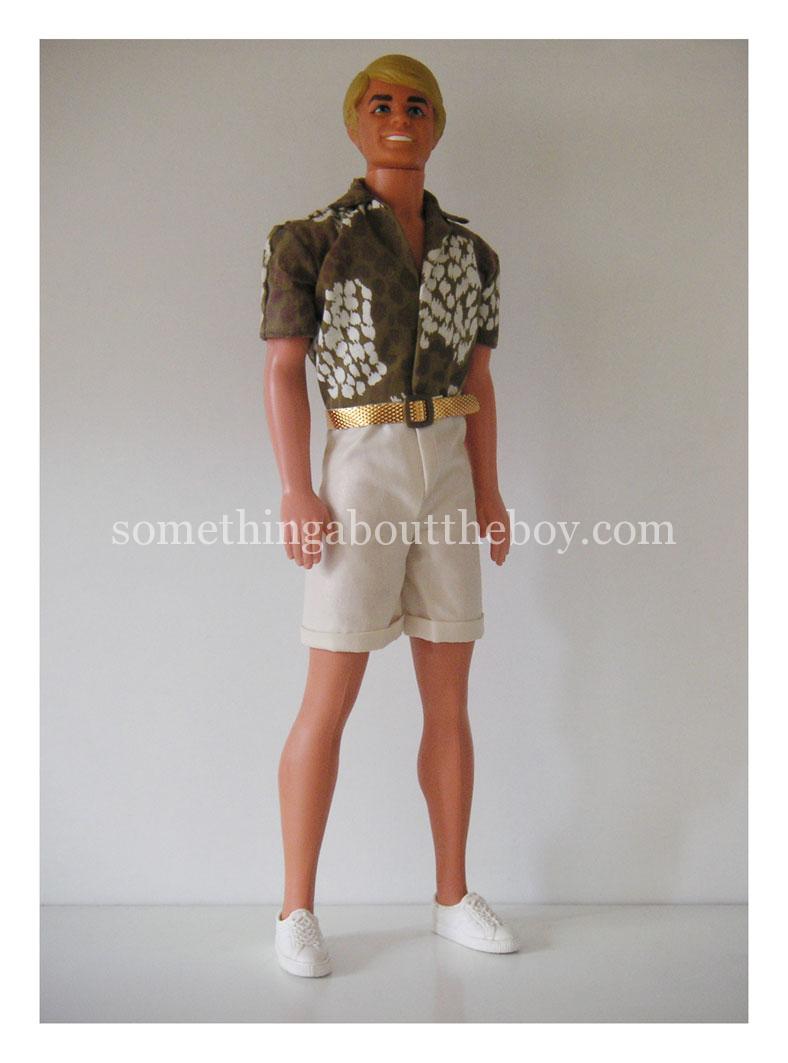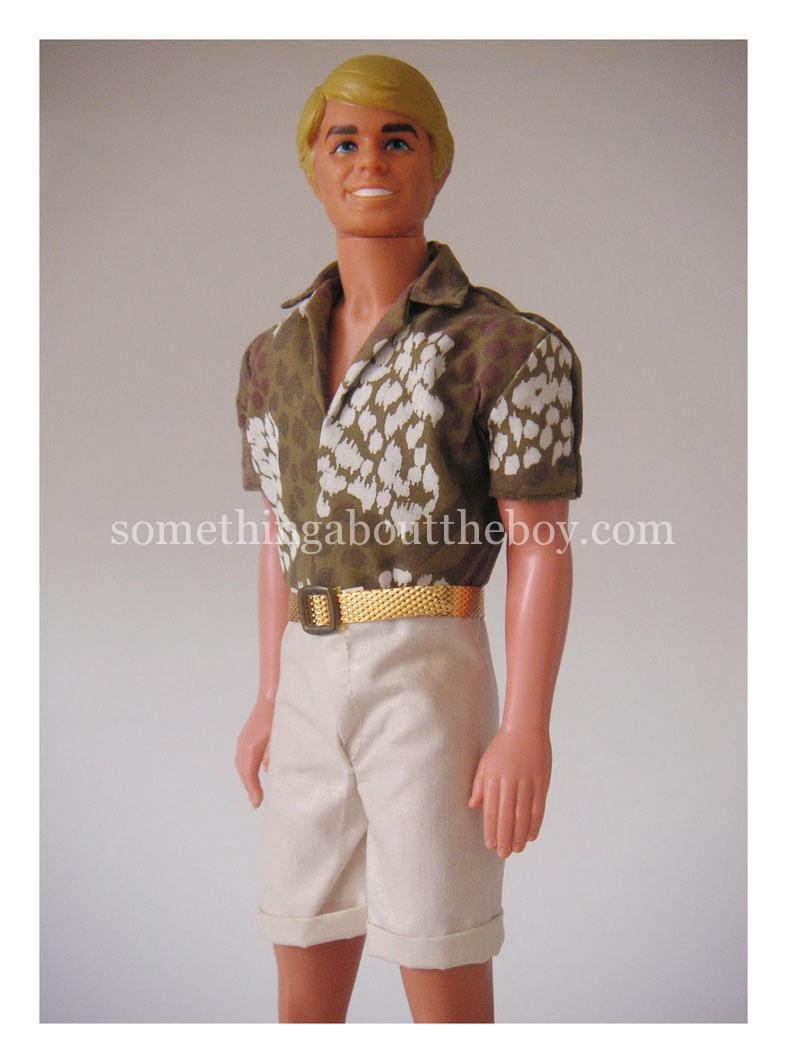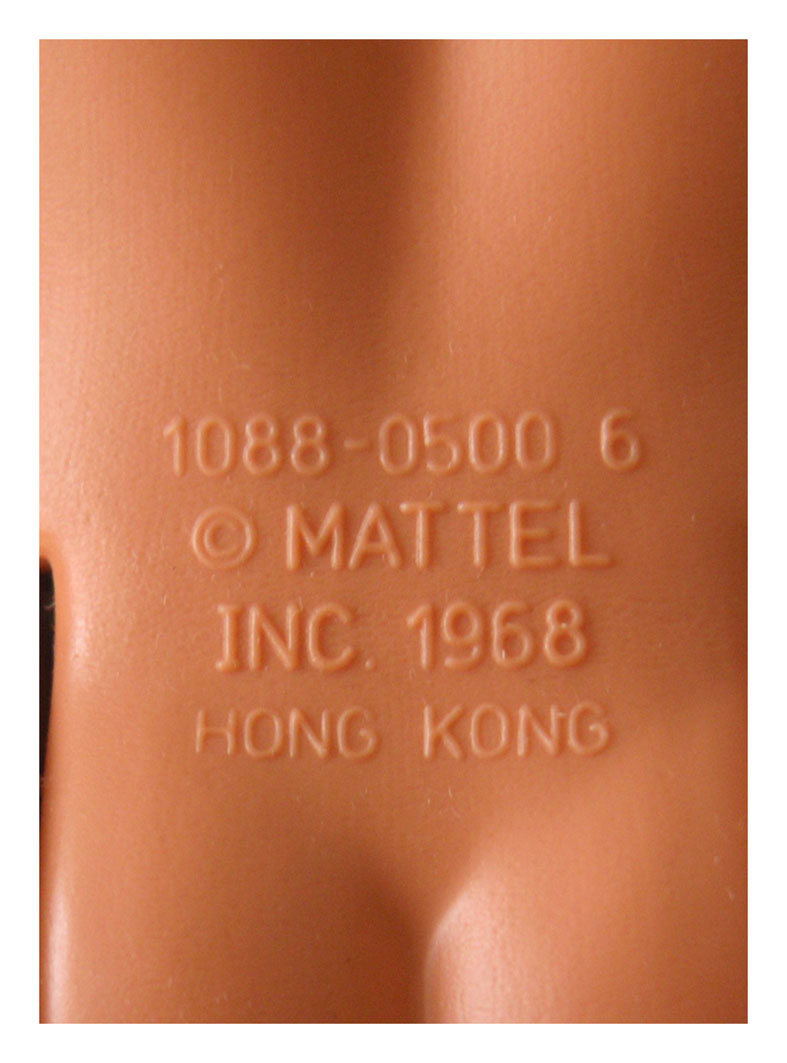 ---
(CAMPIN' OUT SET) KEN #4984
This Ken was part of a larger set called the Barbie & Ken Campin' Out Set. He is wearing a variation of the outfit worn by Safari Ken and the Fashion Classics outfit #2897. The set is dated 1983, so was released either late 1983 or 1984. I've read it was an Otasco store exclusive, but have yet to find any documentary evidence to prove that.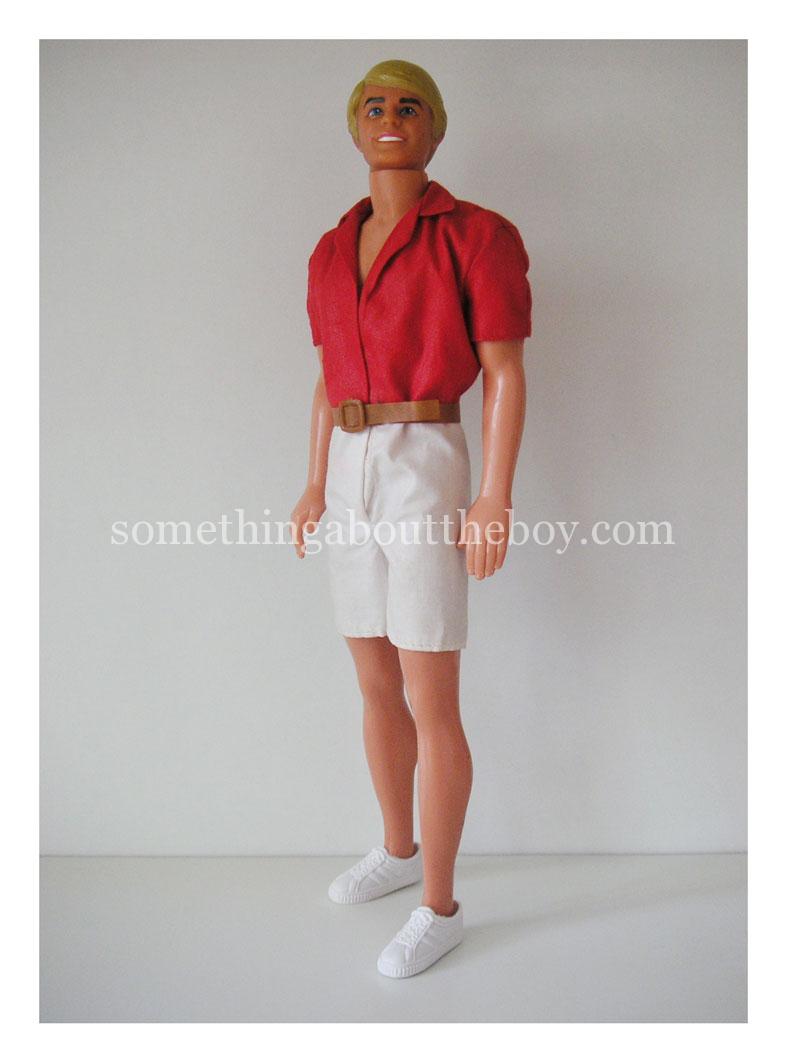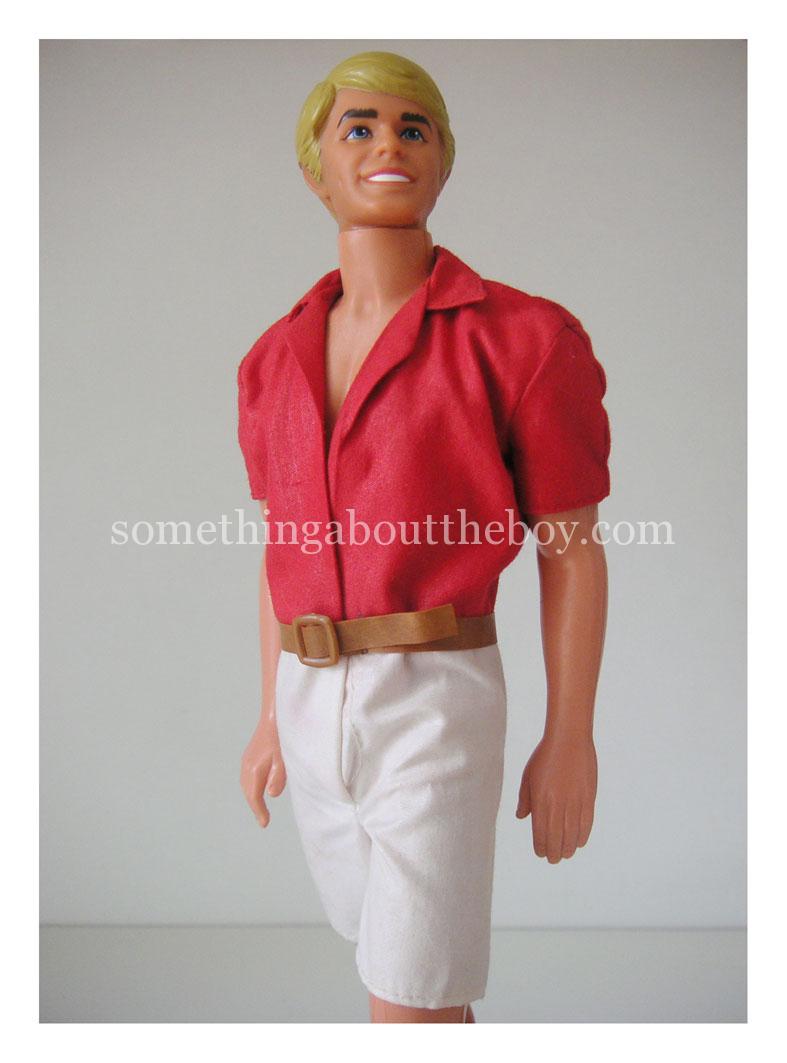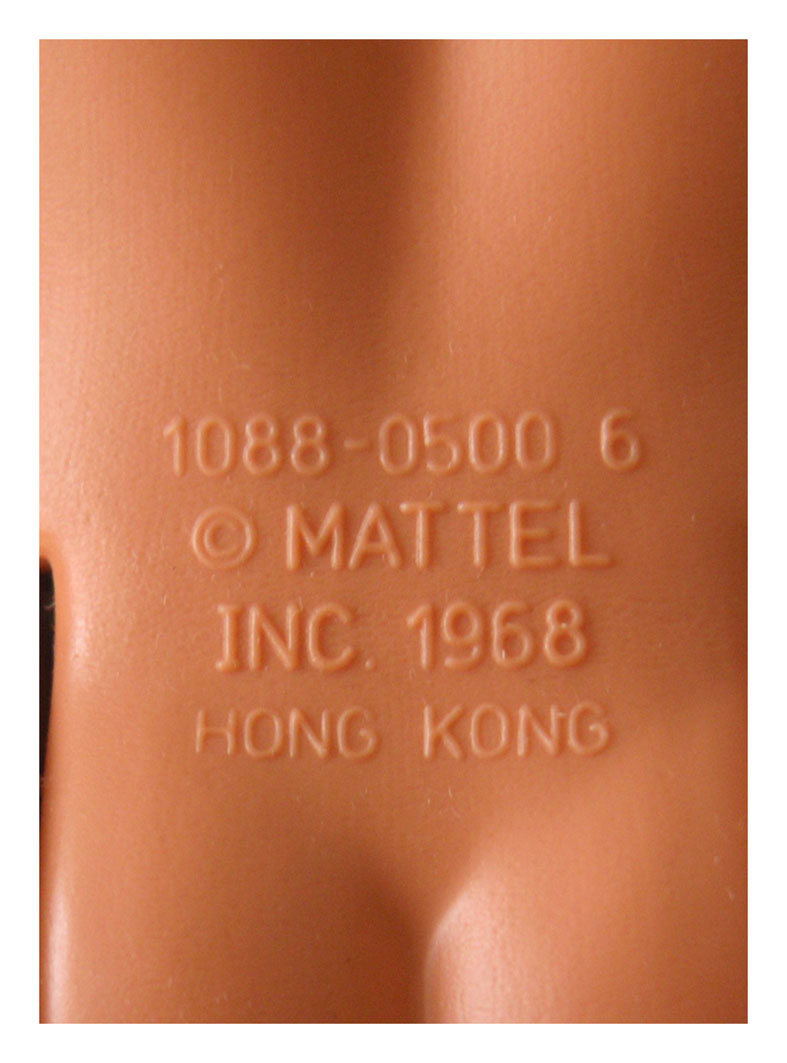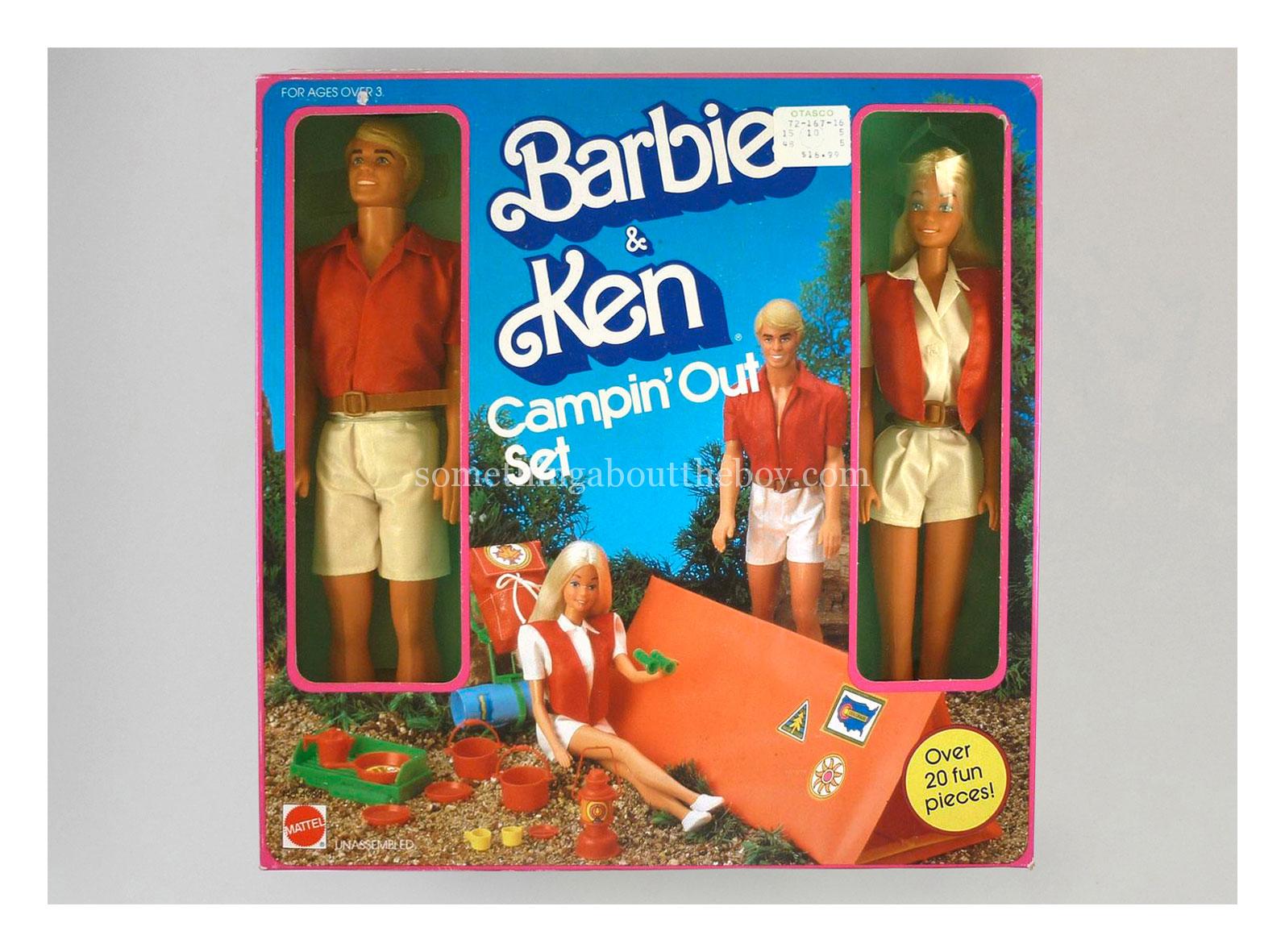 ---
GREAT SHAPE KEN
There are several versions of Great Shape Ken. He was also known as Enorm-in-Form Ken in Germany, Gymping Ken in Sweden, Ken Palestra in Italy and Ken Super Sport 2 or Ken en Superforme in France. The British and (similar dark green) Canadian versions have a different code number. In Canada the dark green version was called Exercise Ken and Ken s'entraîne and the regular version was called Ken en bonne forme. Mattel Spain produced their own version called Ken Ritmic. There are probably more South American versions, but the only one I have so far discovered is Ken Deportivo by Rotoplast in Venezuela. In the UK there was also a set with Great Shape Barbie, Ken & Skipper packaged together in a gift box. In 1986 Mattel US released a version of Great Shape Ken with the addition of a Walkman (see the 1986 boys section).
GREAT SHAPE KEN #7318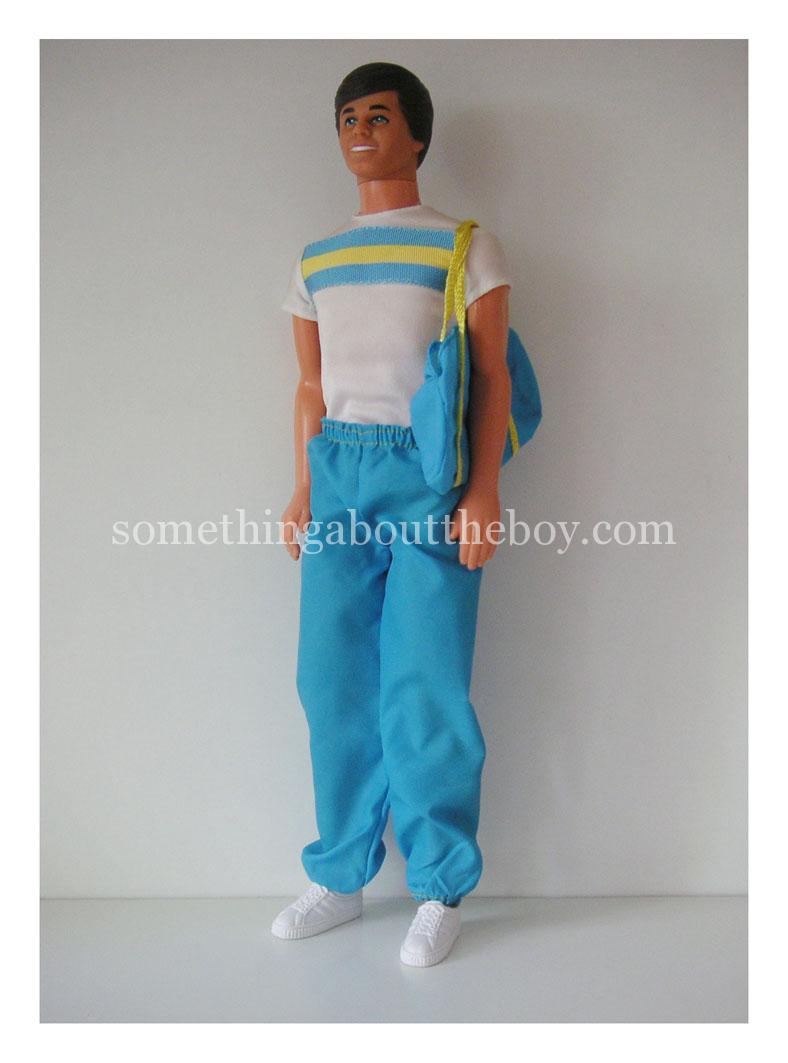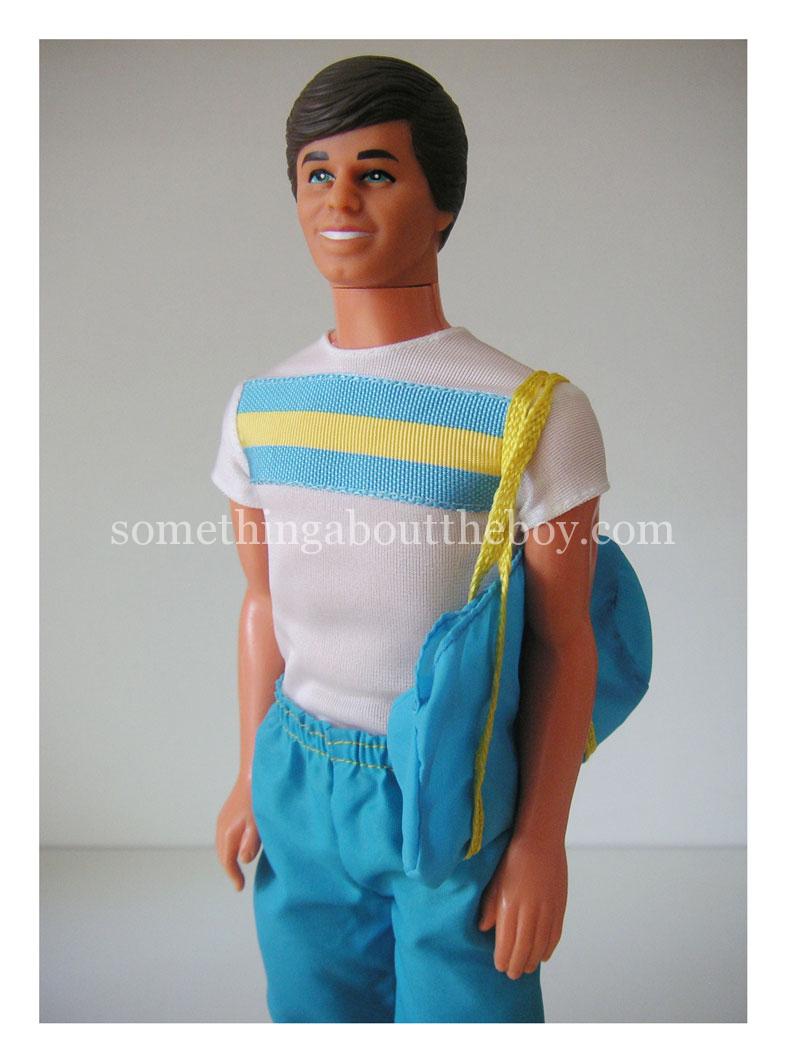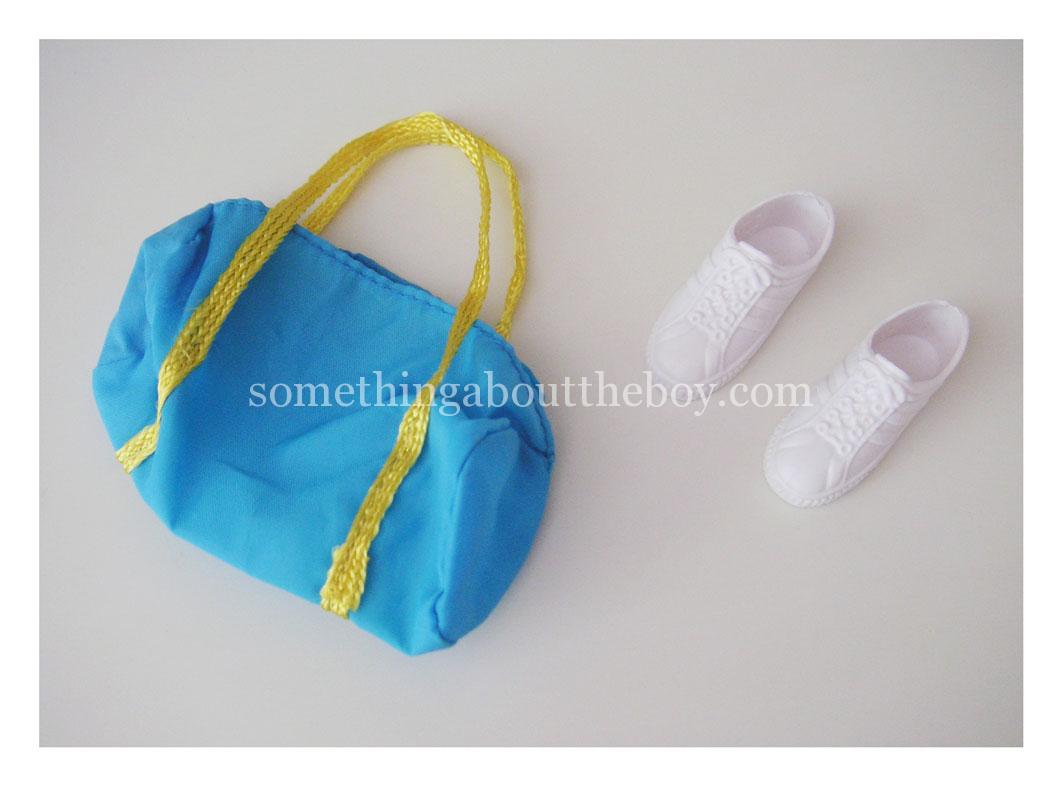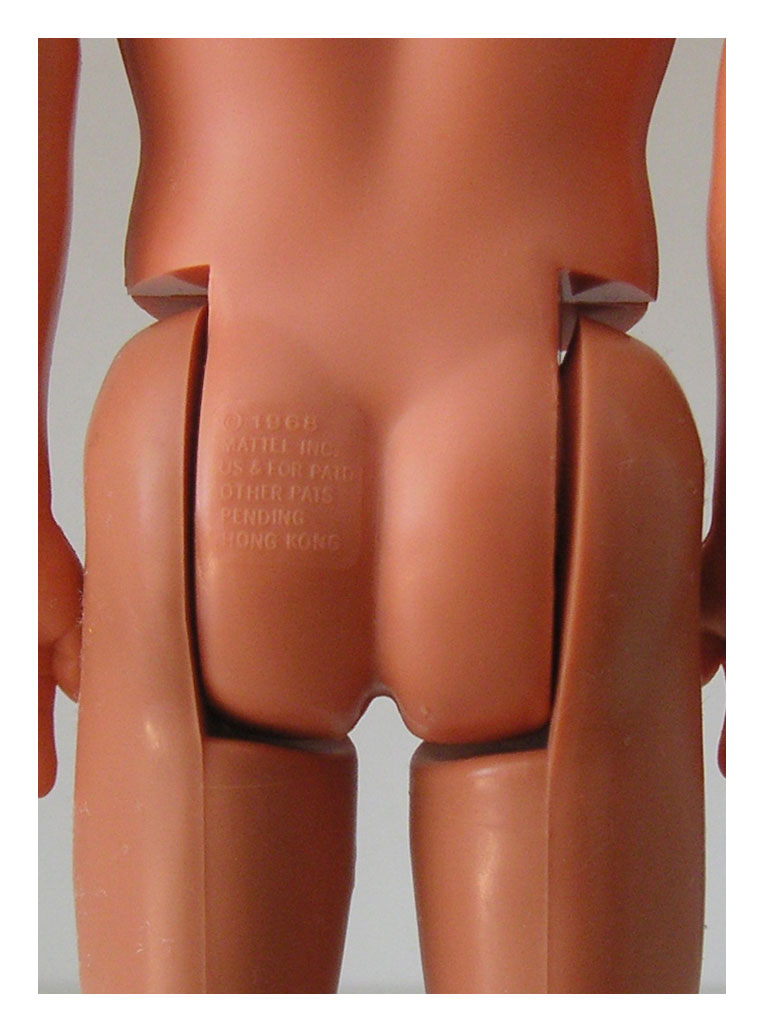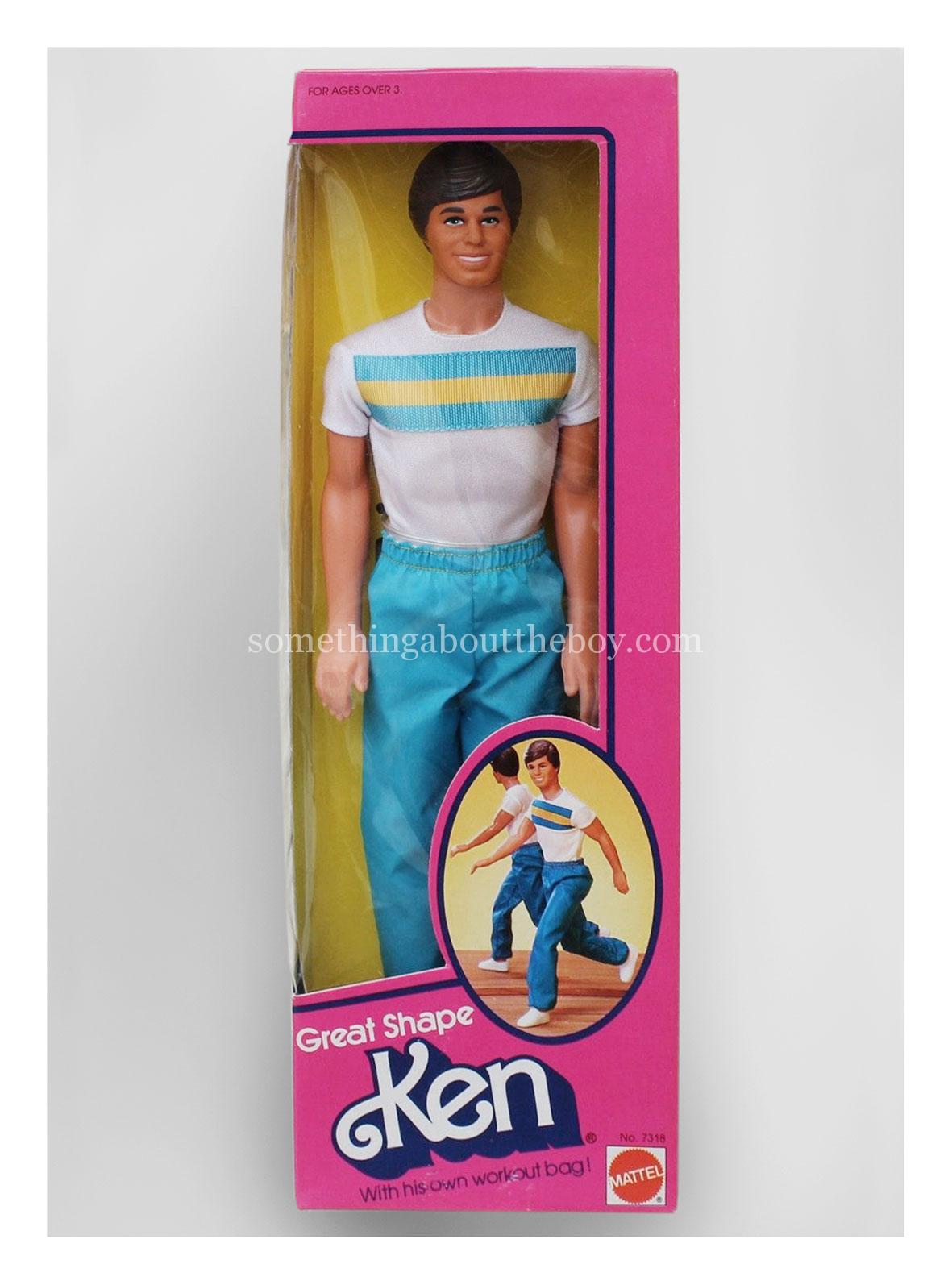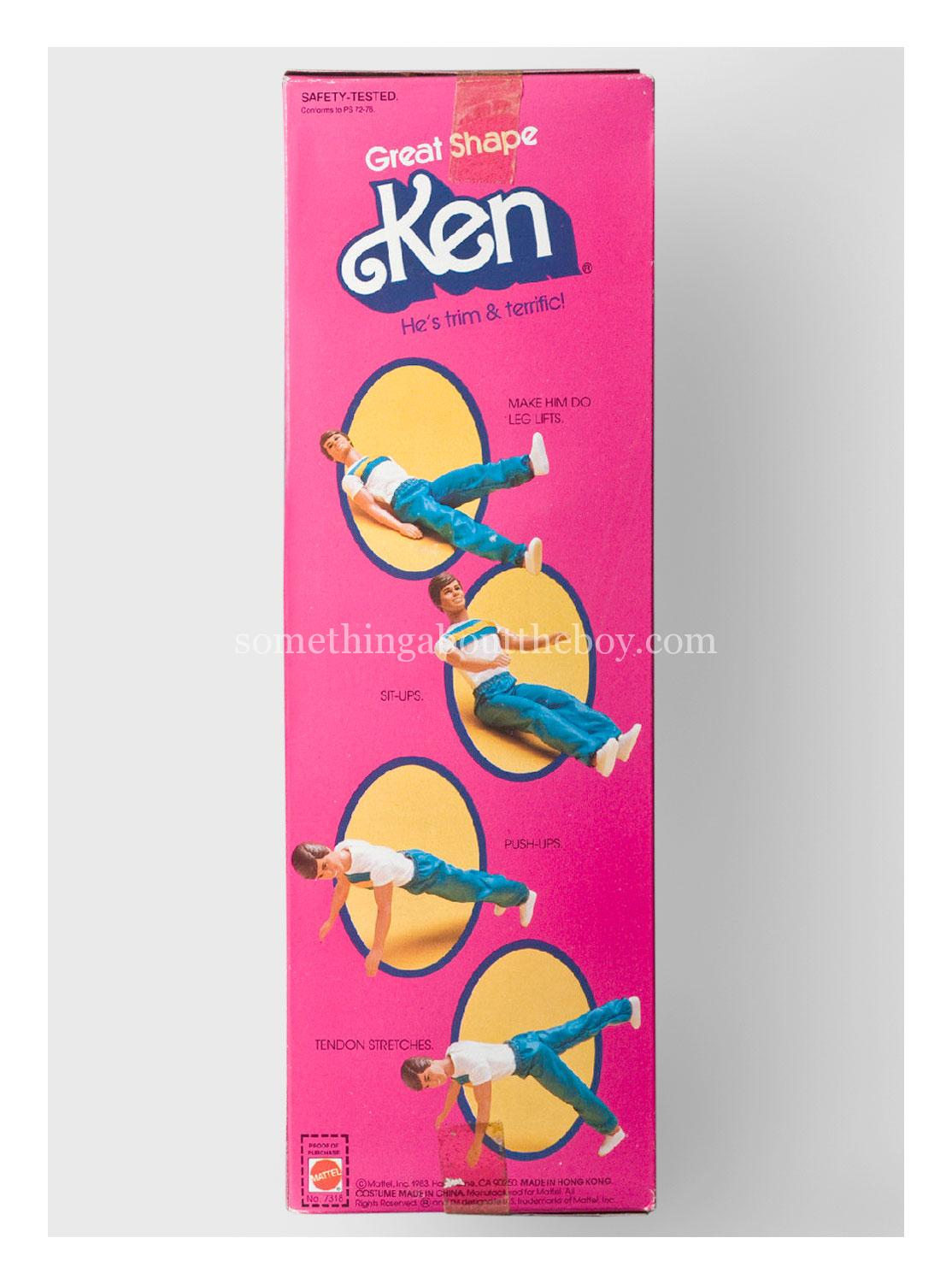 Note that the variation below doesn't just have a missing yellow stripe to his t-shirt – his face paint is quite different, with oddly slanted eyebrows.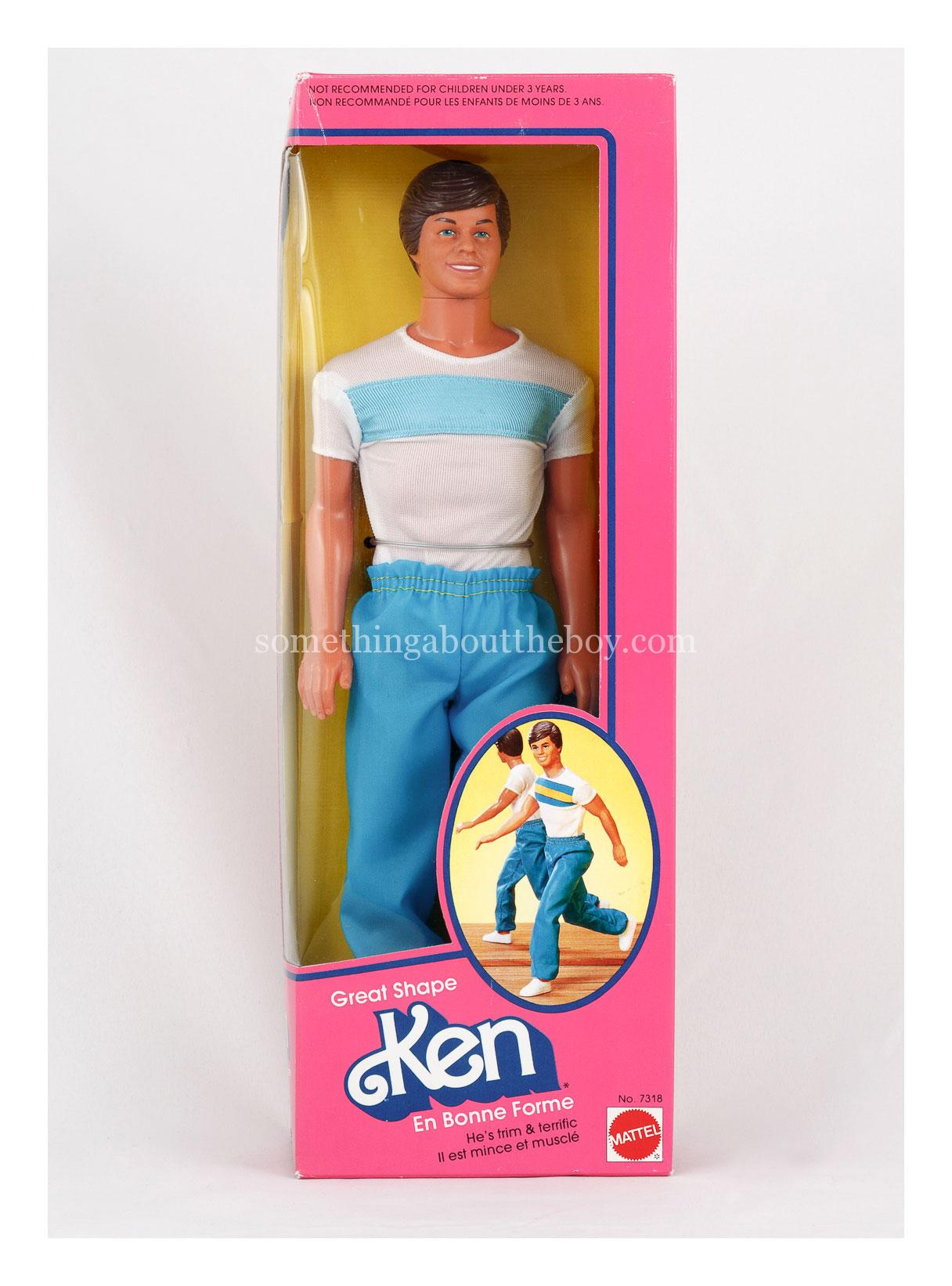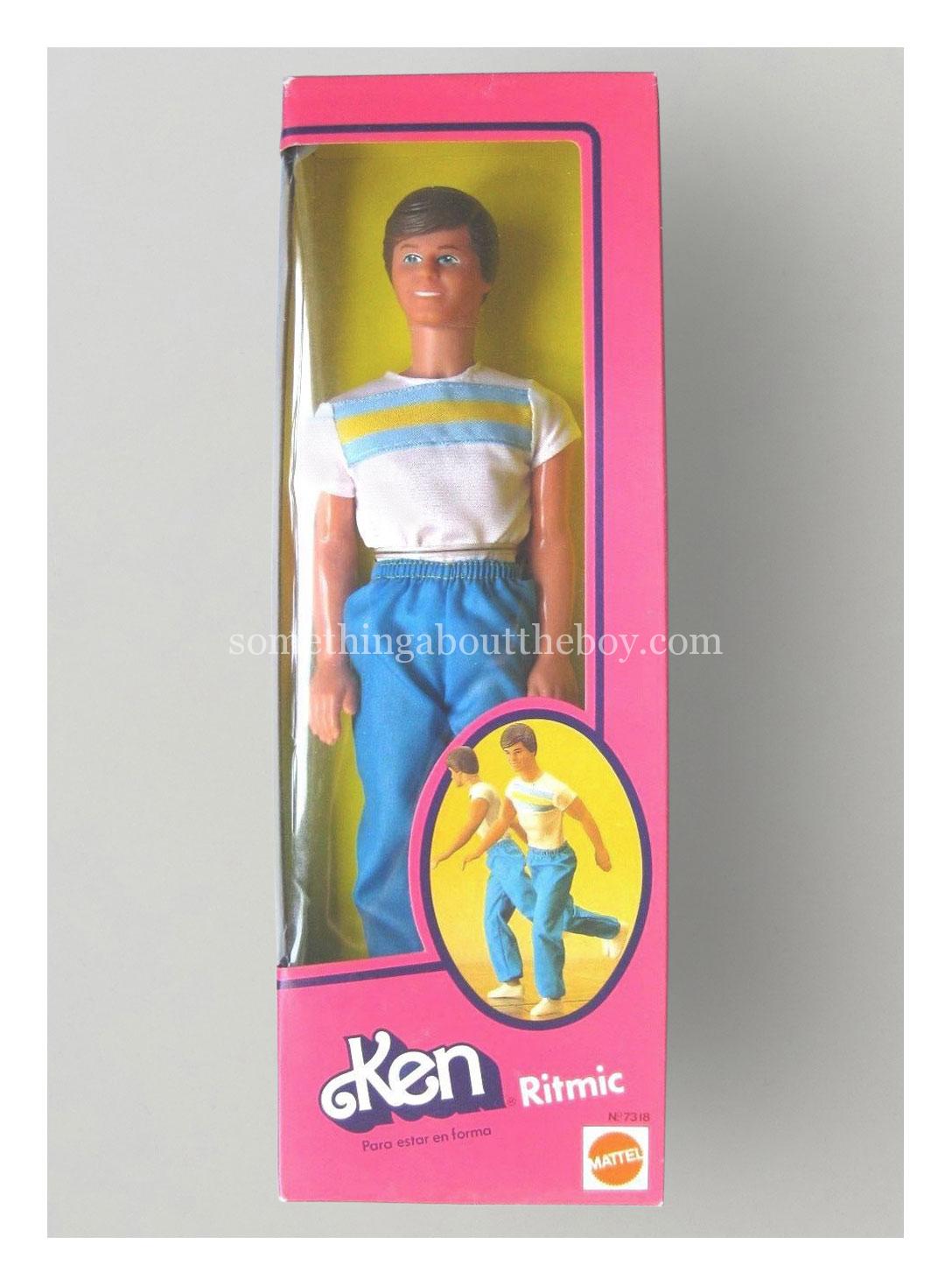 GREAT SHAPE KEN #7310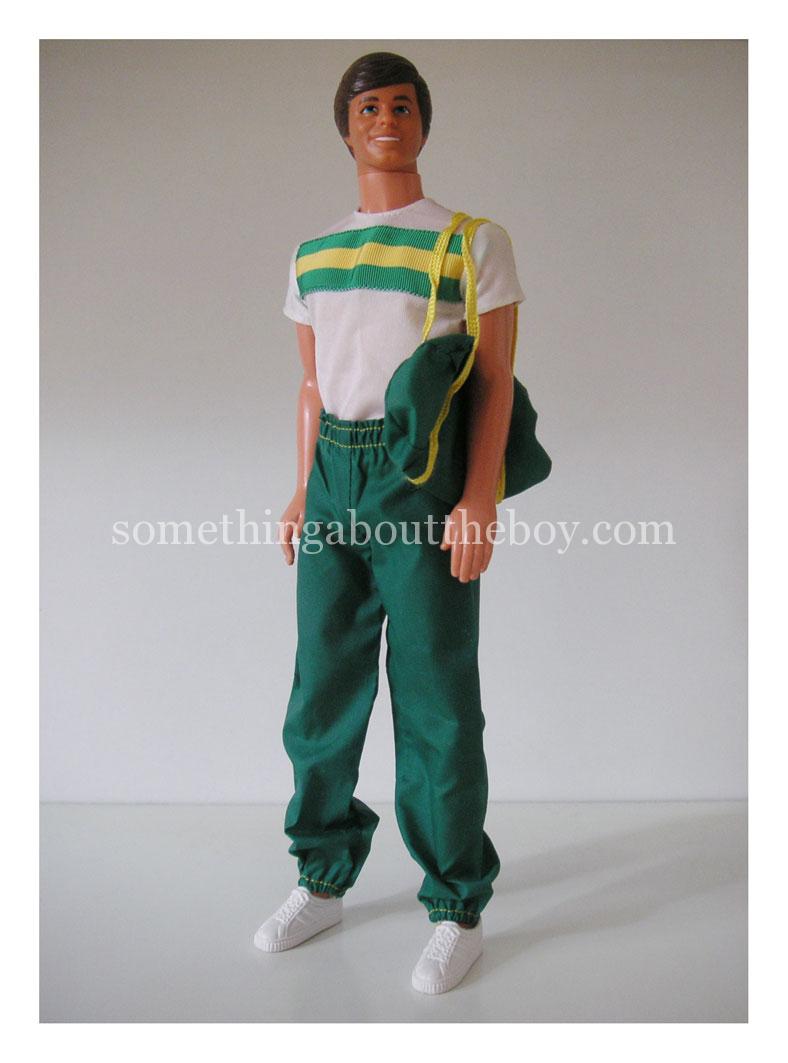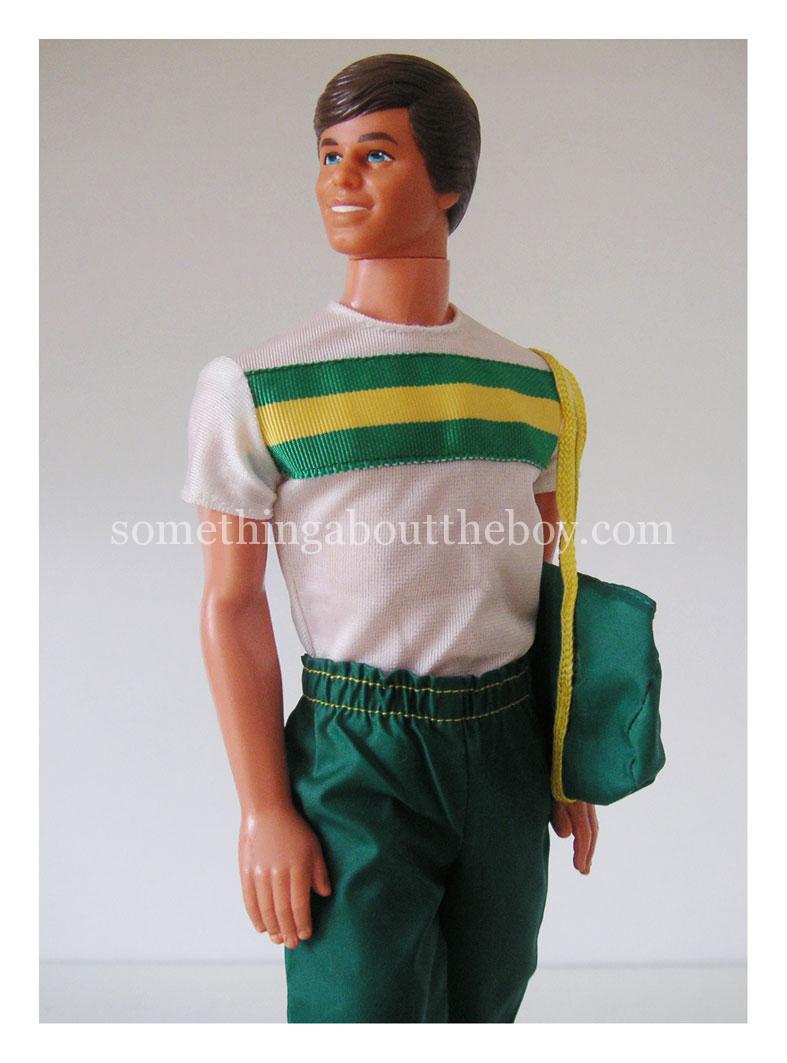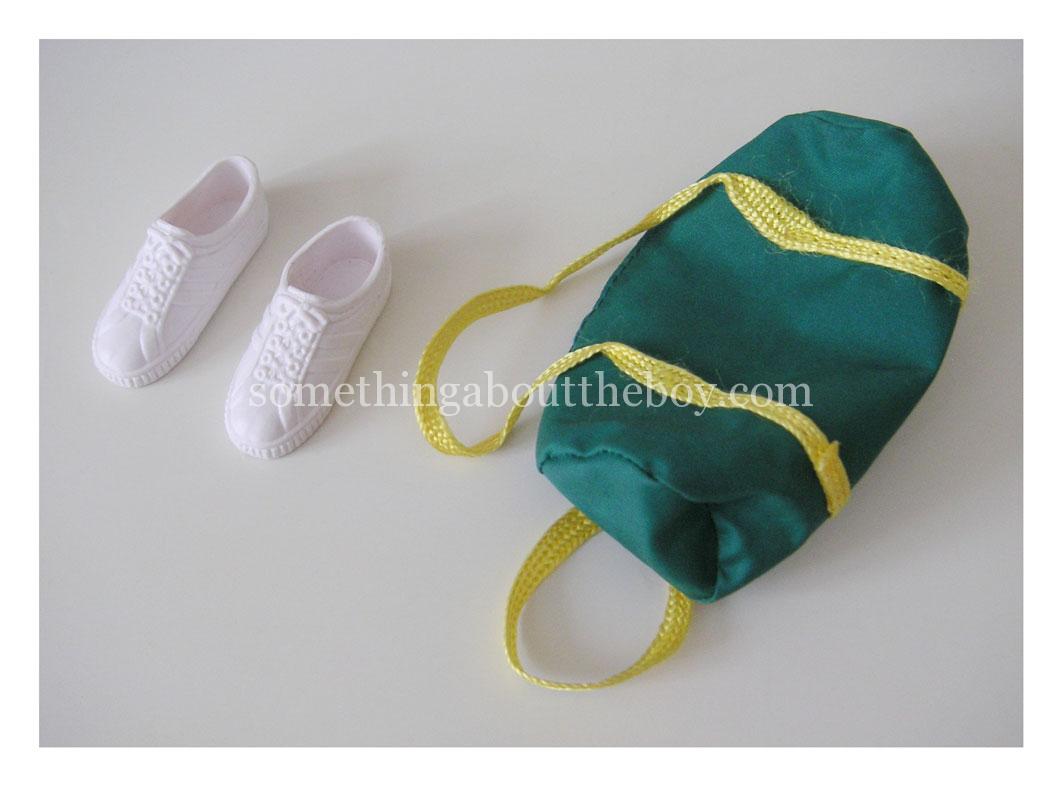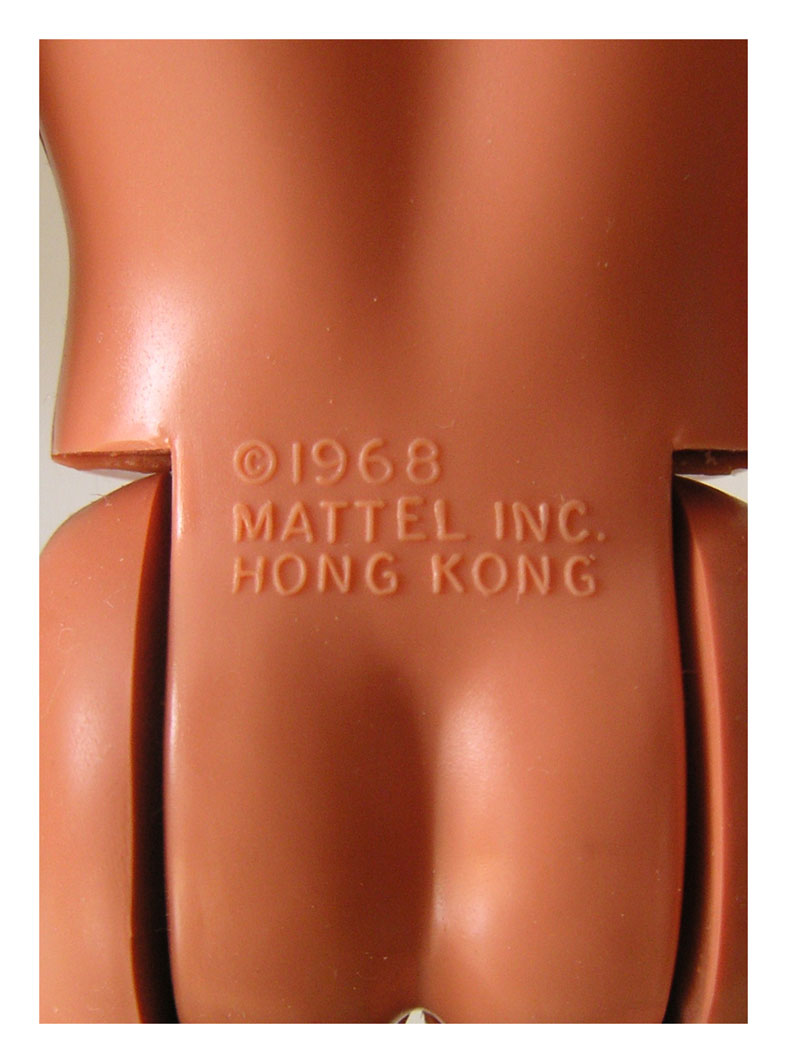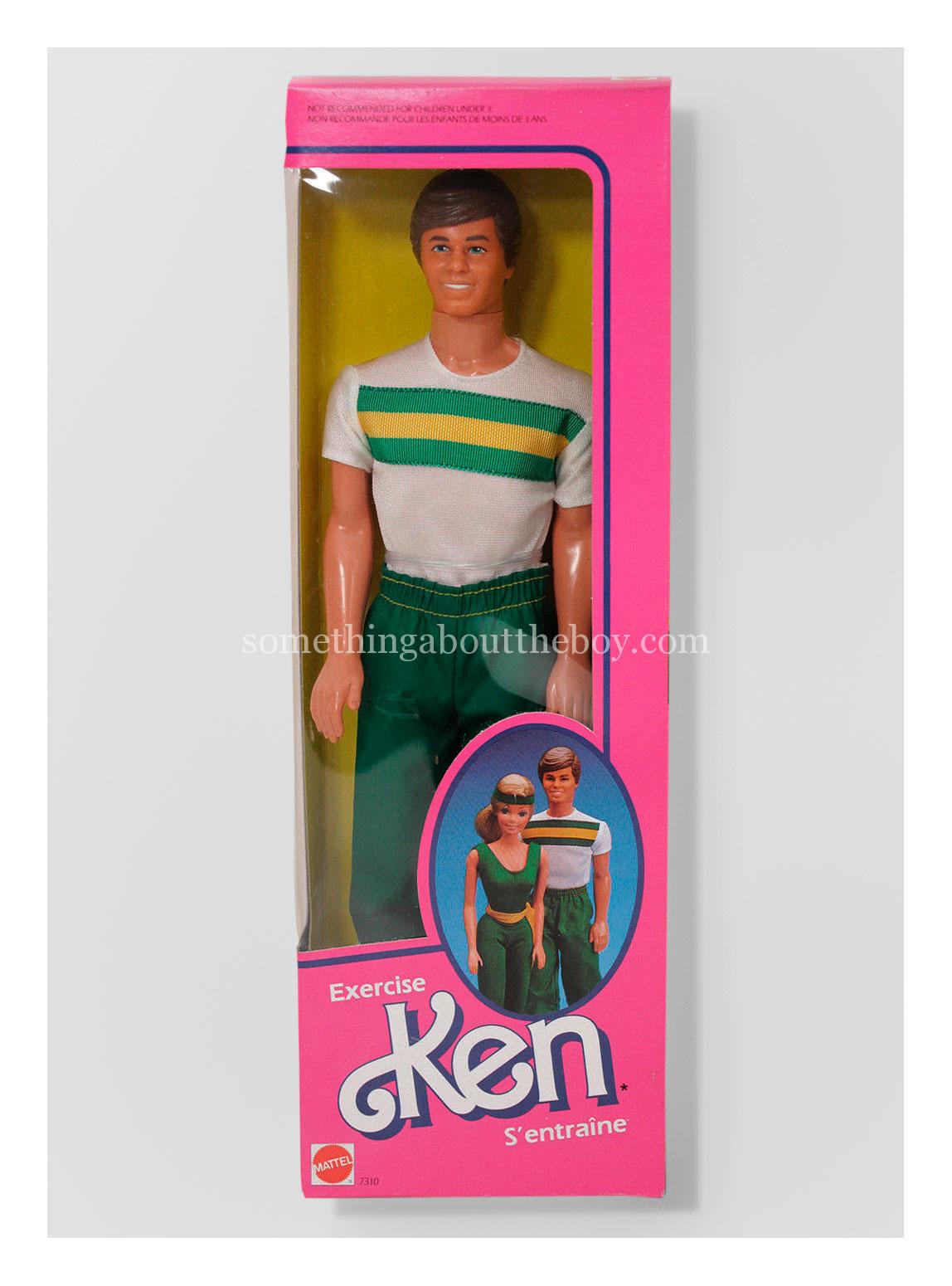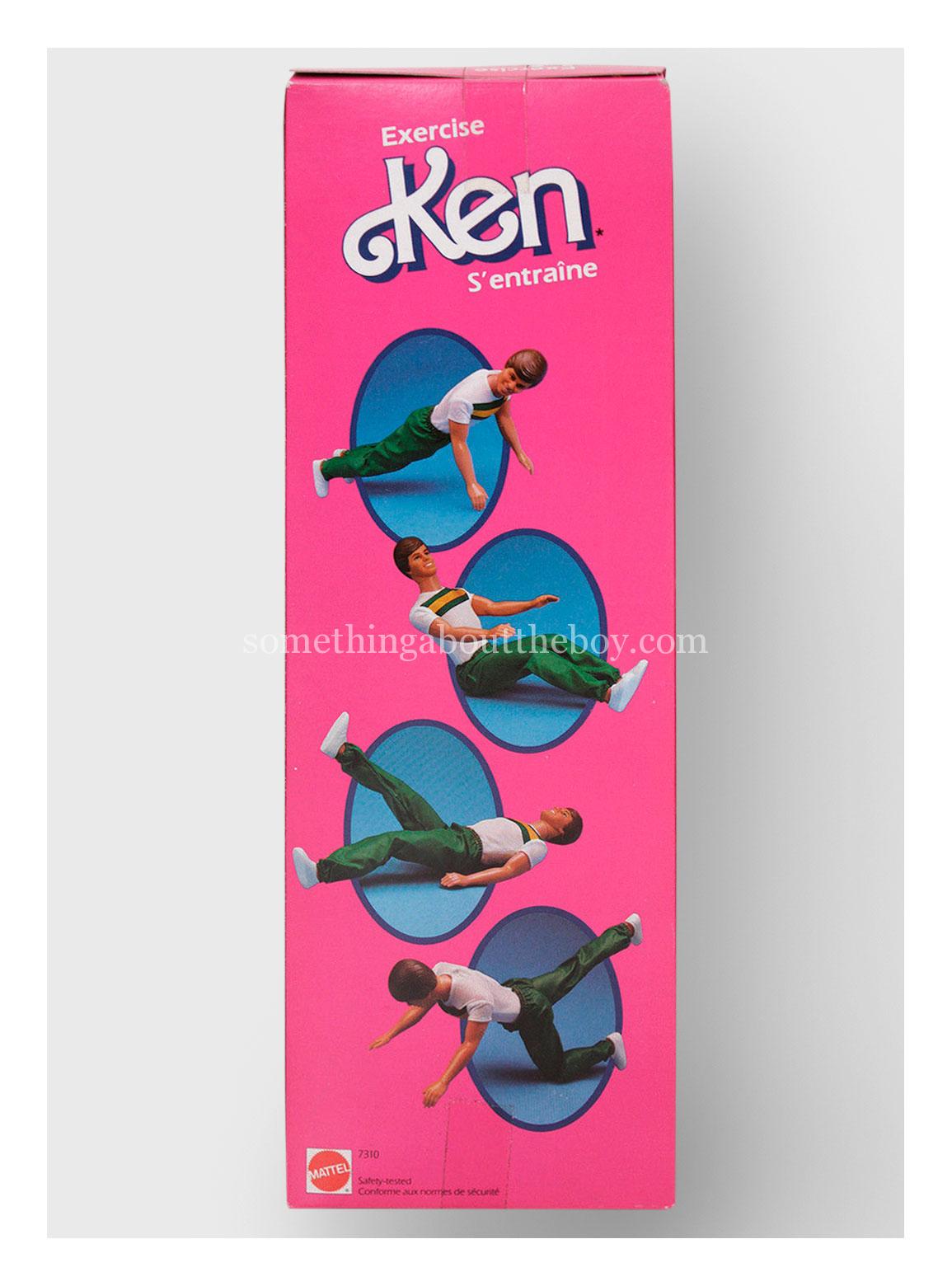 KEN DEPORTIVO #51-(0246?)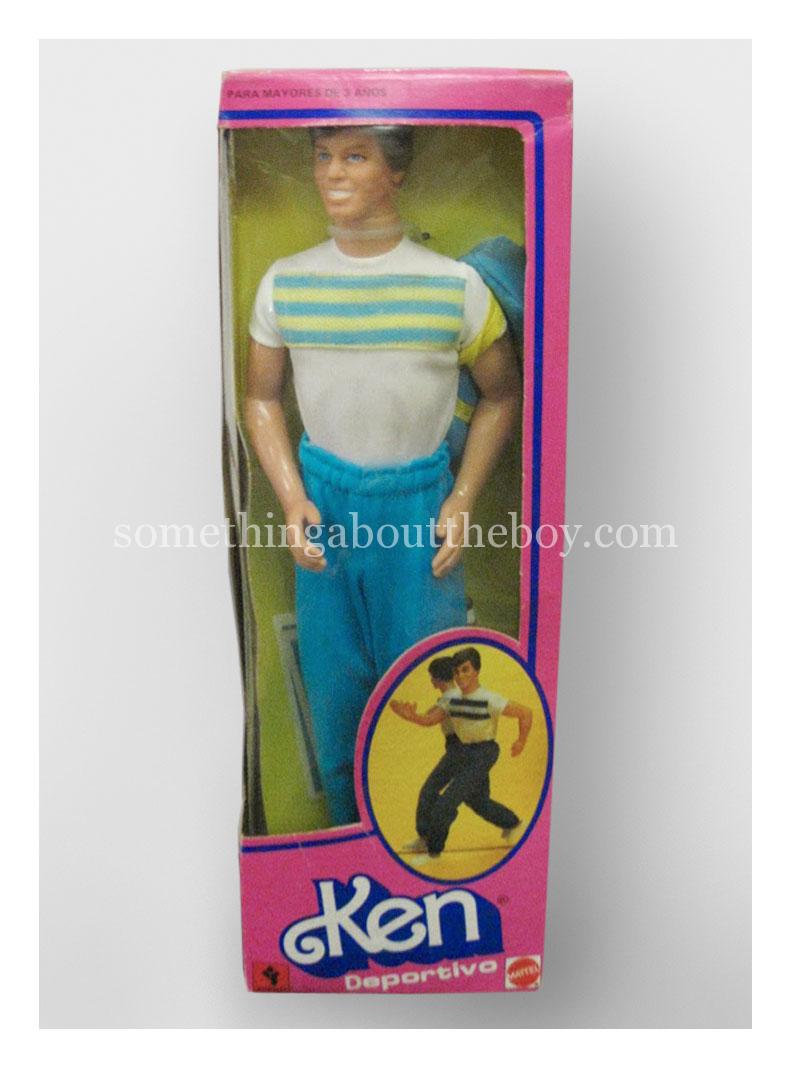 ---
HAWAIIAN KEN #7495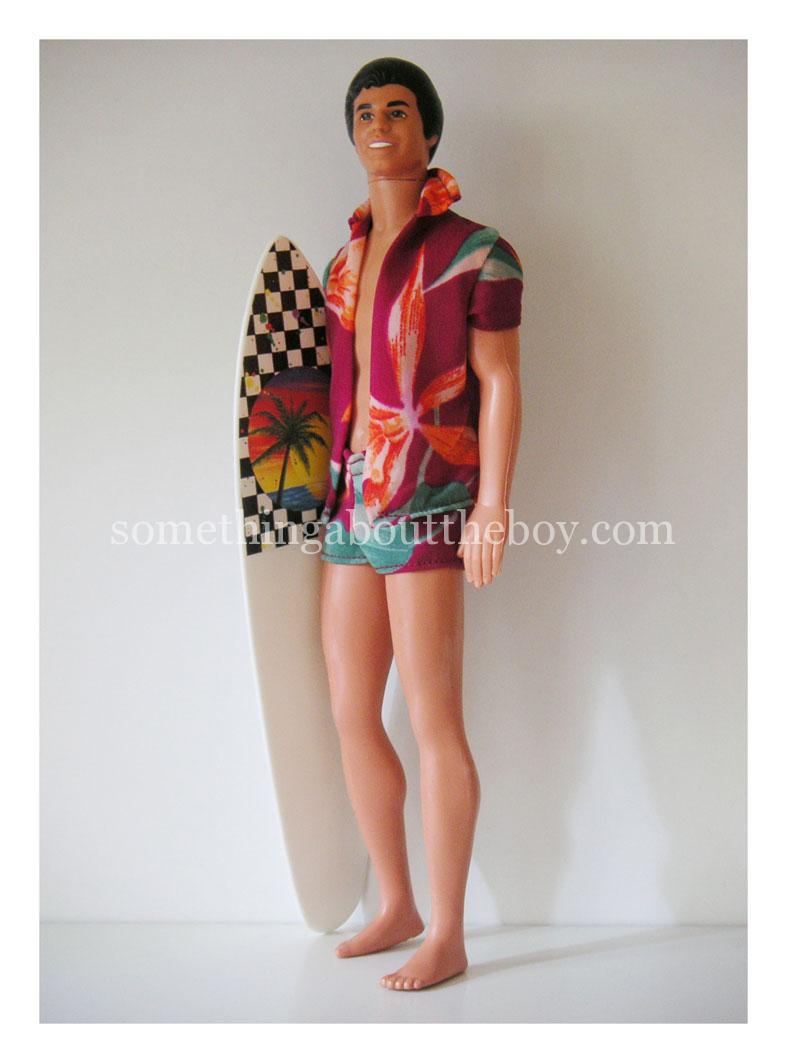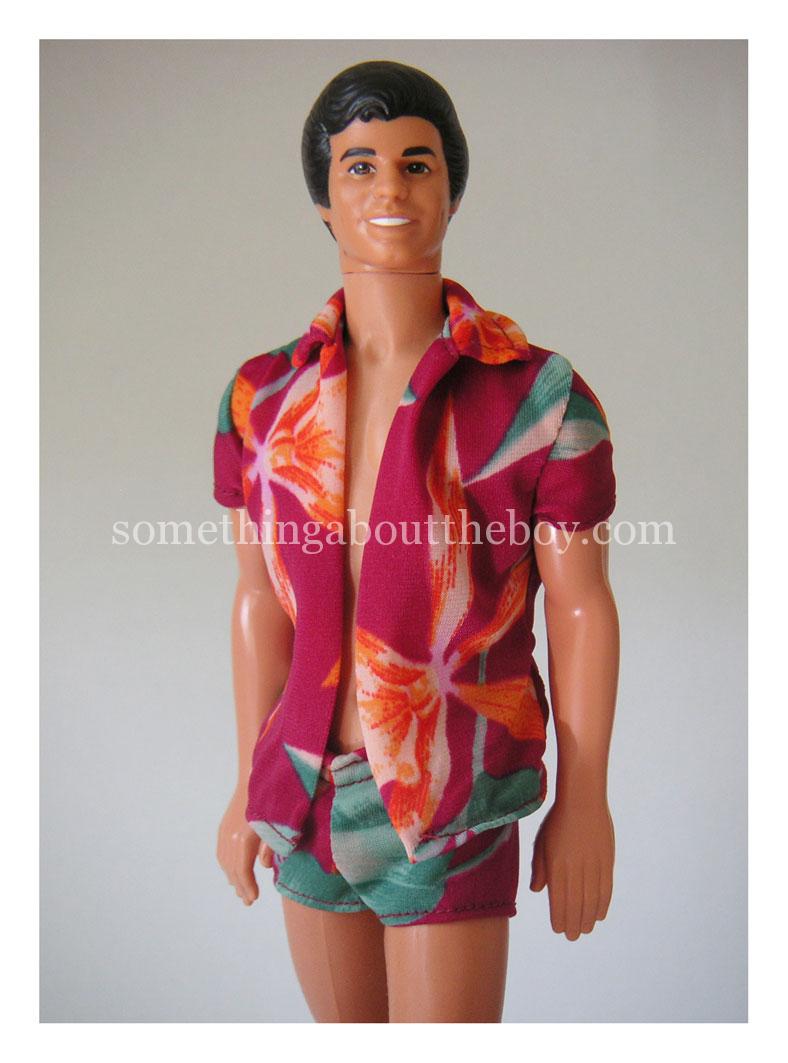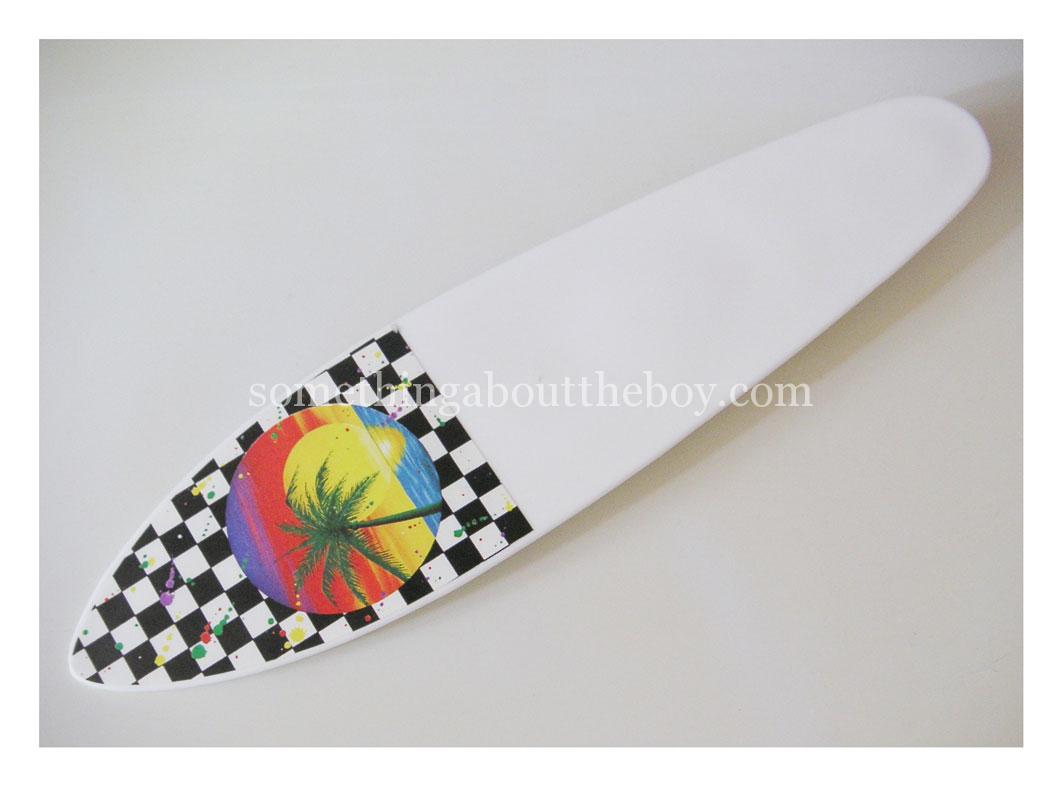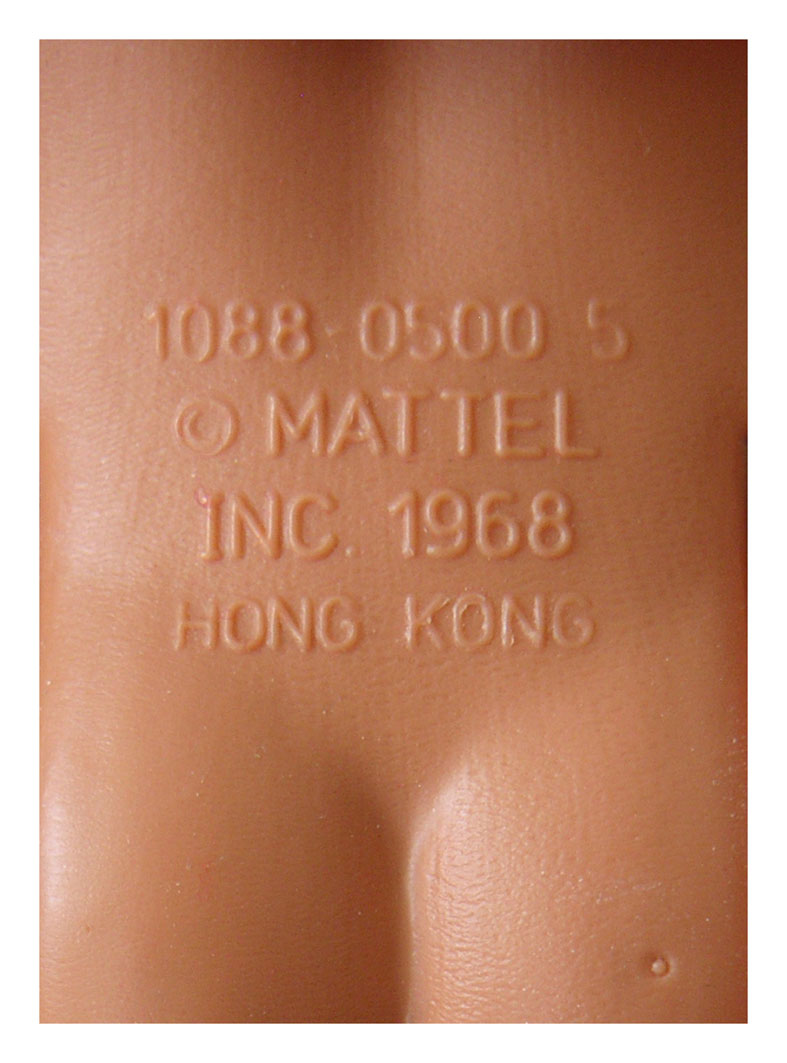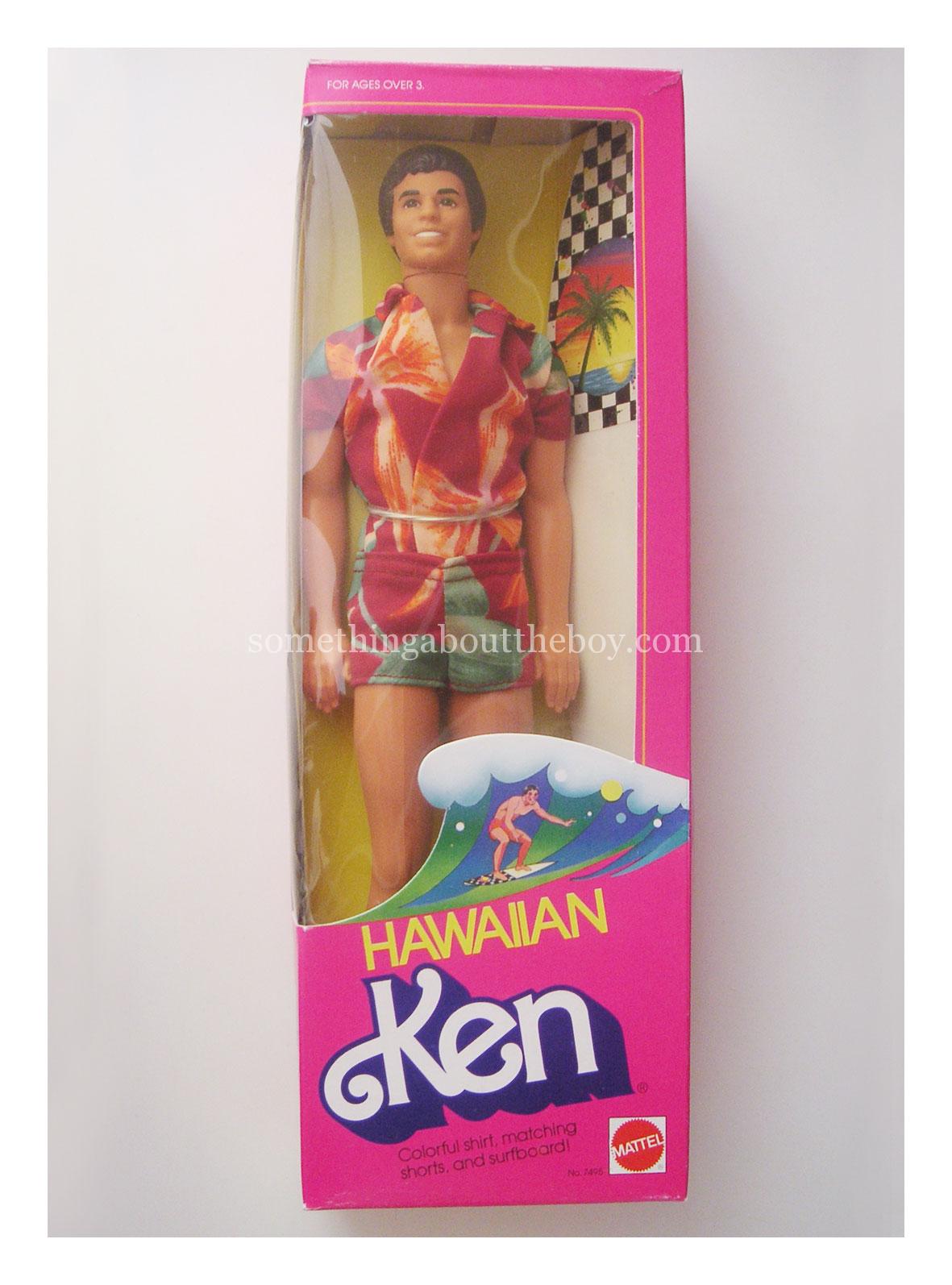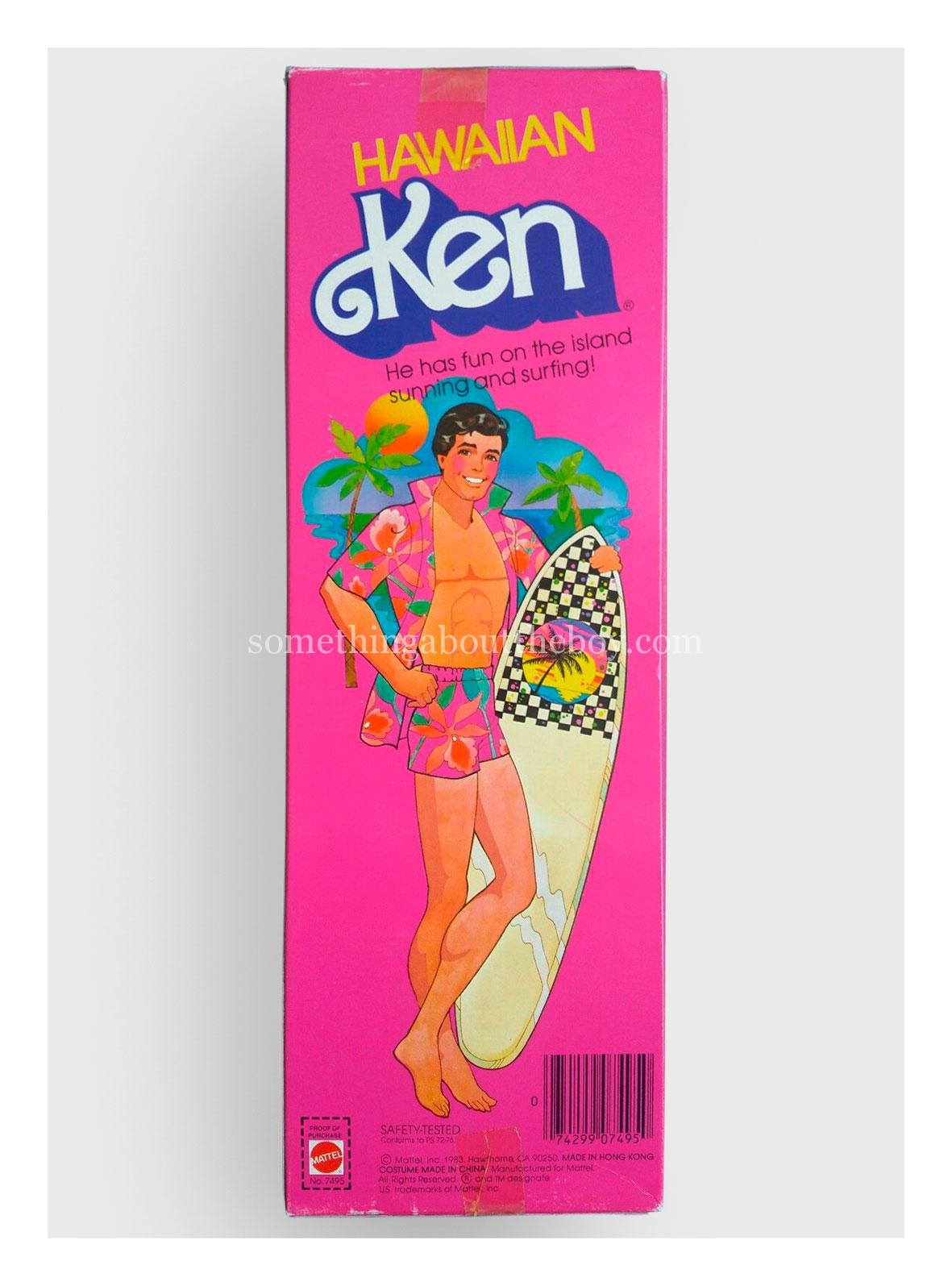 ---
NECK MARKINGS
© 1983 Mattel Inc. These markings are to be found on every regular Great Shape Era Ken, including the Kens produced by Mattel Spain (and presumably by Mattel in France and Mexico).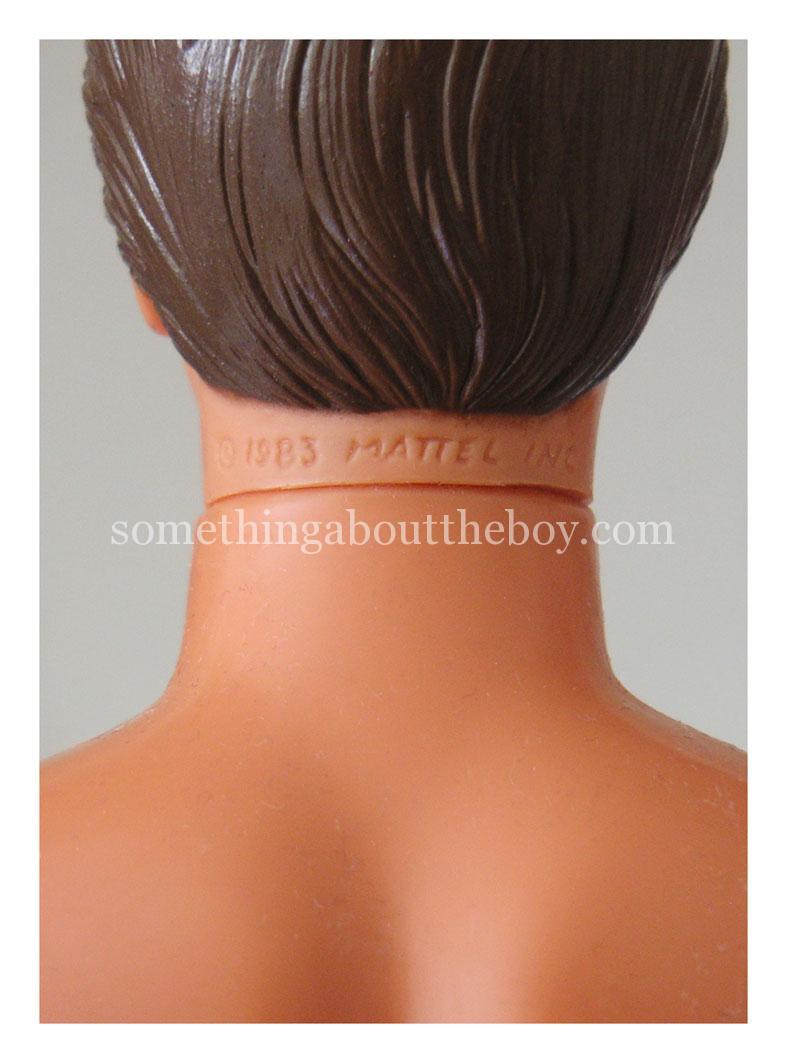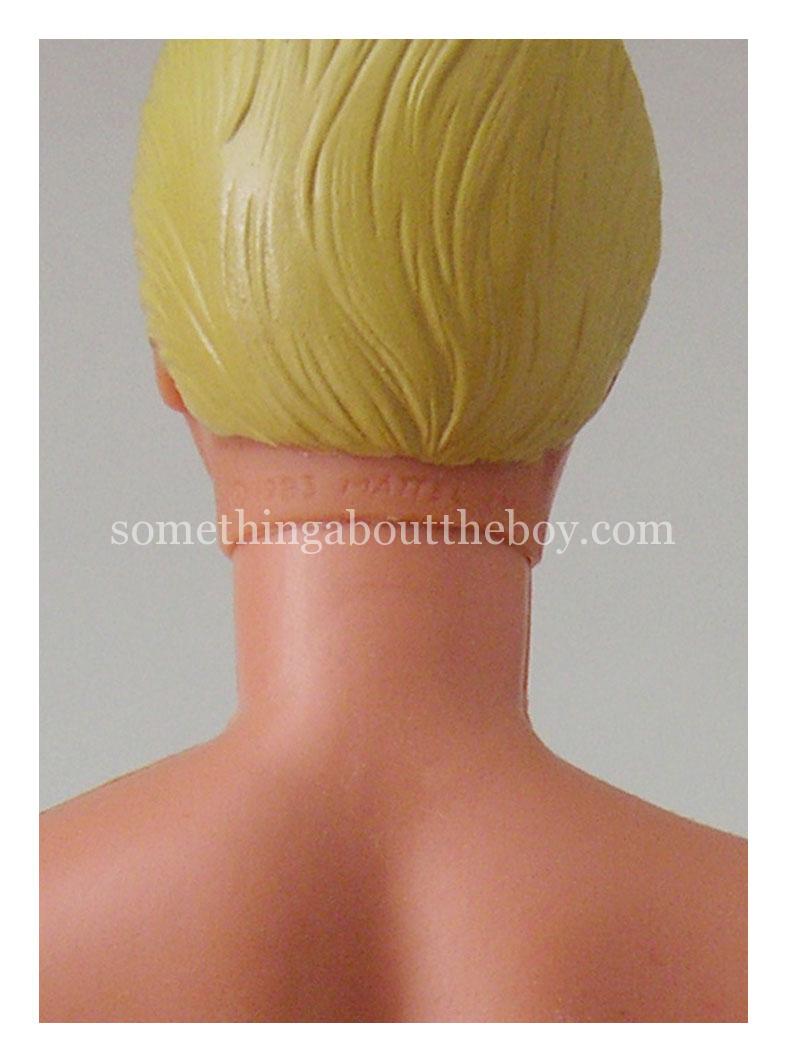 ---
BOOKLETS & CATALOGUES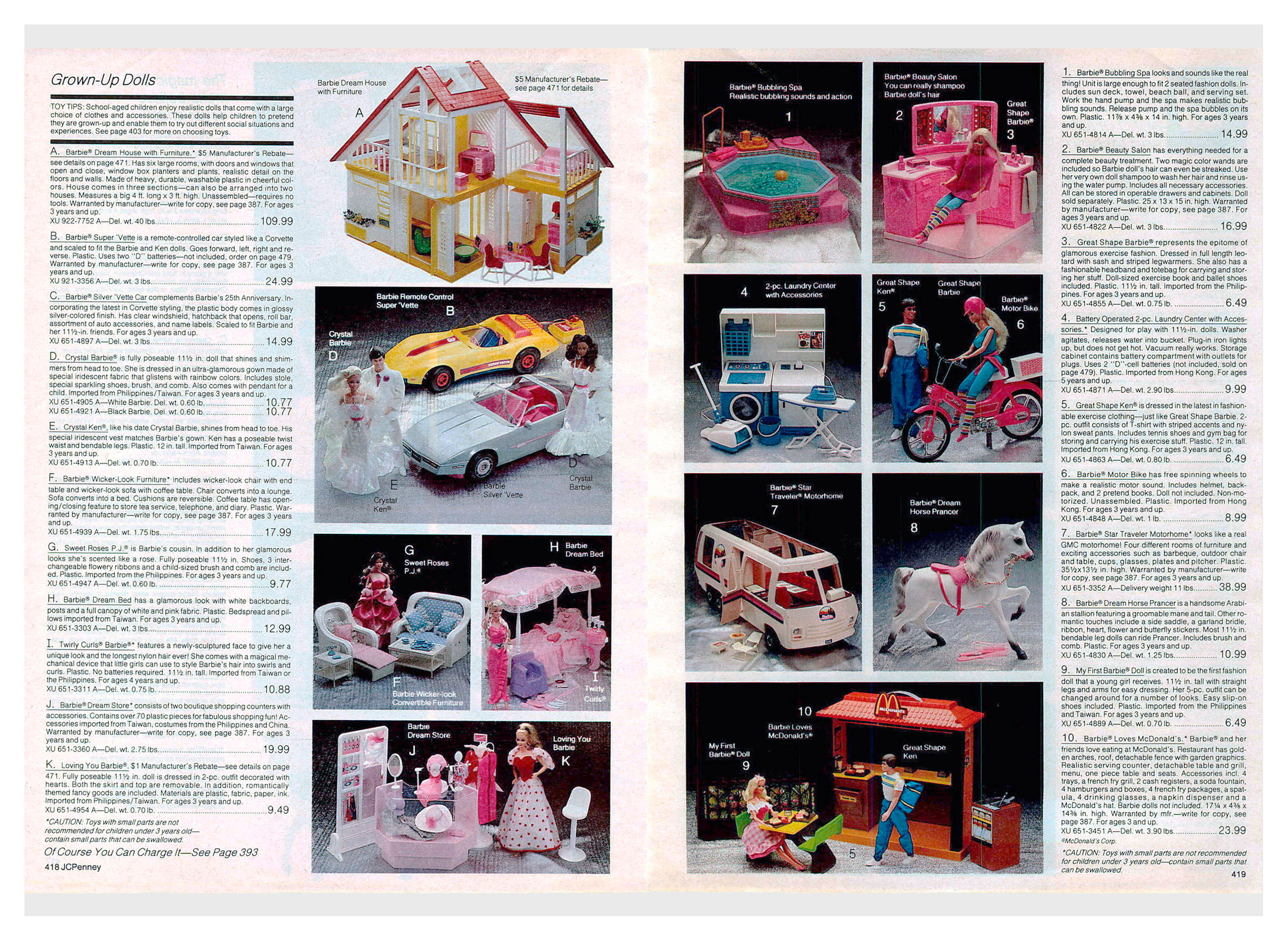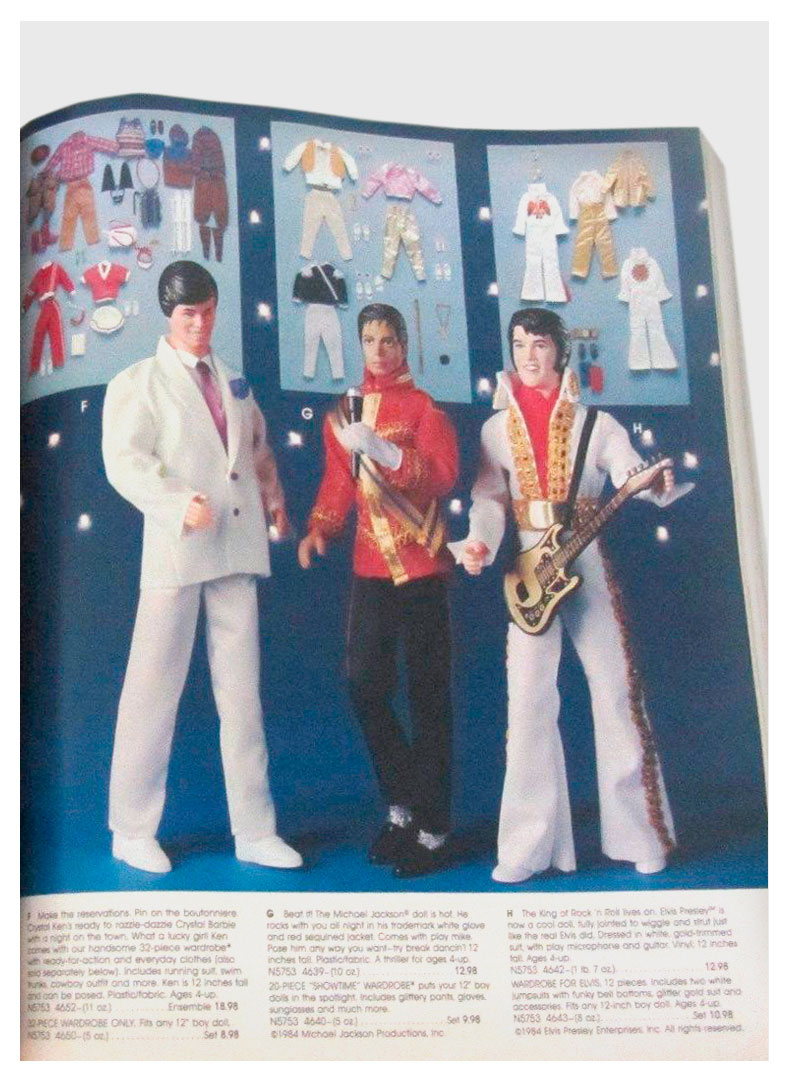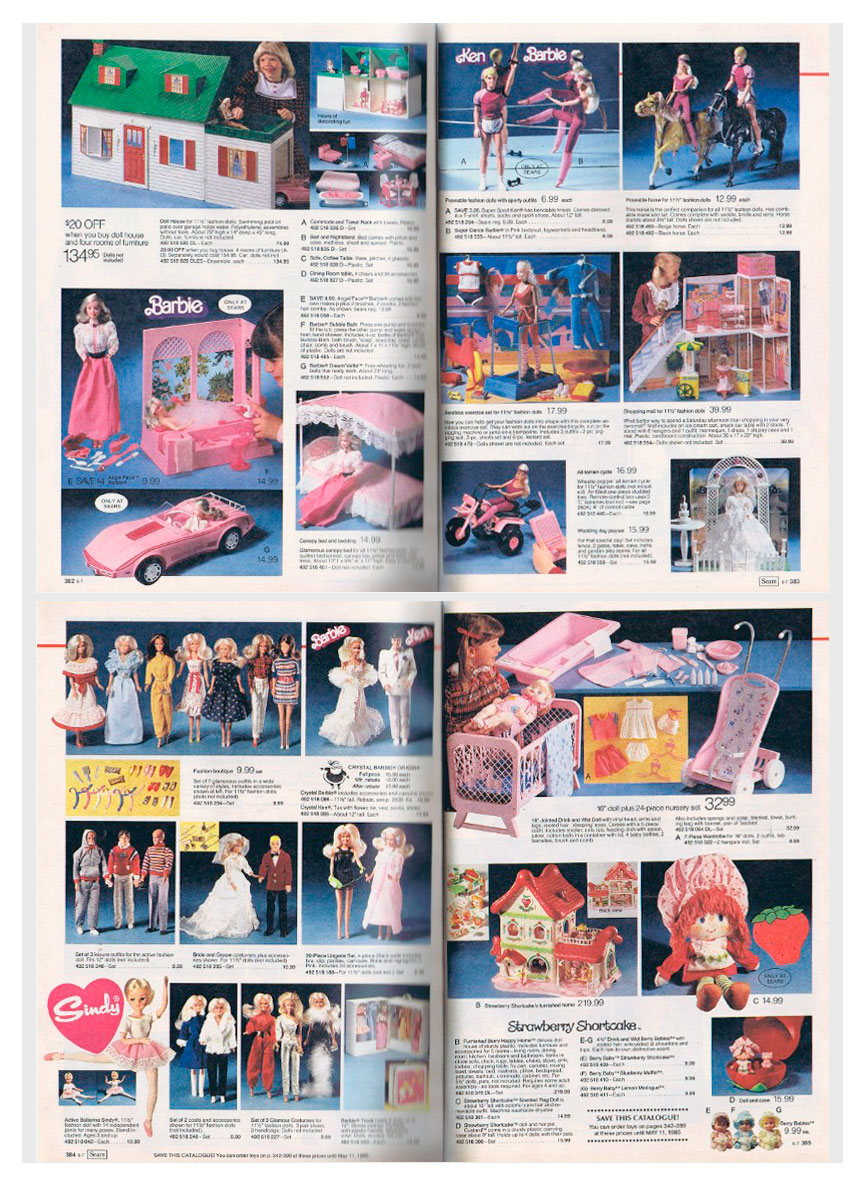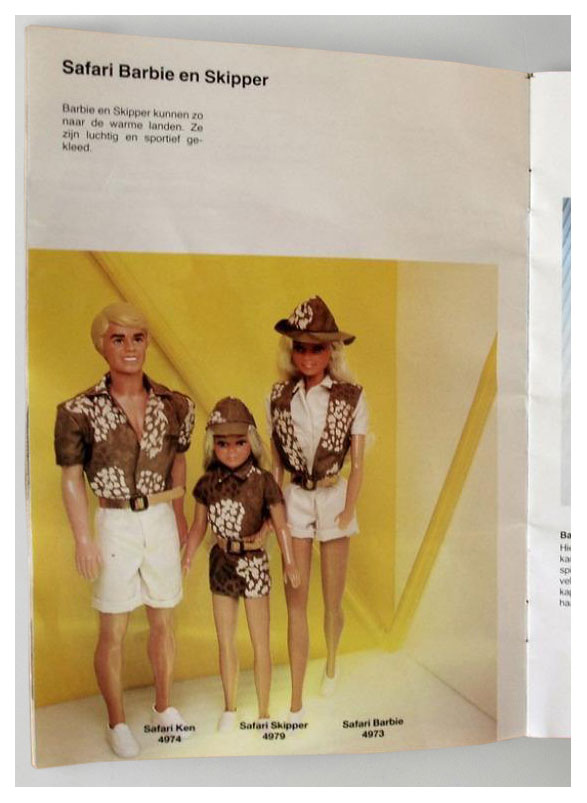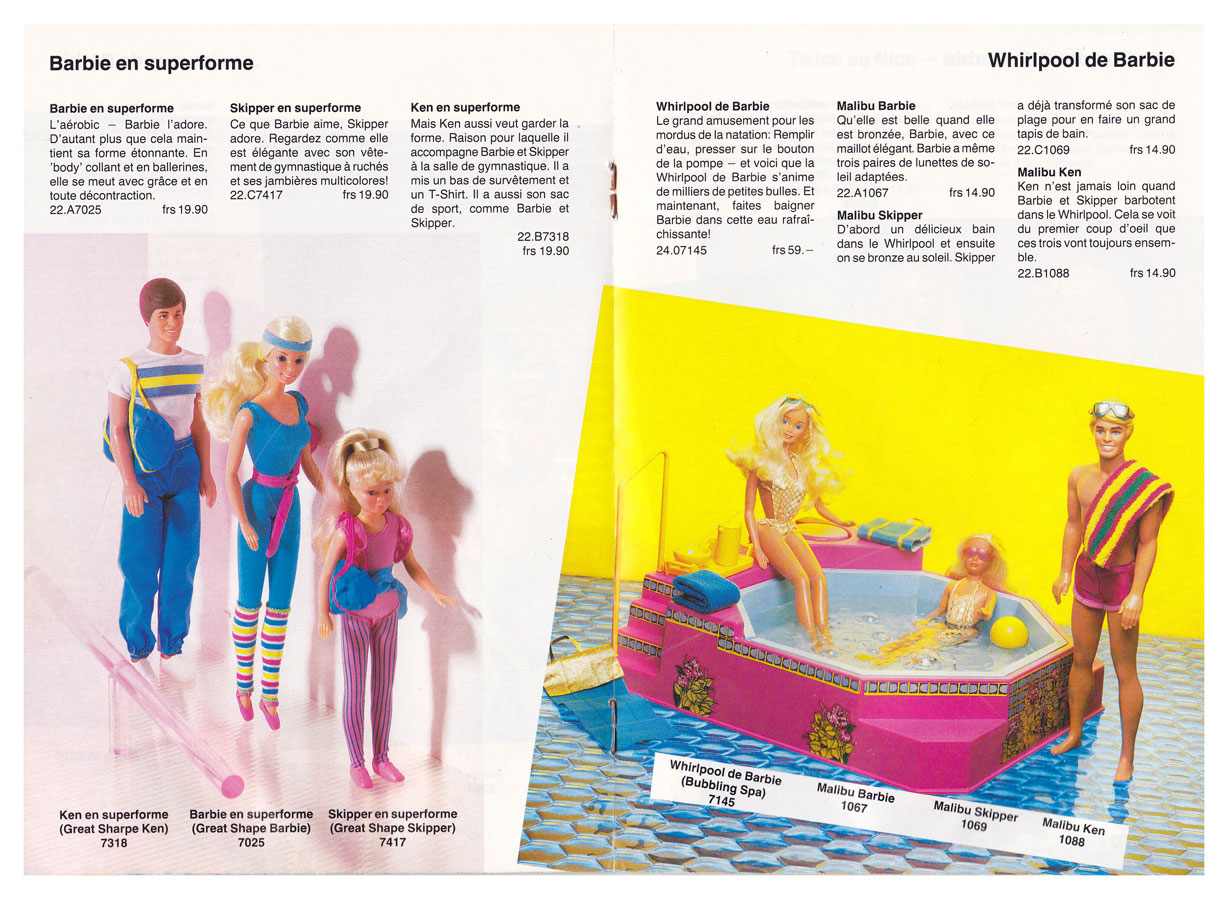 ---
THE JAPANESE KENS
The Japanese Kens were produced under license from Mattel, but have little to do with Ken as he exists in the rest of the world. In true Japanese comic-book style these Kens have those huge scary 'cute' eyes, and look more like boys (or even girls) of eight, rather than eighteen. There are obviously collectors out there who like them, as they sell for huge amounts of money, but personally I think they are creepier than Chucky, so you won't find any pictured here!
Mattel licensed two Japanese companies – Takara from 1984 to 1986, and Ban Dai from 1986 to 1989. Ban Dai Kens are usually marked Ma-Ba on the boxes (MAttel + BAn Dai). There are several Takara and Ma-Ba Kens, and Takara also produced several outfit sets, but I don't have any exact information, as they aren't obviously coded.